When it comes to gin, some facts just can't be denied. Whether it's in the hands of Sean Connery (shaken, not stirred), or handed to you as the perfect negroni, it's obvious that gin holds the current title of king among spirits.
As gin enjoys a massive resurgence in the Australian bar scene—thanks, in part, to distillers dabbling in the spirit's broad range of flavour profiles—Brisbane connoisseurs are reaping the rewards.
Of all the gin joints in all the towns in all the world, make sure you walk into these Brisbane gin bars.
Nosferatu
Bowen Hills
Many things are true, but knowing that quality comes with the phrase 'made in house' may just be the truest of them all. Whether it be bread, crumpets, pastries or, of course in this case, gin, it's just plain fact. Nosferatu is Bowen Hill's resident distillery and bar and like their vampiric namesake, all the fun starts at night (though they do serve banging coffee during the day). The gang migrated up from Melbourne, though considering their uber-cool branding, warehouse location and quirky caravan-turned-bar parked in the middle of the whole place, you probably guessed as much. Visiting food trucks sort out the food, while Nosferatu gets to brewing their in-house gins for cocktails like the Giselle—a sweet pavlova gin with unmissable hints of cream, vanilla, toffee and caramel. Our favourite though, is the Bunyip, a sticky gin that features a hefty dose of unfermented Pinot Gris grape juice, and which we could drink all night.
Purple Palm
Woolloongabba
If you haven't turned an eye to South City Square for a hot minute, you'd be forgiven for being surprised that yet another sleek venue has popped up, seemingly out of nowhere. The whole line up of eateries here are 10s, but for gin lovers, there's really only one necessary stop, and that's Purple Palm. The owners wanted to channel the casual cool of the Coachella Valley and California and by no mistake, they have done this successfully, though perhaps a little more polished than said American counterparts. An open-air oasis, the bar here features a jaw-dropping 10-foot high curved wall of gin, surrounded by a smattering of white tables and chairs where you can enjoy a G&T or a creative cocktail. All spirits and even the tonic are from Aussie-based companies so you can feel good about your slightly damaged bank account the next day.
Granddad Jacks
Albion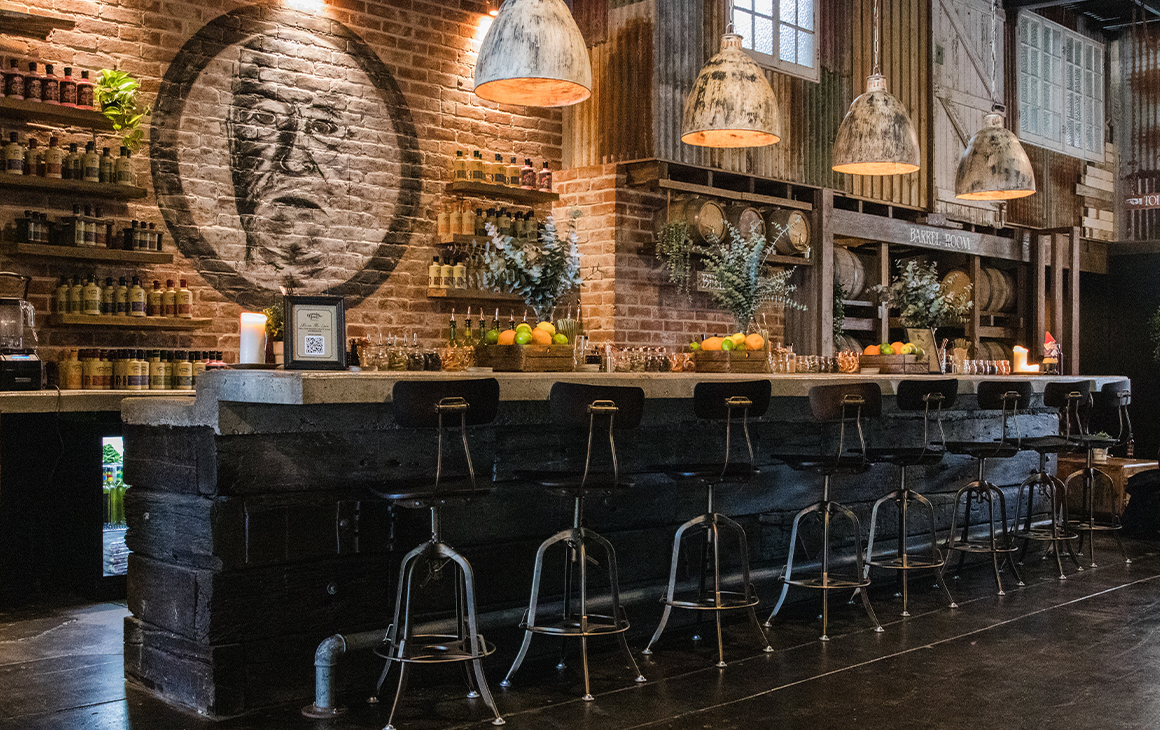 Recognise the name Granddad Jack's? That might be because of their Gold Coast distillery—but the southern fave has finally made its way here and we couldn't be happier. If this is your first visit to Grandad Jack's, you'll want to start with a gin tasting board of three gins, before moving on to their cocktails. After a few trips, you'll be a regular and will no doubt have a favourite from their line up of craft gins that you confidently order in a G&T every time. Bonus, it's dog-friendly and you can BYO food—so pack accordingly.
Eleven Bridges
South Brisbane
This moody bar and distillery is in a prime spot tucked away on Peel Street just a stone throw from GOMA and QPAC. While they do craft their own gin, there's also plenty of other boutique bottles on their shelves—over 150 to be exact. Lucky the crew at Eleven Bridges have paired each one with it's perfect mixer, so you don't have to attempt to choose that as well. With a menu of delicious bar bites to feast on when you get hungry, you can just settle in and sip your way through as many of those gins as you can.
Warehouse 25
Milton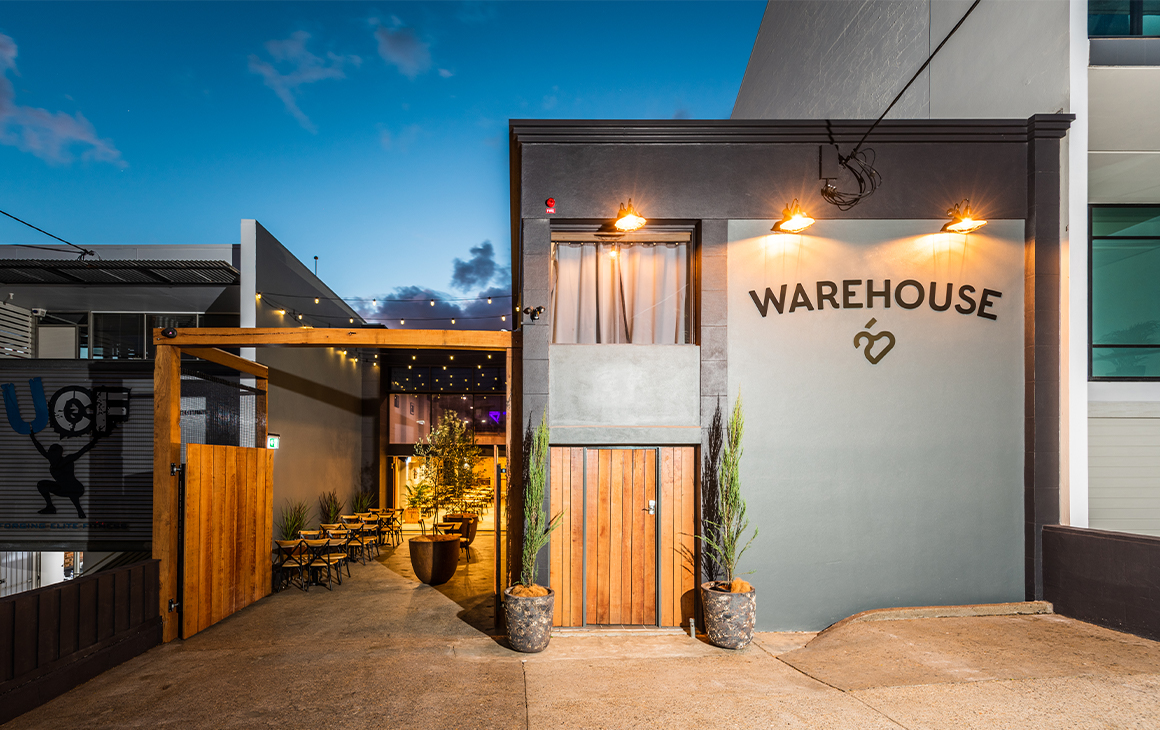 What's better than a distillery? A multi-level distillery and bar with live music of course. Previously a secret location for warehouse parties, the secret is out and the space has been transformed into Warehouse 25, a gin and vodka distillery complete with a bar, pizzeria, underground function space and a mezzanine dance floor. We hear their boozy Sunday brunches go off, but you can order up one of their saucy pizzas to go with your sip any day of the week.
Dutch Courage
Fortitude Valley
At Dutch Courage, gin savants are whisked back to the days of brawny adventures and glittering Gatsby-esque affairs. Raise a glass in the plantation-style bar, dressed in vintage, safari décor, and you really can't go wrong. If you're new to the scene, the bartenders at Brisbane's first gin bar are old hat: they'll lead you through the different styles of G&T, crafty cocktails like the Hendrick's Teapot, or straight-up serves of the world's finest gins. They also do a gin bathtub—need we say more?
Covent Garden
West End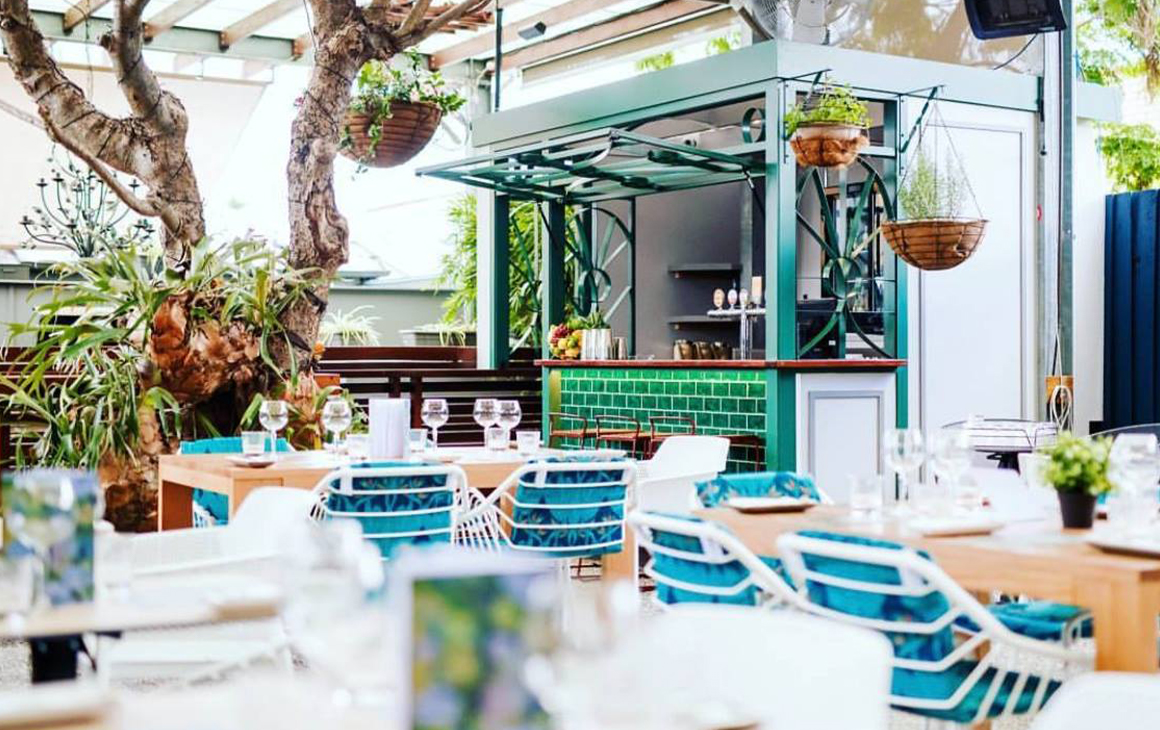 Where beer halls beckon for noise, platters of carbs and lots of yelling, Covent Garden matches the refinement of gin at every corner. Named after London's famous dining and cultural precinct, Covent Garden is the secret tropical oasis of Brisbane's West End. Through the doors, you'll discover a lofty, open-aired garden slinging pitchers of gin cocktails, share boards and–if you're lucky–the venue's famous G & High Tea.
BOSC
West End
Ordering a G&T never felt so good. At BOSC, or Bar of Social Conscience, 20% of bar profits are donated to an orphanage in Mexico. Oh, and it's dog friendly. Hold. My. Glass. The walls of this West End bar are lined with lip-smacking gins, including the house specialty: Cutlass and Sabre. We're not sure a bar could get any cooler.
Proud Henry
Brisbane CBD
Perched loftily over the bar, Proud Henry is the name of the stuffed peacock tasked with guarding over 280 varieties of gin. The bar's owners have scoured the globe for hard-to-find varietals, ready to craft hand-tailored concoctions for patrons like an apothecary of the old days. With acoustic music in the evenings and Spanish charcuterie to pair with your next gin flight, it'll prove hard to leave Proud Henry alone with his gin.
Finished sipping that G&T? Taste-test your next varietal at these local gin distilleries.
Image credit: Ranyhyn Laine, Warehouse 25, supplied