From the institutions that we know and love to small neighbourhood venues, these are the best live music venues right now in Brisbane. Show up, dance with your hands and say cheers to them for keeping the lights on.
Black Bear Lodge
Fortitude Valley
Situated in the heart of Brisbane's live music hub Fortitude Valley, Black Bear Lodge is known for getting first dibs on live EP sets and intimate touring gigs. Black Bear's trivia nights, old-school dance parties, and '90s-flavour DJ sets have contributed to making this live music venue a firm favourite with musos and music appreciators alike. If you're frothing for some of Queensland's best emerging acts, head along to Sunday Service on a Sunday—entry is free.
The Brightside
Fortitude Valley
Housed in a former church in the heart of The Valley, The Brightside is an iconic venue on Brisbane's live music scene. Known for its eclectic gig nights big and small, be it local up and comers or big-ticket tours, they've got a banging beer garden that hosts regular dog-friendly parties. With karaoke, music trivia and sing-a-long nights on the usual line up, The Brightside knows how to start and end a great night of music.
Fortitude Music Hall
Fortitude Valley
Boasting an impressive 3000 patron capacity, Fortitude Music Hall is the goldilocks venue for acts too big for your average bar, but not large enough to fill up Suncorp Stadium. The hall draws inspiration from some of the world's most loved live music venues, whilst incorporating a ballroom theme for a bit of added class (something the Valley was previously lacking). With an epic lineup of acts planned for 2022, it's worth jumping online to see if you can snag yourself a spot at some of the upcoming events.
The Prince Consort
Fortitude Valley
Home to eight different bars and party venues, The Prince Consort is an absolute must-see on your next night out. Begin with a visit to the ground floor, where you'll be greeted by grand old English pub vibes, before making your way out to the back garden. Here, you'll take in a stunning open-air oasis, perfect for a Sunday sesh under the shade of the pastel green umbrellas while a band rocks out on the outdoor stage. After downing a schooner out in the garden, you'll still have plenty more to explore, so whisk yourself off to La La Land (aka the bar upstairs), where bigger acts get the crowds jiving out on the dance floor.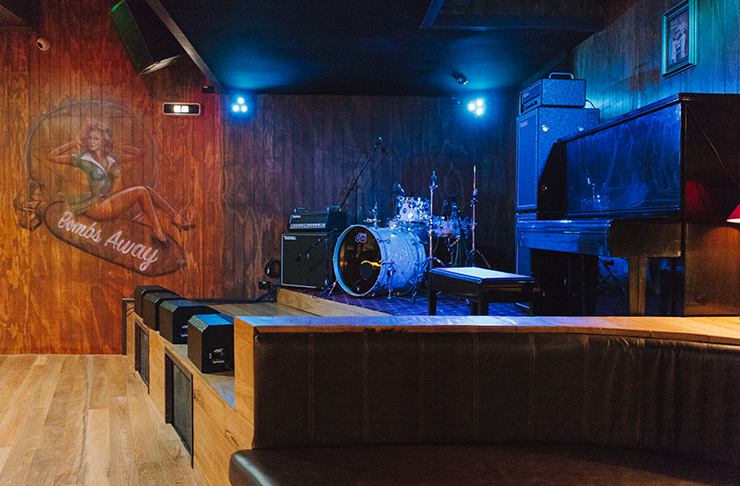 Brooklyn Standard
Brisbane CBD
Channelling the New York underground is ultimate cool kid, Brooklyn Standard. This is the kind of atmospheric bar we would gladly spend many an evening regardless, but the fact there are acts performing seven nights a week makes it a must do. The stylish locale features the sounds of jazz, soul, funk and blues, and has an extensive drinks list to match.
Suzie Wong's Good Time Bar
Fortitude Valley
Who is Suzie Wong? You don't need to know—all that matters is that she is here for a good time. Along with a knock out pina colada, Hawaiian dive bar Suzie Wong's puts on a variety of events and shindigs every week, with live music four nights a week and hospitality nights every Sunday. Put your eyes on their Facebook page to keep up to date with what's on, or just dive into the surfy dive bar for craft beers, wines and cocktails.
The Sound Garden
Fortitdue Valley
Sitting in prime position on Brunswick Street Mall next to Fortitude Music Hall, The Sound Garden is Fortitude Valley's epic new bar and restaurant that will take your next Valley night out to the next level—literally. Taking over two massive floors with space for 700 punters, the ground floor is where you'll find the live music stage, with local artists playing chilled tunes on weekends.
Woolly Mammoth Mane Stage
Fortitude Valley
The Woolly Mammoth is home to three relatively distinct party venues, but our fave has to be the Mane Stage. Here, you'll find gigs from some of the best musicians in the Brisbane music scene, alongside cocktails, tipples and plenty of cerveza. Got the pre-show munchies? Book a table at the Ivory Tusk and down the latest creations from the Mammoth's Mexicali-inspired kitchen. Trust us—it tastes even better than it sounds.
The Triffid
Newstead
An old commercial hangar, The Triffid is a Brisbane icon for live music. The baby of Powderfinger bassist John Collins (a man who knows a thing or two about the live music), the venue has been home to the international elite alongside local and national up and comers for years and is wildly known for its fostering of emerging bands. These days the 800-capacity space has been turned into a cabaret-style venue with table service booze, but you can always hit the beer garden for chilled tunes on any given night.
Greaser
Fortitude Valley
Tucked away down the grungy back alleys of Fortitude Valley, Greaser embraces its gritty roots to forge the ultimate backdrop for emerging indie bands to make their debut on the live music scene. The venue's graffiti-covered, exposed brick walls are covered in rock n' roll memorabilia worthy of a spot in Cleveland's Rock Hall, setting the stage for a whole lot of rhythm and booze. Check out their site for a list of upcoming gigs and events, and prepare for one hell of a head-banging night ahead.
O'Skulligans
Fortitude Valley
With decor that pays homage to the big names in Brisbane's rock music scene, O'Skulligans features sleek black furnishings and a towering wall of spirits. A moody-yet-welcome addition to the iconic McWhirter's building, Skullies is perfectly positioned just steps from the Valley train station. We recommend pounding back a bourbon with house-made peach iced tea and picking up some merch to blend in with the scenery.
The Zoo
Fortitude Valley
The undisputed home of live music in Brissy since 1992, The Zoo offers chill, storied digs that often cater to the more indie end of the musical spectrum. Featuring performances from both local and international artists, expect to see new and familiar faces as you get your rock on down on Ann Street. The Zoo's 2022 calendar is already starting to fill up, so head to their site to see what's in store for the new year.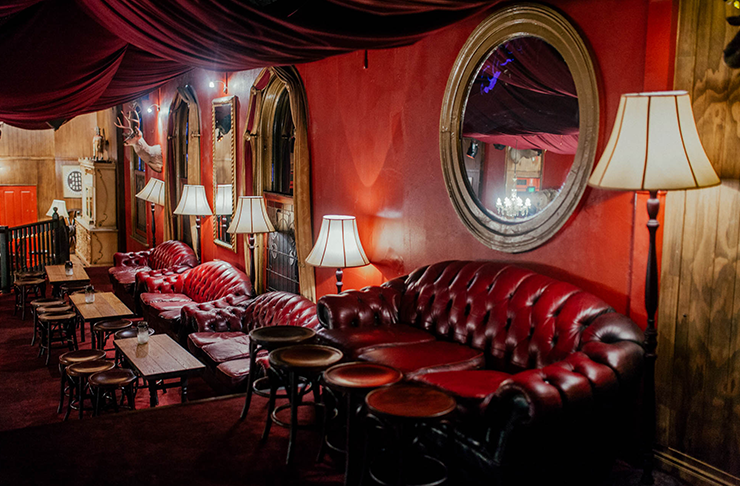 Lefty's Old Time Music Hall
Petrie Terrace
Lefty's Old Time Music Hall is Brisbane's answer to the honky tonks of the USA's of old. Home to knee-slapping country music and dive bar-style American eats, this a classic local bar that champions a wealth of live music every Thursday to Saturday. Be sure to take a break from the tunes and scope out the secret Mermaid Bar while you're there—ordering a whisky apple is a must.
The Tivoli
Fortitude Valley
The Tivoli has long been considered one of the best live music venues in Brisbane, playing host to both the biggest and up-and-coming acts. Known for its intimate atmosphere and grand, almost regal, decor, if your favourite band is playing in Brisbane, there's a good chance they'll be playing at The Tivoli. Right now, they're doing intimate cabaret-style events with food provided by nearby City Winery—scope out what's on the calendar here.
The Bearded Lady
West End
The Bearded Lady is easily one of the coolest bars on West End's main drag—the fact that they have live music is just a bonus. With walls covered in graffiti, beer flowing freely from pipes, super creative cocktails, and tunes from some of the best local acts, The Bearded Lady is definitely a favourite. Bonus—they're BYO food.
It's Still A Secret
South Brisbane
By far the newest addition to the local live music scene, It's Still A Secret comes to us from the brains behind Can You Keep A Secret, a cutesy wine bar down in the Gabba. After a massive grand opening weekend back in November, It's Still A Secret has already solidified itself as a local fave, serving up wine and cheese out the back in between incredible live acts in their dedicated band room. Operating out of a 130-year-old heritage building on Montague Road, it's worth swinging back to check out the new venue and get to work sampling their epic drinks list. We recommend starting with an ale from Aether Brewing (available on tap, just FYI) before moving onto the stiffer stuff mid-act.
The Outpost
Fortitude Valley
Tucked away within The Fortitude Music Hall, The Outpost is a 300 capacity venue dedicated to showcasing the latest and greatest local performers as they rock the mic until the wee hours of the morning. Featuring classic interiors reminiscent of late 70s post punk, it's the perfect venue for letting loose to the sound of some of the most iconic artists the city has to offer. We recommend working your way through their curated cocktail list and delectable canapes before getting your jiggy on down on the dancefloor.
If you prefer to catch a game while you drink, check out Brisbane's best sports bars.
Image credit: Ariana Gillrie, Jeff Andersen, Sophie Spencer