Besties, booze and brilliant art—paint and sip nights bring together all of our favourite things. There's something so relaxing about chatting, getting tipsy and looking busy, kind of like fishing. The only difference is, you'll actually come home with something.
Make your own rules, unleash your inner creative and if you don't think you're up for the challenge, think again because you don't need any experience. Best of all, most of the workshops are BYO—does it get any better?
These are best paint and sip art nights in Brisbane.
Pinot & Picasso
South Brisbane and Fortitude Valley
The sheer range of artistic masterpieces to choose from at Pinot & Picasso will have you coming back for a boozy art night again and again. From waterfalls and plants to flamingos and muscled Adonis (yes, really), there's a painting to suite every bedroom aesthetic. Our pick would be their new Neon Nights sessions—you'll paint with glow in the dark paints under UV lights for a unique paint and sip experience. The studios are of course BYO, but Pinot & Picasso will happily supply snacks in the form of cheese boards if you add them to your ticket purchase.
Clay And Sip Pottery Class
Brisbane CBD
Ok, it's not a paint and sip class—but we think a clay and sip class sounds even better, don't you? Although there won't be a clay wheel and Patrick Swayze can't make it, you will be able to cover your hands in clay and sculpt up something incredible at this Clay And Sip Pottery Class in the CBD. For $29, learn all you need to know about clay sculpting, from hatching to shaping forms. This one's for beginners so don't shy away. Bring a bottle of wine, some snacks and you're all set for a cozy Monday night out.
Rosé Soiree
Bulimba
Rose Soiree may be the newbie on the block when it comes to Brisbane paint and sip studios, but it's bound to have you hooked by its bright pink neon lights. They'll provide the painting tools and teaching skills, you bring along your fav rosé and camembert—it's a date. If you are wanting to be a little more fancy, you can order one of their grazing boards 24 hours ahead of your session. Either way, you're in for a night of releasing your inner artist.
Brush And Barrel
Newstead
This adorable and intimate studio is the BYO venture set to rejuvenate your friend date routine and bring a refreshing change to the dinner and drinks scenario we're all so familiar with. Just book your Brush and Barrel session according to what painting you'd prefer to recreate and enjoy a mindful two-hour escape from the daily grind. Paint your pet, paint a Banksy, even paint the fellow wannabe artist you've dragged along. All you need to bring along is your favourite adult grape juice and maybe a snack or two. BYO cheeseboard, here we come.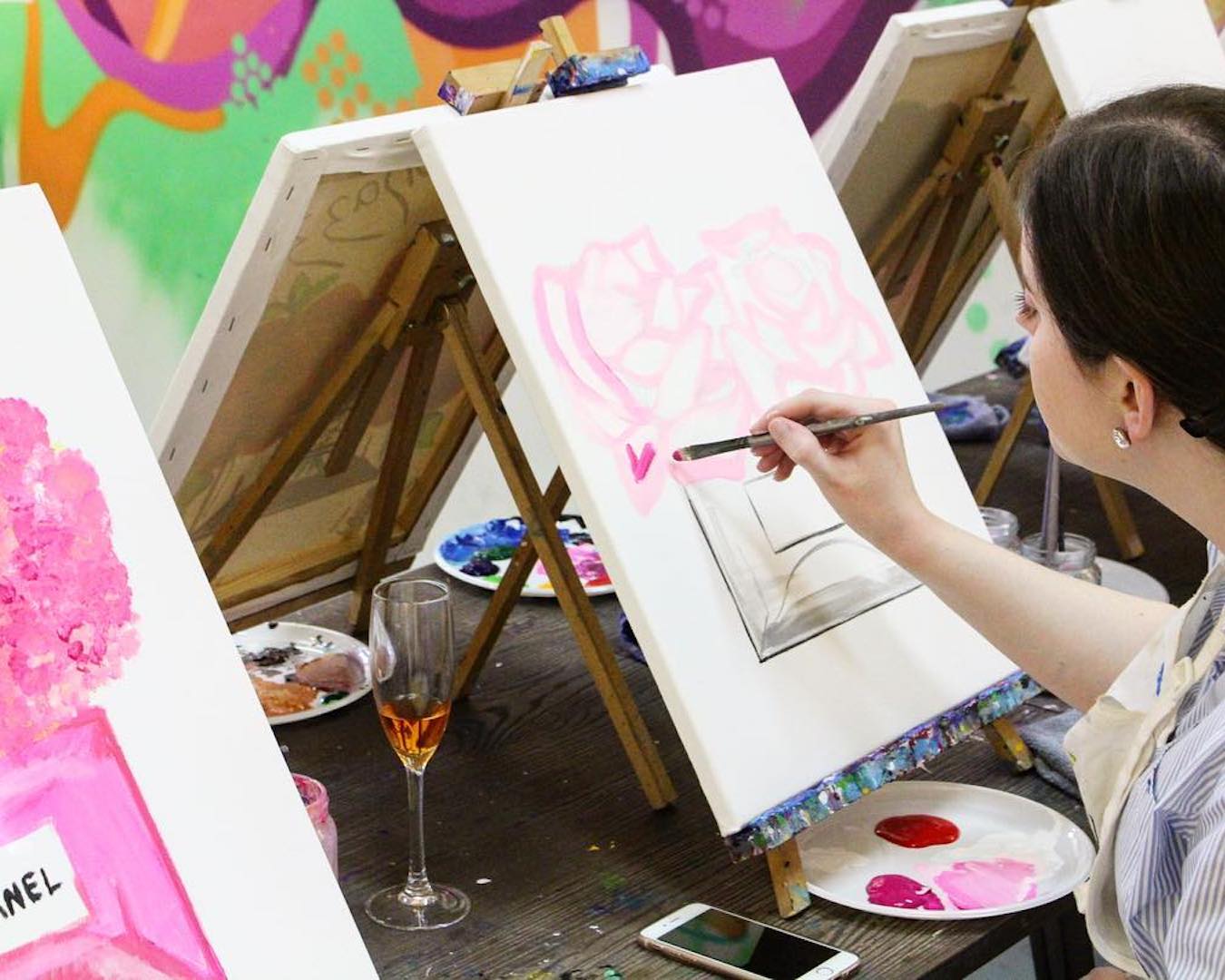 Montana Art Project
West End And Fortitude Valley
If painting bowls of fruit or pastel sunsets isn't quite your vibe, the BYO Montana Art Project might be just the ticket. Their usual sessions include a Nude Lady Paint and Sip night, because who doesn't want a glorious nude on their living room wall, right? Other artistic works offered on the regular are Frida Kahlo and Audrey Hepburn portrait painting, but if even holding a brush is too much to ask, acrylic free flow pouring (the paint, not the wine) might be right up your alley.
Cork And Chroma
South Bank And West End
The OG of Brisbane's paint and sip art scene (it's a thing), Cork and Chroma will equip you with a glass of BYO wine in one hand and a paintbrush in the other before teaching you the basic techniques of painting with acrylics on canvas. Even if you don't consider yourself a creative, that'll all change the moment you pop on your paint-splattered apron, settle in with a vino and start creating your very own masterpiece to take home. We know you just can't wait to hang yours up in your living room so you can smugly tell every visitor, "Oh this? I just painted that myself, no biggie."
Frida's
Paddington
Instead of capturing the essence of a warm bowl of fruit, get ready for a quirk-off at Frida's. These luxe paint and sip workshops are held in Paddington and have all types of intriguing subjects—including regular paint your pet nights. Whether you're a weekday or weekend drinker-meets-creative, there's a class for everyone. You'll be guided by your very own social artistic instructor while slapping around paint and creating dazzling artworks. Perhaps your muse are kookaburras, beaches, or our personal favourite, R 'n' B. A tasty BYO vino in one hand, a paint brush in the other, what could go wrong?
Wesley Taylor Art Studios
Fortitude Valley
For something a bit different to your usual Friday dinner and drinks nights, why not get on the wines at a paint and sip session hosted by Wesley Taylor Art Studios at La Dulce Vita Cucina Emporium in the Valley? Perfectly situated to kick off your evening with a bit of creativity (though you might want to put an apron over your outfit), Wesley Taylor will provide all the crafty materials while La Dulce Vita Cucina will keep the drinks coming, and supply pizza and pasta if you get peckish. Sessions run every Friday night for $25 with a different theme and style every week. If you prefer to BYO, Wesley Taylor also runs a Friday night session in the CBD.
Prefer your art outdoors? Check out where to find Brisbane's coolest street art here.
Image credit: Cork & Chroma, Brush And Barrel