The cafe and restaurant scene in our beloved Brisbane is really starting to turn it on, and nowhere more than our favourite leafy suburb, New Farm. The cafe all-star 'burb of our city, there are just simply so many bangers here that we had to dedicate a whole list to them.
Whip out your trendiest outfit, these are the best cafes in New Farm (don't come for us, but we've grouped in neighbouring Newstead and Teneriffe too).
Mylk & Co
New Farm
One thing about New Farm cafes, they've gotta be aesthetic enough for your 'gram, and Mylk & Co have certainly met that brief. With a neighbourhood cafe vibe at heart, this unsuspecting powerhouse is not only whipping up the perfect post-workout acai bowls and smoothies, but also silky coffee, baked and raw treats and fully-fledged breakfasts and lunches.
Blue Bear Coffeehouse
New Farm
You've definitely driven past Blue Bear Coffeehouse on James Street before and wondered what was on the menu, but it's time to make time to finally go inside—if you can score a table, that is. There's not much that the manicured hands of New Farm will physically go tooth and nail for, but Blue Bear Coffeehouse's waffle eggs benny is one of those things. Roves of 5-star reviews share our sentiment and that is that Blue Bear Coffeehouse is a home run hit of a cafe. God-tier coffee aside, the menu is delicious yet innovative and the atmosphere could not be more welcoming.
Joedy's Cafe
New Farm
Across the road from New Farm Park sits Joedy's, the perfect Saturday morning post-dog park cafe. Locally sourced everything makes its way into the absolute 10 of a menu, as well as little bits and bobs for sale on the shelves like housemade chutney, banana butter or pink Himalayan salt body scrub. Speaking of that menu, this one's for everyone, from classics like a breakfast burger on a milk bun to the mouthwatering miso mushrooms with beetroot hummus, truffled ricotta, salsa verde, porcini, dusted egg and a generous sprinkling of parmesan.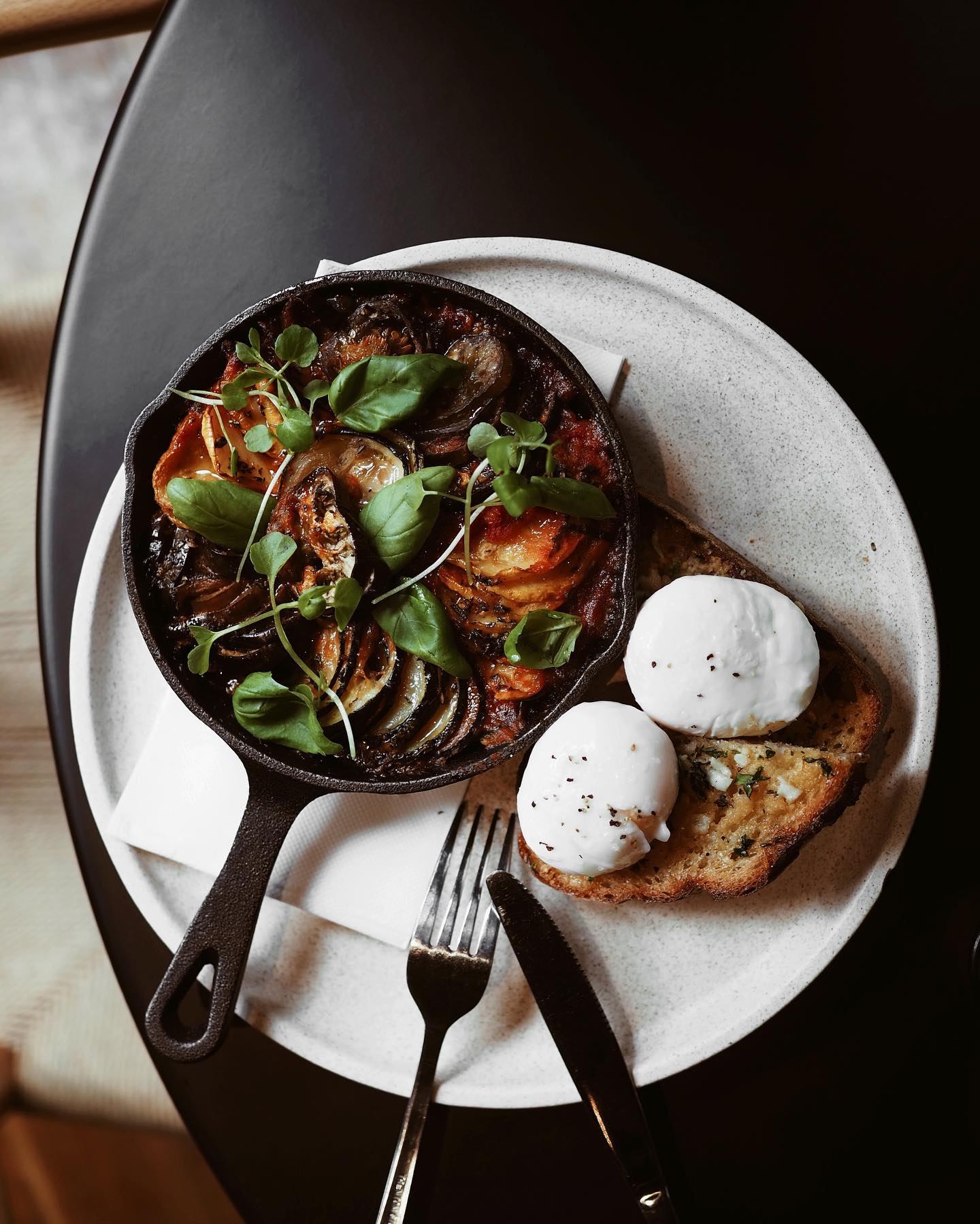 Kin & Co
Teneriffe
Somehow, Kin & Co has a Melbourne-laneway feel, even perched on one of Teneriffe's leafiest streets and with river breezes to boot. Add stellar coffee and food that's just downright delicious, and we are so so in. The shakshuka catches our eye every time, not to mention the downright obscene blueberry hotcakes. In a rush? Swing by the street-facing takeaway window for a convenient refuel-on-the-run.
Dicki's
New Farm
Come one come all, to this vego and vegan paradise. Dicki's on Brunswick Street is your one-stop shop for unbutton-the-jeans level good plant-based food. One of our favourite morning eats is the breakfast burrito that comes with spiced rice, scrambled tofu, black beans, spinach, salsa and a hash brown all wrapped up in a soft tortilla. If you can't smell the vegan goodness a mile away, they're unmissable thanks to their signature turquoise signage and the hoards of dogs and their owners parked up out the front. Yep that's right, they're pet friendly too.
Nodo
Newstead
Waltz on in to crowd fave Nodo for unreal gluten-free baked donuts and, even better, full-blown breakfasts. Didn't know Nodo did actual brunches? Well it's about time you did—and tried them. Just as friendly on dietary requirements as their sweet treats, the menu features the likes of baked peaches and cream French pancakes, and XO mushroom omelettes with miso whipped tofu. Get in early on weekends because the locals already well and truly know what's up.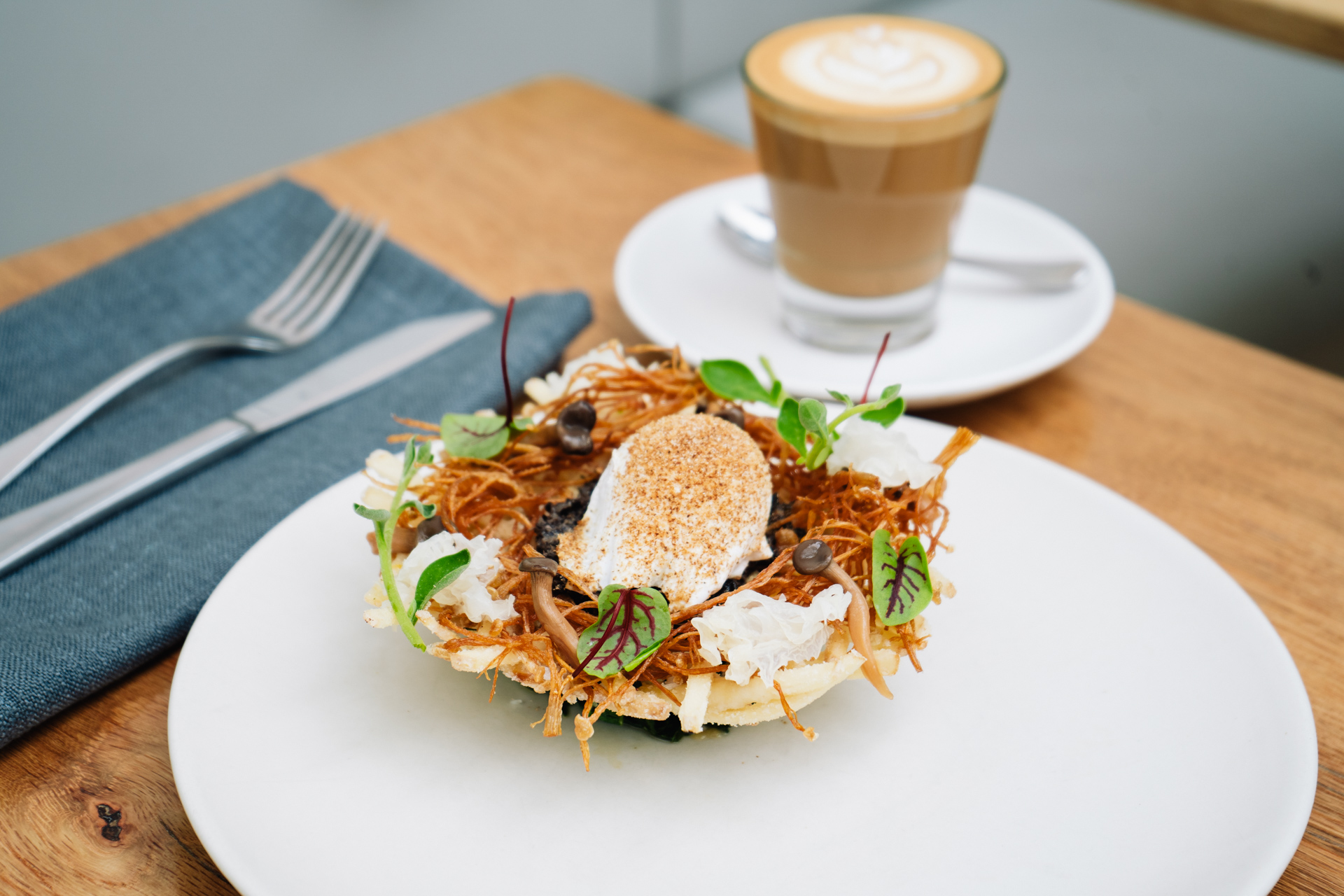 Industry Beans
Newstead
In terms of aesthetic points, no one scores higher than Industry Beans. With a venue straight out of an architecture magazine, Industry Beans is all about that perfect shot of espresso, and their counter is lined with futuristic machines designed to create just that. If coffee is your thing, this may be your Disneylan—all the brews, beans and coffee combos you could ever think of call this skylit almost-lab home. Don't get too caffeinated though, because there's also an impressive food menu on offer that should not be missed.
Samson & Sophie
Teneriffe
A longstanding favourite among Teneriffe locals, Samson & Sophie is a relaxed, rustic cafe with friendly service and hearty breakfasts. The menu of breakfast classics like corn fritters, shakshuka and pancakes is executed perfectly and there's a few lunch options as well. Bonus, they do a bottomless brunch option from 10am if you're after a mimosa or five.
The Moray Cafe
New Farm
For 25 years, The Moray Cafe has been parked squarely at the roundabout at Merthyr Road and Moray Street—more recently coined as Brisbane's most livable street. Though the cafe has been through a few hands, they've been around a long time simply because they know what they're doing, and boy do they do it well. A quick glance at the menu turns into a half-hour long deliberation—you try choosing between the zucchini potato stack and the Finnish-style banana pancakes, then get back to us. Meanwhile, we'll be sipping on bottomless mimosas for $25.
Want more breakfast options? Check out the best cafes in Brisbane here.
Image credit: Nelson Zambrano, Nira Creative, Kin + Co, Industry Beans