Is there anything more indulgent than a long lunch? When you've got good food and drink, great company and the whole afternoon to knock yourself into a food coma it makes any other daytime activity seem pretty drab.
To ensure you get maximum enjoyment from your next long lunch location, we've wrapped up the best places in Brisbane to take a long lunch.
Hellenika
Fortitude Valley
Housed on the rooftop, and overlooking the very classy open-air pool of boutique hotel, The Calile, Hellenika is peak summer hangs, giving off serious greek island vibes, which translates very simply as the perfect day-to-night, drinking and dining haunt James Street was hanging out for.
Otto
South Bank
Since moving over to their new riverside perch in South Bank, Otto has gotten more enticing than ever, with even better views than before to go with their top notch Italian eats, particularly on a sunny afternoon over a Brisbane lunch. Best of all, you can start or finish your meal (or both) in the bar right next door, where the Aperol spritzes are plentiful and the views are just as good (if not better).
Manly Boathouse
Manly
A long lunch with actual water views, not just the murky river? For that, you'll need to head to Manly, where the Manly Boathouse is dishing up some serious beachy vibes alongside epic eats. Whether you opt to eat in their airy, all-white dining room overlooking the harbour or book out one of their little boathouses, you can feast on snacks, seafood and steaks while you work through their lengthy list of cocktails.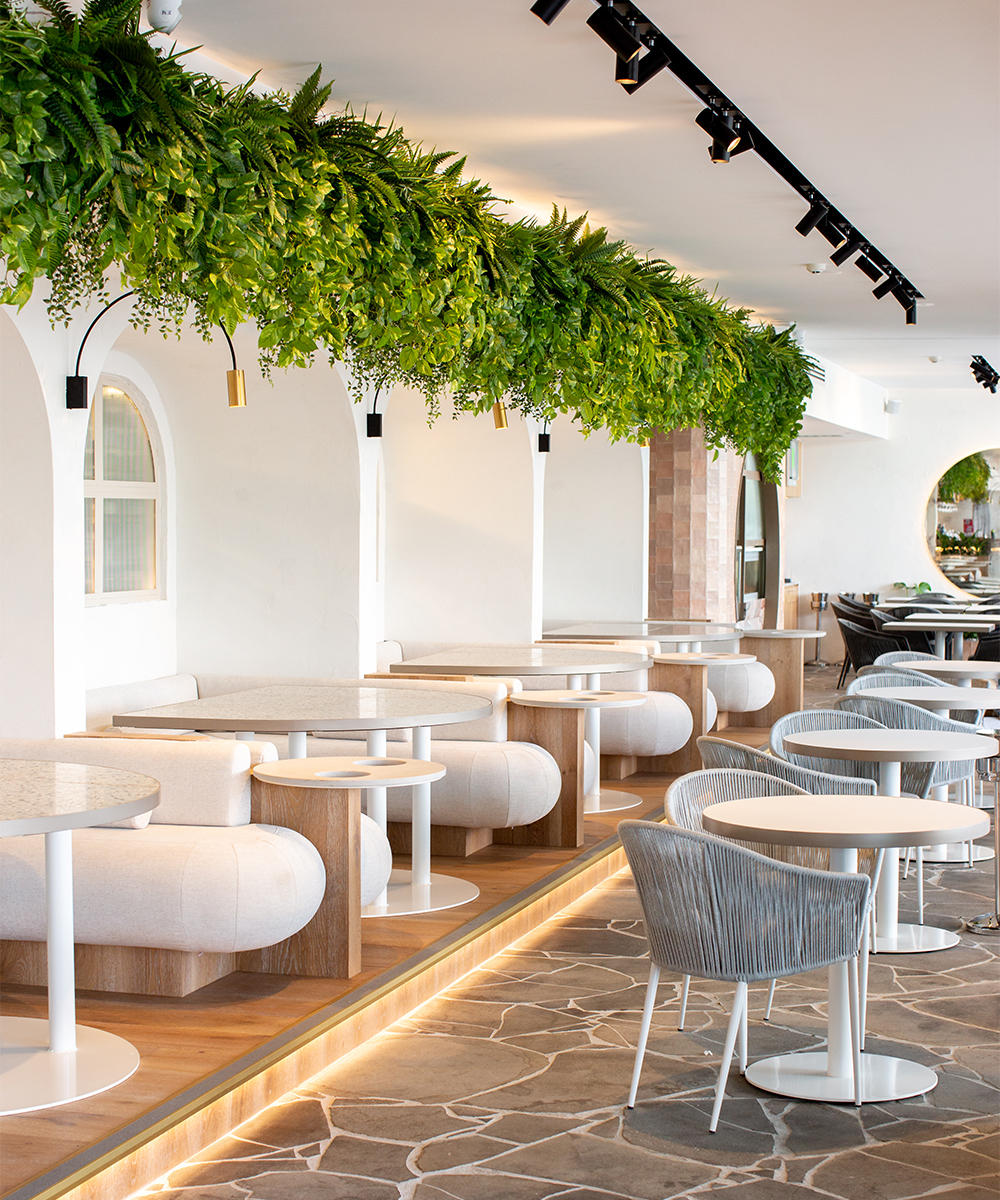 Opa
Brisbane CBD
Greek food is the ultimate shared feast, and when it's dished up in a venue as good-looking as Opa, it just takes the whole experience to the next level. Depending on your group size, you could be dining in one of the massive circular tables lining the river, or in one of the stunning plush booths overhung with greenery. Either way, you'll be drooling as soon as the food starts coming your way.
Motorwagen
BRISBANE CBD
Whether you want a classic fish and chips or something more adventurous, the airy, vintage Mercedes-Benz-inspired Motorwagen is a dreamy spot for a long Friday lunch—or any day of the week really, we're all about long lunches on a Tuesday. There's a snappy cocktail and wine list to pair with your meal, and you'll definitely want to stay a little longer for one of their next level desserts to finish things off.
Greca
HOWARD SMITH WHARVES
Part of the Apollo family that has laid roots in Sydney and Tokyo, Greca is a contemporary Greek taverna poised on Brisbane's shores. Taking up prime waterfront real estate, Greca is the perfect setting for Greca's Greek feasts, being both close to the water and an example of a modernised classic. Already, the notable standouts on the menu are the grilled octopus, baked lamb shoulder, and the grilled saganaki drizzled in local honey, but the Full Greek set menu is your best bet if you want the full gustatory tour.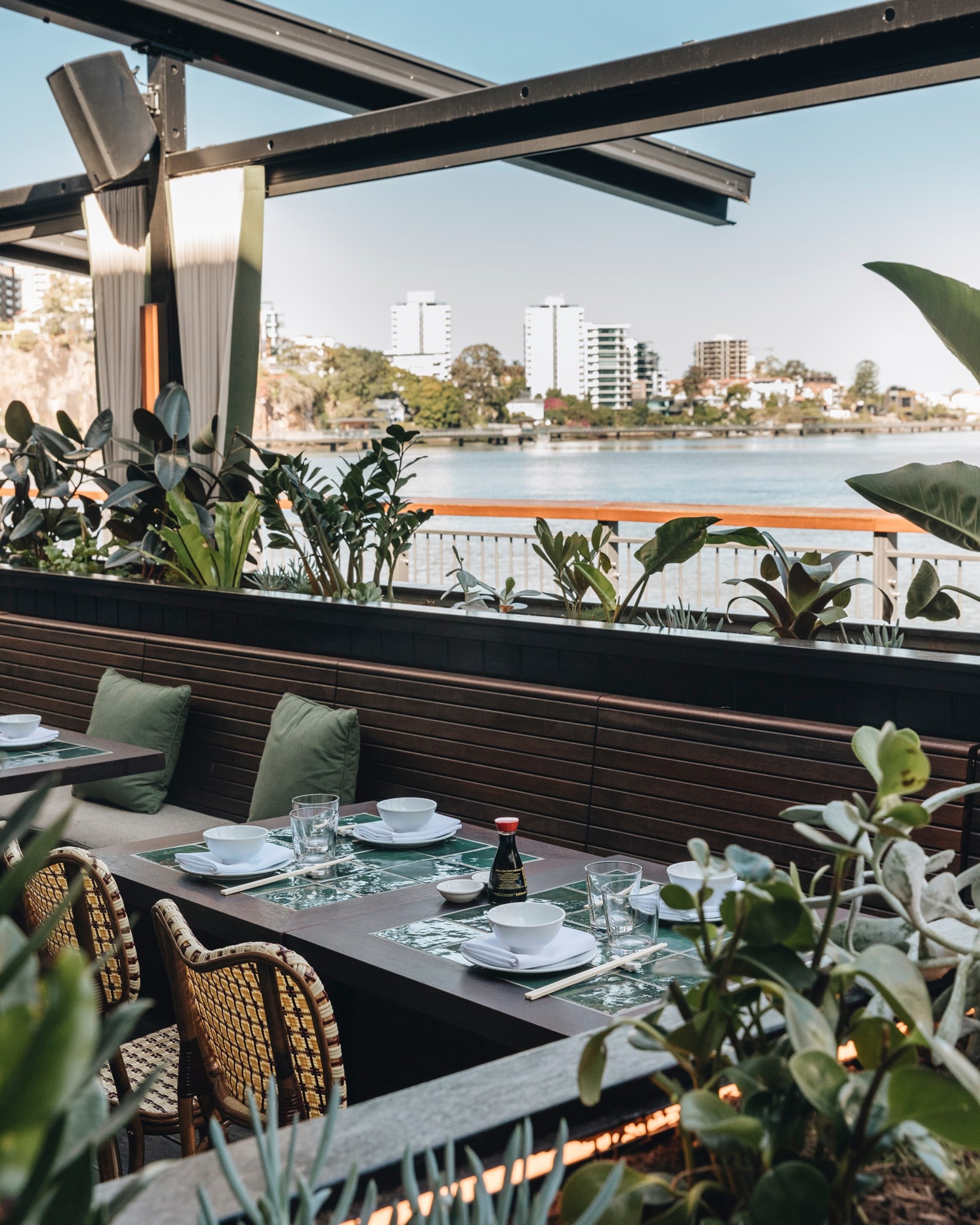 Stanley
Howard Smith Wharves
If you're long lunching at Stanley, you'll want to be picky with your seating and request a table outside on the deck, with those glorious Story Bridge views in front of you. Inside is beautiful, don't get us wrong, but there's something about eating Peking duck pancakes and dim sum with a river breeze (and hopefully a bottle of wine) that screams long lunch.
Same Same
Fortitude Valley
There's no such thing as having just one or two courses at Same Same—it's banquet-style all the way, and you'll definitely need more than a quick hour to polish off every dish. You can either let the kitchen decide what that banquet involves for you, so you've got more time to knock back a spicy chilli margarita, or you can just go hard on eats like red curry and sesame prawn toast, soft shell crab bao, lamb shank massaman curry and grilled Bundaberg Bay bugs in pickled chilli butter.
NOTA
PADDINGTON
Nota is an elegant, relaxed restaurant for those hoping for a more sedate long lunch—but who still want a good meal (and plenty of top notch wines of course). Take a seat in their warm, cosy dining room and opt for the chef's feast—it's the easiest way to sample their menu without having to choose what to order for yourself.

Maya
Fortitude Valley
Once you're ensconced in a plush blue booth at Maya overlooking the city views, you won't want to leave—so you'd best not have any plans for the rest of your afternoon. The first thing you order should be one of their incredible cocktails, before you choose from battered snapper tacos, slow-cooked chipotle short ribs kingfish ceviche or crumbed jalapenos stuffed with tequila cream cheese
Julius Pizzeria
South Brisbane
Julius Pizzeria is easily one of the best pizza joints in Brisbane. Big call, but true. You'll be hard pressed to find something on the menu that won't hit the spot. The calamari is too tasty for words, while the Number 1 pizza's name says it all: it's freaking delicious.
Gerard's Bistro
FORTITUDE VALLEY
Gerard's Bistro doesn't need an introduction, though their new head chef Adam Wolfers might. The wood-fired bagels will ruin all other bagels for you, while the wood-fired violet cauliflower will have you contemplating whether you can actually spend the rest of your life just living off cauliflower. The menu is made to share, too, so gather your buds and get ready to feast.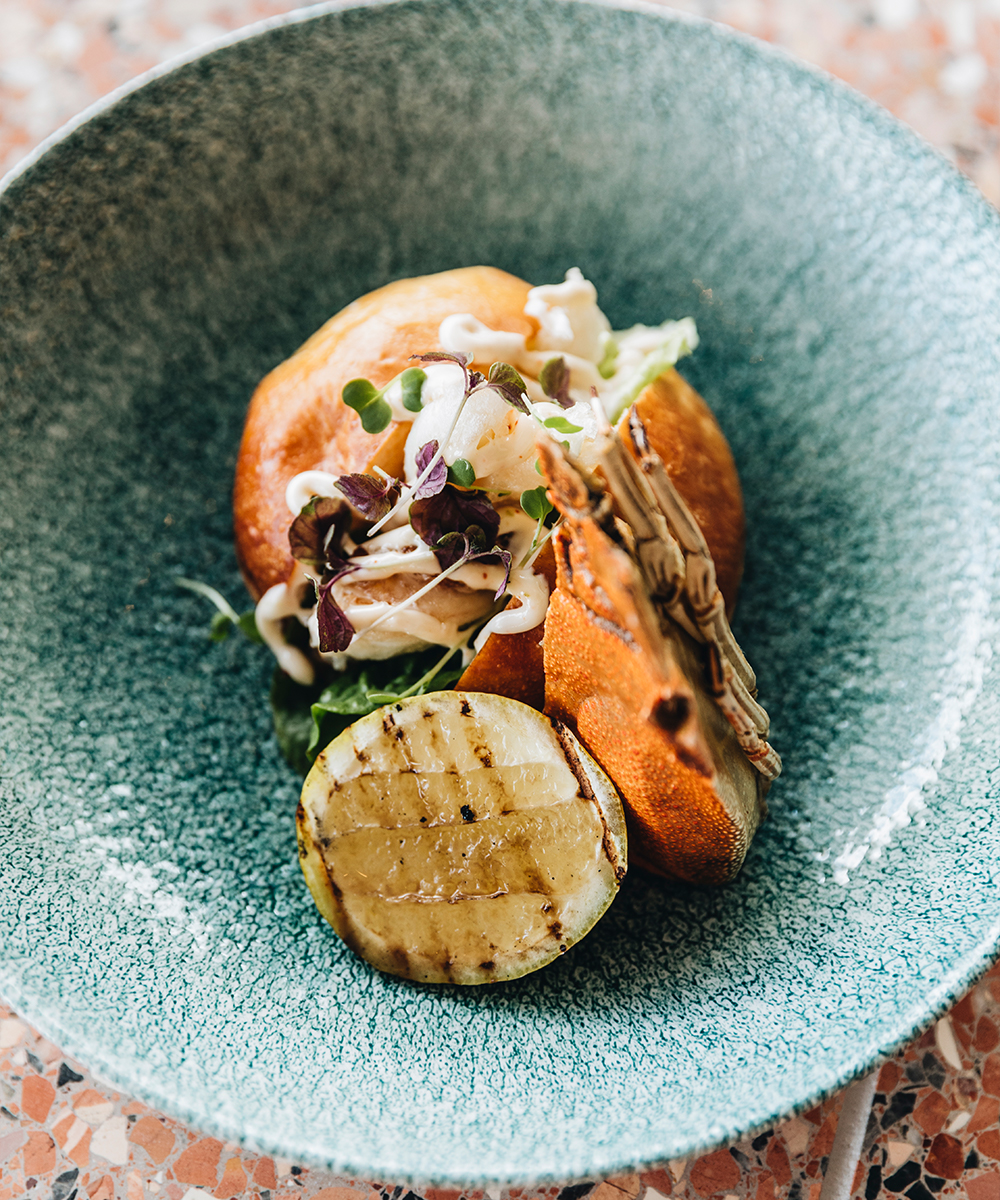 Rico Bar & Dining
Brisbane CBD
Sangria and paella by the river—what more could you want in a Brisbane lunch venue? Bonus, Rico is a stunner of a spot, kitted out in pastel pinks and chrome lamps, with a breezy outdoor area filled with bar seating under striped umbrellas for pre-lunch drinks or post-feed cocktails to keep you hanging around until late afternoon.
Coppa Spuntino
Brisbane CBD
Coppa's original locale in the CBD was a perfect spot for long Friday lunches (the ones where you just don't go back to the office), but with their new Riviera-inspired Eagle Street Pier venue, they've graduated to being weekend-worthy as well. Nibble on plates of arancini, antipasto and burrata while you sip negroni slushies and pretend you're on the coast of Italy.
Libertine
Paddington
Not only is Libertine one of our fave spots for date night option, but it's perfect for long lunches. The courtyard dining area is just the place to settle in to for an afternoon of drinking lychee cocktails while you tuck into lamb dumplings and crispy pork belly with a side of DIY green papaya salad.
Here are Brisbane's best restaurants you need to hit up.
Image credit: Grace Elizabeth Images for Urban List, Opa, Stanley