Let's be real, what's the point of going out to an ugly restaurant? You can cook at home—you're spending that sweet money for the vibes and view. And, lucky for us, Brisbane has no shortage of restaurants overlooking scenery that could've come straight out of a Bob Ross painting—minus the winding brown snake. Here's Brisbane's best restaurants with a view.
Popolo
South Brisbane
Pop over to Popolo for an Italian feast right on the banks of Brisbane River. Located in the River Quay precinct with the skyscrapers across the river well in view, this rustic joint serves up pizza, pasta, and, ultimately, perfection.
Sit in their funky al fresco dining area and order up some tartufata pizza, Moreton Bay bug linguine, and pistachio panna cotta—sounds like the perfect 3 course meal to us. Chuck in one of their signature cocktails like the "Rosa Cherubina"—White Oat Berry pink Gin, Rose Syrup, Lemon, Pineapple, Strawberry, topped with prosecco—and you've got yourself a night out.
OTTO
South Bank
Look, it's not exactly the classiest thing to get blotto at OTTO, but we wouldn't judge you for it. The Italian restaurant located right on the edge of the river at South Bank serves up cocktails and croquettes you don't want to miss.
With a bunch of deals up for grabs throughout the week, including "Pasta A Pranzo"—carbonara and wine for a hearty lunch—and $50 antipasti platters for two, OTTO's Osteria bar won't break the bank either.
Greca
Howard Smith Wharves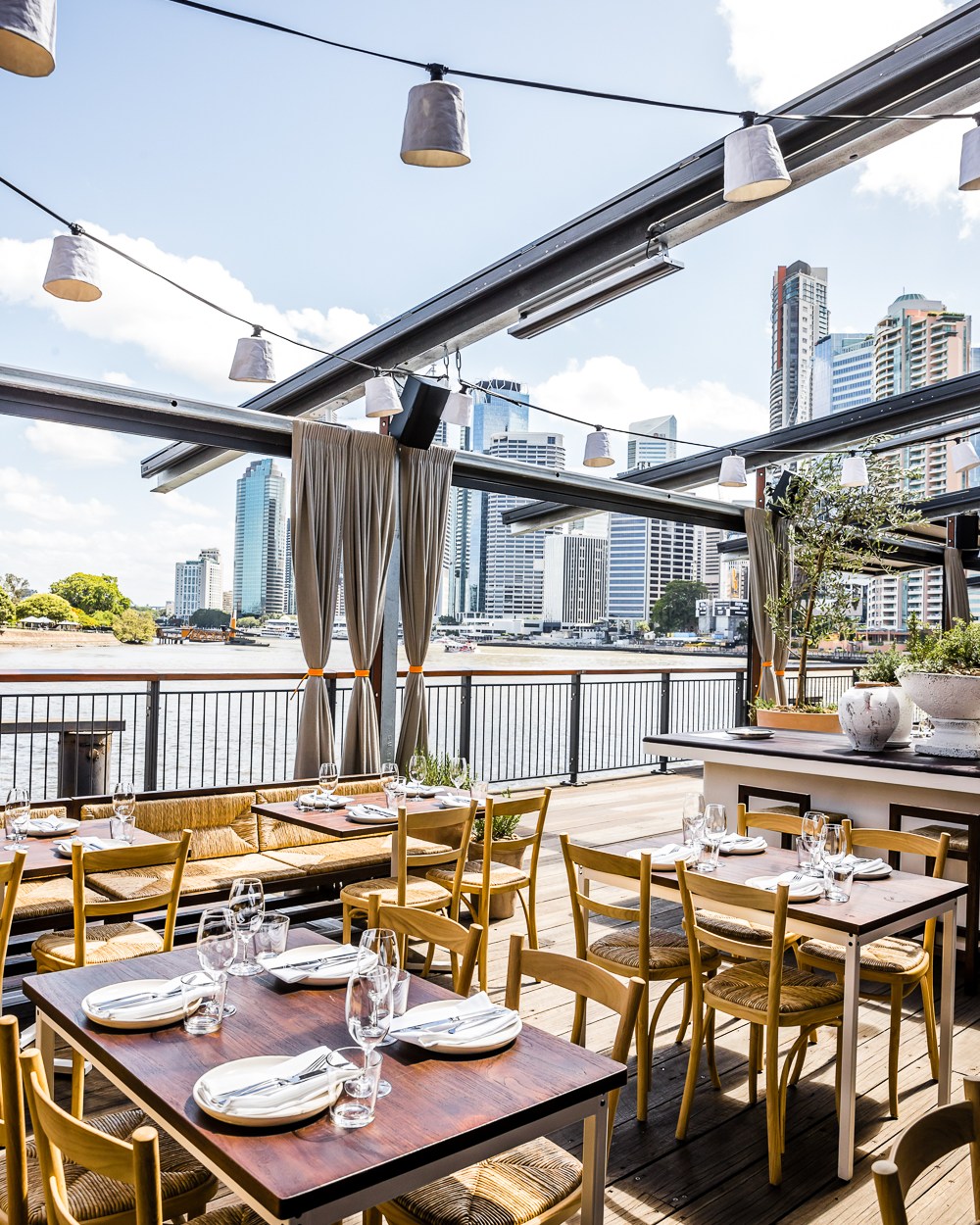 You may not have a Big Fat Greek Wedding, but you can certainly have a big fat Greek feast at Greca. With a menu designed to share, grab a couple of friends and order up some souvlakia, sheftalia, saganaki, and spanakorizo. If it starts with 's' and you're not sure how to pronounce it, best believe it'll be on the menu—and be damn good. Their cocktails are not to be messed with either. Sip on a Santorini Southside and smell the seaside. Alliteration is key, folks.
Babylon
Brisbane City
One of our favourite 2022 openings, Babylon is a Mediterranean paradise overlooking the Story Bridge. Their pan-fried halloumi, drizzled in honey, is to die for, and their wood-roasted chicken with preserved lemon yoghurt, house pickles, and brown butter is the stuff dreams are made of. We're not kidding. Top things off with some chocolate tahini and a Turkish espresso martini and you've got yourself a feast.
Lina Rooftop
South Brisbane
Elevate your dinner to a whole new level—12 levels up to be exact. Lina Rooftop brings a relaxed Mediterranean vibe to the Brisbane skyline. With 1500 square metres of rooftop bliss, including an enticing infinity pool, you feel like you're on top of the world—and you can pretty much see the whole world from that far up. And when you taste their squid ink linguine, you'll know you are. Ask for a booth by the windows for the full experience.
Yoko
Howard Smith Wharves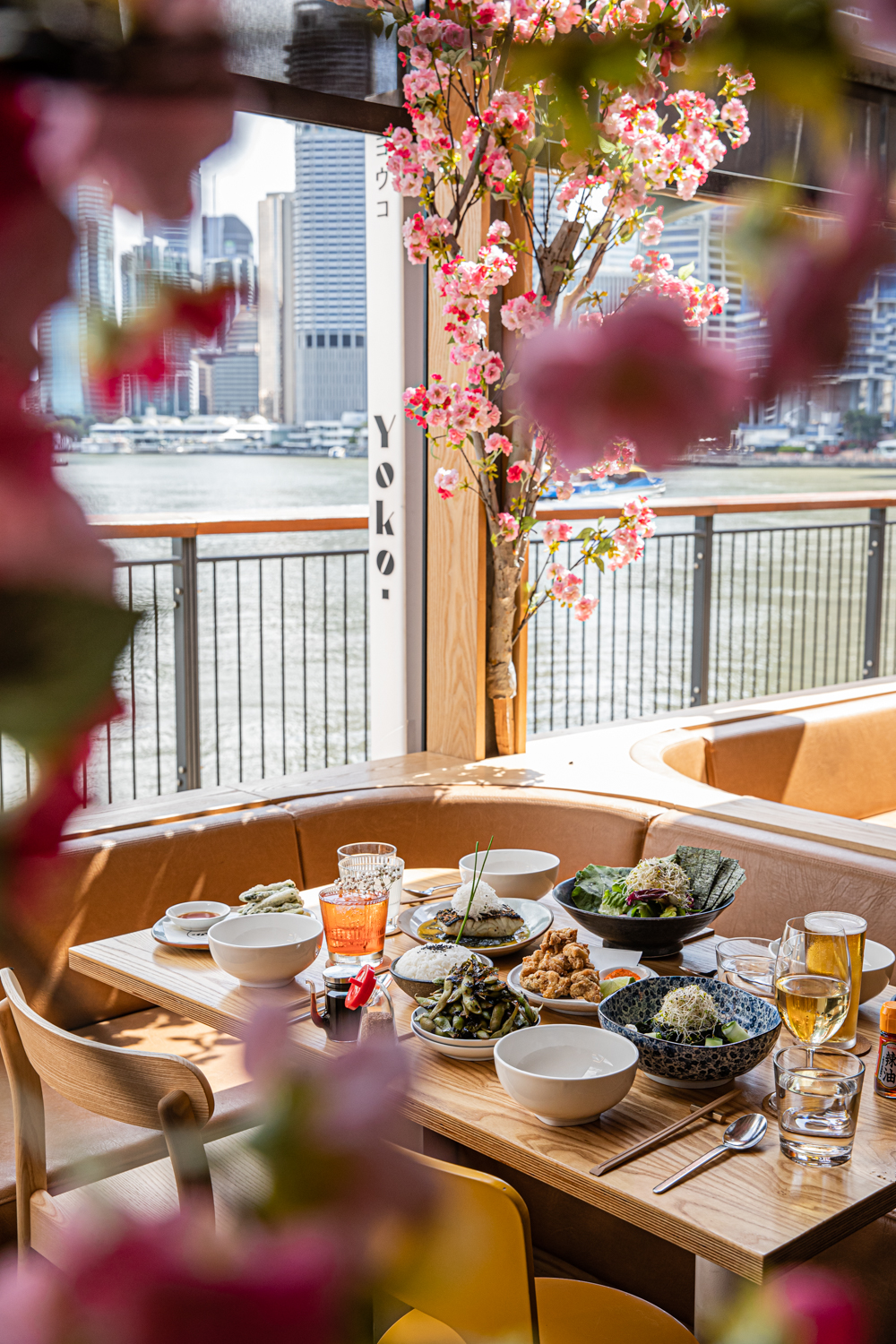 Inspired by the energy of Toyko's music bars, Yoko brings a neon-filled vibe to the Howard Smith Wharves. Right on Brisbane River with sweet views of the city skyline, you can grab some izakaya plates to share—we're talking wagyu kushiyaki, pork gyoza, and soft shell crab temaki.
If you're not one for sharing—we understand—you're covered too. Order off the raw bar menu for some wasabi citrus ocean trout or nikkei ceviche, or ask for some misozuke kingfish collar with yuzu or wagyu scotch fillet off the hibachi grill.
BŌS
Brisbane City
Wanna feel like a boss? Head over to BŌS. Puns aside, it's not even the insane views of the Story Bridge across the water that'll catch your eye. Their interior decorating skills are off the charts, with polished marble, plush green seating, and elegant brass accents
We haven't even started on the food. Paying homage to "the glory of premium beef", their menu includes dishes like wagyu beef ragout pappardelle, bistecca carved T-bone with red wine jus, and tomahawk carved dry aged black angus with smoked bone marrow butter and Mooloolaba prawns. Carnivores, this one's for you.
Ciao Papi
Howard Smith Wharves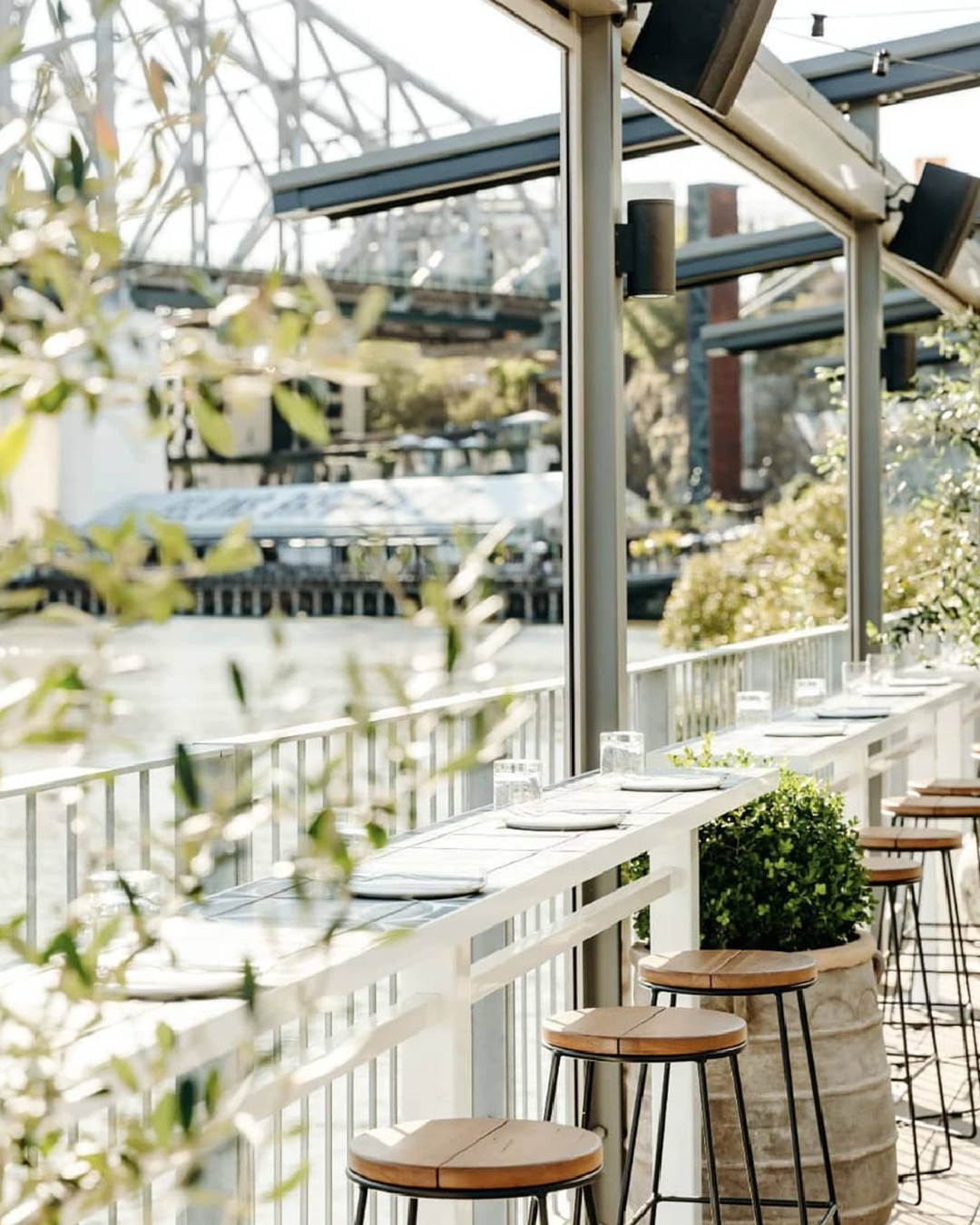 Want the feel of a Euro summer without the price tag? Head on over to Ciao Papi for some pasta and pizza next to the water, and Italy will come to you. Their main dining room has floor-to-ceiling windows so you can't miss the view of Brisbane City across the river, and if that isn't enough, you can sit on their outdoor deck for the full cityscape under the Story Bridge. Perfect for any Lady and the Tramp-esque fantasies, bring a date and slurp up some chilli and garlic prawn linguini.
Alchemy
Brisbane City
You'll be sure to have a jolly good time at Alchemy when Head Chef Brad Jolly is around, Story Bridge and river views are just a bonus Known as one of Australia's most influential chefs, his kitchen serves up mouthwatering meals with French undertones like Moroccan spiced quail with tomato and mint salad, gnocchetti sardi with WA braised octopus, squid, and saffron tomato sugo, and duck leg with caponata peppers, eggplant, olives, chorizo, capers, and red wine sauce. Honestly, it's got us drooling as we write.
Massimo
Brisbane City
Screw the Amalfi Coast, just head over to Massimo for the same flavours in our beloved Brisvegas. Snatch up a live lobster from their tank and then taste it with spaghetti, white wine, tomato, and garlic. Does it get more Italian than that? How about some steak with port and blue cheese sauce? What about some ragù di agnello? And we haven't even mentioned the water views yet…
Stanley
Howard Smith Wharves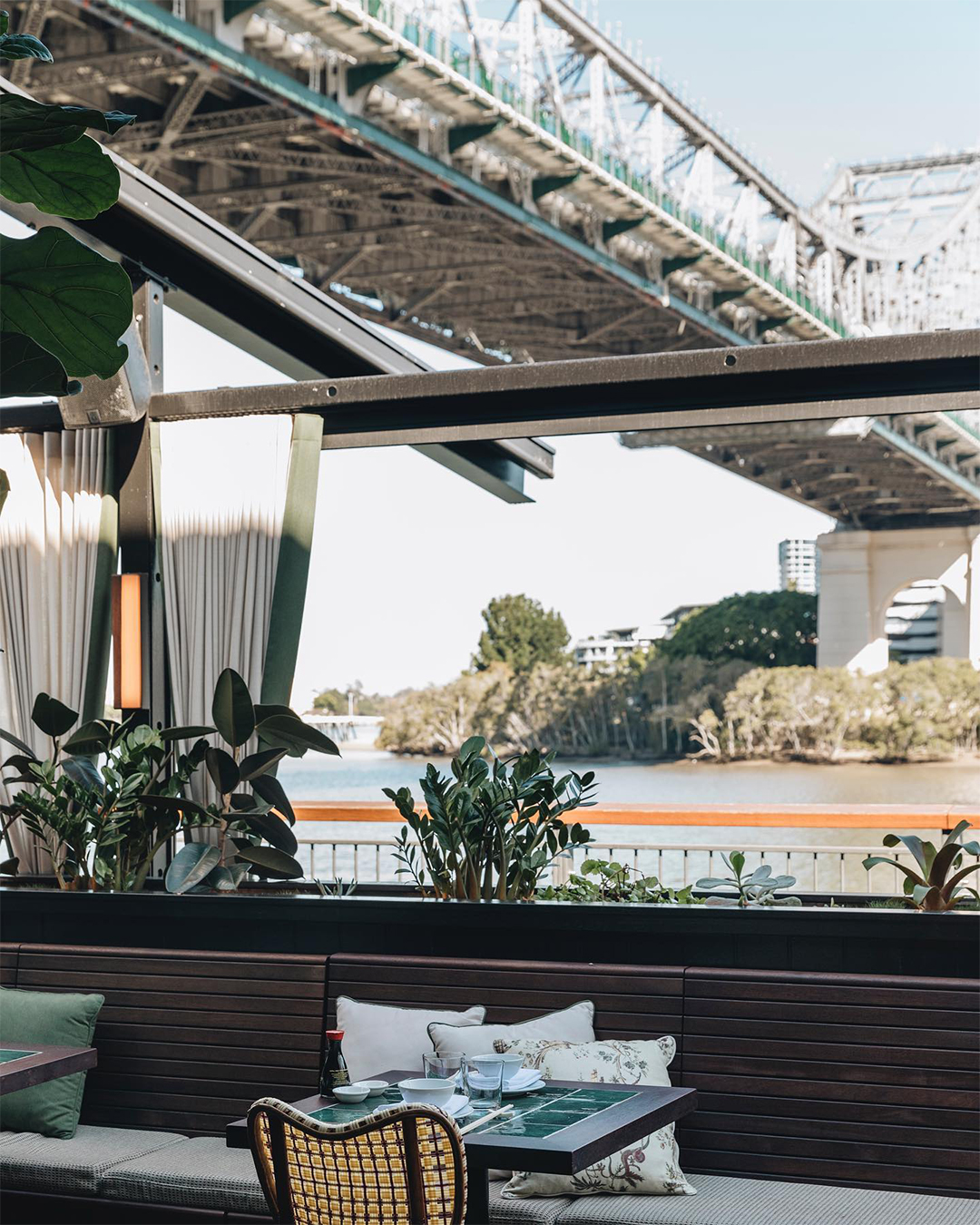 Another icon of the HSW, Stanley serves up Cantonese dishes as good as the view you can get from their restaurant—which is pretty good, just so you know. With a philosophy centred around food, friends, farmers, and fishermen, their menu is a delightful combination of BBQ, seafood, and noodles, brought together with Asian flavours. Their signature dishes include kung pao cauliflower, southern rock lobster with xo sauce and crispy noodles, and crispy pork belly with English mustard. Not too shabby.
Madame Wu
Brisbane City
All my guys, gals, and non-binary pals, meet your new favourite lady: Madame Wu. She's elegant, she's exciting, and, most importantly, she's an Asian fusion dining experience you won't soon forget. Based on the Chinese proverb, "To the people, food is heaven", their menu is full of heavenly dishes that will make your tastebuds sing.
These dishes include plates of braised pure black brisket with daikon radish, Hong Kong Portuguese chicken with fragrant pear salad, and tea spiced pork collar with miso, macadamia, green apple, and chilli jam. Thirsty? Their resident Sommelier can help with that.
Opa
Brisbane City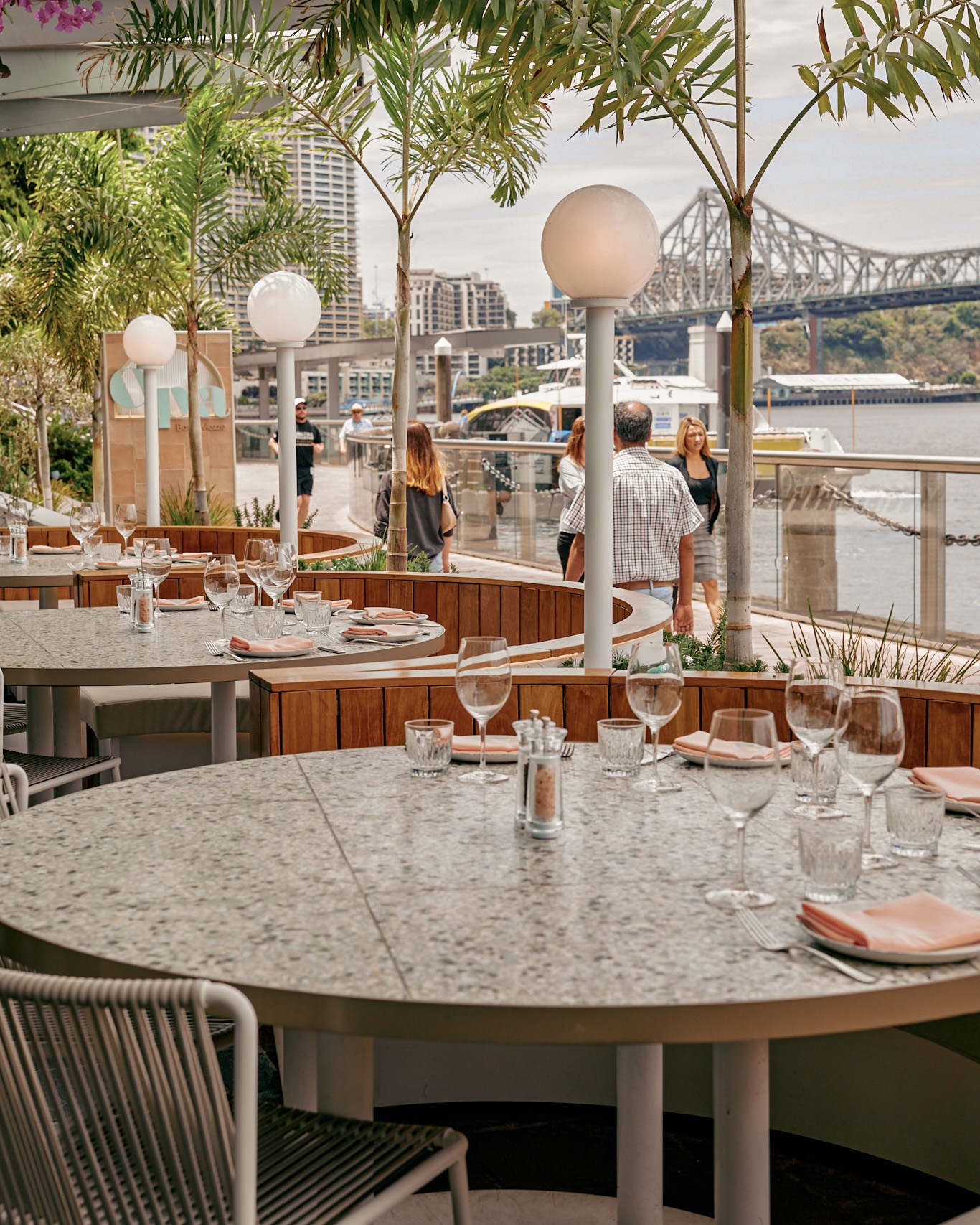 Get keen for a smashing time at Opa—just not too smashing. Even though this Greek restaurant's name is associated with plates dropping to the floor, it's generally not encouraged to chuck your meal on the ground. Shocker. It's okay though, because when you try their prawn saganaki and kolokithia yemista, you won't want to waste a bite. Finish up with some galaktoboureko and loukoumades to really sweeten the deal.
Tillerman
Brisbane City
Calling pescetarians far and wide—gather round while we tell you about a magical place called Tillerman. This seafood restaurant is heavily influenced by Coastal Europe, incorporating dishes like golden pompano meunière, NQ tropical painted lobster with angel hair pasta, and charcoal-grilled pink snapper in their oceanic menu. Nothing is off limits—if it's under the sea, it can be under your nose in minutes, though your eyes will be more focused on the river views across from you.
MAYA Mexican
Fortitude Valley
Now, Fortitude Valley isn't known for its classiness, but what screams boujee more than looking down on all of the plebs below walking past as you feast at a rooftop bar? That's where MAYA Mexican and their almost 360 degree views comes in. Stone, marble and timber blend seamlessly into the all-white decor, where pops of lush greenery add life into the space.
But the kicker? The food, obviously. A large range of tacos, seafood and regional Mexican dishes grace their menu—as do a bunch of creative margaritas. It's not a night in the Valley without some tequila.
Don't want the night to end with dinner? Check out our list of Brisbane's best bars here.
Image credit: Popolo, Greca, Yoko, Ciao Papi, Stanley, Opa