Because we are all lazy at heart, here at The Urban List, there is nothing we like better than a venue that offers private dining. Whether you're planning a big function, or an intimate dinner for a few friends, if you'd rather not play chef (or dishwasher!) we've found the ideal private dining destinations for you:
Claret House | Whether you're looking for a cosy private dinner, space for a wine-tasting party, or a stand up beer-tasting bucks night, Claret House has you covered. The owners are on hand to ensure your function runs smoothly, and are totally flexible (they'll even organise your cupcakes, flowers, and AV equipment if you'd like them to—talk about thoughtful). With a covered deck, perfect for a casual wedding soiree, Claret House can hold 100 standing guests. And the warm and friendly space inside can hold 15 seated or 30 standing. And because Claret caters to the gluten-free eaters, you don't have to think twice about inviting your dietary-restricted friends.
Aria | Talk about a room with a view: The intimate and elegant private dining space at Aria comes complete with views of the story bridge, and is large enough to hold 40 seated, and 60 for cocktails. Chef, Matt Moran, designs group menus for you and your crowd, with a focus on fresh, seasonal produce, making this room ideal for a corporate foodies function, wedding, or dinner.
Spring Food & Wine | Because Spring is styled like a gracious home, with wooden floors and wrought-iron detailing, this venue is essentially a no-brainer if you're looking for a beautiful space to entertain in. Spring specialises in customising events to their patrons needs, so whether you're planning a sit-down breakfast, a six-course degustation, or a full-blown cocktail party, Spring have an idea (or 10) up their sleeve for a tailor-made event you're bound to love. They also offer private cooking classes and high teas, ideal for hen's parties, showers, and corporate events. With flexible spaces available, which can fit anywhere from 10 to 150 patrons, and no booking fee, Spring are ready to cater to any party.
Public | The private dining offering from Public is unique, because Public don't just offer you your own completely private dining room on its own level, perched above the hustle and bustle of restaurant below. Oh no. They also have a private 'library' where you and your party can sit and sip on Public's extensive cocktail list, before you head into the adjoining dining space. And because Public specialise in the share plates—think mac'n'cheese with chorizo, melting beef brisket and tortillas, and Kentucky fried duck—you know the atmosphere is going to be one of share and share alike—the ideal vibe for an intimate party.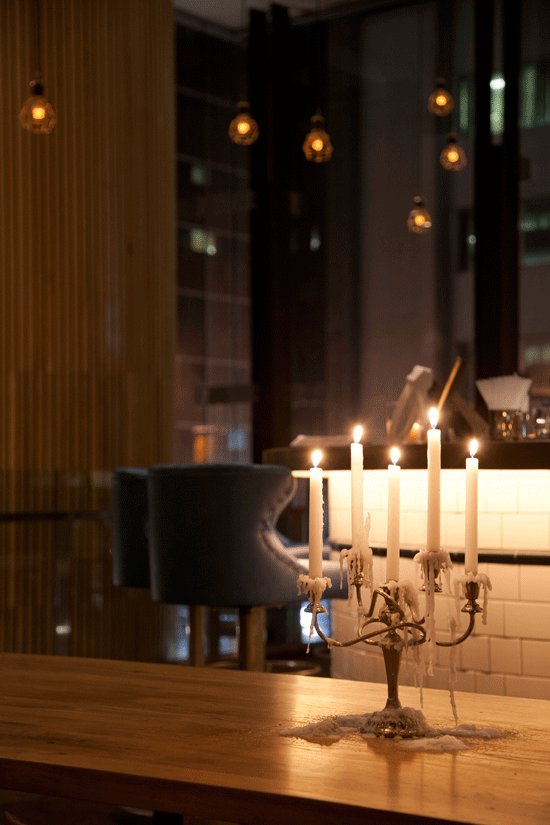 Moda | Moda is a Brisbane fine dining institution, and they offer their divine menu to private diners in their Wine Room: an intimate space with an impressive view of the restaurant's extensive wine collection. Moda can tailor the dining experience to suit any budget, and can seat up to 50 people.
Scrumptious Reads | We would not immediately have thought of this book shop as a private dining venue, so when we heard Scrumptious Reads was offering their space up for intimate dinners we had to know more. You can hire this delightful shop to serve as your private dining room, while the food, drinks and wait staff are provided by Gerard's Bistro, Harveys, or Bucci, it's just a matter of you choosing who you'd like to play chef for the evening—talk about a tough decision. The dining table can seat twelve guests, and the cost depends on who you choose to cater.
1889 Enoteca | The private dining at Enoteca is all about location, location, location. And in Enoteca's case, the location is their private, basement level wine cellar, complete with chandeliers and wrought-iron gates, where you and 42 guests can indulge in Enoteca's modern Roman fare in total privacy. They also offer private dining in their wine store, which can seat up to 12 guests, where you can dine in the pleasant surrounds of the wine-lined walls. With two, three, and four-course menus on offer, and private dining available for lunch and dinner, there's hardly a function this Italian favourite can't cover.
Sake | Sake has five different private dining rooms at your disposable, combine this with their exceptional contemporary Japanese menu and perfectly matched sake and shochu and you are in for a memorable evening.Banquets and set dining menus are available and they can tailor the experience to suit the whims of your group.
Bitter Suite | Our cosy New Farm favourite, Bitter Suite, has a private dining space available that showcases everything we love about this bar and restaurant. The exposed red brick and wooden décor lend a warm ambience to this friendly space, which can seat up to 30 patrons, and fit up to 50 people standing up. Set menus are available, and for cocktail functions the fare is available for as little as $14 a head! While their private dining area is sectioned off enough from the main bar to give a sense of privacy, you're still close enough to the bar so you'll lose none of the party vibe (and because you're close to the bar you'll have no trouble ordering drinks!) And, best of all, there's no booking fee for this warm and informal space. Win!
Sub-Urbane | Accessed through the Urbane restaurant, and positioned in the basement, this cellar seats 32. And when they say cellar, they do mean cellar. Sub-Urbane comes complete with 100-year-old stone walls, polished concrete walls, and hardwood-panelled walls. With the humidified wine cellar flanking one end of the room, this is an ideal setting for corporate or personal dining events.
Bungalow 4171 | Hawthorne's Bungalow 4171, always our first pick for deck-chair breakfasts, also offers private dining, 7 nights a week. From 5pm 'til late, the Bungalow crew can tailor a beautiful bespoke dinner or cocktails function to your special occasion. Start the night off with pre-dinner drinks in their charming outside space, then move inside for a 3-course meal or cocktails. With a private chef and wait staff on hand to make your night go off without a hitch, and space for 26 for dinner, and 35 for cocktails, a private function at Bungalow is bound to be an intimate night you won't forget. And, best of all, this space is also BYO—ideal for those looking for a function on a budget.