With so many venues being added to Brisbane's restaurant scene on the daily, restaurateurs have to try even harder to make their venue stand out amongst the sea of other established and well-renowned venues. These days, it seems the requirements for all new restaurants include a creative food menu and extensive booze list, 'gram worthy interior design and a chic location frequented by foodies and locals alike.
Thankfully, many restaurant owners who decided to open their doors in 2021 were well aware of these new rules, with the River City lucky enough to welcome a myriad of new venues that we couldn't wait to try. Whether you come for the delectable food, carefully curated cocktails or are a sucker for intricately designed interiors, these are some of the best new restaurants to hit Brisbane this year.
Bianca
Fortitude Valley
Enough is never enough for the crew behind the Valley's holy trinity of Same Same, Agnes and Honto—this year they added yet another standout to their already much hyped restaurant repertoire, in the form of the peach-hued Italian stunner, Bianca, which landed just off James Street with terracotta interiors and tables booked out weeks in advance. You can always measure the greatness of an Italian restaurant by their pasta, and Bianca's fresh, light and flavoursome pasta dishes are top tier, so don't overdo it on the antipasti, no matter how appetising it all sounds. If you are crazy enough to bypass the pasta section, their selection of main dishes like a crackling-edged porchetta alla Romana and massive T-bone steak for sharing will make sure you can get your share of the much-deserved hype.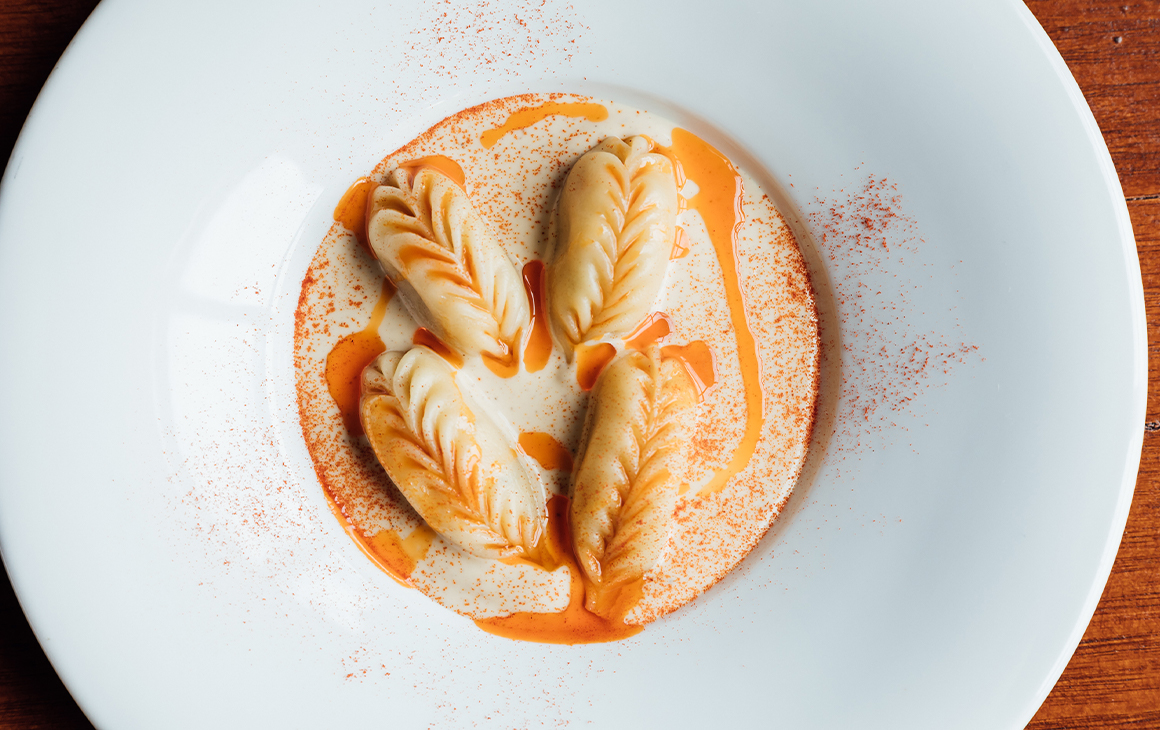 Rosmarino
Fortitude Valley
Taking up residence in the newly-restored Stewart & Hemmant Building on a long neglected corner of the Valley, this new Italian spot that is as good looking inside as it is out. With vintage looking lights hanging from high ceilings, exposed brick walls, pops of sage green and a glass-walled wine cellar in pride of place in the centre of the venue, Rosmarino is the perfect spot for an intimate date night or girl's pasta night. Plus, with 2015's Best Young Chef of the Year, italian-born chef Dario Manca heading the kitchen team, you're in for a menu full of delectable eats, from kingfish crudo with green apple and burnt buttermilk, to culurgiones cacio nduja—house made, dumpling-like filled pasta stuffed with potato and pecorino cheese and topped with burnt butter and nduja-infused oil.
Essa
Fortitude Valley
Yet another dining destination to grace the gastronomic James Street precinct, Essa is a slick new restaurant from ex-head chef of South Brisbane's renowned Gauge and co-owner of The Green, Angela Sclavos. With a split-level interior, complete with dark wood paneling, exposed brick walls and industrial-style elements, and windows offering a view to lush greenery, the venue has a moody and atmospheric feel perfect for an intimate date night or more casual group dinner. Everything that comes out of Essa's kitchen showcases local farmers and providers, with their seasonal produce heroed in simple, yet utterly delectable main dishes. Make sure to leave room for their signature Jerusalem artichoke cream bun for dessert.
Sasso
Woolloongabba
This year, we have definitely found out that there is no such thing as too many Italian restaurants. Yet another spot for pizza and pasta, this one in Woolloongabba, Sasso Italiano was inspired by the lively, old-school trattorias of the USA in the 70s. Boasting stone floors, dark wooden tables, brown banquet seating and golden lighting as well as an outdoor patio, Sasso is an absolute must visit—and not just because of their dedicated negroni menu. This is the place to devour plates of traditional Italian antipasti dishes, pasta, pizzas and of course, desserts.
Melrose
Bulimba
It seems like forever ago now, but one of the first new restaurants to hit Brisbane in 2021 was this Indonesian-inspired eatery, which arrived to fill the annual Bali-trip shaped hole in all of us. While it may be the new kid on the block from the crew behind Pawpaw Cafe, Mons Ban Sabai and Darvella Patisserie, Melrose is undoubtedly the sophisticated older sister of the group. Inspired by the exclusive beach clubs of Bali, this venue brings all the rooftop vibes, complete with a share-style modern Indonesian and Thai menu curated by Arté Assavakavinvong from Melbourne's iconic Longrain Thai. With a very tropical cocktail line-up and a lengthy wine and beer list, it won't be hard to imagine yourself on a Balinese beachside until we can get there for real.
Gemelli
Fortitude Valley
Yes you heard it right—the Gold Coast's iconic pizza and pasta institution has finally made its way up the coast, bringing all the rustic, traditional Italian vibes to the Valley. Gemelli Italian has transformed the space where Lululemon and Bucci used to reside, with dark wood archways, a patterned ceiling and rustic wooden seating, complete with marble bar next door boasting all the bottles of vino and boozy spirits one could ever desire. With a menu that resembles that of the original Gold Coast spot, you know you'll be guaranteed a feast of high quality, generous-sized dishes, from the traditional recipes passed down from the grandparents of owners James and Alec Carney. The hardest thing about dining there? Having to choose between pizza or pasta—unless you take a date who's willing to share.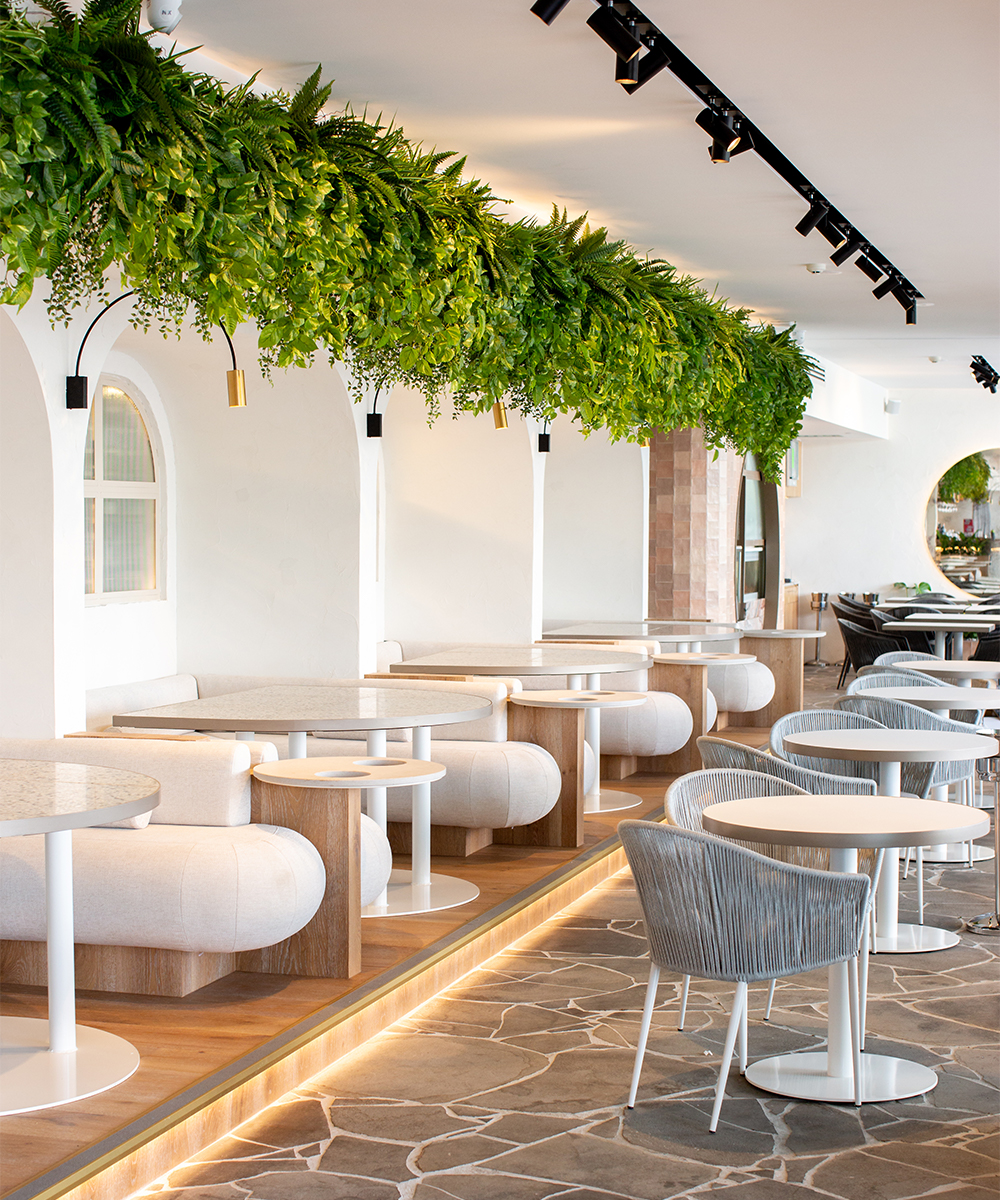 Opa
Brisbane City
Board a plane to the Greek islands at Eagle Street's newest eatery, Opa Bar & Mezze. From the team that brought us Massimo Restaurant, Rico Bar & Dining, Fat Cow Steak & Lobster and the iconic George's Paragon, Opa is all the Mediterranean escapes we've been dreaming of, packed into a beautifully designed, 'gram-worthy restaurant. Opt to sit at one of their futuristic looking u-shaped lounges and cosy white booths or book a group table with curved wooden bench seating for the most impressive views of the Brisbane river. Of course, the food definitely lives up to the stylish interior, from mezze bites like the iconic soft pita bread and tzatziki to larger plates of grilled octopus, halloumi chips and oregano lamb ribs, your every Greek food craving will be satisfied at Opa.
TakashiYa
South Brisbane
Ever wished you could go to a restaurant and have all the food chosen for you, no painful menu scanning involved? Well, South Brisbane's newest Japanese fine diner, TakashiYa, may be the gastronomic destination of your dreams. Inspired by the Japanese style of dining known as omakase (roughly translating to "I'll leave it up to you), you'll find yourself dining on multiple courses of delicately prepared sushi, sashimi and other fine delicacies curated by head chef Takashi Nami. If you're dining at the bar, you'll have a chance to sample plenty of sashimi, rice and udon dishes, vegetarian sides and some selections from the omakase menu without having to commit to a 14-course feast. But, if youre all for extravagance and going all out, the $230 12-seat exclusive omakase is where it's at. Here you'll get to watch Chef Takashi and his team prepare each exquisite morsel in front of you, from melt-in-your mouth sashimi to spanner crab tamagoyaki.
COPPA
Brisbane City
Filling the Italian-restaurant-shaped hole in Eagle Street Pier after the closure of Il Centro is the glossy and fancy remix of the CBD's contemporary Italian restaurant, COPPA. With a light and airy interior, complete with minimalist feature lights and white curtains, and a wrap-around terrace of outdoor seating, this institution gives serious Italian coastal vibes. The menu is jam-packed with traditional Italian dishes with some funky, non-traditional twists (zingy scallop crudo and kale, mushroom and walnut gnocchi anyone?), so you'll need to take a minute (or 10) to narrow down your order. Be sure to stop by the new and improved bar to peruse the impressive wine list, or skip over it completely and head straight to the smashing cocktail menu—we can't go past the island-in-a-glass COPPA colada slushies.
Bisou Bisou
Fortitude Valley
Say bonjour to Bisou Bisou, Brisbane's newest French restaurant on the ground floor of Brunswick Street's Hotel X and its moody, Parisian dining area, where marble tables, floral lounges and art deco tiling come together to create a cosy, vibrant space. As far as the food is concerned, you're in very safe, experienced hands—the restaurant comes to us from the team behind Donna Chang, Boom Boom Izakaya and Blackbird Bar & Grill, with Head Chef Anthony Donaldson unleashing his creative talents and adding a modern twist to traditional French delicacies. To top it all off, a sunny courtyard to the rear with cafe-style tables makes Bisou Bisou the perfect spot for a morning espresso, long lunch or night-time feast.
OTTO
South Brisbane
Just when you thought the swanky, modern Italian institution of OTTO couldn't get any better, the view from its new location along South Bank's riverside go and prove you wrong. Taking up the spot vacated by Stokehouse Q, nothing much has changed in this iconic Italian restaurant (why fix something that's not broken?), with Head Chef Will Cowper still at the helm and serving up all the seasonal, local produce that you know and love, now with the added bonus of river views. Bonus, they've now got a chilled bar as well, if you're dying for a plate of OTTO's spaghettini and an Aperol spritz but don't quite have time for the full experience.
Meanwhile, here's what's coming to Brisbane soon to keep an eye out for.
Image credit: Grace Elizabeth Images, NIRA Creative, supplied, Takashiya
Please do not share this content with anyone under the age of 18.
#drinkresponsibly #dontforgetyourlocal