New Farm and Teneriffe cop a fair bit of heat about being the Brisbane suburbs that are a little bit 'too cool'. But, they are actually pretty damn cool. Where else can you drink wine in a rose garden before heading to a live show at the Powerhouse then unwinding with a stroll along the river?
But where New Farm and Teneriffe really take the cake is that this is where you'll find some of the best restaurants in Brisbane all within mere metres of each other. With awesome Italian, epic American BBQ, modern Australian and classics done to perfection, this inner city area has the Brisbane restaurant scene on lock.
Here's New Farm and Teneriffe's best restaurants that you definitely need to know about.
Bar Alto
New Farm
Set inside the Brisbane Powerhouse, Bar Alto is a stalwart of New Farm's best restaurants for good reason. Not only do they have one of the most incredible views in the whole of Brisbane, we could seriously name a hundred awesome things on the Italian menu. Okay, we'll just mention one: the slow cooked lamb shoulder with jus is to die for.
The Balfour Kitchen
New Farm
Balfour Kitchen, sitting within the gorgeous boutique hotel Spicers Balfour, knows how to impress. Open for breakfast, lunch and dinner there's a lot of goodness on offer. The chicken and waffles with kimchi is the star of the menu in the morning; but at night, it's all about French and Vietnamese fusion fare that makes use of ethical meats, sustainably sourced seafood and local produce.
Rita's
Teneriffe
Alright technically Rita's considers themselves more of a bar, but we reckon their tacos make them worthy of a spot on this list. Don't confuse them for a Mexican restaurant though—the only thing Meican about these handfuls of goodness are the tortillas. Forget about your usual fave toppings and instead go for the likes of chilli caramel pork belly or satay pumpkin, or whatever floats the chef's boat that week.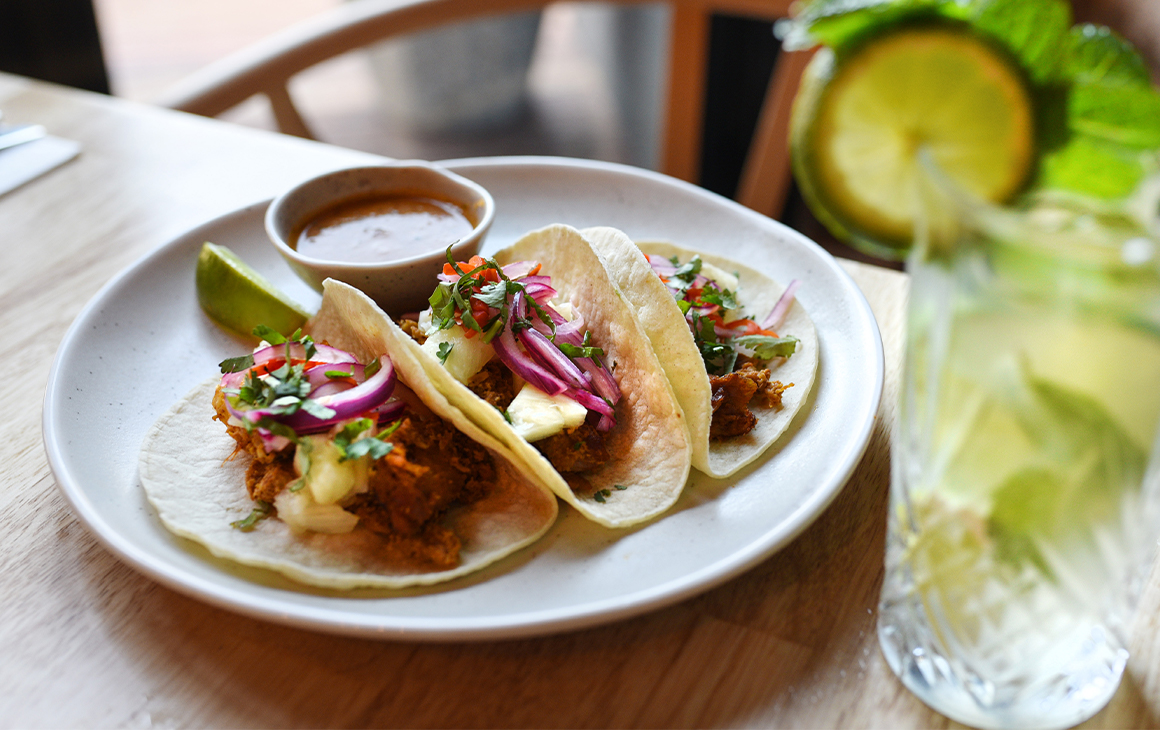 La Patrona
Teneriffe
This colourful and relaxed Mexican spot will have you drooling from the beginning to end of your stay. With cosy interiors decked out in wood and an amazing flowering cactus mural, La Patrona will be your new favourite spot for all things Mexican. They've got a delicious array of street food and share dishes, making it the perfect spot to hit up with a group of friends or your date. Think smoky marinated slow-roasted lamb shoulder, three potato tacos, and plenty of tequila if you feel like living la vida loca.
Beccofino
Teneriffe
Beccofino is one Teneriffe restaurant that should need no introduction. Their Italian feeds are iconic and if you've yet to sample the duck ragu, well, its about damn time. But our hot tip for a Beccofino night done right is the spicy Cipolla pizza, with mozzarella, pork sausage, roasted onions, chilli and oregano, washed down with a sharp Aperol Spritz. Ahhh. Simple and perfect.
Bitter Suite
New Farm
Situated in the quiet backstreets of New Farm, Bitter Suite is a very cool bar and bistro specialising in craft beer. With a cosy, pub-like interior, it spills outside with tables and lounges for those that like to linger. The atmosphere is matched by the menu too—you'll find plenty of comforting gastropub feeds to tuck into, alongside grazing platters and drinking food.
Bluegrass BBQ At The Smoke
New Farm
Bluegrass BBQ is the go-to for American BBQ in the New Farm bubble. The Smoke's pork ribs are rubbed with secret spices, smoked, and finished on the char-grill and then topped with their famous sauces. But don't just order the ribs, because with genuine Kansas City barbecue wings, slow cooked brisket and pulled pork to load your shotgun for, you'll be wanting to order one of everything.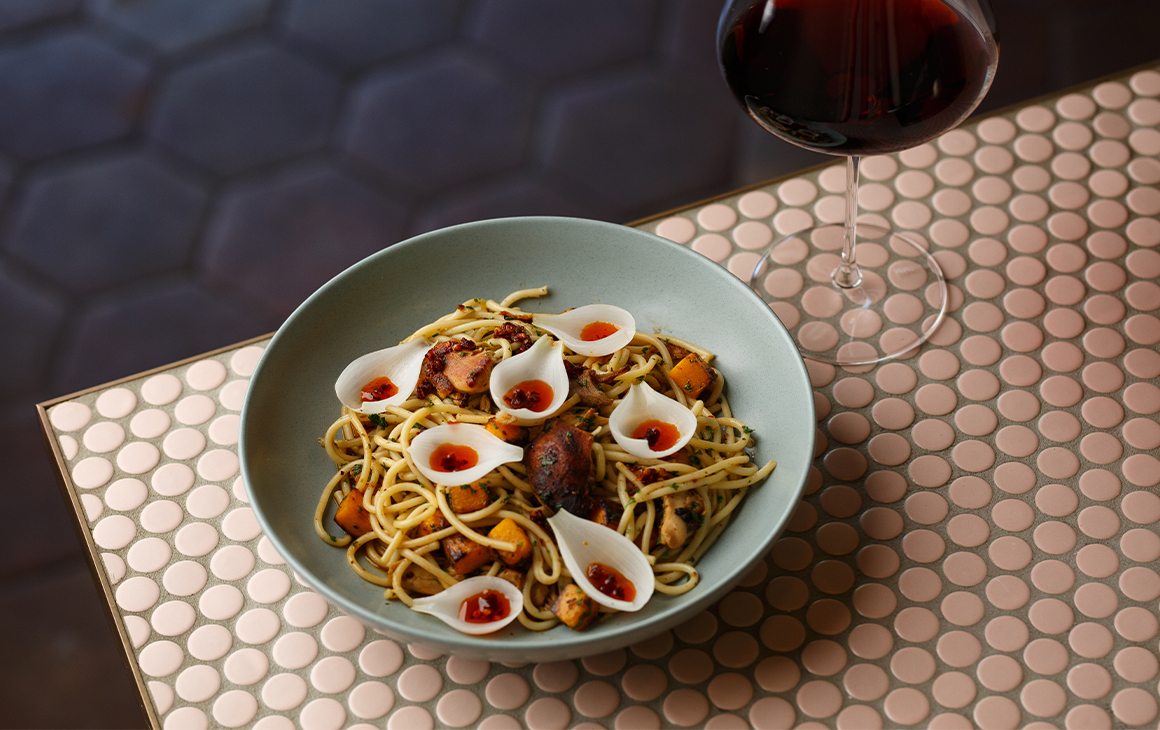 Siffredi's
Teneriffe
Siffredi's do one thing and they do it well—hearty bowls of handmade spaghetti with the fanciest sauces and toppings you ever did see. This is no Italian joint though—we're talking more alongthe likes of confit duck ragu with ponzu, mushroom and shiso leaf or octopus with harissa, tomatillo and smoked macadamia, with a menu that changes almost every week. Well what would you expect with the ex-chef of Stokehouse Q in the kitchen?
Gnocchi Gnocchi Brothers
New Farm
As the city's first dedicated gnoccheria, Gnocchi Gnocchi Brothers is a must-visit for anyone with even a casual appreciation for hearty and delicious Italian. Having started out as a stall on the Brisbane market circuit, Gnocchi Gnocchi Brothers quickly amassed a loyal following of carb-hungry Italophiles with their promise to provide delicious gnocchi on demand. Come by for a bowl of their signature slow-cooked Bolognese, or a wild mushroom and truffle number that has weathered us through many a winter.
Elska
New Farm
A swanky suburban spot from the creators of Freja Cafe, Elska is all about Australian produce prepped using Nordic cooking techniques—think pickled, salted, dried and smoked. Over 15 courses (yep, 15) you'll be wowed by delicate dishes like asparagus adorned in macadamia cream and edible flowers, wallaby 'snags' with Kakadu plum ketchup and butternut pumpkin two ways with creamed corn—or whatever other seasonal flavours have taken the head chefs fancy that month.
Zero Fox
Teneriffe
Part craft beer bar, part Japanese eatery, Zero Fox is a gnarly spot to grab a bite and a brew any night of the week. Check the chalk board for what's on tap and pair it with plates of takoyaki, gyoza, crispy salmon baos, kimchi pancakes, katsu sandos and more.
Want more options for New Farm restaurants? Fortitude Valley is just a skip, hop and a jump away—check out the best restaurants around right here.
Image credit: Hayley Williamson, Larissa Drazic, Siffredi's