The lush, verdant suburb betwixt the Brown Snake and the Farm, Newstead is your typical picturesque suburb powered by the buzz of the inner-city. People have dubbed it Brisbane's answer to both Chelsea and the Flatiron District; a summation with which we heartily concur. Case in point: Newstead's food scene, which deftly caters to casual and fine diners without raising the dress code higher than a well-cut sports jacket.
Expect charcuterie, good times, and a bangin' drinks menu when you sit down to one of the best Newstead restaurants.
Stratton Bar & Kitchen
If you like Mrs Brown's you'll love Stratton, which comes to us from the same dynamic team. Taking over two old World War II hangars on Stratton Street (hence the name), this gorgeous eatery has kept the old curved roof and given the space a luxe industrial makeover that's moody and atmospheric at night but stunning during the daytime when the glass ceiling overhead lets lashings of light down through the steal beams. But enough gushing over the interiors, on the menu you'll find a mix of pan-Asian inspired eats and creative pizzas, along with a cocktail list that will have you staying far later than you planned.
Golden Pig
This restaurant hardly even needs our praise (although we're still going to give it) because it took home a Chef's Hat at the Good Food Awards in 2020. The pan-Asian inspired menu is something to behold, and you can expect tasty highlights like scallops with miso butter, sweet and spicy Korean fried chicken or crispy Sichuan tofu. The fact that Golden Pig is inside an old warehouse is pretty cool, but even cooler is the fact you have the opportunity to get behind the grill with some pretty helpful cooking classes to take you to Gordon Ramsay level skills in seconds.
Allonda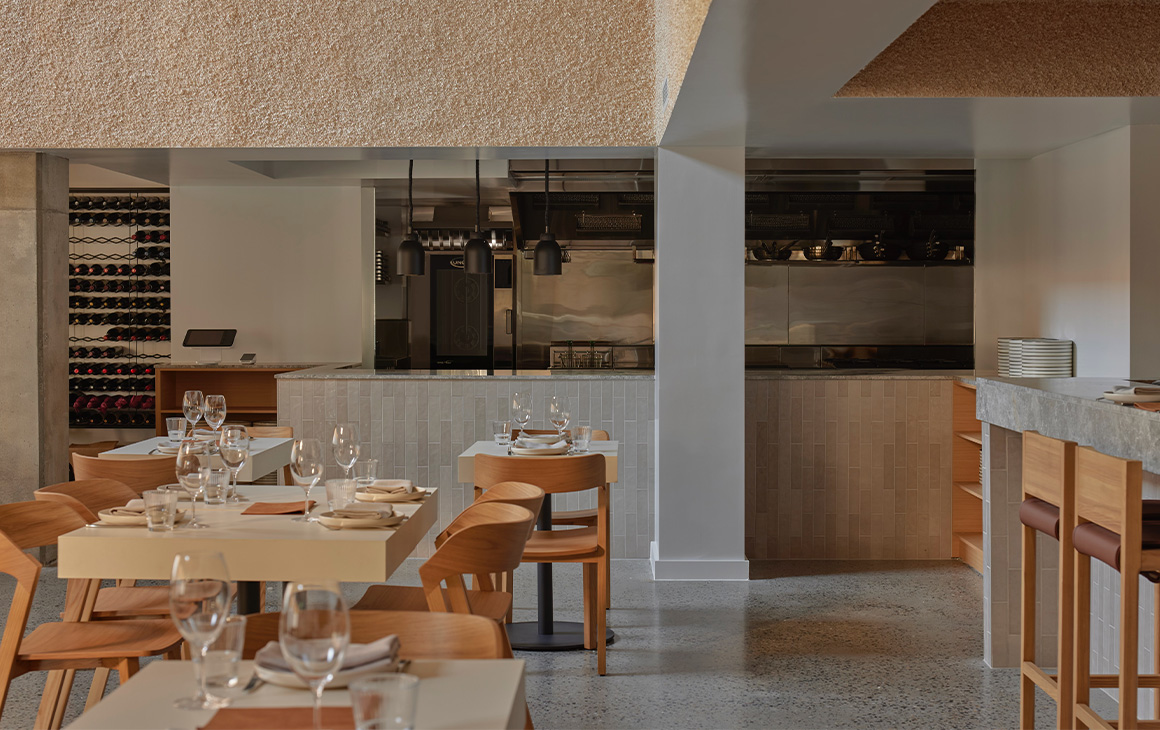 The minds behind fan-favourite Nota have struck again, bringing us modern Euro dining in the form of Allonda. Nestled in the laneway between Longland and Wyatt Street, Allonda gives you the pleasure of feeling like it's a secret spot created just for you. Well, not just for you. The menu is designed to share, so bring along some friends that you'd be happy to split some freshly shucked oysters and harissa short ribs with. And, just to be sure all the gossip is shared, don't forget to order off their wine list—with 90 wines to choose from, there'll be something for everyone.
e'cco Bistro
Since making the move from their original digs in the city, Newstead now gets to claim Phillip Johnson's culinary institution as its own. Best known for setting the standard of fine dining in Brisbane, e'cco Bistro's ability to adapt and revamp has secured its longevity at the pinnacle of our restaurant scene. These days, it's all about a four or five-course set menu, which takes away all the stress of trying to choose what to eat.
Nonda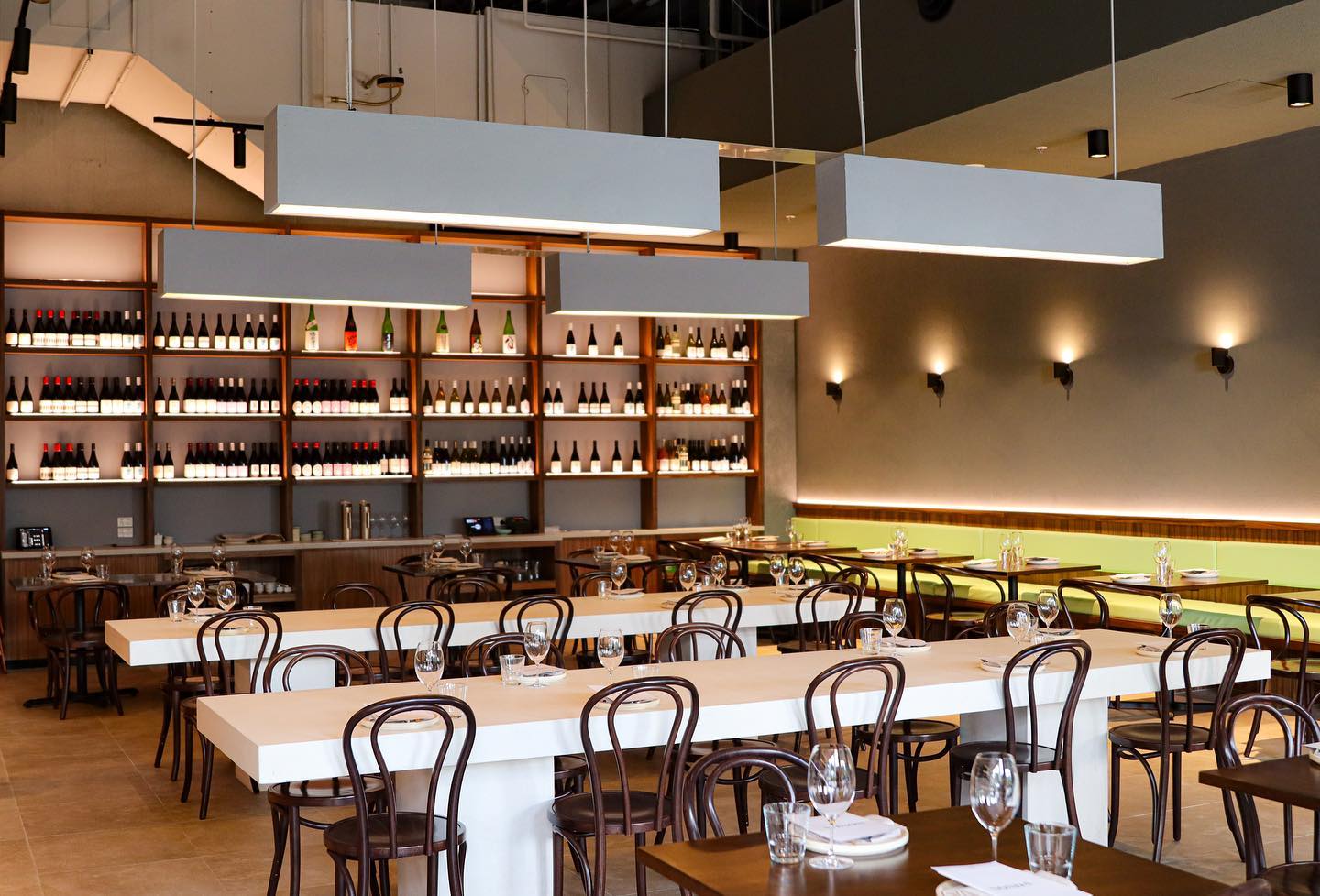 The word "Nonda" translates from Korean to mean "have fun with friends"—which is exactly what you're meant to do at the Gasworks modern Asian-fusion joint. Korean, Japanese and Korean cuisines join forces at Nonda to create a sleek dining experience with a sophisticated menu. Grab something fishy off their raw bar menu, or chow down on their mains, like some old-school Korean roast chicken, slathered in honey and garlic. Before you leave, make sure to try their caramelised matcha tiramisu to satisfy your sweet tooth.
Maggie May
No, we didn't say super club, we said supper club. Yes, you read that right. Maggie May, our favourite supper club, is here to bring the 70s back. Don those halter necks and flared jeans and disco on over with your pals to bond over retro share plates designed to keep the gossip and good vibes flowing. The share plates range from the porkerhouse platter—bet you can guess what's on that one—to a harissa glazed eggplant plate that could make any vegan swoon. Pop in on any Sunday to get the sweet sound of vinyls serenading you while you eat.
Newstead Social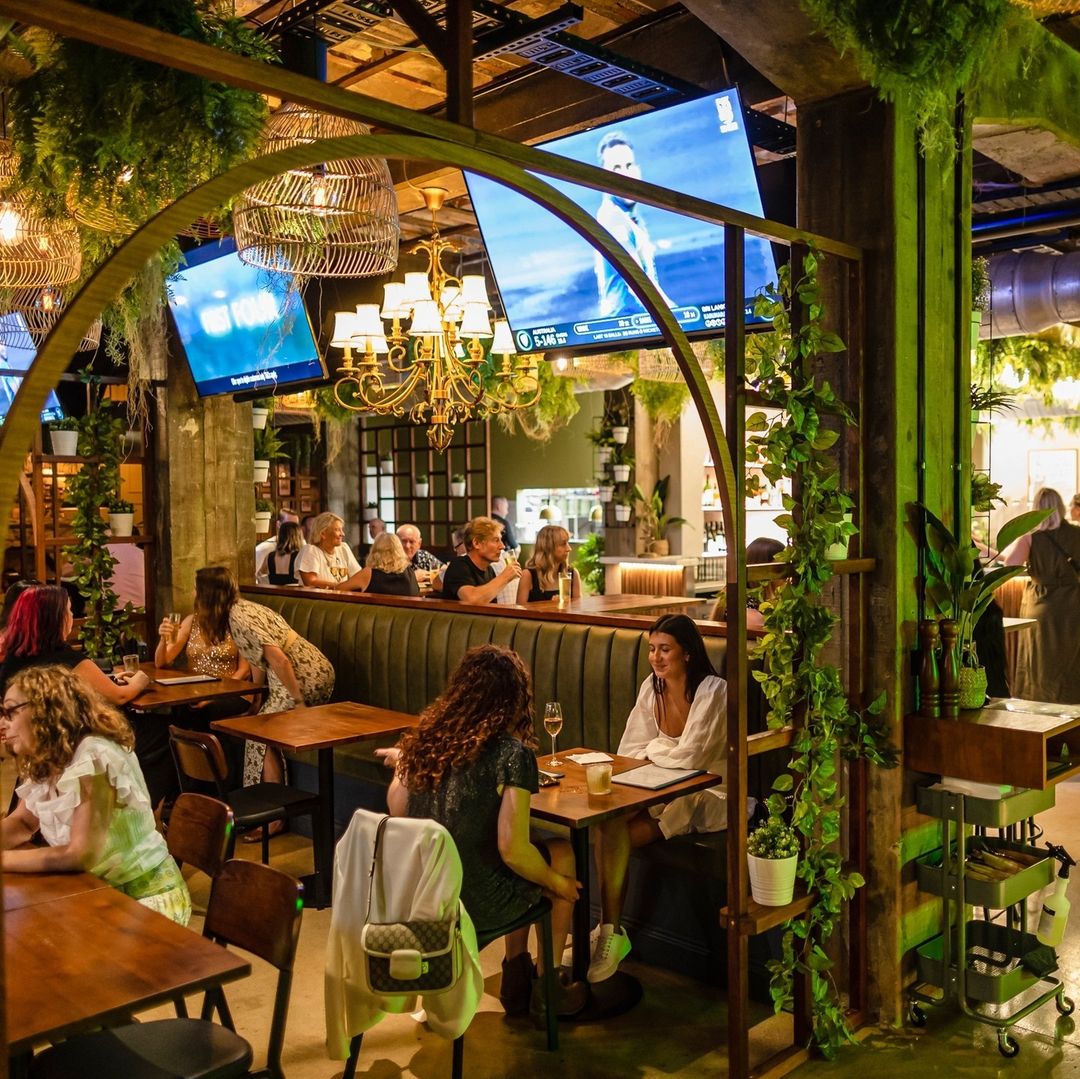 This underground bar and eatery covers all the bases, from weeknight dinner deals and trivia nights to Saturday night cocktails and bottomless Sunday brunches. One from the team that brought us Ling Ling's, Cindy Chows and Soul Pantry, Newstead Social has the event calendar and menu of an elevated neighbourhood pub but the interiors of a glam cocktail bar (albeit with a heap of screens for the footy), so you get the best of both worlds. Whether you visit for the UFC and $17 parmies on a Thursday night or get dolled up for two hours of mimosas on Sunday morning, Newstead Social is your new local.
Mrs. Brown's Bar & Kitchen
Big enough for group dinners and licensed enough for boozy lunches, Mrs. Brown's is perfect for satisfying whatever mood strikes. Their menu is a spectacular feat of nibbles like dumplings, Korean fried cauliflower and cheese and chicken spring rolls, as well as larger share dishes like sweet and sour lamb ribs and rotisserie chicken. The must order though, is their haloumi paratha pancakes—trust us. Knock it all back with a bottle of Aussie wine or a cocktail jug and you're laughing.
Ping Pong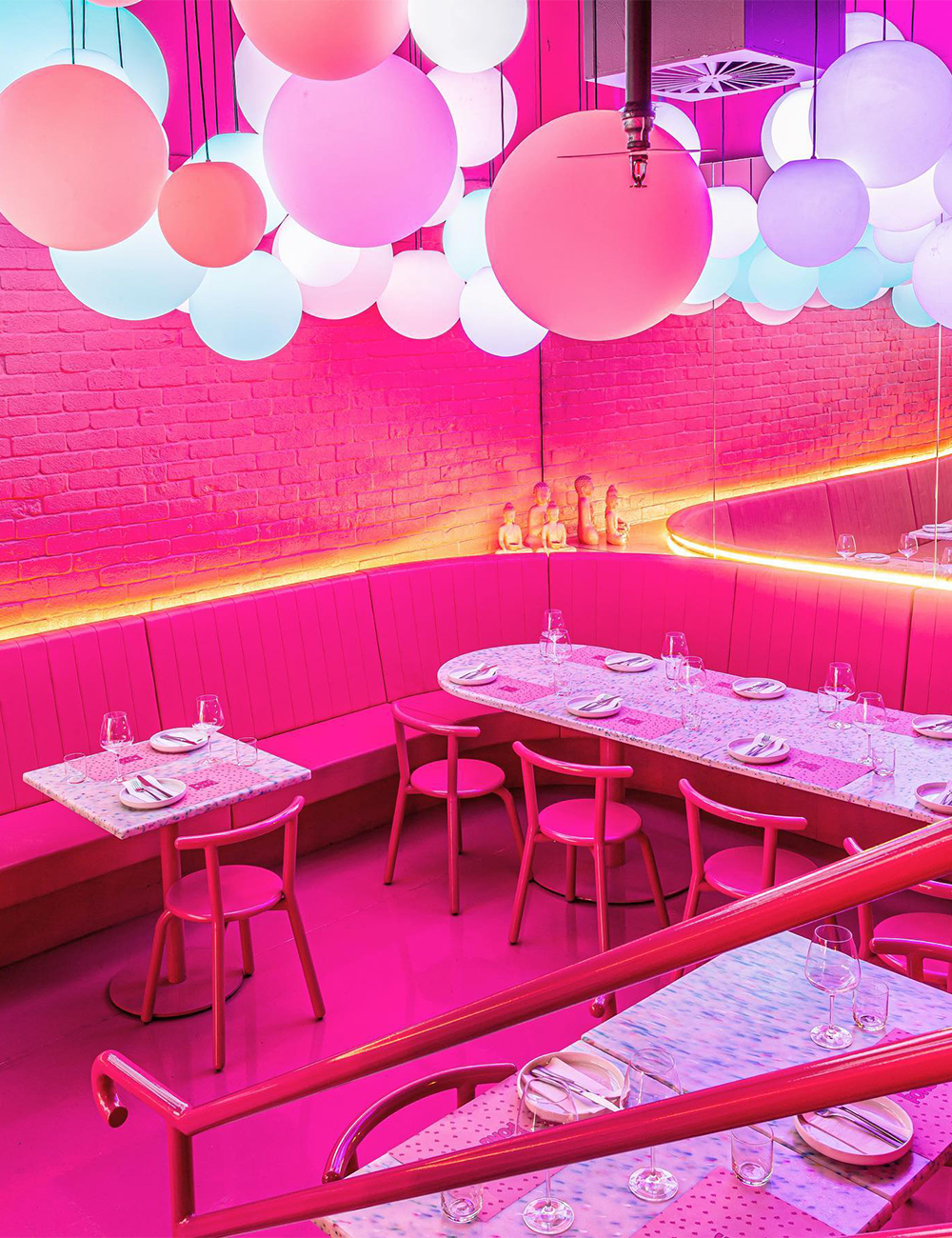 Pink is one way to describe this Newstead favourite, but so is delicious, flavoursome and experimental. Brought to you by the crew from Morning After and Yolk this Newstead restaurant offers Thai flavours with a creative flair dabbling in everything from curries to stir-fries, noodles and snacks. The plates are all great for sharing and obviously if you're wanting some new bright pink, Insta-worthy photos with your group this is the ideal venue. The slow cooked lamb neck rendang curry is a must as are the cocktails and boozy slushies.
Milky Lane
There are some who firmly believe the bigger, the better. If this is you, Newstead is home to your dream burger joint. Milky Lane is famous for their legendary over-the-top burgers, desserts and drinks—so if you're jumping on the health train this isn't the destination for you, unless it's a cheat day. Food wise, buckle in and prepare to get your drool on—celeb-inspired burgs like the Chic-Kanye, Kevin Bacon and The Drake set the tone, with other honorable mentions going to their thigh-slapping sides of mac 'n' cheese croquettes, loaded fries and Southern fried popcorn chicken with cheese gravy dipping sauce. They update their menu with new, eye-opening creations all the time so it's totally important, if not essential, to make a few trips.
Rogue Bar + Bistro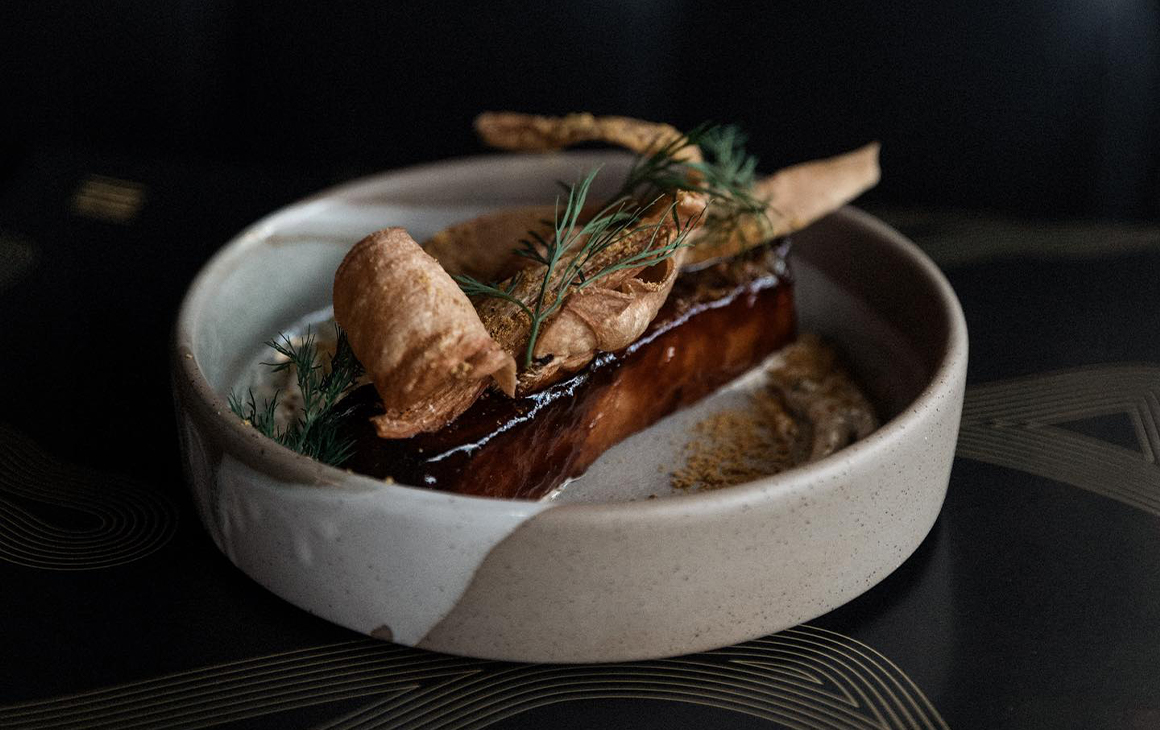 With intricate and bizarre flavour combinations, Rogue Bar and Bistro isn't the place to get a basic feed. As the name suggests, these guys are known to go a bit off-script and their five-course degustation menus feature experimental dishes that'll blow your mind clean away. The menu changes monthly too, so you'll always find an excuse to go back.
Botany
Long lazy lunches and cocktail filled afternoons are standard practice at Gaswork's prime corner spot. This garden-inspired restaurant and bar covers everything from breakfast and lunch, to dinner and drinks. Heavily Euro inspired, the list of eats includes the likes of Moreton Bay bug sliders, harissa spiced lamb shoulder and twice baked duck fat potatoes. If you prefer a simple wine to an extravagant cocktail, their offerings are endless with Australian, New Zealand, Italian and French wine options.
Smokey Moo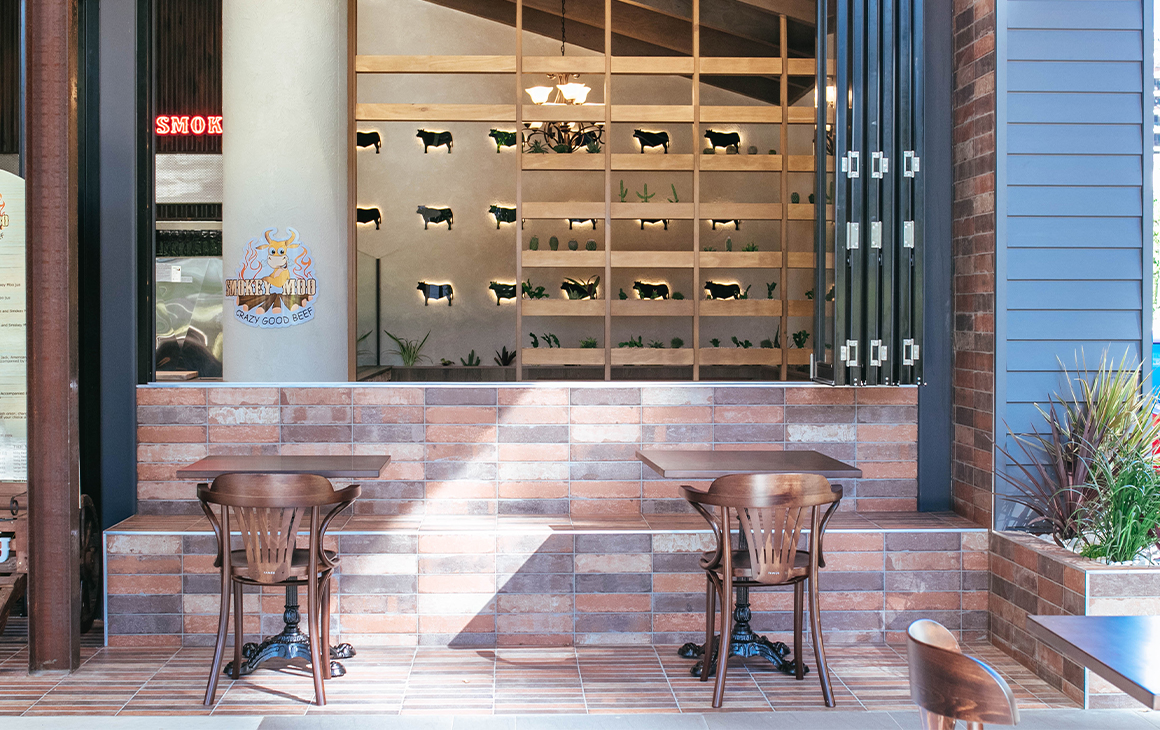 When a restaurant dedicates almost their entire menu to one item, you know it's got to be pretty spectacular—and for Smokey Moo that's their slow-cooked smoked meat. This restaurant has been on the scene since 2018 but relocated to Newstead in 2020, bringing a loyal, meat-loving fan base with them. The urban wild west vibe interior creates the ideal cowboy ambience without the feeling that you should be rounding up some cattle in a few hours, while the slow-cooked cuts are smoked over black wattle and macadamia wood for eight to twelve hours—mouth-watering is an understatement. There's also an extensive cocktail menu well worth checking out.
Santorini Restaurant Grill Bar
Winner of the best Greek restaurant in Queensland in 2022, Santorini Restaurant Grill Bar is a must-try. Their eight-page beast of a menu boasts all the Greek classics: yiros, souvlaki, moussaka, psari plaki—you may not know how to pronounce them, but you'll sure know how to eat them. The fully blue and white space is reminiscent of the classic Greek aesthetic, completed by archways filled with murals of Santorini itself.
Salt Meats Cheese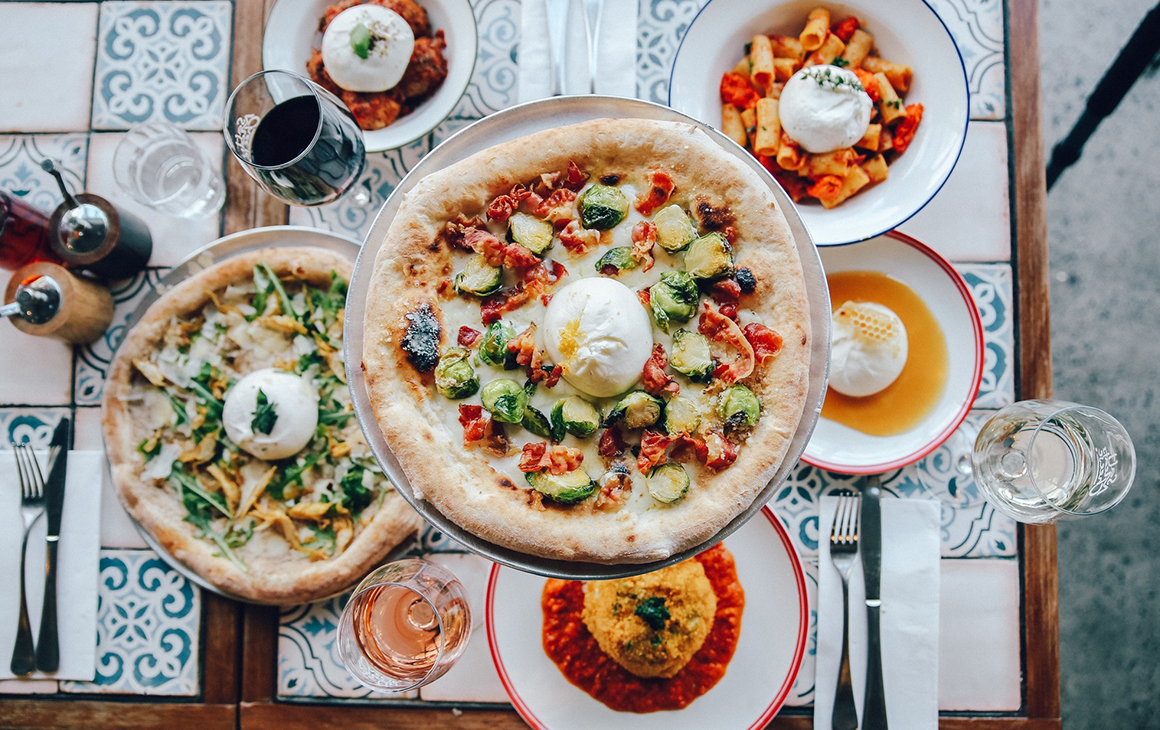 Schmick, modern Italian knows no other name since Salt Meats Cheese turned up in Gasworks, wooing punters with all-you-can-eat pizza on Monday nights and cheese wheel pasta every Wednesday, as well as the most amazing charcuterie and spritzes all week. Keep an eye out for their regular vegan nights and other special events as well.
Cheeky Poké Bar
When does a bowl stop being a salad and start being poké? The answer lies in poké's Japanese and Hawaiian pedigree, which sees sashimi, nori paper and all the other components of sushi served in a bowl of plenty. But Cheeky Poké takes it one step further, offering their colourful, clean poké in taco form for those days you just can't be doing with flatware.
Reef Seafood & Sushi
Hanging their hats on oceanic delights, Reef Seafood offers up the tastiest seafood in Newstead, fresh from the waves. Their fish and chips are as premium as you'd expect, with Asahi-battered or panko-crumbed fillets on offer, but thanks to the exquisite freshness of the flippers in the cabinet, you'd be nuts to pass up a chance to sample an ultra-juicy sashimi platter.
Looking further afield? You can find Brisbane's best restaurants here.
Image credit: Stratton Bar & Eatery, Grace Elizabeth Images, Sophie Spencer, Dos Manos, Salt Meats Cheese