Hunting down a good breakfast on Brisbane's northside doesn't have to be an all-day mission—the northern suburbs are home to myriad of quality cafes and breakfast spots to cure your waffles cravings and get you jacked on great coffee.
From Boondall to Toombul, Banyo to Chermy, these are the best cafes for breakfasts on the northside.
My Mistress
Clayfield
Everything about this warm, earthy northside cafe is fun and laid back, including the My Mistress menu. If you're in the mood for something light, consider a 'Cheeky Fling' like Middle Eastern fruit load with ricotta and seasonal compote or an acai bowl with seasonal market fruit. After something a little more serious? Why not get involved in a 'Main Affair' including the aptly named Eggs Marilyn or Eggs Monica, both being a clear and hilarious reference to two women famous for their affairs.
Blockhouse Eat + Drink
Nundah
Nundah favourite, Blockhouse has a moreish and creative breakfast menu that's all over the shop in the best possible way. Breakfast schnitzel. Mushroom barley risotto. Okonomiyaki with Japanese waffles. Avocado on toast with popcorn chicken. We could go on. Best of all, the Blockhouse brunch menu runs allll day.
Nana & Da's
Kedron
Tucked out of sight in quite residential street of Kedron, Nana & Da's has a familiar homey vibe that's made it a firm favourite with northsiders who are too lazy to poach their own eggs but would still like to enjoy their breakfast in the comfort of home. The menu is built on breakfast classics, and the baked goods are top notched, making this one northside café we could happily while away a Saturday.
Huskk Cafe
Grange
Don't let Huskk Cafe's cosy, minimalist space fool you—on the breakfast menu here you'll find an adventurous selection of dishes far bigger in flavour and flair than the venue lets on. With everything sourced locally and seasonally, tuck into feeds like gingerbread pancakes with butterscotch sauce and bunya nut crumble, or pumpkin and buckwheat waffles topped with sauteed mushrooms and a perfectly poached egg.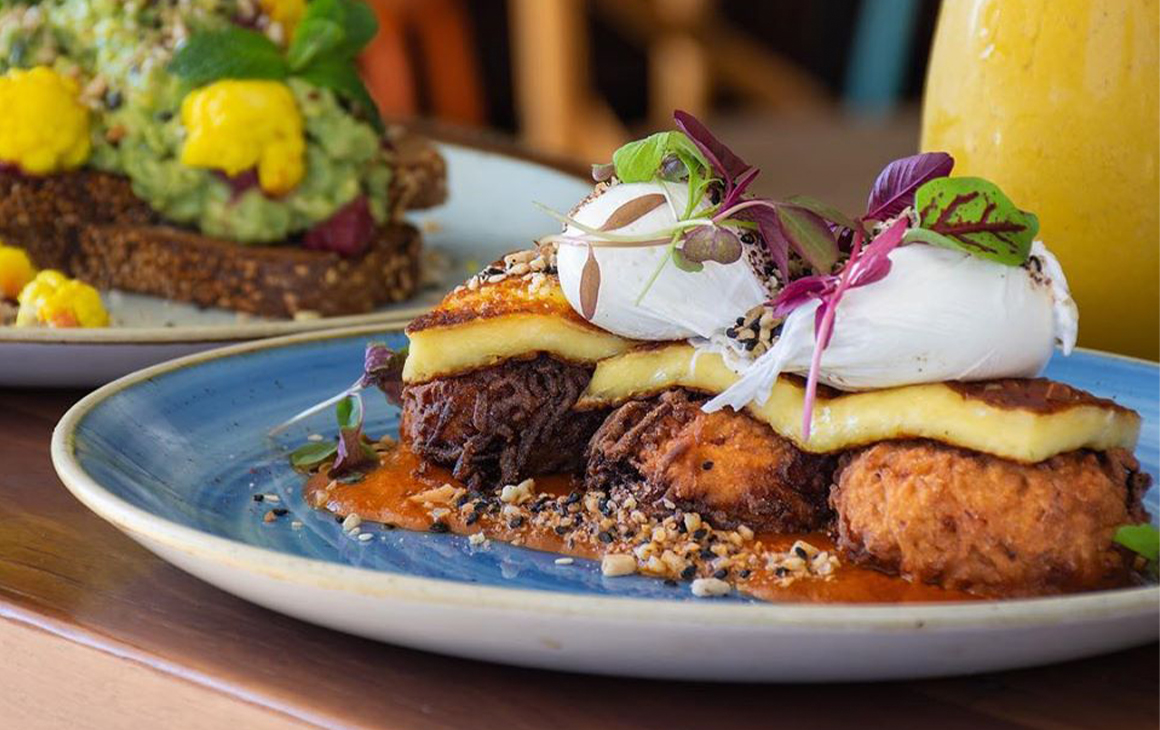 Petrichor & Co
Hamilton
Head to Petrichor & Co for a Brisbane breakfast and you'll find a little slice of South America waiting for you. Drawing on the owners' Colombian heritage, the menu features spicy options like chilli con carne and empanadas, but you'll also find more familiar brunch fare like spiced pumpkin pancakes and shakshuka
Artie & Mai
Albion
You might know Artie & Mai for its splendid red exterior, but venture inside and you'll be treated to one of the best breakfast cafes on the northside. An all-day breakfast menu that includes all the brekky classics, albeit with their own fresh spin, makes for an exciting way to start the day. Frankly, we're all about the Coco Pop waffles.
Willow & Spoon
Newmarket
A quaint little northside café with a retro feel, Willow & Spoon is sitting pretty on Newmarket Road and waiting to fulfill your every breakfast whim. The menu is simple and seasonal, with a home-style cooking feel. Their all-day brunch menu is always evolving, but you can enjoy the likes of French toast crumble with Nutella, peanut butter and banana ice cream, as well as plenty of breakfast staples.
Farmhouse
Kedron
Managing to give off serious country barn vibes despite being located in a quiet suburban street in Kedron, Farmhouse usually has a line snaking down the street on Sunday mornings—but if you can hang in there, it's worth the wait. Maintain your position and be rewarded with breakfast gnocchi in chilli sauce with thick-cut bacon, parmesan and free-range poached egg or Belgian waffles with dark chocolate fudge.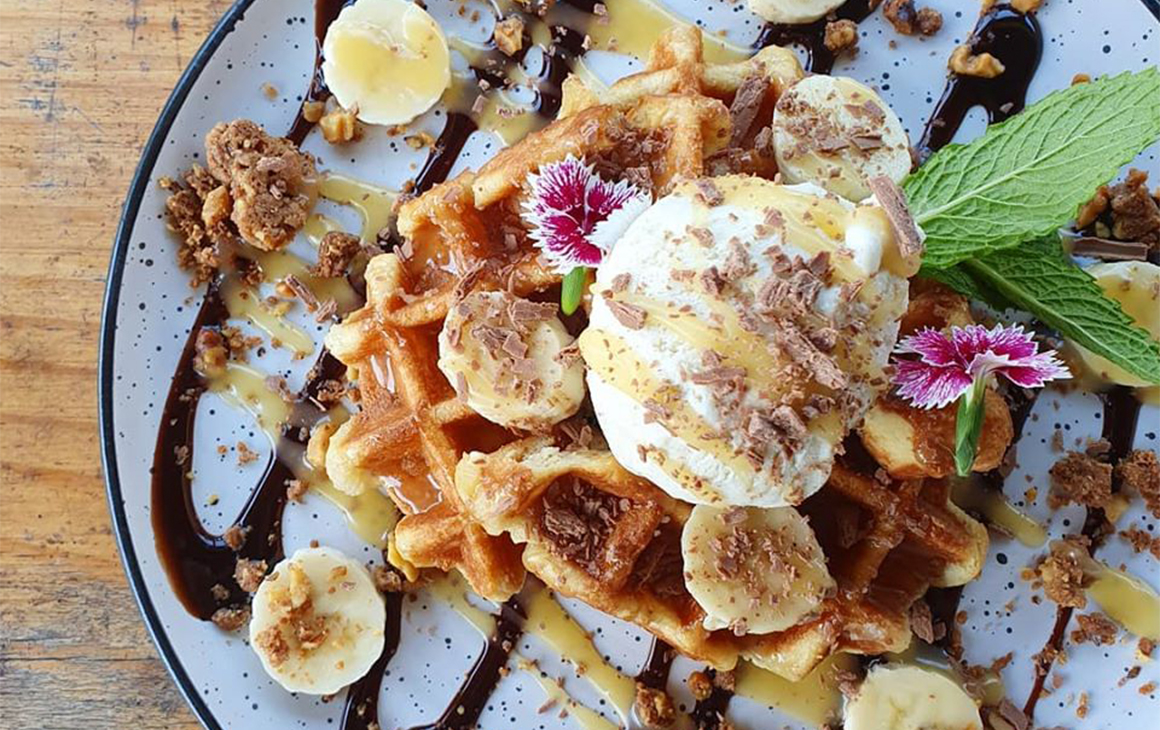 Let Minnow Café
Clayfield
Let Minnow's breakfast menu includes classic brekky dishes plus some new twists on the first meal of the day. The new winter menu features showstoppers like banoffee waffles and corn and zucchini fritters, however die hard fans are all about the toasties and incredible milkshakes on offer.
The Low Road
Windsor
A tropical, Tiki-inspired kitsch little café in an unassuming spot in Windsor, The Low Road has a home-style feel that has made it a favourite with northsiders. Come for the hilarious chalk board messages, stay for the cracking breakfast nosh.
Putia
Banyo
Banyo's Putia Pure Food has a massive breakfast menu that makes deciding what to order a straight up nightmare. Green buddha bowls and omega-3 egg omelettes sit alongside more decadent dishes like triple chocolate waffles and a breakfast burger stacked with bacon, avocado, a fried egg and haloumi. The fact that there are brunch cocktails on the menu means this is our kind of place.
Elixir
Stafford
A wholesale roasting house-come-café, Elixir a long and plentiful all-day brekky menu with something for everyone, including healthy options like the buddha bowl,paleo plate and keto stack sitting alongside hearty classics like the bacon and egg roll and double chocolate pancakes.
All this food got your thirst up? A hot chocolate would go down a treat—here are the best in Brisbane.
Image credit: My Mistress, Petrichor & Co, Let Minnow