Brisbane's eastern suburbs often get overlooked for their brunching potential and frankly we're tired of it. Venture out and you'll find a goldmine of specialty coffee, green juices and all day breakfasts, which is perfect for checking out two in one day. If you're feeling hungry, here's where to find the best breakfasts on Brisbane's east side.
Sister Cafe
Hawthorne
An cute, dog-friendly spot on a corner in Hawthorne, Sister takes after sibling's Miss Jones' peachy pastel aesthetic and offers a brunch menu to knock your socks off (the breakfast gnocchi and the pork belly benedict are both must-orders). Add a few cups of their Single O coffee and you're laughing.
Picnic Cafe
Camp Hill
Down the other end of Martha Street is all-day breakfastery, Picnic Cafe. These guys have been on the lazy weekend breakfast game since before sourdough hit the mainstream, so they have their menu stacked with crowd favourites like taro pancakes, mushrooms on toast and two different types of eggs benedict.
Whisky Business
CAPALABA
If you're looking for a treat, look no further than Whisky Business. This is the perfect place to check out the next time you feel like going all in on an indulgent breakfast. From the savoury end of their all day menu, Whisky Business offers a bunch of burgers and even a fried chicken and waffles eggs benny. But it's in the sweet section that these guys really shine, offering no fewer than three different types of pancakes and our new favourite portmanteau, the doffle (doughnut waffle).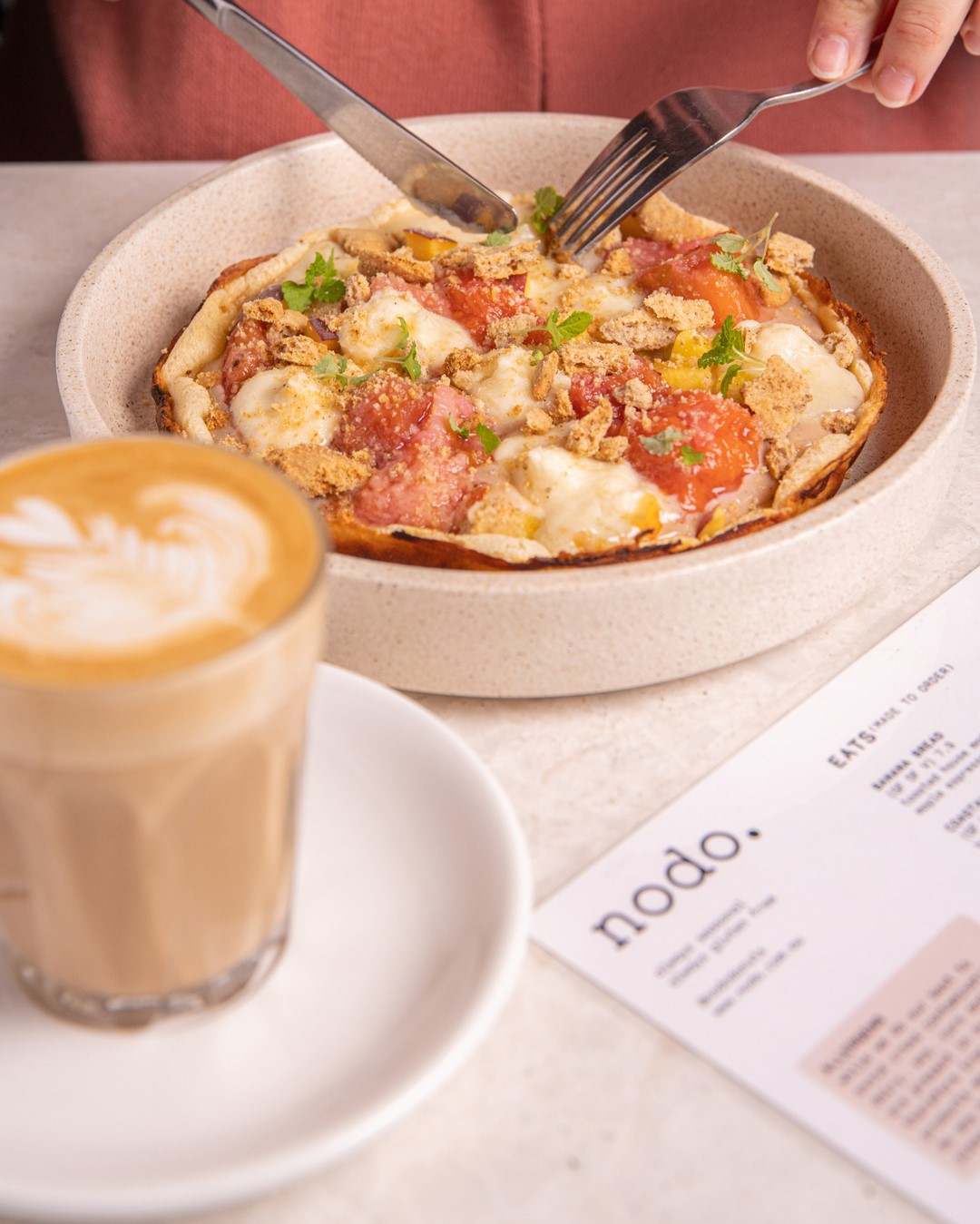 Nodo
Camp Hill and Hawthorne
Yep, Nodo has made it over to Brisbane's east side, and they've brought they're full breakfast menu with them. We can't decide whether we prefer Hawthorne's pastel pink interiors or Camp Hill's outdoor vibes, but there's no doubt about which is our current favourite menu item: the peaches and cream baked French pancake with lemon myrtle custard, honey, lemon balm, cinnamon biscuit and whipped mascarpone.
Florence Cafe
Camp Hill
Trading out of a converted cottage on the corner of Martha Street, Florence Cafe is a happy little hutch of goodness. Their ethos is grounded in creating delicious, nourishing feeds, so as far as breakfast is concerned, you couldn't be in safer hands. Their all-day menu offers a broad range of wake-me-ups including quinoa congee with mushrooms and silken tofu, polenta porridge and boujee baked beans. As a sweet added bonus, every jam, pickle and relish featured is made right there in house by the Florence team, and is for sale from their pantry out the back.
Pawpaw Cafe
Woolloongabba
By night, Pawpaw specialises in Thai fusion, but if a cracking breakfast is what you're after, check out their daytime operation. Subscribing to no specific culinary direction, their brunch menu always pops off with their signature potato hash, mushroom croquettes, a croissant eggs benny and meringue pancakes.
Wholly Crumpets
Bulimba
This Bulimba spot is dedicated entirely to crumpets, and we're obsessed. These aren't just your regular crumpets either—they're giant, doughy, house made crumpets that soak up melted butter and honey like nobody's business. You can expect plenty more toppings than just the classics at Wholly Crumpets though, from smashed avocado and feta to bacon, banana and maple syrup. Thought crumpets could only be sweet? Think again.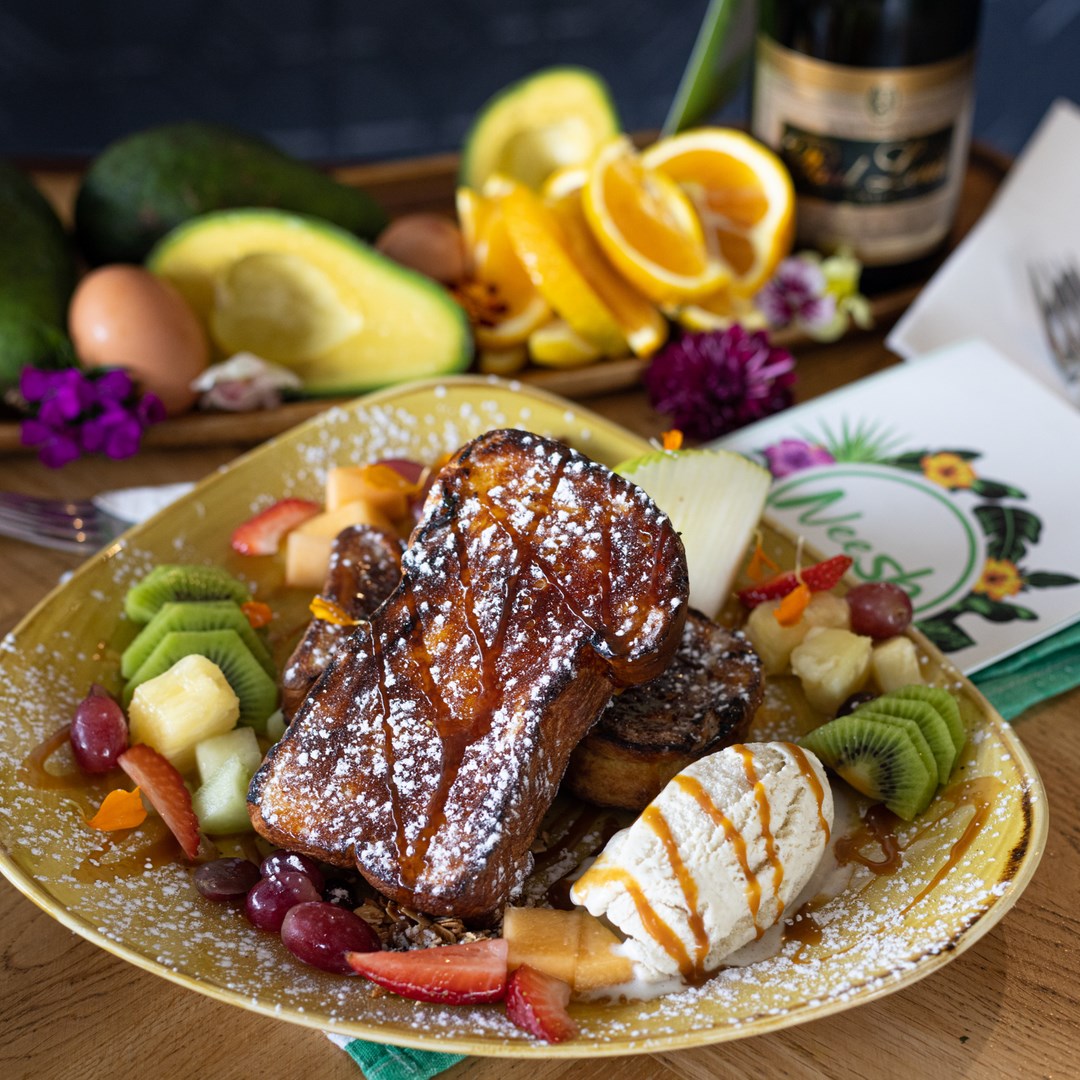 Neesh
Woolloongabba
Tucked away in an old cottage with a secret beer garden out the back, Neesh is a delicious spot for any time of day, but it's their brunch menu that has us coming back for more. From the creme brulee French toast with deep-fried custard and vanilla ice cream to the smashed pumpkin with prosciutto, poached eggs and baba ganoush on sourdough, everything will tempt your tastebuds, and you can even add bottomless mimosas for $50pp if you're ready to write off the afternoon.
The Bloom Room Cafe
Birkdale
Inspired by European springtime, the Bloom Room is a floral wonderland. But don't let that sweet veneer fool you because their breakfasts pack a punch. It's an all-day menu so we recommend the karaage chicken benedict or the bacon and egg English muffin if you're waking up after a big night. On more pious days, check out the breakfast poké bowl with brown rice, pumpkin, sweet potato, smashed avocado, cabbage slaw, edamame and tofu.
Dovetail on Overend
Norman Park
Sweet and petite and nestled on a Normal Park street corner, Dovetail on Overend is a locally beloved fuelling station serving up delicious specialty java six days a week. An all-inclusive cafe, Dovetail has designed their menu to be as coeliac-friendly as possible, resulting in an array of gluten free bakes like scrolls and donuts, and even one of the best Reubens in the city.
Rabbit & Co
Coorparoo
There's no chance you'll be eating like a rabbit at Coorparoo's Rabbit & Co—you'll be more likely to have the appetite of an elephant after looking over their menu. Haloumi and scramble egg-filled breakfast bao buns, crispy chicken waffles with maple bacon and dark chocolate pancakes with ganache and berry coulis make choosing just one dish almost impossible—hopefully your breakfast date will share.
The Rabbit Hole
Seven Hills & Wynnum
If you're thinking there seems to be a lot of rabbit-themed cafes on the east side, that's because there are—and they're all from the same team. The Rabbit Hole Seven Hills was the OG, closely followed by Wynnum, with Rabbit & Co coming a few years later, and they're each as delicious as each other. At The Rabbit Hole, the breakfast gnocchi is a firm favourite, but we're also partial to a stack of honeycomb waffles, as we're sure you will be too.
The Smug Fig
Stones Corner
With a brand new location in Stones Corner, The Smug Fig is a lush and leafy favourite among east side locals. They spruik an all day menu with standouts that include a halloumi stack, a pesto scramble, Mexican-style tater tots and southern fried chicken and waffles. They even sell plants (now in the plant store next door) for you to spruce up your digs making them the perfect millennial weekend paradise. That's why they're so smug, clearly.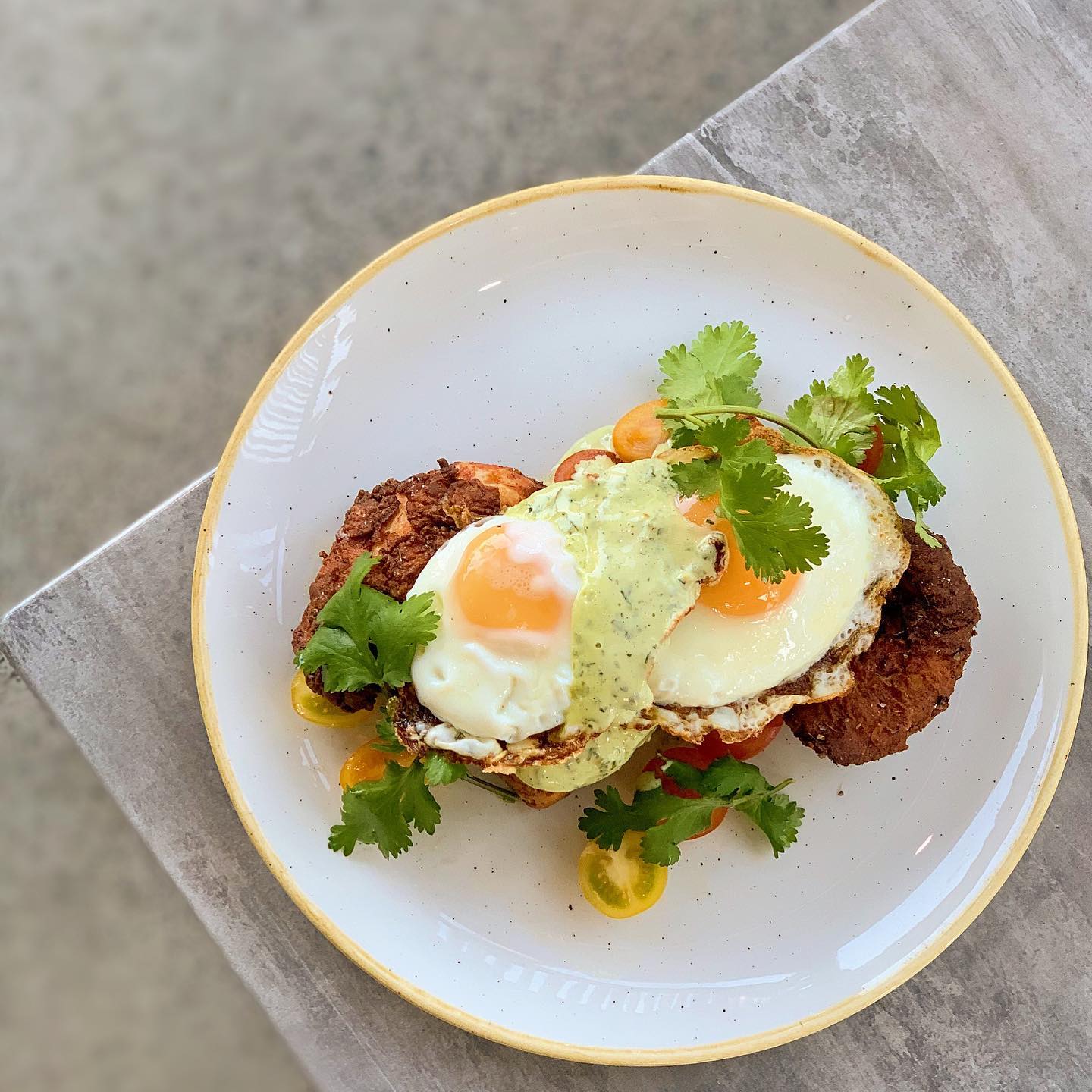 Banter Coffee House
Manly West
Way out bayside, Banter offers one of the most comprehensive all day menus we've ever seen. With extravagant features like the truffled mushrooms on polenta cakes, strawberry shortcake French toast and sweet corn fritters, it's literally impossible to be bored by their offerings. That said, they'll happily whip you up a sage and reliable avo smash or big brekky no wukkas. All served with a side of smashing brew and some quality chat.
Maude
Coorparoo
A fairly recent addition to Brisbane's east side breakfast scene, Maude is a homely spot to tuck into simple but creative brunches in the back streets of Coorparoo. You'll find nothing over-the-top and calorific here, instead it's all about classics with a twist, like the broccoli fritters with balsamic roasted tomatoes, halloumi and poached eggs, and the apple-soaked crispy pork belly benedict on potato galettes with poached eggs and sriracha aioli. And make sure you look past more than just the coffee options here—espresso thick shakes and iced dark chocolate mochas are just a few of the intriguing options.
Ninebar + Kitchen
Coorparoo
You could just stop in Ninebar + Kitchen for one of their epic cookies and coffee and be done with it (yes, we would eat cookies for breakfast, wouldn't you?), but then you'd be missing out on their epic brunches. Slow cooked beef cheeks with herb and feta hash cakes, poached eggs, yoghurt and chilli butter and THEN a cookie? Yes please. Also, we feel obliged to mention that Ninebar may be the only cafe in Brisbane where you can BYO—hellooo champagne breakfast.
After something on the other side of town? Check out the best breakfasts on Brisbane's south, west and north.
Image credit: Grace Elizabeth Smith, Nelson Zambrano, Neesh, Rabbit & Co, Banter Coffee House