Change up your weekend brunch plans because Fortitude Valley's newest spot, The Green, is the love child we've all been waiting for, combining delicious food and glorious plants. Cactus shopping over breakfast? Yes please.
Owners Christina Habchi (an interior design icon) and Angela Sclavos (one half of the team behind the newly opened Essa nearby), have eked out a space of both vibrancy and tranquillity in the heart of Brisbane's concrete jungle, just off James Street in the Valley. The concept began in 2020 when they launched Green Space, a pop-up vendor on James Street devoted to all things foliage. Now, its protégée The Green is a raw space with thriving plants (goals) and abundant cacti, reminiscent and reflective of the surrounding Teneriffe and New Farm neighbourhood. Industrial made homey with—you guessed it—a truckload of plants, the secluded new location offers diners a reprieve from the hustle and bustle just out and around the corner.
While upon entry the plants and pastel pink interiors may steal your focus, the Middle Eastern menu is their more than worthy counterpart. With acclaimed chef Warren Turnbull leading the charge in the kitchen, you can be sure that this dining experience harnesses a congenial combination of artistic flair and truly exquisite flavours.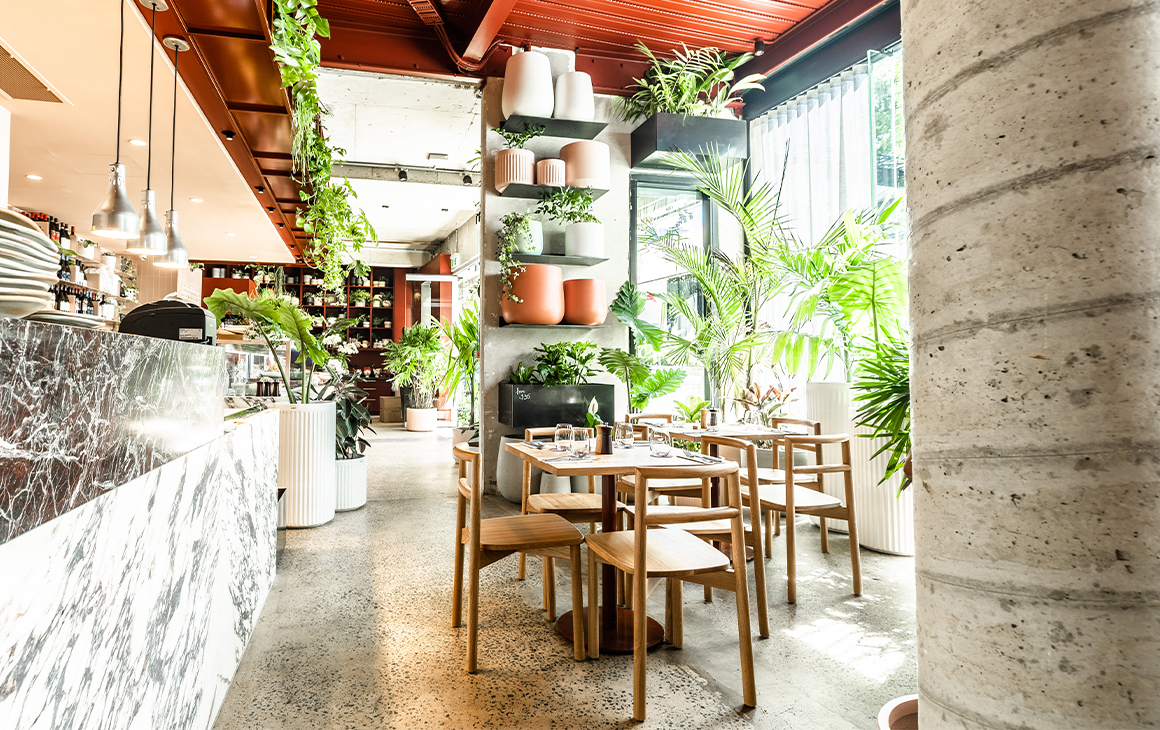 Say goodbye to avo on toast as you know it. Instead, gorge on avocado on manoush (traditional Levantine flatbread) with Persian fetta, za'atar (a blend of spices and sesame) and green tomatoes. For those lacking a certain cultural savviness, The Green has you covered with a glossary on the menu explaining all their mouth-watering bits and bobs. For the authentic breakfast experience, you can't go past The Green shakshuka with smoked labne (thick and creamy strained yoghurt), chilli and Turkish bread—think a frittata on flavoursome steroids. Add some breakfast batata harra potato croquettes or makanek (spiced) sausages and loosen your pants for good measure.
The Green's celebration of Lebanese cuisine comes even more alive in their share-style lunch menu. You and your table can dive into the likes of Vannella burrata with blood orange and chilli jam, octopus with saffron aioli, or grilled zhug marinated lamb cutlets. Drool much? But is dining on James Street really dining on James Street without a cocktail? The answer: obviously not. A selection of funky house crafted cocktails and mocktails like Babylon and Beirut Mule partner perfectly with the flavoursome feeds.
After the warm fuzzies (and the food coma) kick in, if you wish your life could be infused with the class of The Green, it can. Plants of all sizes are available for purchase as well as an array of artisan pottery and homewares. And for those with a real fear that they'll just die, simply opt for a cactus—we hear they thrive on neglect.
Not only is The Green your one-stop shop for all things aesthetics and brunch, but it's also your new go-to for takeaways and events. Sclavos noticed a gap in this market, recognising that often with events there's the option for an abundance of salads, but then comes the hassle of having to source the meat separately, or vice versa. Well no more. The Green offers lamb, pork or charcoal chicken in portions sizes varying from 100g to 1.2kg. Pair any or all with a plethora of salad options like tabouli with Turkish bulgur and pomegranate seeds, or roasted kipfler and purple potato salad with green beans and radicchio, fresh and ready to enjoy, for a quick lunch or a party for 50 of your nearest and dearest.
Have we got you keen to check it out, for a lazy brunch or a long lunch? The Green is open now and you can find all the details right here.
Want more places to bulk buy plant life? Find Brisbane's best nurseries here.
Image credit: Ranyhyn Laine and supplied