When you think of Queensland, you no doubt conjure up vivid images of white sandy beaches and shimmering blue oceans, summers so hot your thongs melt on the bitumen, and wild storms that are over in the blink of an eye. But there's plenty more to our great state hiding further inland—it just takes a little exploring to find it. With everything from ancient rainforests to underground lava tubes, your next great adventure lies waiting in your very own backyard.
So head to the garage and pull out your camping gear—and grab some backup batteries and a portable gas stove stove while you're at it. You'll need it all if you're looking to explore the best national parks Queensland has to offer, and trust us, you'll want to tick these off your bucket list.
Girraween National Park
Named for the glorious displays of wildflowers that paint the park with the colours of spring, Girraween National Park comes alive once winter's in the rearview mirror. Its crystal clear streams gush with the waters of recent rain, creating raging waterfalls that plummet past the park's countless granite outcrops. Steel yourself for a hike (read: scramble) to the top of the Pyramid—it'll knock the wind out of you, but just one look down at the stunning views below (not to mention the sheer impressiveness of the massive rock you're standing on) and you'll realise it was worth the nerve-wracking trek. The view of the stars you'll find from the top on a cloudless night is also pretty spectacular, but if you don't risk it in the dark, try the hikes out to unique rock formations the Turtle Rock and the Sphinx, or the shorter stroll to the Underground Creek.
Carnarvon National Park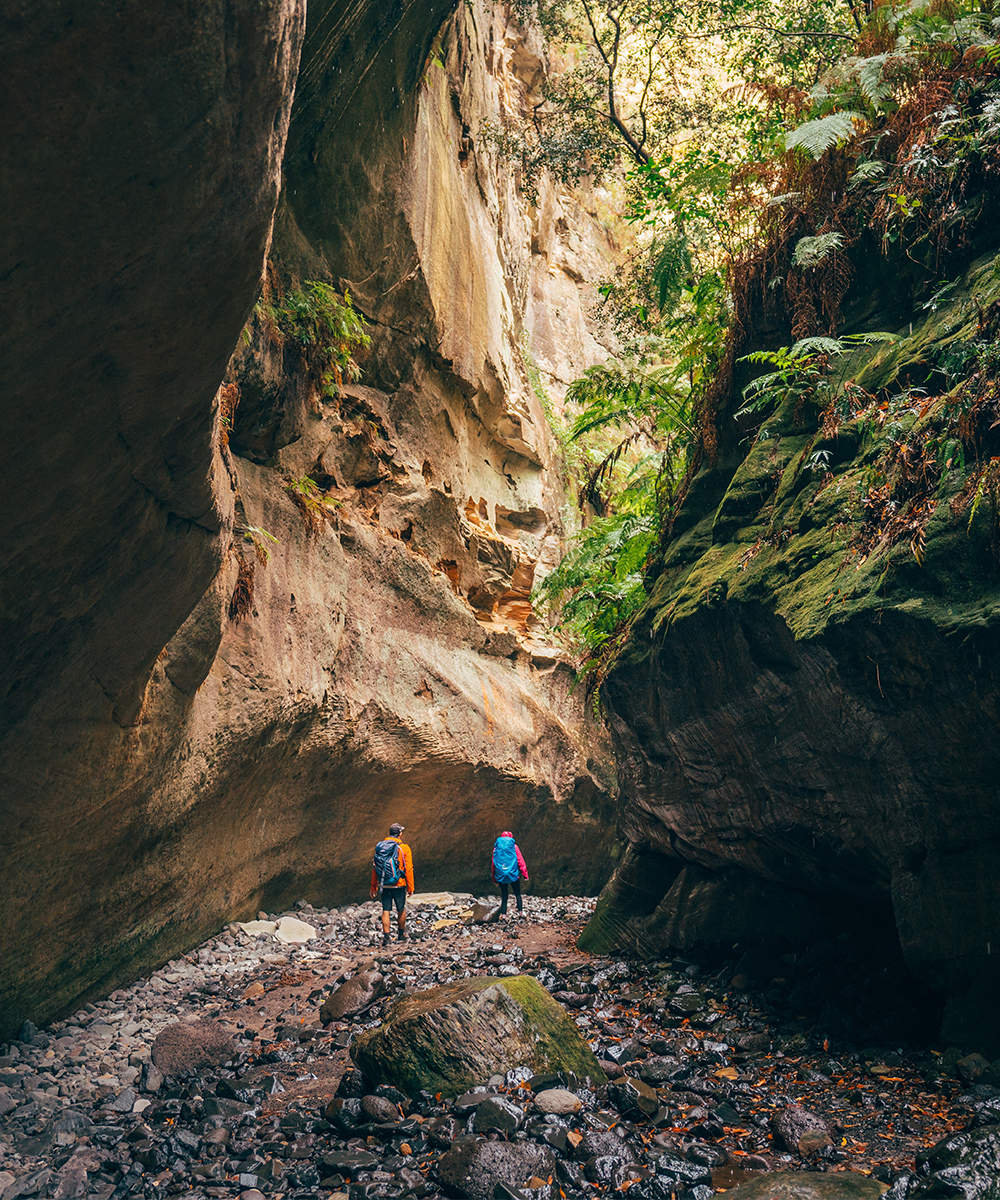 Nestled amongst the rugged ranges of Queensland's central highlands stand the towering sandstone cliffs of Carnarvon National Park. This outback oasis acts as a sanctuary to hundreds of animals in the region, shielding them from the semi-arid conditions that blanket our sunburnt state. The park is packed full of cultural and ecological gems, including lush moss gardens, Indigenous rock art, and the deep crevasses of Carnarvon Gorge. Take a stroll along the main walking track to see if you can spot some of the local fauna: echidnas, freshwater turtles and wedge-tailed eagles all call the park home. Make sure your phone is charged for the climb up Boolimba Bluff—the panoramic views are totally worth the muscle aches. Camping in the gorge is only permitted in the school holidays, but there are accommodation options all year round at Takarakka Bush Resort, just outside the national park.
Lam

ington National Park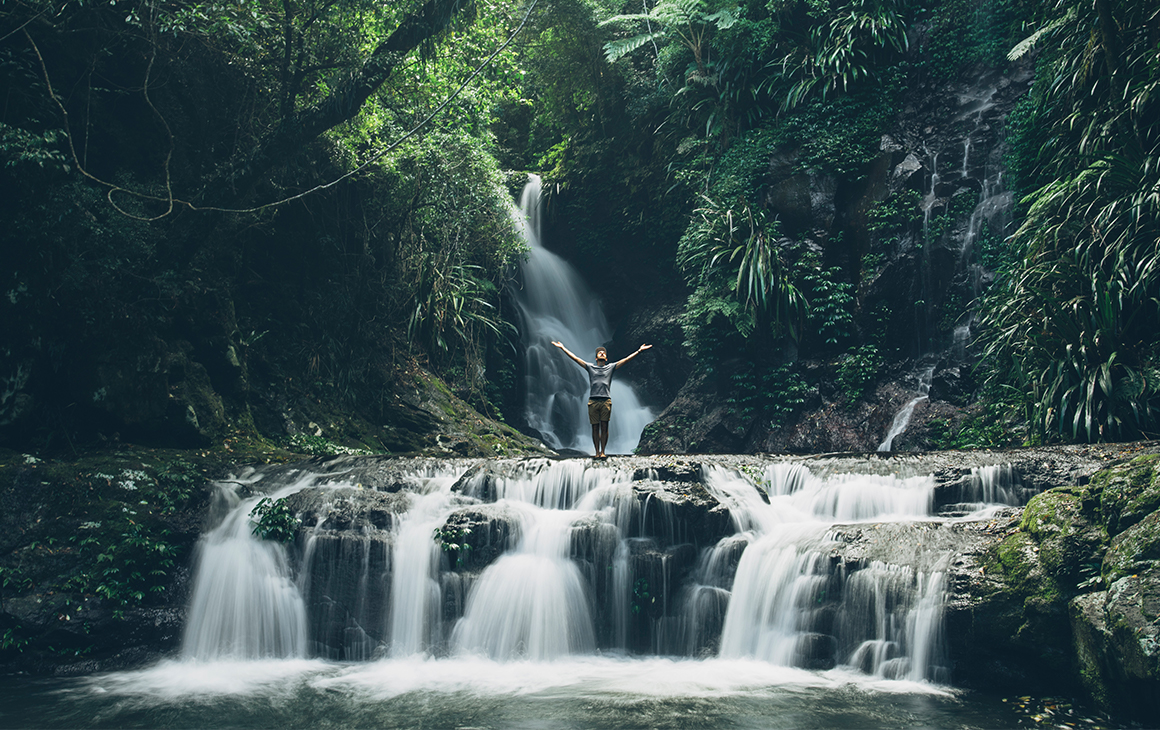 This next park needs no introduction—Lamington National Park is a longtime favourite of Queensland travellers, and for good reason. Its ancient sub-tropical rainforests tell a geological story that dates back hundreds of millions of years, earning the park World Heritage protection. Of course, the rainforest isn't the park's only outstanding feature: its densely forested mountains, raging waterfalls and walking tracks are all equally as impressive. We recommend the Python Rock lookout for stunning views of the park featuring the tumbling Moran's Falls. But the best part is, Lamington National Park is just over 1.5 hours drive from Brisbane, making it the perfect place for a day trip.
Daintree National Park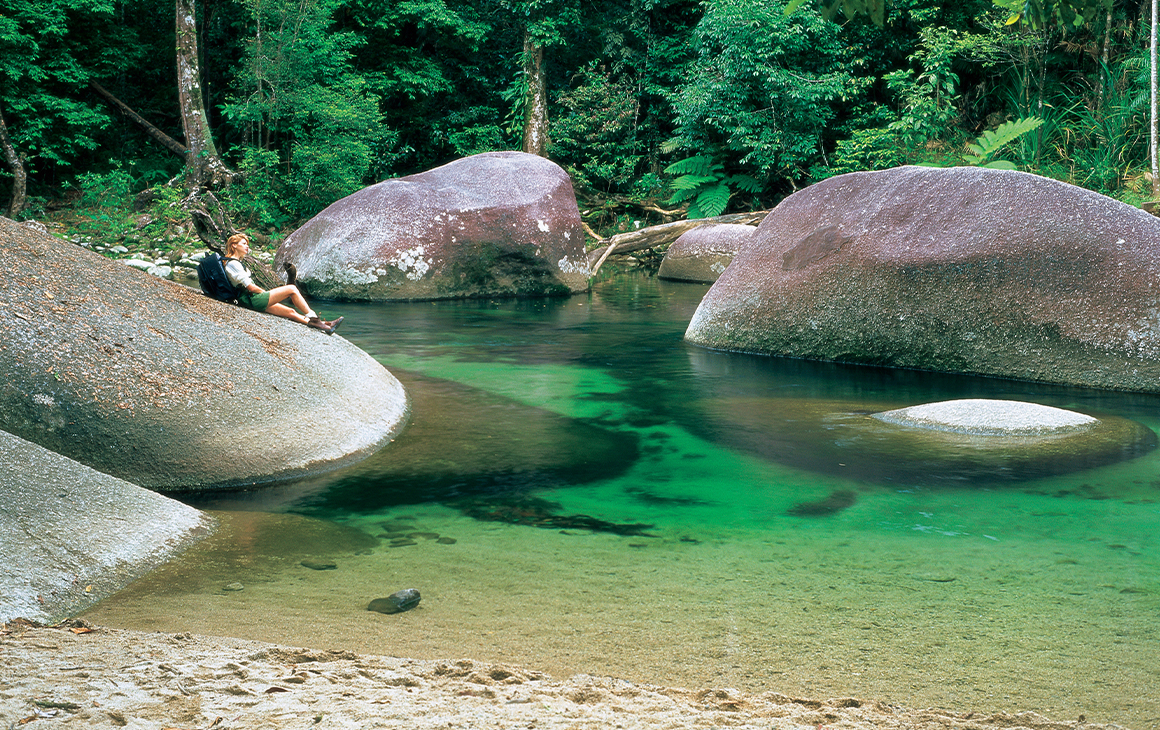 Don't get us wrong—there's no way we'd turn down a trip to Thredbo, or the chance to snorkel the Great Barrier Reef. But not every holiday needs to be action-packed, you know? And while the Daintree certainly has options for its more adventurous visitors—think zip-lining through the rainforest canopy and 4WD day tours—we've got you covered if you're looking to relax. How does a tropical river cruise sound for a little R&R? Or a dip in a natural swimming hole, in the middle of the rainforest? Yeah, that's what we thought. And hey, if you're feeling up to it, you can always end your stay by working up a sweat once you've regained your energy—the name may be off-putting, but the Mount Sorrow ridge trail is totally worth the effort.
Great Sandy National Park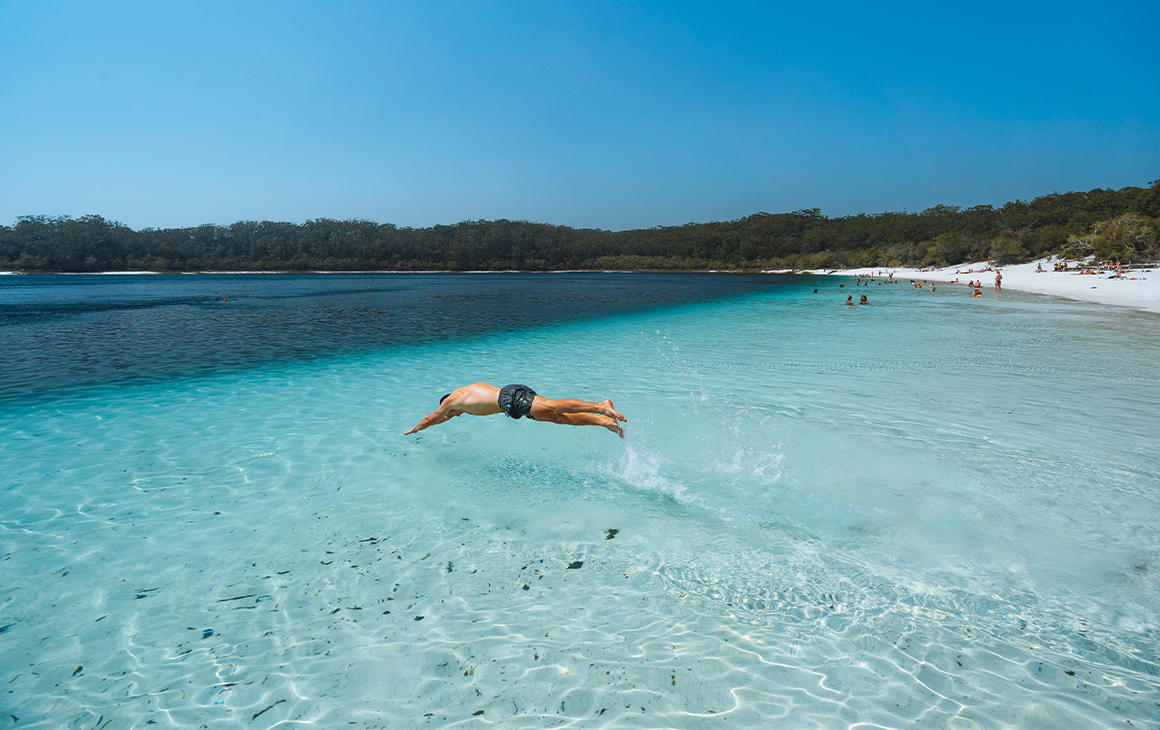 If you prefer your Queensland national parks with a healthy serving of sun, surf and sand, set your sights on the Great Sandy National Park. Located in the Fraser Coast region just over 2 hours north of Brisbane, the park promises visitors the ultimate coastal getaway. We're talking towering sand dunes, coloured sand cliffs, sweeping beaches, sandblows, freshwater lakes—you name it. Of course, the park encompasses every beach-goer's fave holiday destination, Fraser Island, so there's a good chance you've visited the park without even realising it. Campsites are plentiful if you don't mind roughing it for the night, but if you'd prefer the comfort of a Queen size bed, hotel accommodation is available.
Undara Volcanic National Park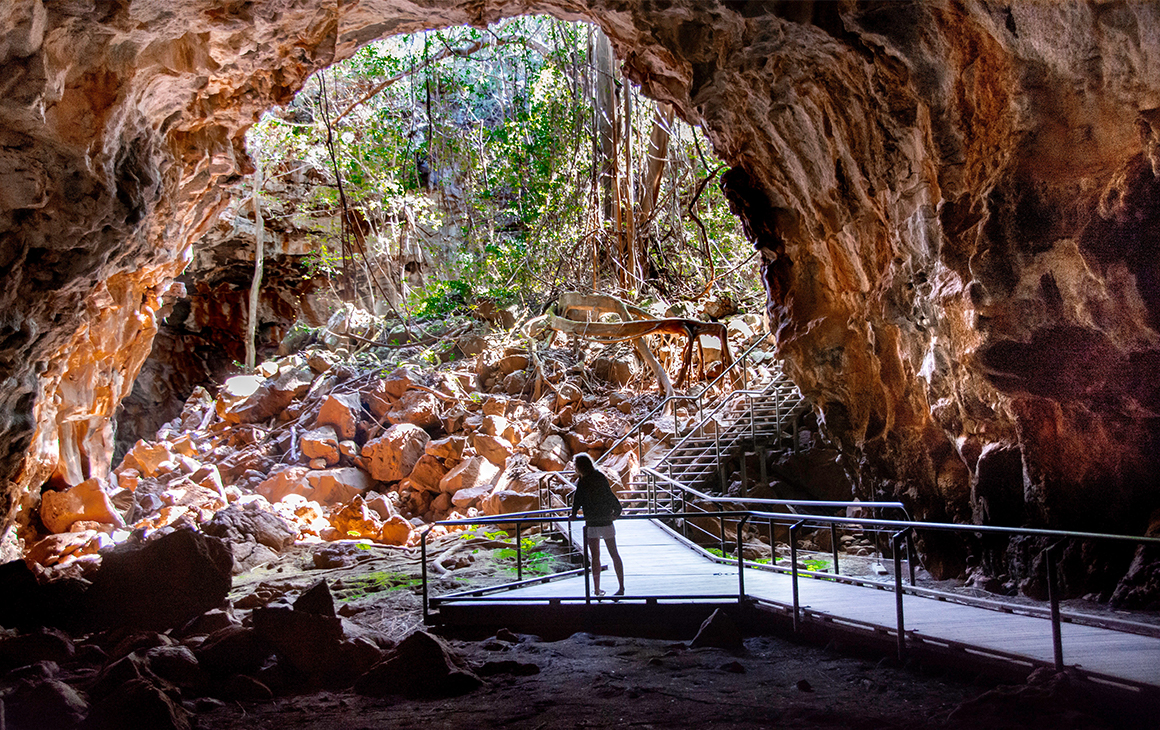 Home to one of the longest lava tube cave systems in the world, Undara Volcanic National Park is a volcanophile's dream. The rich basalt soils and sea of seasonal grasses conceal the Undara lava tubes, a cave system created by a volcanic eruption over 190,000 years ago. Explore the caves with the help of a guided tour, and at sunset, watch as the caves come to life with thousands of microbats emerging from the darkness as they begin their hunt for food. Once you're all tuckered out, spend the night sleeping in an antique railway carriage for a one-of-a-kind outback experience.
Boodjamulla National Park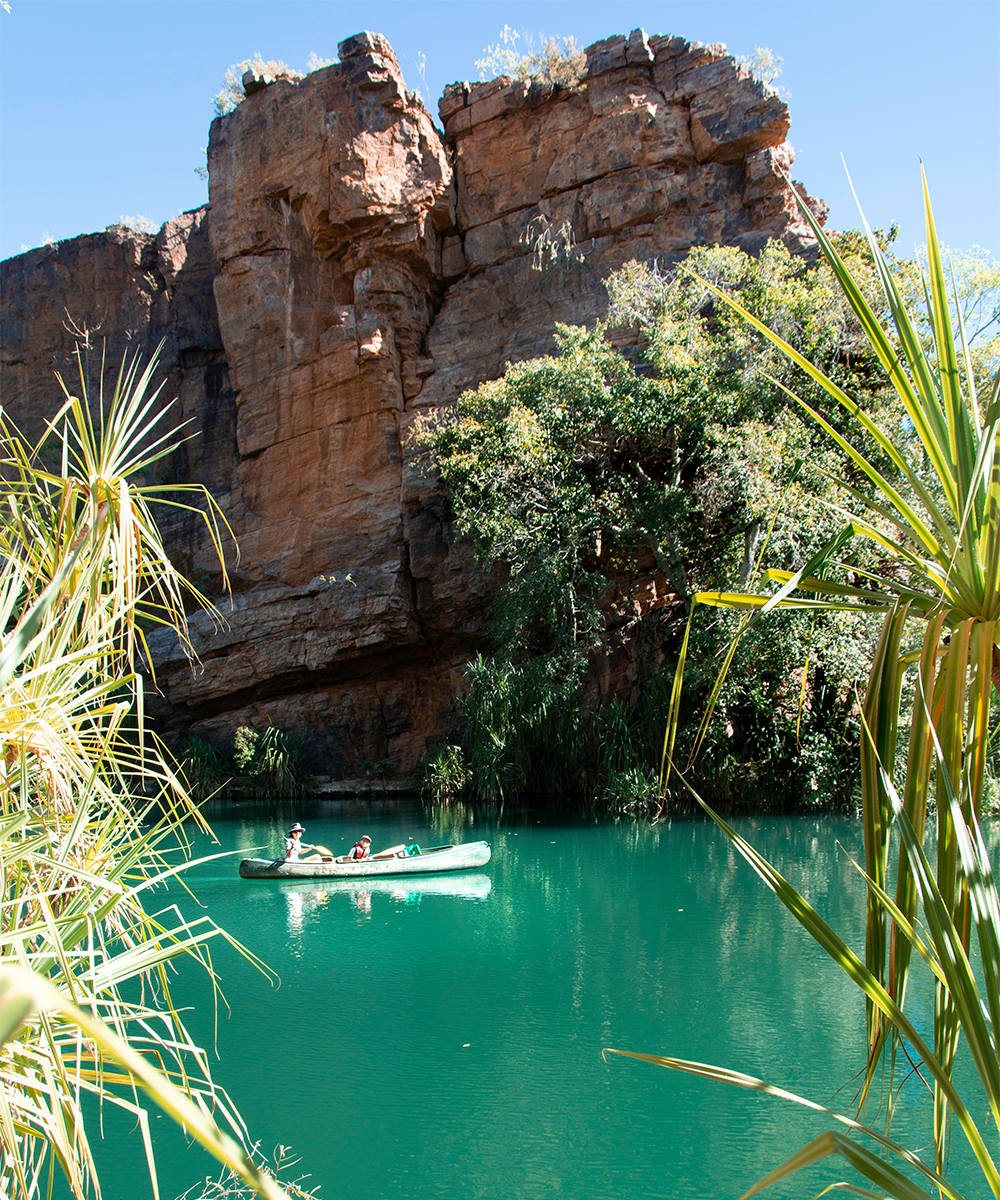 Towering red rock faces meet emerald swimming holes in the remote sandstone ranges of outback Queensland. You'll need a 4WD, and offline access to Google maps, but trust us , Boodjamulla is one of most scenic Queensland national parks. Just check out the Boodjamulla Insta hashtag and you'll see what we mean. The park is home to a number of heritage-listed fossil formations dating back over 15 million years, including the limb bones of towering flightless birds and the remains of the largest known freshwater crocodile. We'd be remiss not to mention the picturesque Lawn Hill Gorge, a lushly vegetated spring-fed creek in the midst of dry savanna landscape. A visit to Boodjamulla is 99% preparation and 1% perspiration, so plan ahead and pack everything you could possibly need for a visit to the outback.
Girringun National Park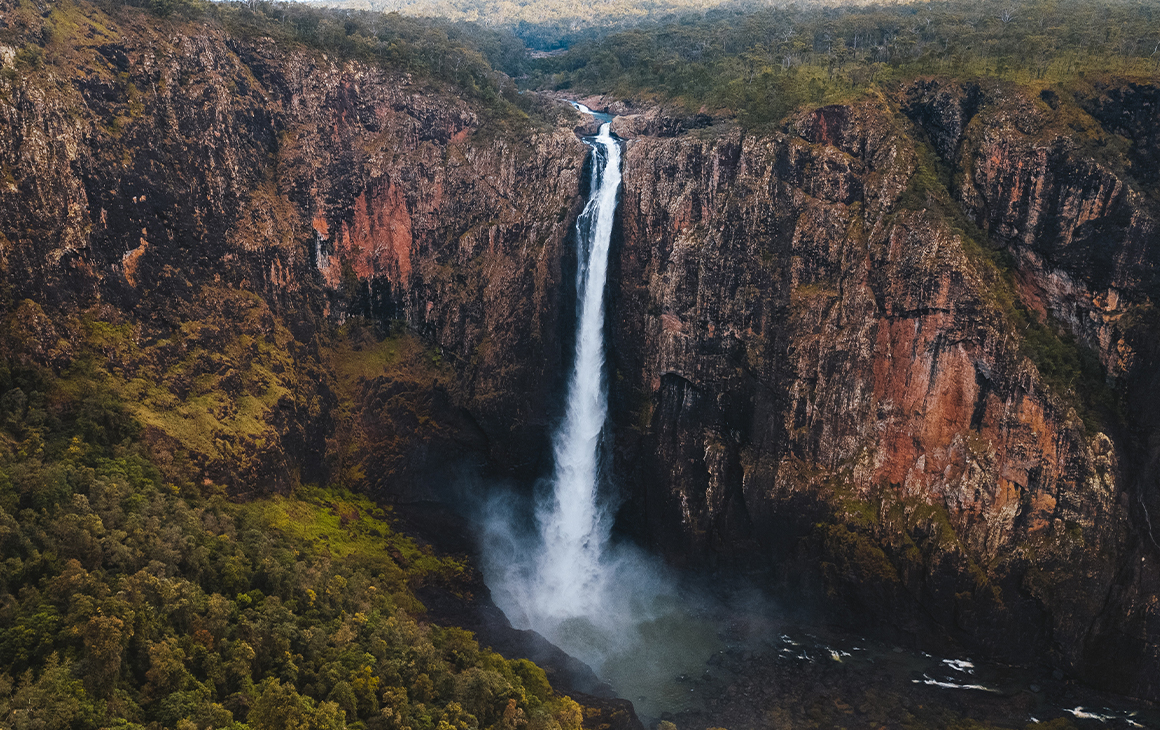 As if you needed yet another excuse for a vacay up north, Girringun National Park is an absolute must-see. Home to Australia's highest single-drop waterfall, not to mention a World Heritage rainforest, Girringun is a jewel in the crown of our great state. The park's most famous geological feature is undoubtedly Wallaman Falls, a horsetail waterfall that plunges 268m down a sheer cliff face, creating a magical rainbow mist at its base. And while you're chasing waterfalls, you won't want to miss Blencoe Falls—it's easily one of the most stunning cascades in Australia. If you're looking to take a dip, we've got good news: the park is home to the Cardwell Spa Pool, an idyllic swimming hole full of natural minerals guaranteed to do wonders for your skin. Getting to the pool can be tricky, so check out this map to save yourself some headaches.
Hinchinbrook Island National Park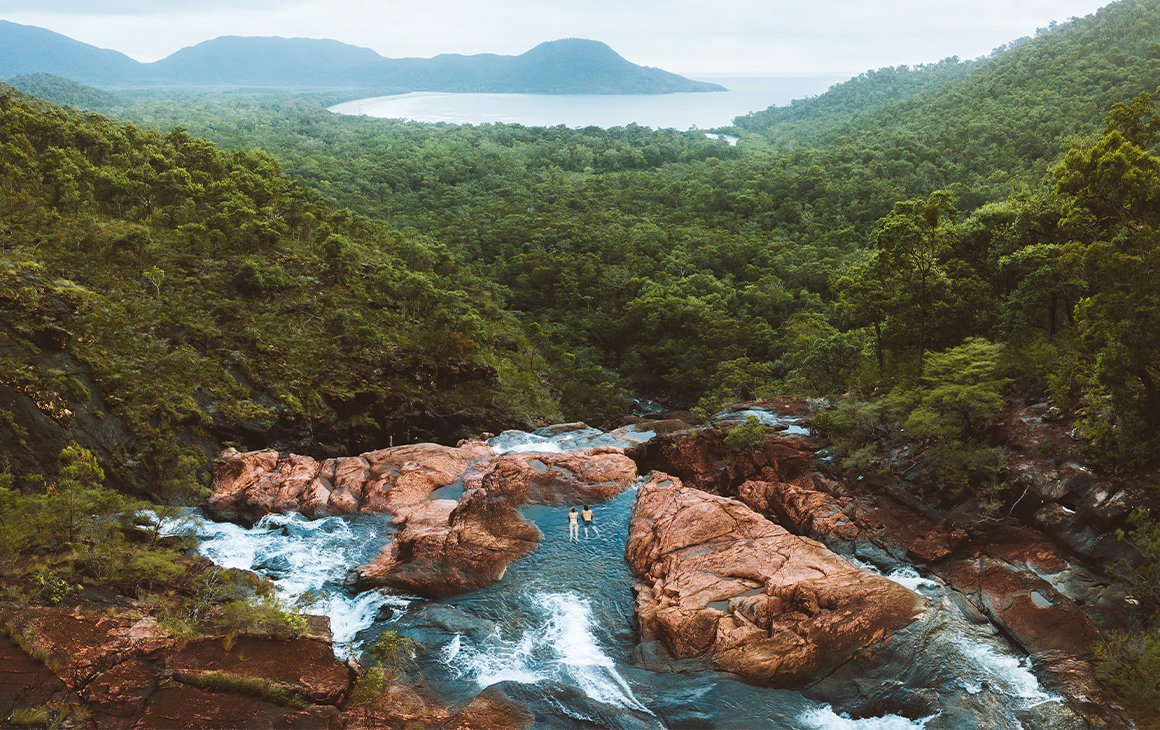 Sitting just off the Cassowary Coast, halfway between Cairns and Townsville, lies a rugged wilderness escape just begging to be explored. The largest island on the Great Barrier Reef, Hinchinbrook Island is completely uninhabited, so you'll need to pack the tent if you're planning on staying the night. A short ferry ride will get you to the island, but once you're there, you're on your own. Follow the Thorsborne Trail to explore the island's misty, heath-covered mountains sprawling eucalypt forests and rocky headlands, but be warned, the 32km track takes four days to complete, and is not for the faint of heart. Of course, the breathtaking views out over the bay make it well worth the trek. Only 40 visitors are permitted on the island at a time, so make sure you pick up a permit before setting out on your adventure.
Conondale National Park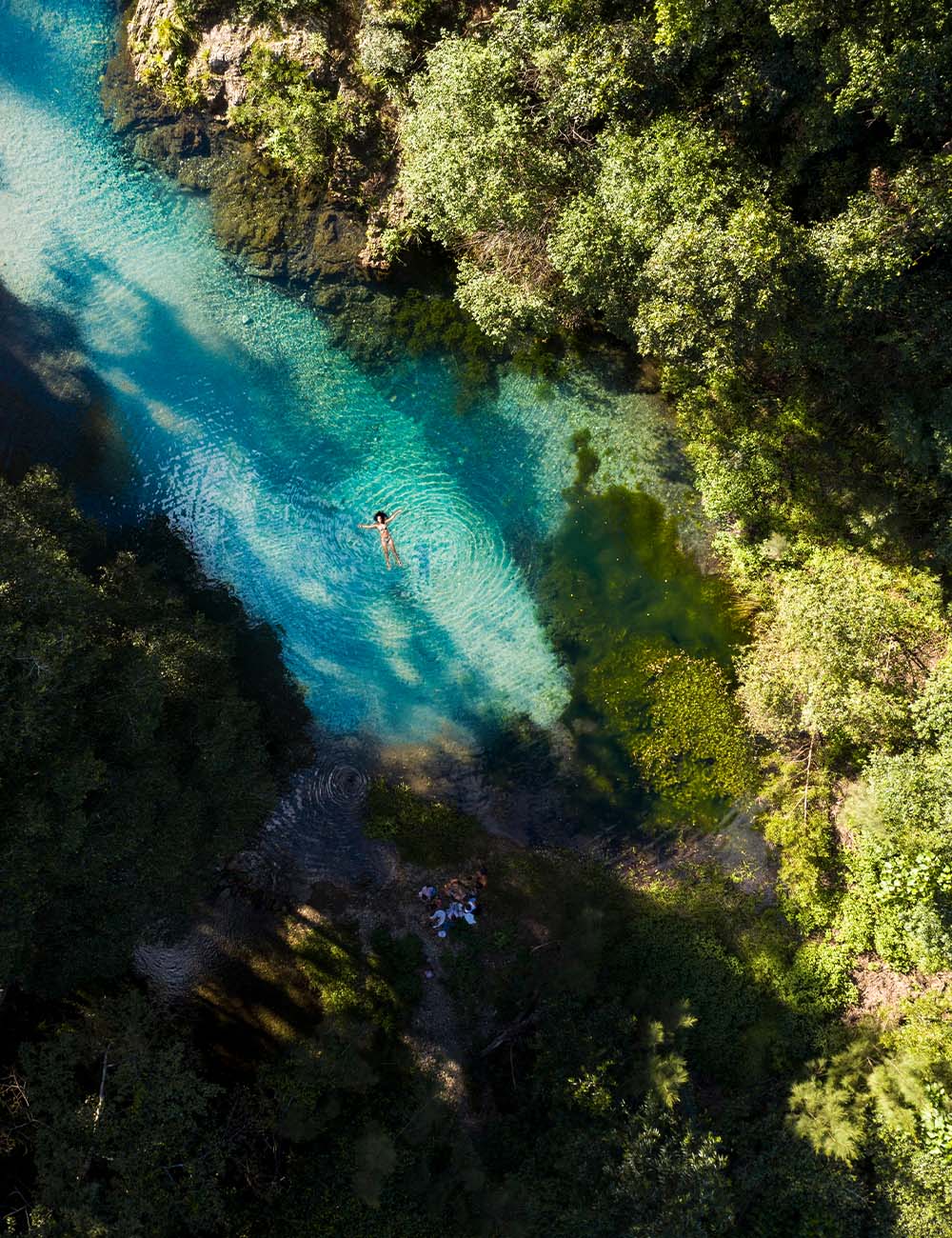 Only around 90 minutes north of Brisbane are the rugged Conondale Ranges and the surrounding national park, where you can find some of the best natural beauty Queensland has to offer. Rainforests, tall eucalypt forests and wet heath blend into one, immersing any visitor into a glade of sky-scraping trees and feathery moss. In this national park you can find cascading waterfalls, gaping gorges and boulder-strewn creeks to gawk at as you walk the full four-day, 56km circuit walk or one of the many shorter walks. Stay a while at the grassy camp site of Booloumba Creek which is situated beside a rainforest-lined creek. It's got everything, and with only an hours drive to Maroochydore, you can always day trip it to the beach.
Blackdown Tableland National Park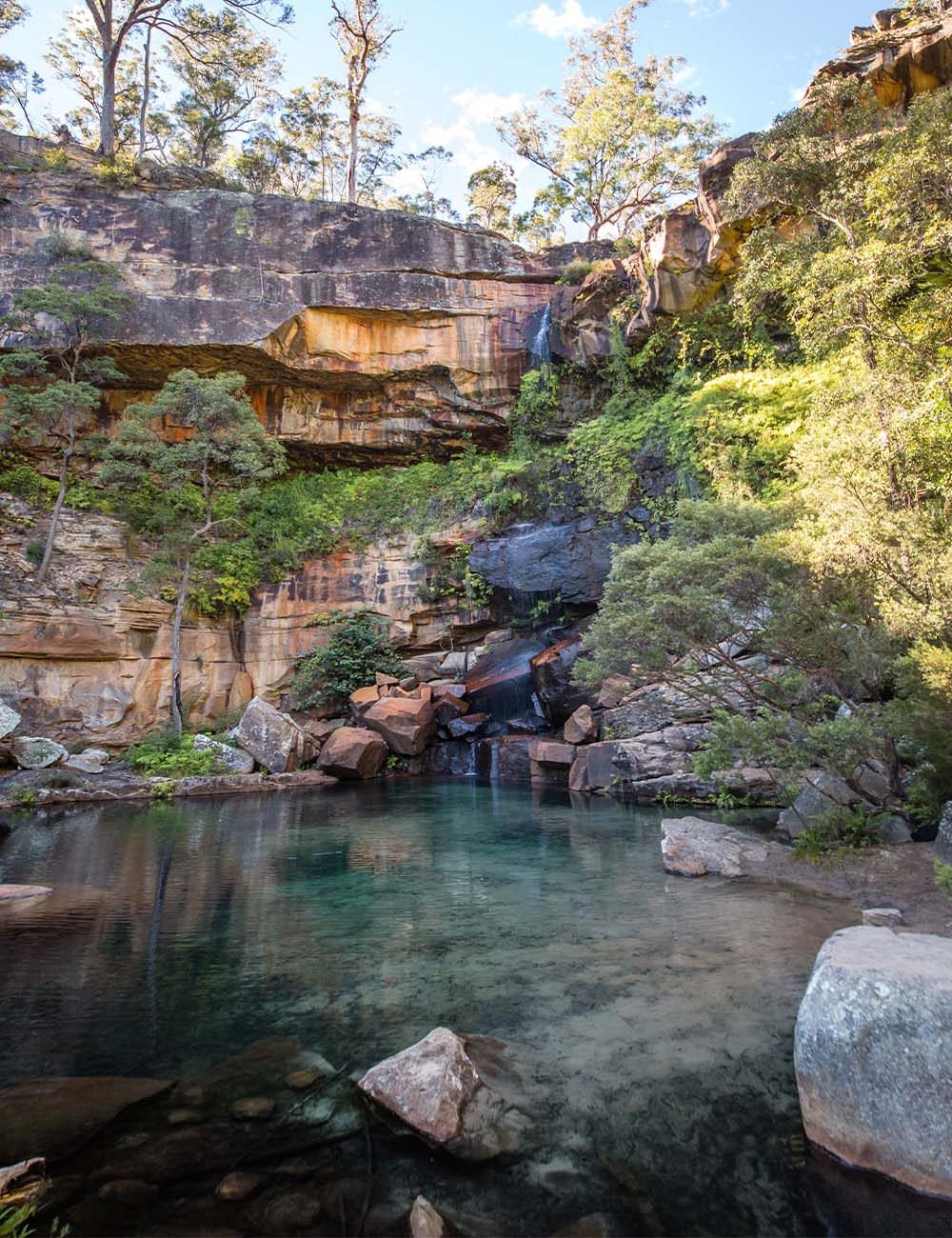 If you're chasing a nature trip that's a bit more off the beaten path, why not visit the Blackdown Tablelands in the Central Queensland Highlands. The surrounding dry plains really don't seem to fit in once you reach the plateau the national park is on. The higher elevation has allowed for a unique environment to form above the arid areas below, and is home to some visually stunning sights worth seeing. The Tablelands are littered with waterfalls and springs to swim in and ferny gulleys bursting with life. The land is the traditional home of the Ghungalu people and the park's cultural sites are vivid and visual reminders of their continued connection to this country. There is only one camping site on the plateau, but it is very basic, so come prepared.
Looking for somewhere a little closer to home? Here are the best national parks in South East Queensland.
Image credit: Ranyhyn Laine, Tourism and Events Queensland