We just have to give it up for the hospo industry. From lockdowns galore to ever-changing distancing rules, our favourite bars, cafes and restaurants rise from the ashes of it all—but no one realises the phoenix vision quite like those brave enough to launch new venues in the middle of a pandemic. Call us the town crier, because it's time to get on our soapbox and sing praises of the newest and brightest cafes in Brisbane.
Here's the ones to try when you feel like something different to your usual.
Picnic Cafe
West End
Sister sibling to the Camp Hill cafe of the same name, Picnic Cafe in West End is a totally 'grammable cafe with pastel green interiors, natural pine furnishing, greenery galore and an abundance of natural light. Speaking of 'gramable, their all-day brekkie menu (which is totally different to the menu at the OG cafe) consists of perfectly plated dishes, like their signature Wagyu Scotch egg, accompanied by a house pickled salad, bearnaise sauce, avocado, hash browns and kimchi-inspired dressing. For the late risers among us, Picnic Cafe also serves up afternoon snacks like halloumi chips and popcorn chicken from 2pm-4pm, which you can wash down with something a little boozy from their drinks menu.
Bear Boy
Windsor
A Gold Coast fave who made their way north, Bear Boy Espresso landed in Windsor's new Colwill Place development early in 2021 and quickly had crowds out the door. For those who have visited the original Helensvale cafe, the peach-hued interior featuring a pink marble counter and iconic logo on the wall will be familiar, while the booth seating and alfresco deck will be a welcomed surprise. The menu has been adapted from the original cafe, and truly, you should be ecstatic you no longer have to drive an hour south to try it. If mango and coconut hotcakes with mango coulis, Coyo ice cream, fresh mango and passionfruit curd doesn't scream summer to you, then perhaps Bear Boy's healthful bowls like acai with granola and nectarine and sweet potato salad will satisfy your summer brunch cravings.
Willow Cafe
Balmoral
Did someone say dessert for breakfast? Balmoral's new brunch destination, Willow Cafe definitely did. It's time to ditch your boring black coffee and plain toast brekkie routine because this new cafe is serving up some seriously drool-worthy brunches, like their Turkish breakfast brulee, complete with a pomegranate creme brulee and fig labneh in a pastry case, Persian fairy floss, baklava and pistachio. But, if savoury is more your brunch style, cast your eyes towards the crab cakes with yuzu dressing, poached eggs and bearnaise sauce on sourdough. You know you're in good hands at Willow Cafe—the new venue is brought to you by none other than Adam Dartnall, owner of Stones Corner beloved hole-in-the-wall cafe, Stones Throw, who's enlisted Matt Roman—creator of the iconic pies at gourmet pie joint, Piefection, to head the kitchen team.
The Green
Fortitude Valley
What do you get when you combine delectable food and glorious greenery? None other than Fortitude Valley's newest (and greenest) brekkie spot, The Green. Interior design icon Christina Habchi and Angela Sclavos (co-owner of neighboring restaurant, Essa) have joined forces to transform this James Street venue into a vibrant and tranquil space. What began as a humble, pop-up foliage store in 2020 has blossomed into a secluded cafe, complete with pastel pink interiors and you guessed it, plants galore. While the greenery alone may stand to impress, we can guarantee the cafe's unique Middle Eastern menu is just as worth a visit. On the menu you'll find dishes like avocado on manoush (traditional Levantine flatbread) with Persian fetta, za'atar (a blend of spices and sesame) and green tomatoes. With the added bonus of a share-style lunch menu, takeaway salads and large portions of mouthwatering lamb, pork and charcoal chicken perfect for your next event, The Green will become your go-to for a lazy brunch, a long lunch or catering for your next party.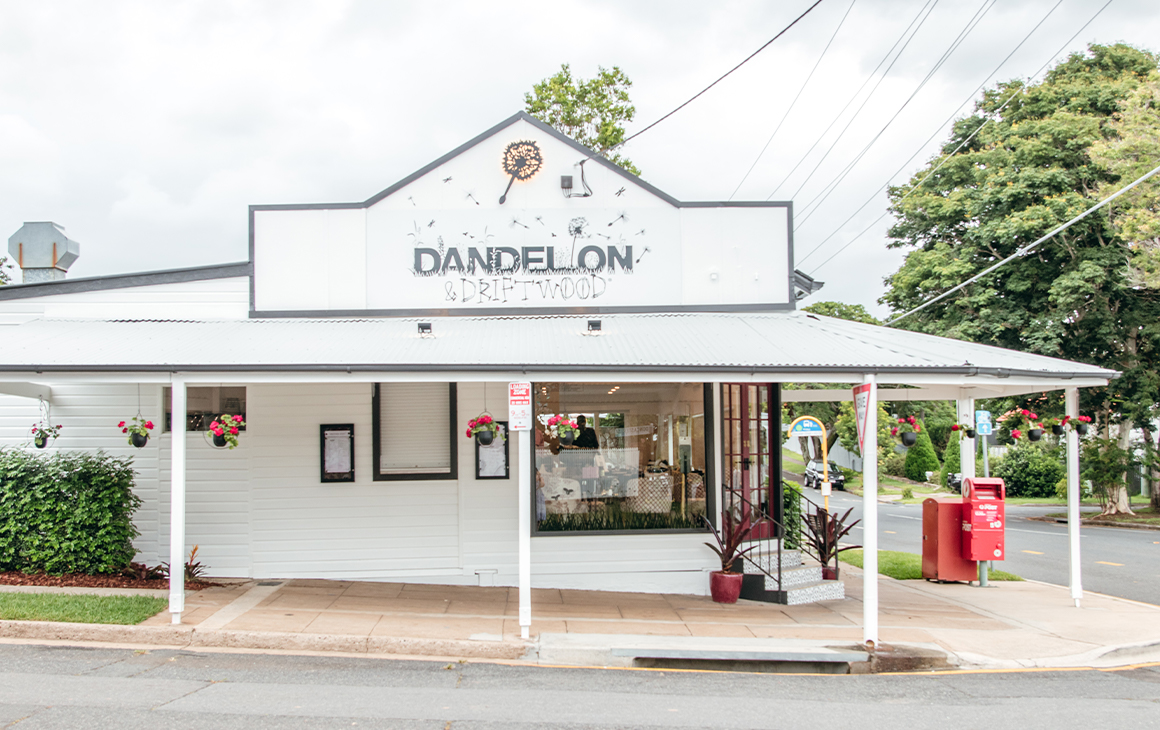 Dandelion & Driftwood
Hendra
Those left devastated when this beloved Hendra cafe closed their doors in 2018 will rejoice as Dandelion & Driftwood is back, just a few blocks away from it's OG location. Inside you'll be met with a mix of old and new, from comfy vintage lounges and low tables by the front entrance for cute high tea dates, sleek marble-topped tables and bench seating for relaxed lunches and dinners and garden seating outside for afternoon espresso martinis in the sunshine (because why not?). However, choosing where to sit may be the least of your problems—as far as the menu is concerned, you'll have a hard time choosing from plates like savoury cheese and chive waffles with bacon and grilled tomatoes and a breakfast sundae of almond and maple muesli topped with acai frozen whip and fresh fruit. If you're like us and are really stuck on which delicious dish you'd like to dig into to, why not split a breakfast tower with your bestie (a double decker spread with corn and zucchini fritters on the bottom and a sweet caramel fudge sauce topped waffle on the top).
Andonis Cafe
Fortitude Valley
All hail the kings of epic brunches that cure even the most dreadful hangovers—Andonis Cafe & Bar has now opened a third venue, this time in Fortitude Valley for inner city locals to frequent. Like their first two venues, this popular cafe situated right off the James Street Precinct offers a lengthy selection of modern Australian cuisine with a Greek twist, from breakfasts to cocktails and everything in between. Continuing the gastronomic legacy that is their original menu, you can find all your Andonis faves like their cookies and cream Nutella crepes, avo stacks and their famous loaded croissant with crispy maple bacon, grilled chorizo, house hash browns, halloumi and truffle mayo. Even your furry friend can get a taste of the action, with a whole menu designed just for them (did someone say puppuccinos and doggo doughnuts?).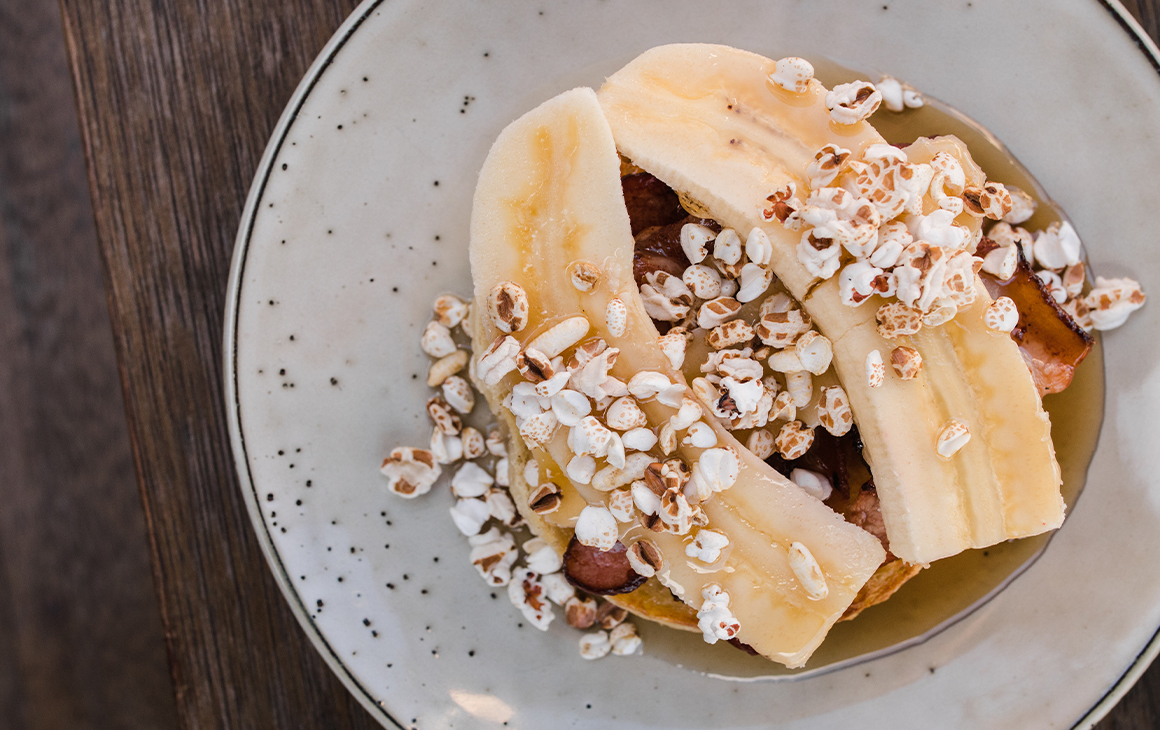 Wholly Crumpets
Bulimba
Oh, the humble crumpet. Images arise in this writer's mind of attempting to split one from the frozen packet (to preserve them, come on I'm from the country) with a butter knife like Michelangelo chipping away at a chunk of marble. Crispy outside and fluffy inside slathered in butter and honey. It's downright erotic. Now, imagine this experience elevated to the max at Wholly Crumpets—you're in leafy Bulimba sipping on a coffee so good it feels like it's warming your soul and floating over to your table comes a house-made crumpet adorned with Nutella, toasted coconut and strawberries as well as a tomato, ricotta, herbs and balsamic one for your brekky buddy. Absolutely elated, you saunter up to the counter to pay post-feast and lo and behold, you can cop a take-home bag of said crumpets and a delicious array of spreads. You get the picture, pull up.
Enoki Cafe
Stafford
Vegans, you are well and truly on here. Wrangle your dog into their harness (why do they wriggle so much?) and trek over to the northside to Enkoi where you'll find a utopia of vegan and vegetarian breakfast feasts. Gone are the days of a sad mushies on toast situation for the coveted Saturday morning brekkie—surely you'd rather go a potato and rosemary waffle stacked with scrambled tofu, mushrooms, hollandaise and sauteed kale? Also, conveniently, you can include your non-vegan friend in the fun with vegetarian swap outs for the menu—like an egg instead of tofu for the soy haters. The coffee is liquid gold, the decor's a vibe and the service is top-notch.
To Be Or Not To Be
Westlake
Ok did anyone else actually like learning about Shakespeare at school? Was it your favourite teacher that made the class so interesting or was it the fish tank scene in the 90s movie version of Romeo and Juliette? Well, we guess we'll never know. One thing we DO know, however, is that the southside is lucky to have a new cafe, To Be Or Not To Be, in their midst. Every nook and cranny (including the menu) of this venue is an homage to good ol' Shakespeare if you haven't guessed, like the indoor dining area nicknamed Juliet and an outdoor space named Romeo. Get your hands on a menu and peruse the delicious options like the Chinese Pork Benny with lemon potato écrase, poached eggs and yuzu hollandaise or perhaps go for one of the nods to the great playwright like the 'To Toast Or Not To Toast' or 'Two Eggs Thy Way'—two free-range eggs on buttered sourdough with hash brown fries amd chilli tomato relish. Either way, you're in for an absolute treat.
Joedy's By Eminence
Fortitude Valley
If you're familiar with Joedy's Cafe in New Farm, you're probably already a fan—and now there's another spot where you'll find their ripper service and delish menu, Joedy's By Eminence. Being so conveniently nestled in the belly of The Eminence building in the Valley, it's hard not to stop in on that morning commute damn near every morning for a delicious slurp and tasty treat to go, but trust us the sit-down experience is truly the underdog. Slide into one of the luxe booths and choose something from the powerhouse of a menu—our fave is the black rice pudding with spiced coconut yoghurt, mango compote, toasted coconut and pashmak floss.
Unbearable Bagels
Teneriffe
The word unbearable and bagel are seldom heard in a sentence together but in this case, it's a match made in heaven. For many of us, thinking of bagels means drooling at your desk at work picturing chewy yet warm discs of deliciousness topped with about an inch of cream cheese and maybe even an orange ribbon of salmon. Keep riding that delicious visual wave and you'll eventually fantasise what Unbearable Bagels is dishing out every day in Teneriffe. The menu features bangers like The Dealer, a bagel stuffed with chorizo, egg, onion and cheese and the Big Al, stuffed with pastrami, mustard, cabbage and swiss cheese. There's something for your sweet tooth as well like the dreamy PB and B, an open bagel topped with peanut butter, banana and honeycomb. There are spots galore to have a seat, but beware (or excited) the crew is big on filter and brew coffee that is served black only.
Looking for more familiar favouties? You'll find 50 of Brisbane's best cafes here.
Image credit: Enoki Cafe, Nelson Zambrero, Joedy's By Eminence, Ranyhyn Laine