The end of the financial year means the start of July, and to us that means one thing: the return of Good Food Month! Our entire city has turned into a foodie's wonderland with a whole bunch of fun and food-centric events lighting up the calendar, but if there's one event that really gets us hot under the collar, it's the return of the Night Noodle Markets.
If past markets are anything to go by, you can expect an electrifying tangle of sights, sounds and flavours as South Bank's Cultural Centre Forecourt transforms into a bustling Asian food market to round out Brisbane Good Food Month from Wednesday 24 July to Sunday 4 August. The best bit? Entry is totally FREE. Woo hoo!
With the spice and delight of last year's market still fresh in our minds, you can bet we are gonna go at this year's stalls like bats out of hell to scout out the best grub going. We highly recommend you join. Another hot tip from us…
But in the meantime, here's everything we're eating at the Night Noodle Markets this July.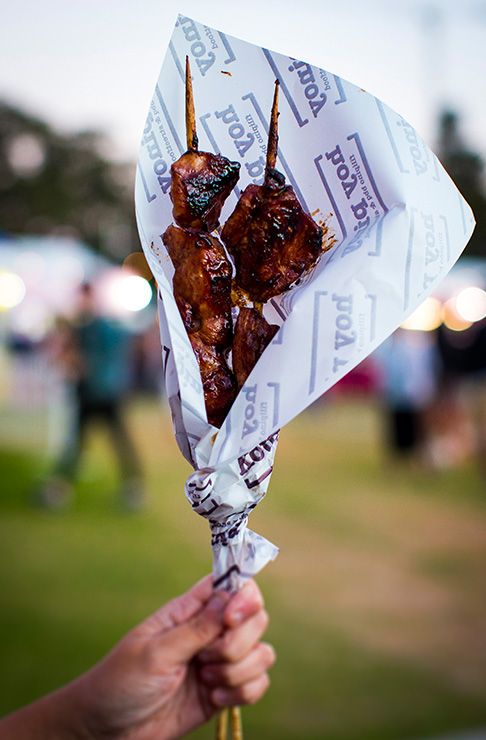 Chicken Skewers From Hoy Pinoy
Oh lawdy, how we've missed these. Hoy Pinoy's barbecue grill turns out some of the most succulent and tender skewers we've ever had. No joke, that flavour hit us like a lightning bolt to the mouth during last year's market and we've been having hardcore withdrawals for their charry goodness ever since.
Long Potato Fries At Calabang
You might think you've seen every variation of potato fries out there, but trust us when we say you haven't seen these bad boys. Almost as long as your arm, every fry is practically a meal unto itself, making this takeaway box of goodness perfect for sharing. So you can fit in more dishes from other stalls of course–why else would you give up any of that deep-fried deliciousness?
Korean BBQ Tacos At POKLOL
POKLOL are hellbent on changing the game up with their Korean BBQ tacos. Fulsome and firmly packed with flavour, each taco starts with your choice of bulgogi beef, chilli chicken or chilli pork and comes laden with the crispy freshness of pickled carrots, kimchi slaw, cucumbers and shallots with a generous drizzle of their secret pokky sauce. Yes we recommend getting the trio.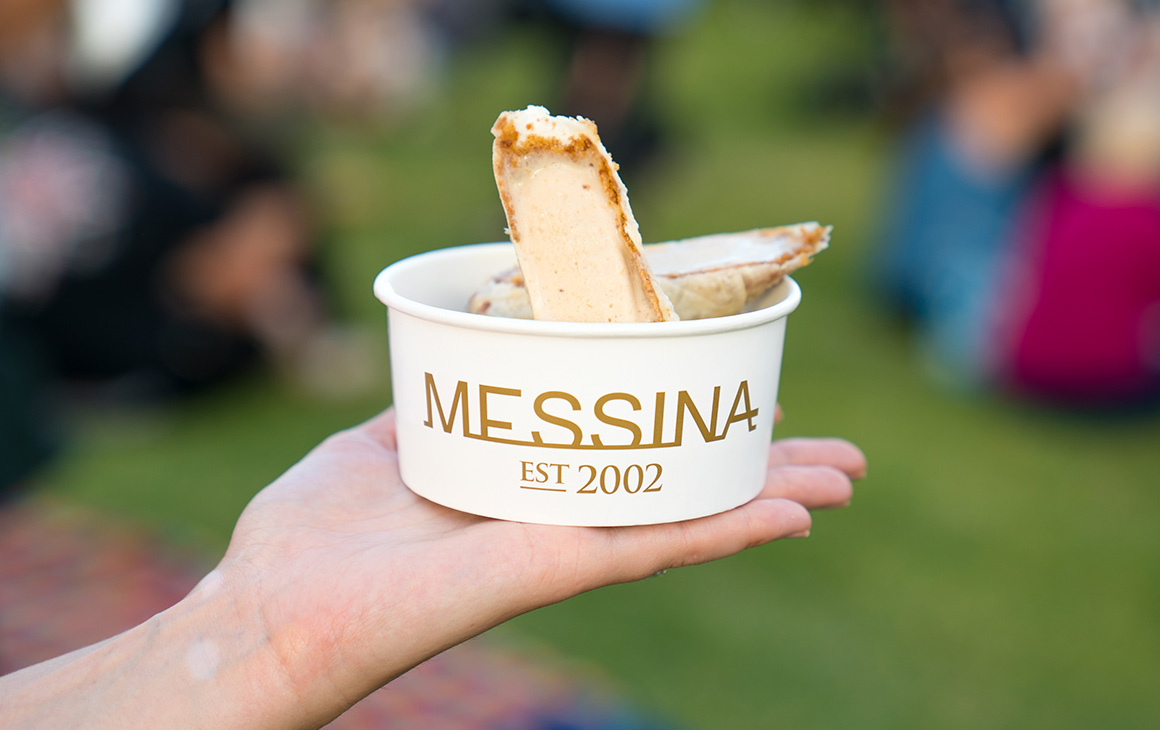 Everything From Gelato Messina
This year's star dessert stall is being brought to us by none other than Gelato Messina, and boy are they bringing the goods. We couldn't possibly choose just one of the epic creations on their exclusive menu–so you'll have to leave room for them all. How could we pick between condensed milk gelato with a fried pie crust (fried!), peach jellies mango salsa, mango chantilly and graham cracker crumb in the Filopieno or the brown sugar and banana gelato wrapped in banana bread and filo pastry deep fried and served with custard in the Thrilla From Manila? Exactly, we just can't.
Takoyaki At Little Kyoto
If you haven't heard word of this Japanese delicacy, get yourself over to Little Kyoto and try it as soon as those gates open, because these bad boys are basically bite-sized balls of joy. Savoury batter is filled with pieces of octopus and fried in a specially molded pan, then topped with an array of toppings. Will we be going back for seconds? Absolutely.
Okonomiyaki At Okonomiyaking
The name says it all really. When it comes to okonomiyaki (a kind of savoury Japanese cabbage pancake), these guys are basically royalty. Personally, we think the dish is right up there with ramen when it comes to the best Japanese eats (sorry gyoza lovers), so you should definitely give it a go if you've never had the pleasure of trying before. Cabbage never tasted so good.

Cheeseburger Puffle At Puffle
What's a puffle? Glad you asked. It's basically bubble wrap made out of savoury batter, then folded into a sconce with some tasty fillings. Puffle's little bobblies have picked up where tacos left off and we are nothing short of stoked that they're coming to this year's Night Noodle Markets. On the menu is some ingenious fusion, choose from either the Korean Fried Chicken puffle, or our pick, the cheeseburger number with bulgogi beef patty and melted cheese drizzled with Japanese mayo, mustard and sweet n' spicy ketchup in a cheese puffle.
Wonderbao Pork Bao
For bridging the gap between pillows and sliders, bao are pretty much undisputed as the most delightful foodstuffs ever created. Their soft fluffy glory is made all the more delicious at the deft hands of Wonderbao, who are coming to the markets this year to cook us up some hectic fare. On the menu is bao with shitake mushrooms and even buttery egg custard in a sweet bao, but we're heading straight for the roast pork belly number, with pickled cucumber and hoisin sauce. My knees are weak just writing that.
Bonus, this year the Night Noodle Markets have partnered with new rideshare service DiDi to provide new users with a free ride (to the value of $10) to and from the event by using the code NNM2019—and give three lucky winners a $10 DiDi rider voucher every day for a year just for following @DiDiAustralia and @GoodFoodlMonth and sharing a snap of their feeds tagged with #DinnerwithDiDi! So you can take those savings and spend them on more noodles...
For more details about other stalls at the Night Noodle Markets, click here.
Want to know what else is worth eating during Good Food Month? Check out our guide here.
Image credit: Supplied