Let's be honest, activewear is the most versatile clothing that we've ever owned, and we'd live in it if we could. It's hard to get enough of the comfort that comes with spending the day in a pair of leggings and a sports bra. If you're anything like us you're always on the hunt for new gear to add to your collection, but constantly buying new pieces is often anything but sustainable. Here to solve all of our problems (our fitness fashion ones at least) is Nimble, the sustainable (and good looking) activewear brand that has just opened their first bricks and mortar store in the Sunshine State.
Born from the vision of two Australian friends, Nimble has stores in Sydney and Melbourne and they have finally launched their first Brisbane store which has found a home on luxe James Street. The store is a perfect pink and fitted with a sustainability wall to educate customers on just how their products are made.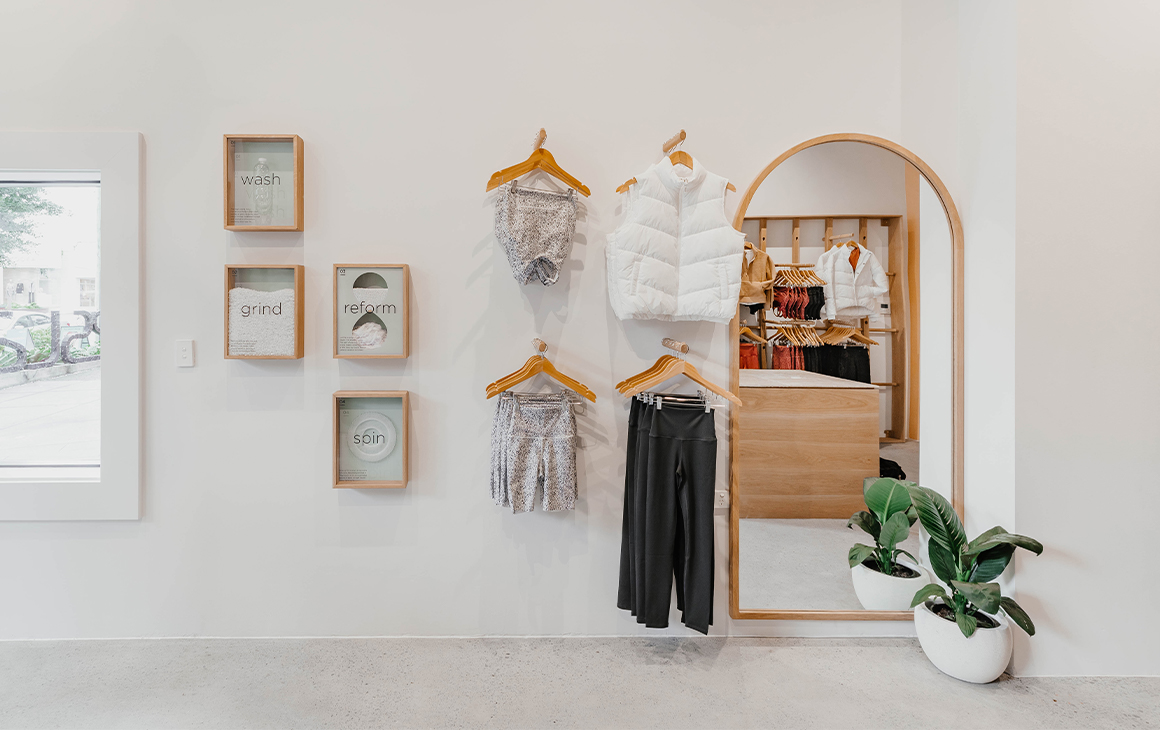 Priding themselves on sustainable production, many of Nimble's products are made using recycled plastic bottles. To save plastic from ending up in landfills and the ocean, bottles are melted down and made into a yarn that is then turned into the expertly designed clothes hanging in the Nimble store. In their core sustainability ranges, each Nimble sports bra is made from four used bottles, leggings are made from six and their perfect-for-winter puffer jackets save forty-four bottles from being piled up in a landfill. And while you might think activewear made from plastic can't possibly be soft and comfy, you'd definitely be wrong—it's some of the comfiest activewear we've ever owned.
You'll find all of your active essentials at Nimble from sports bras to bike shorts (our favorite) to leggings and beyond. Going into winter you can also nab sweats and exercise jackets of a range of colours and crazy designs. All of these come without the guilt and will knock some numbers off your carbon footprint.
You'll find the store at 65 James Street and they are open seven days a week so be sure to clear some space in your schedule and head in for a browse, or you can check out their full range and shop online here.
Check out a few of our favourite Brisbane-based activewear brands here.
Image credit: Supplied