Whether you've got a soft spot for sweet potato or you simply subscribe to ethical eating, plant-based eats are quickly taking over the Brisbane burger scene. And sure, to start with, things were a little dicey on the flavour front, but thanks to v2 and their plant-based burger patties, you can enjoy food that's good for you, good for the planet, and even better for your tastebuds.
Loaded with all the nutritional goodies burgers are usually lacking, go grab a big juicy burg to try it for yourself with the added bonus of getting your daily hit of protein, iron, and vitamins while supporting your local. Sounds like a win-win? We thought so, too.
So go on, really lean into that 'Taste-a-tarian' lifestyle and make your way through the best places for a tasty plant-based burg. The planet will thank you for it—and so will your stomach.
Ben's Burgers
Fortitude Valley
Tucked away down Winn Lane, Ben's Burgers is nothing short of the Valley's worst-kept secret. After taking the Brisbane burger scene by storm a few years back, we (and our waistlines) have never looked back. Whilst we're suckers for their classic carnivorous range, the introduction of v2's meat patties has made their limited menu a lot more versatile. Be sure to down your burg with a glass of housemade cherry cola to further enhance your eating experience—your tastebuds will thank you for it.
Brewhouse Brisbane
Woolloongabba
Classic, old school pub meets modern microbrewery at this epic brewhouse on Brisbane's southside. The heritage-listed venue is a mainstay of the Woolloongabba streetscape, with a presence dating way back to the 1860s. With a long and varied menu that caters to even the fussiest foodies among us, the hardest part of dining at Brewhouse is choosing what to eat. We recommend the plant-based barbecue burger made with v2 mince for a healthier take on an old pub classic.
The Catchment Brewing Co.
West End
Housed on the corner of Boundary and Vulture Street, Catchment Brewing Co has quickly made a name for itself amongst the West End craft beer community. But bevvies aren't the only thing Catchment is good for—their burgs are just as worthy of the city's praise and accolades. Treat yourself to a plant-based patty courtesy of the v2 crew and see why the meat-free lifestyle has earned so many loyal followers. They've got us convinced…
Palm Beach Surf Club
Palm Beach
With sweeping views out over the ocean, it's no surprise Palm Beach Surf Club has earned a place as one of our fave venues on the Gold Coast. The beachfront bar and restaurant have adopted a keen emphasis on local, sustainable produce, so you can enjoy your meal without the added serve of guilt. We recommend indulging in a delish plant-based patty alongside a plate of sweet potato fries for a meal that's packed with plenty of flavour.
Revel Brewing Co.
Bulimba and Morningside
Having now scored a second location in the River City, it's fair to say Revel Brewing Co is a favourite amongst Brisbane's beer community. Their independent craft brews draw inspiration from the flavours of the city, whilst showcasing some exotic additions sure to spice up your palate. We can't get enough of their Phoenix IPA, which pairs perfectly with the plant-based burgs that have just landed on their menu. Better still, pick up an iso care package and score four drinks for $50, so you can keep the fun going long after you've devoured your meal.
Boardwalk Tavern
Hope Island
A little ways away from our usual haunts, trust us when we say the Boardwalk Tavern is worth the drive down south. The sprawling waterfront pub is built on a wharf, making it the perfect place to relax over a hot meal and a couple of drinks. Order up a serve of their Herbivores Burger and enjoy the taste of meat-free done right—smothered in smokey tomato chutney. Our stomachs are rumbling just thinking about it…
Mr Potato
Palm Beach
If you love deep-fried potatoes just as much as we do, you'll want to swing by Mr Potato on our next trip down the coast. The venue offers a modern spin on your traditional baked potato, prepared with only the freshest ingredients from their famous pre-loaded menu. Better still, the restaurant strictly uses low-carb spuds, so you can spend more time loading up on all their tasty extras. We're talking v2mince, served with avo, crushed corn chips, and plenty of chipotle perfect for filling those cravings for Mexican.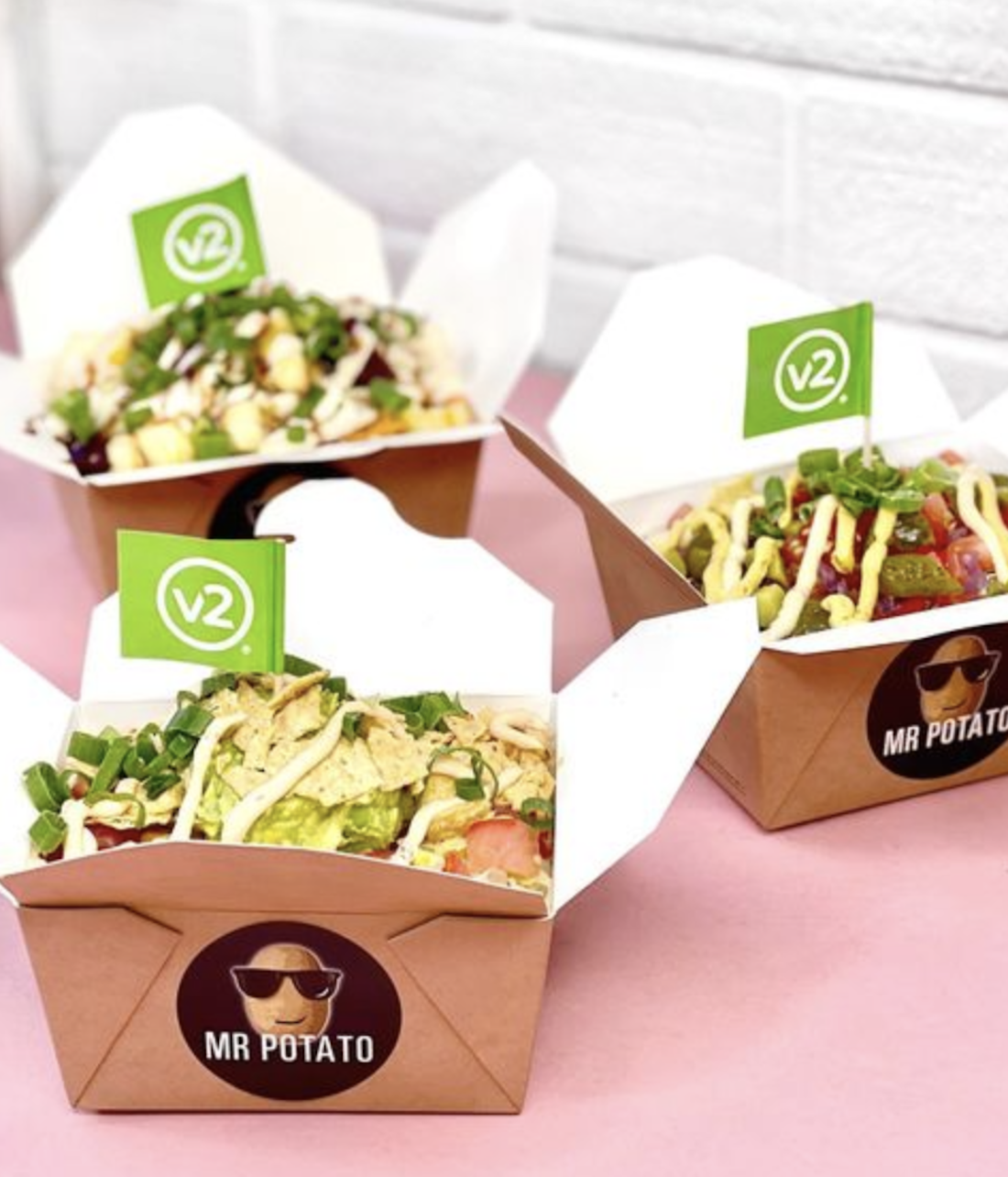 5 Boroughs
Everton Park, Morayfield, Springwood, Paddington, and Carseldine
Now with five locations across the southeast, 5 Boroughs is spreading like wildfire—and it's easy to see why. One bite of their burgs and you'll be transported to the streets of New York, braving the subway as you bounce between Manhattan, Brooklyn and Queens. Make the most of your metaphorical overseas adventure by downing a drool-worthy v2 patty, topped with lettuce, tomato, and plenty of pickles for a truly authentic American experience.
Not only can you devour v2's damn delish and ethical plant-based goodies at these venues, but you can also shop v2 at your local Woolies and Coles and get creative with your cooking at home.
Can't get enough of v2's plant-based eats? See here for even more inspo on your ethical eating journey.
Image credit: Ben's Burgers Instagram
Editor's note: This article is sponsored by v2 and proudly endorsed by Urban List. Thank you for supporting the sponsors who make Urban List possible. Click here for more information on our editorial policy.