Alright, South East Queensland's best country pubs. The rules are, if it's got VB on tap, a gravy-loaded schnitty worth your weekly calorie intake or a cosy fireplace—we rate it.
Country pubs are the bee's knees and it's not just because they know a thing or two about plating up wholesome feeds. It's because they ooze that all-Aussie no-frills air you simply can't dig up anywhere else. They're all about supporting local producers, brewers, and musical talent plus, they never fail to reel in a crowd that serves up some solid bants.
Jump in the car, here are the best country pubs near Brisbane to visit this winter.
The Apollonian Hotel
Boreen Point
If you're looking for old school pub vibes on the Queensland coast, look no further than The Apollonian Hotel. The historic colonial-style structure has been a social hub since the 1860s, but was relocated in the '80s to its idyllic location on the shores of Lake Cootharaba. Pull up a chair at one of the tables out on the lawn, grab a cold beer and a plate of wood-fired pork, salads and damper, and relax and enjoy the sunshine. If you're lucky, the pub proprietors and their family might kick off a game of footy for all the guests brave enough (and not too full) to join in.
Fox And Hounds Country Inn
Wongwallan
For an English country pub experience worthy of an Agatha Christie novel, set your sights on the Fox and Hounds Country Inn. Nestled at the base of Tamborine Mountain, this iconic pub is packed from floor to ceiling with fittings from England's 18th century Sussex Arms Hotel. Talk about authenticity. But the true Agatha-Christie-experience isn't complete without a murder mystery night, which you can book for groups of 12-50 people. Detective Poirot is on the case.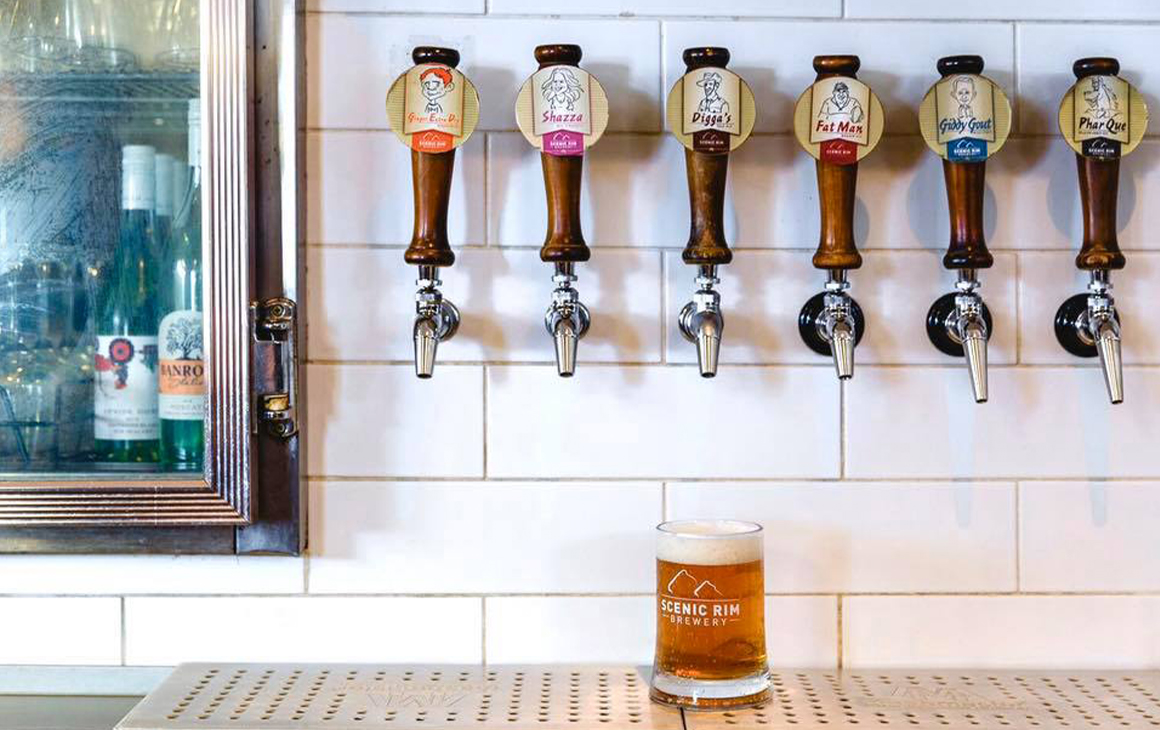 Scenic Rim Brewery
Mount Alford
Yeah yeah, this one's technically a brewery, but its hardcore German pub vibes give it the edge it needs to make this list. Come for the beer (their larrikin range will give you a laugh), but stay for the famous wurst platter, which comes with a bratwurst, bockwurst and cheese kransky sausage, not to mention a side of fries, sauerkraut, pickled veggies and coleslaw. And if you're still doubting Scenic Rim Brewery's country pub status, let us seal the deal for you: they offer shandys on the menu.
Rudd's Pub
Nobby
Step back in time with a visit to Rudd's Pub, whose unique character and charm captures the heart of a hotel from a bygone era. The pub is named for famous Aussie author Steele Rudd, who is rumoured to have penned his classic 'Dad & Dave' stories by the hotel fireplace. Spend a night in the pub's newly refurbished rooms, and take in the incredible photos and memorabilia that fill the walls (and the ceiling). Shower under a rainwater tank and pull on a beer tap to wash your hands (although you'll have to refill your schooners at the bar).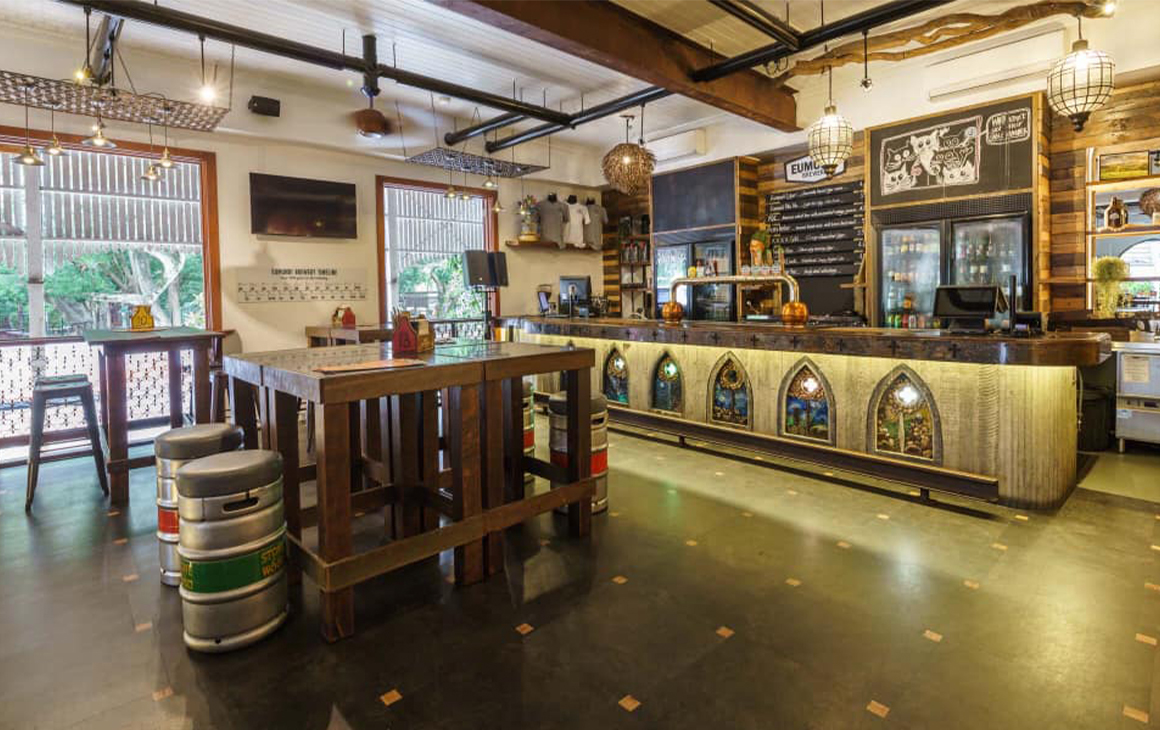 The Imperial Hotel
Eumundi
If your idea of a perfect Saturday morning is a leisurely stroll past the weird and wonderful stalls of the world-famous Eumundi Markets, you'll feel right at home at the Imperial Hotel. The heritage-listed, century-old pub in the heart of Eumundi will make you want to join a commune and embrace your inner hippie. Don't be fooled by its old Queenslander façade—the hotel is packed with psychedelic murals, colourful sculptures and a rustic outdoor bar and bistro. The menu pairs your favourite pub classic with contemporary dishes sure to appeal to anyone in your tribe. We're talking Tassie salmon, zucchini fritters and gluten-free pizzas—we are in Eumundi, after all.
The Kin Kin Hotel
Kin Kin
Next time you're soaking up some sun on Noosa's beautiful beaches, ditch the crowded restaurants of Hastings Street for a classic chicken parmi lunch at The Kin Kin Hotel. Just over 20 minutes drive from Noosa, the hotel will give you flashbacks to traditional home-style cooking, the way Grandma makes it—we're talking steak, mustard chicken and even a surprisingly good range of vego options. Stay the night to take advantage of their complimentary continental breakfast, and the chance to unwind amongst the treetops.
Editor's Note: The Kin Kin Hotel is currently closed for renovations due to flooding, but will reopen later in 2023.
The Bull & Barley Inn
Cambooya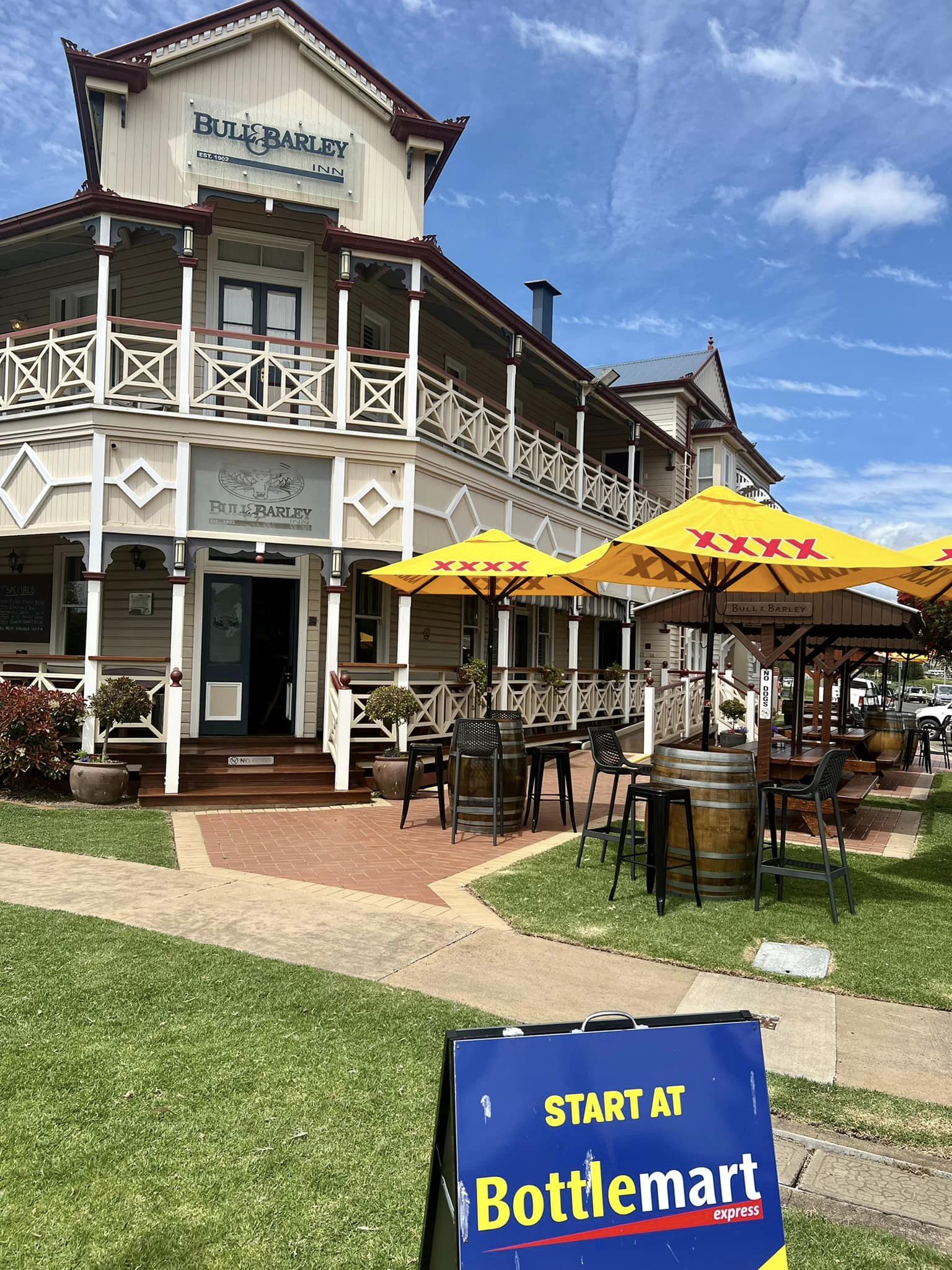 Another grand old hotel near Toowoomba, The Bull & Barley Inn has been pouring pints for over a 120 years. She doesn't look it though, having undergone many a renovation since then, but still features much of the same colonial-era interiors, which extend to hotel rooms on the upper levels should you have one too many brews to drive home after your visit. Whether you stay or not, make sure you order up one of their steaks, which are famed for their size.
The Meringandan Hotel
Meringandan
This classic watering hole is famed for its larger-than-your-plate meals, with feasts so big they literally hang over the edge of the plate. The real drawcard though, is their signature 1kg steak, which is so large it needs another plate for sides. Just 20 minutes north of Toowoomba, it also rocks a leafy beer garden where you can sip your frothy at a picnic table under the shade of an umbrella.
Nindigully Pub
Nindigully
Located on the banks of the Moonie River, Nindigully Pub a.k.a. 'The Gully' is Queensland's oldest hotel. The pub attracts thousands of travellers every year thanks to its legendary kilogram T-bones and 'Road Train' burgers (which supposedly feed a minimum of four people, but if you ask us, it's more like 10). If you're looking for small-town pub vibes, you can't get a whole lot smaller than Nindigully, which only has a population of nine people. But hey, at least you're guaranteed a table.
The Farmers Arms Tavern
Cabarlah
Making your way out to Toowoomba? Head north for 20 minutes along the New England Highway and keep an eye out for The Farmers Arms Tavern, one of the oldest pubs in Queensland. Pull in for a pint by the fire, or a round of pool as you down a schooner out in the beer garden. Grab a bite of your favourite pub classics, whether you're a sucker for sirloin or prefer simple bangers and mash. And when you find yourself down for the count, don't stress—there's plenty of accommodation in the area.
Once you've finished smashing down those schooners, why not satisfy your sweet tooth with a visit to these country bakeries too?
Image credit: Scenic Rim Brewery, The Apollonian Hotel, The Imperial Hotel, The Bull & Barley Inn, Tourism & Events Queensland