There's no doubt about it: Tamborine Mountain is one of Queensland's greatest treasures. Nestled between Brisbane and the Gold Coast, this stunning region is part of the iconic Scenic Rim, where natural beauty meets country charm.
A trip to Tamborine will leave you feeling relaxed, refreshed and rejuvenated as you explore everything there is to do on the mountain. We're talking everything from stacks of sweet fudge to nature walks and a rich bottle of red to remind you of your journey. So pop on some tunes, fill up the tank and buckle up for an idyllic adventure to the mountain.
First Stop: Breakfast In Tamborine
No good road trip can truly begin without a good breakfast, so swing into Wild Plum Kitchen to start your day off right with some of the best food on the mountain. Tuck into a bacon and egg bagel that will provide you with all the sustenance you need for the busy day ahead—and of course, get caffeinated with coffee as well. If you want some snacks for the road, take a short walk up to Granny Macs for what many have pegged as the best fudge in the world. Sure, it sounds like a big call, but when you've been making fudge for over 24 years, it's bound to be pretty darn good.
Second Stop: Witches Falls Walk
Now that your waistband is threatening to burst at the seams, it's time to get to work burning off some of those calories. The Witches Falls circuit is suitable for just about everyone, provided you have at least a little bushwalking experience. The walk starts just beyond the Tamborine commemorative shelter, about five minutes' drive from town. Best seen after rainfall, the circuit winds past seasonal lagoons, banksia trees and giant strangler figs.
Third Stop: Lunch And Boozy Shopping
Having worked up a sweat, you'll no doubt be ready for lunch—who are we kidding, we're always ready for lunch, sweat or no sweat. Hit up Fortitude Brewing for pizzas and beers (for anyone who's not driving, of course), or grab some cheese from Witches Chase Cheese next door. More of a pie person? Mt Tamborine Vineyard and Winery are baking pies daily, and you shouldn't pass up the chance to try their chunky steak and shiraz. In terms of wine, you can't go wrong with a bottle of their classic homestead sweet red—but maybe grab a couple of bottles to take home, since you came all this way.
Speaking of wine, you'll definitely want to stop by Witches Falls Winery; using grapes sourced largely from the Granite Belt (Queensland's most prolific wine region), the expert winemakers here meticulously craft the wines (and there are many) from start to finish, using both traditional and modern techniques. Plus they make a damn good cheese board if we do say so ourselves.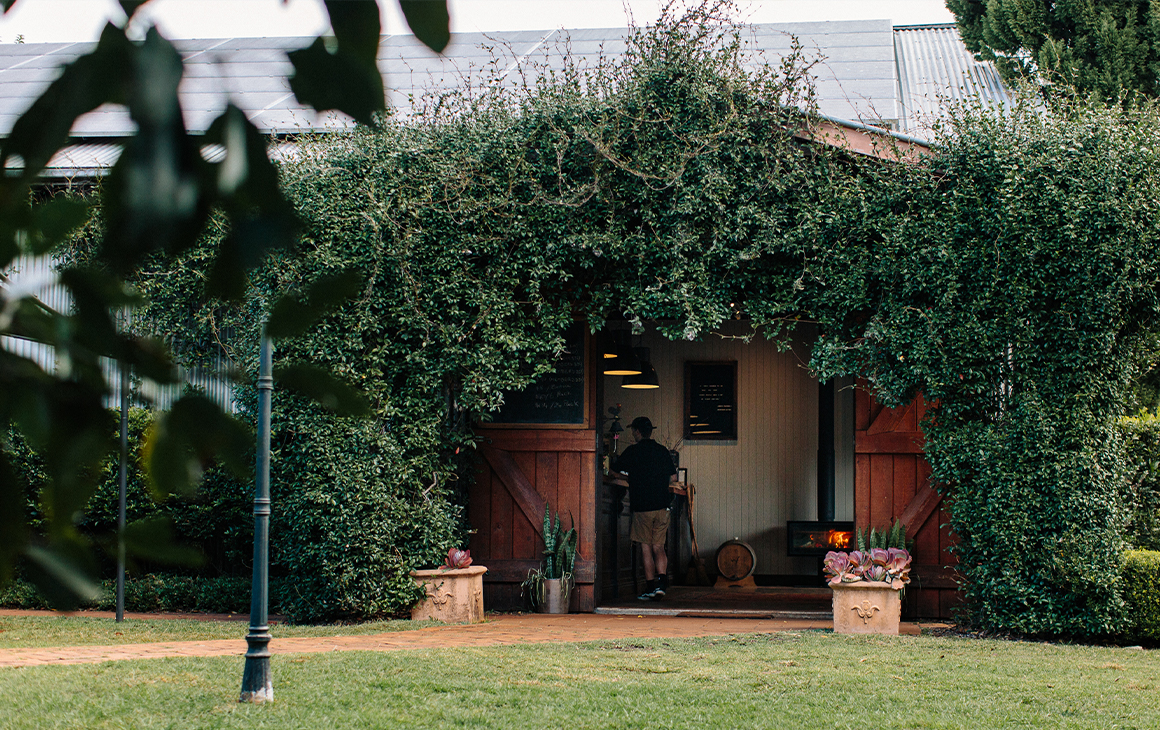 Since you're back in town, it would be rude not to stroll up to Tamborine Mountain Distillery. The distillery's reputation has grown steadily over the past 25 years as a result of winning over 300 prestigious international awards. Head to their tasting room to sample four liqueurs and a spirit of your choice.
Fourth Stop: Palm Grove Circuit
A little bit rougher than the Witches Falls walk, the Palm Grove circuit will get you up close and personal with the rainforest. Just over three minutes' drive from the town centre (or a short walk if you had a beer at lunch), you'll find dedicated parking at the start of the circuit on Palm Grove Avenue. The track begins just past the picnic area, where you'll be treated to a grove of piccabeen palms. The circuit is only 2.7km return, so take it slow and enjoy your time in the cool, fresh air before heading back to town.
Last Stop: Stay For Dinner
If you want to stick around just a little longer, there's plenty of eateries around to grab an early dinner at. Our recommendation? Hickory, in Tamborine North, where you'll find seriously drool-worthy slow cooked BBQ fare to give you a full belly for the drive home. And if you're feeling a bit spicy, we can't recommend tucking into El Burro Cantina's mouthwatering fare enough.
Of course, Tamborine Mountain is also renowned for things to do like the glow worm caves, the rainforest skywalk and incredible walks to Cedar Creek and Curtis Falls, so make sure to add those to your list as well.
On a weekend trip kick? Here are the best spots to go glamping in Queensland.
Image credit: QuickStartProjects, Witches Falls Winery