Brisbane, we're going to let you in on a secret weekend vaycay destination that is under 35 minutes away (even less if you're a southsider) and features pristine beaches on secret islands, luxe glamping sites, boujee wineries, loads of adventure activities and even some epic eateries. Where could we be talking about? Redlands Coast of course.
Yep, this strip of coastline stretching from Thornside to Redland Bay and its hinterland is one of south east Queensland's best kept secrets. You might just know it as a stop off on the way to Minjerribah/North Stradbroke Island, or perhaps vaguely as the 'east side,' but this region is so much more—and it's about time you explored it properly.
So for anyone out there still planning their Ekka long weekend getaway, we've rounded up all the best things to do and places to eat on Redlands Coast, no flight or lengthy road trip necessary, plus the best places to stay if you want to turn your daycay into a staycay.
Things To Do On Redlands Coast
Sail To Peel Island
Bet you didn't know there was an isolated island just off the coast of Brisbane with a stunning beach to rival the Whitsundays. Yep, Peel Island is a well-kept secret by those in the know, and Horseshoe Bay on the southern end features crystal clear aqua waters fringed by a sandy beach and rocky outcrops. The only way to get there is by boat, but no problem if you don't have one lying around—Aria Cruises and Brisbane Yacht Charters both do half-day cruises to the island.
Walk To King Island At Low Tide
Walk to an island? Yes, it's possible—if you time it right. The sandy causeway to King Island becomes walkable at low tide, meaning you can stroll the 1km over to the tiny island from Wellington Point. Over there you'll find a tiny sand island surrounded by mangroves—just make sure you check the tides carefully and leave enough time to return. Once you've worked up an appetite you can hit one of the Wellington Point eateries for a bite to eat.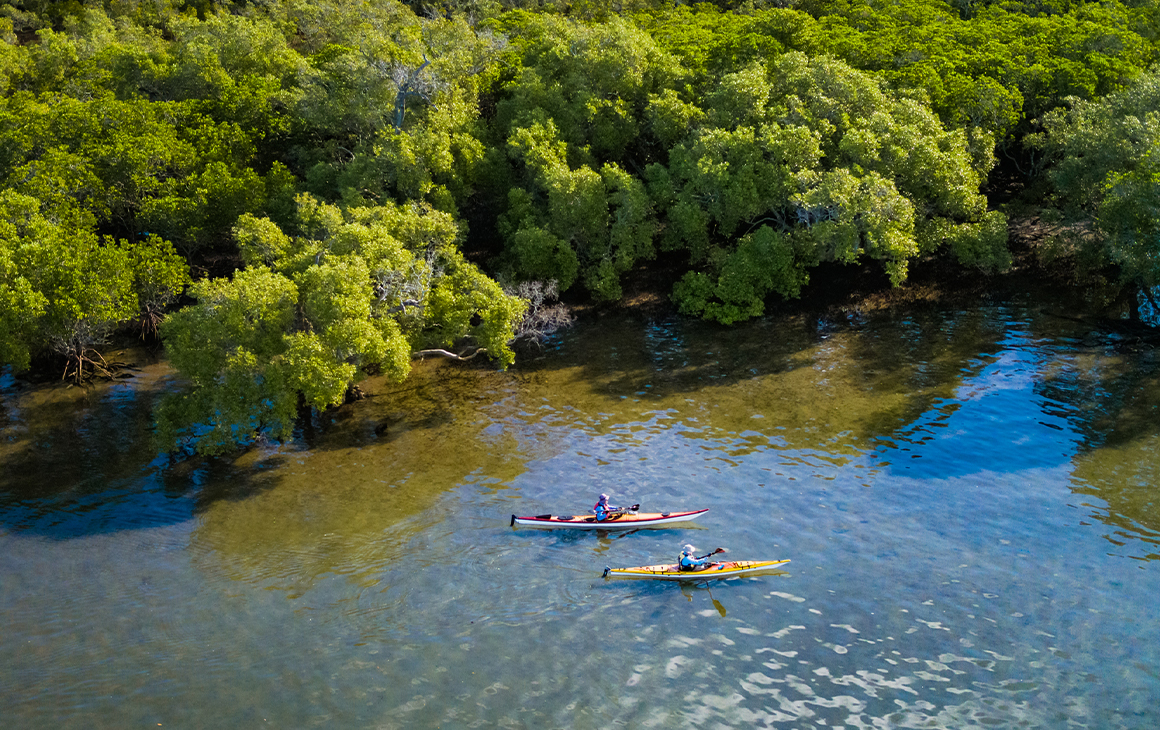 Hit The Bay On A SUP Or Kayak
Want to get moving? There's plenty of ways to enjoy the ocean views that don't just involve lying on a beach—the flat, protected bay is perfect for watersports. Bay Island Watersports in Cleveland has SUP boards, kayaks, tandem waterbikes, and even hobie steppers and standup pedal boards available to hire, so you can hit the water and work out a sweat at the same time.
Go On A Winery Tour And Tasting
For those keen for a more relaxing weekend getaway, Redlands Coast has you covered there as well. At Sirromet Winery, perched atop Mt Cotton, you can start your visit with a winery tour and tasting to get acquainted with all of their top notch drops, then either hit up the Tuscan Terrace for lunch or book yourself one of their new Lavender Hill Picnic Experiences, which scores you a picnic hamper, bottle of wine and reserved picnic spot complete with a rug, table and cushions.
Take A Day Trip To Minjerribah
Accommodation might be hard to come by on Minjerribah/North Stradbroke Island over a summer weekend—but don't let that stop you. A day trip to the island is just as good, and you don't even need a car. A regular bus service traverses the island from the passenger ferry stop, or you can hire an electric scooter to get around from Scooters on Straddie and Yura Banji Scooters. What you do from there is up to you—will it be a leisurely Gorge Walk and beach time, a cultural Quandamooka tour, a 4x4 eco tour or sandboarding adventure, a snorkelling or diving adventure, surf lessons, join in a scenic game of golf on the sandbased 9-hole course, browse the range of boutique island galleries, studios and museum, or something else? You can plan out your whole day with our guide here, and make sure you leave time for an afternoon bevvie or two at the new Kokomo Beach House or enjoy relaxed sunset drinks at the Little Ships Club.
Hit The Trails
Whether you prefer two feet or two wheels, Redlands Coast's parks and conservation areas are full of trails to explore. The Bayview Conservation Area, Redlands Track Park, Eastern Escarpment Conservation Area are all prime spots for bushwalking, mountain biking, horse riding and wildlife spotting, with maps available for all online to scope out which ones to tackle first.
DISCOVER BOUTIQUE MARKETS
Cleveland's annual Crazy Day Market, a favourite with markets-goers from far and wide, just happens to fall on Friday 29 October. Enjoy food stalls and gourmet delights, while browsing a sprawling showcase of local artisans, beautiful fresh produce, arts and craft stalls, food, cafes and coffee shops. With more than 75 stalls, the Crazy Day Market at the Cleveland Markets is one not to miss.
island time in no time
Day-trip to island bliss with a short 10-minute ferry trip to Coochiemudlo Island; a tiny subtropical island, perfect for a family adventure. With the island just five-square kilometres in size, cars can be left on the mainland. Simply pack your swimmers and a picnic, or purchase food at the island store, and stroll to one of the island's three beaches: Main, Morwong or Norfolk. Coochie's peaceful ambience and outstanding views have inspired many island artists, with plenty of local arts and crafts to browse at the island markets.
Or take a boat ride across Moreton Bay to one of the four inhabited Southern Moreton Bay Islands and relax away from the everyday hustle and bustle. Wander through wetlands and conservation areas, browse local galleries, enjoy a beachside barbecue, play barefoot bowls on a stunning waterfront green, and experience the bay lighting up in glorious colour as the sun sets over the water.
Where To Eat And Drink On Redlands Coast
Sula Juice BAR
Acai bowls aren't just an inner city thing, as evidenced by the deliciously fruity bowls Sula Juice Bar are whipping up. You'll feel like the picture of health after a trip to this pastel pink hole-in-the-wall coffee and juice bar, with a menu of acai bowls, fresh juices and coffees that will have you ready to start your day. Bonus - it's dog friendly!
The Bloom Room Cafe
Inspired by European springtime, the Bloom Room is a floral wonderland. But don't let that sweet veneer fool you because their breakfasts pack a punch. It's an all-day menu so we recommend the karaage chicken benedict or the bacon and egg English muffin if you're waking up after a big night. On more pious days, check out the breakfast poké bowl with brown rice, pumpkin, sweet potato, smashed avocado, cabbage slaw, edamame and tofu.
Coconut Coffee House
This coastal-inspired cafe is all about wholesome and organic brunches, with a menu that caters for the gluten-free, dairy-free and vegan foodies among us. Don't expect bland and boring feeds here though, because the dishes coming out of the kitchen at Coconut Coffee House are anything but—think fluffy pancake stacks, hearty big breakfasts and vibrant acai bowls, as well as a whole list of juices, smoothies and baked goods to grab and go.
La Bouche
Don't walk into La Bouche expecting to leave with just a light snack—this Cleveland bakery serves up so many epic treats you'll walk out with enough to feed an army. Their croissants are legendary, particularly the special glazed, filled and iced creations which change from week to week, but you'll also find plenty of other pastries and baked goods in their cabinet to sample. Maybe pop in more than once.
Bacchus Brewing Co
Named after the Roman god of strong drink, Bacchus Brewing is well-known amongst Brisbane beer-lovers thanks to their dessert-inspired beers—think a chocolate Toblerale, the nutty Peanut Brittle Gose and a Rocky Road-like Rocknroada. Don't worry if you prefer to stick to the classics though, as they also brew the usual IPAs, pilsners, pale ales and dark lagers. You'll find all these and more at their Capalaba brewery, with seating outside in the sunshine and in their airy shed.
Old Bill's
Tucked away inside Hogan's Hotel in Wellington Point, Old Bill's is an intimate whisky bar where you can sip on an old fashioned over a baked camembert while smooth jazz plays in the background. Basically, it's the kind of bar you'd hit up if you were in the city, complete with cosy industrial interiors, knowledgeable bar staff and a list of cocktails a mile long.
Where To Stay On Redlands Coast
Sanctuary By Sirromet
Glamping in peaceful bushland not even 35 minutes from the city? It exists, and you'll find it at Sanctuary By Sirromet. These tented pavilions feature everything you need—a bathroom, air conditioning, kitchenette, private balcony with bushland views and of course, easy access to the winery. Forget camping and spend the weekend in style instead.
WARRA WARRA
This luxury BnB is so beautiful you may not want to leave—but we do recommend actually getting out and exploring Redlands Coast during your stay. With room for five, it features a magnesium pool, deep bath for relaxing bubble baths, four-poster beds, gas pizza oven and even vintage bikes to get around. Truly, Warra Warra is more like a luxury hotel than a home away from home, just with way more space and privacy.
mt cotton retreat
Dreaming of peace and relaxation surrounded by nature? Mt Cotton Retreat has a range of beautiful, unique and stylish accommodation, from gorgeous private, self-contained cabins, to boutique ensuited rooms and spacious family suites. There are options to suit just about everyone, including pet friendly and wheelchair access accommodation options.
Whether you stay for a day or the whole long weekend, it's about time you explored Redlands Coast—you may just find yourself coming back again and again.
Editor's note: This article is sponsored by Visit Redlands Coast and proudly endorsed by Urban List. Click here for more information on our editorial policy.
Image credit: Tourism & Events Queensland, Sula Juice Bar, La Bouche