Turmeric—the brilliant golden spice that's known to both stain your clothes and make laksa and curry taste delicious—also has some seriously powerful health properties. It's considered to be a potent anti-inflammatory and antioxidant, supporting specific ailments and illnesses like depression and arthritis, and general health and wellbeing.
Yes, turmeric lattes might have had their moment in the sun, but turmeric as an awesome health boost is here to stay. Cult wellness brand, JSHealth Vitamins agrees—releasing a brand new turmeric supplement, Turmeric+, to their top-tier line-up of wellness-boosting vitamins.
JSHealth Vitamin's Tumeric+ harnesses the power of curcumin—the active component of turmeric that delivers all those amazing benefits—via Curcumin C3 Complex. This "golden standard" complex has more proven bioavailability than other turmeric extracts, meaning your body is more able to absorb its effects.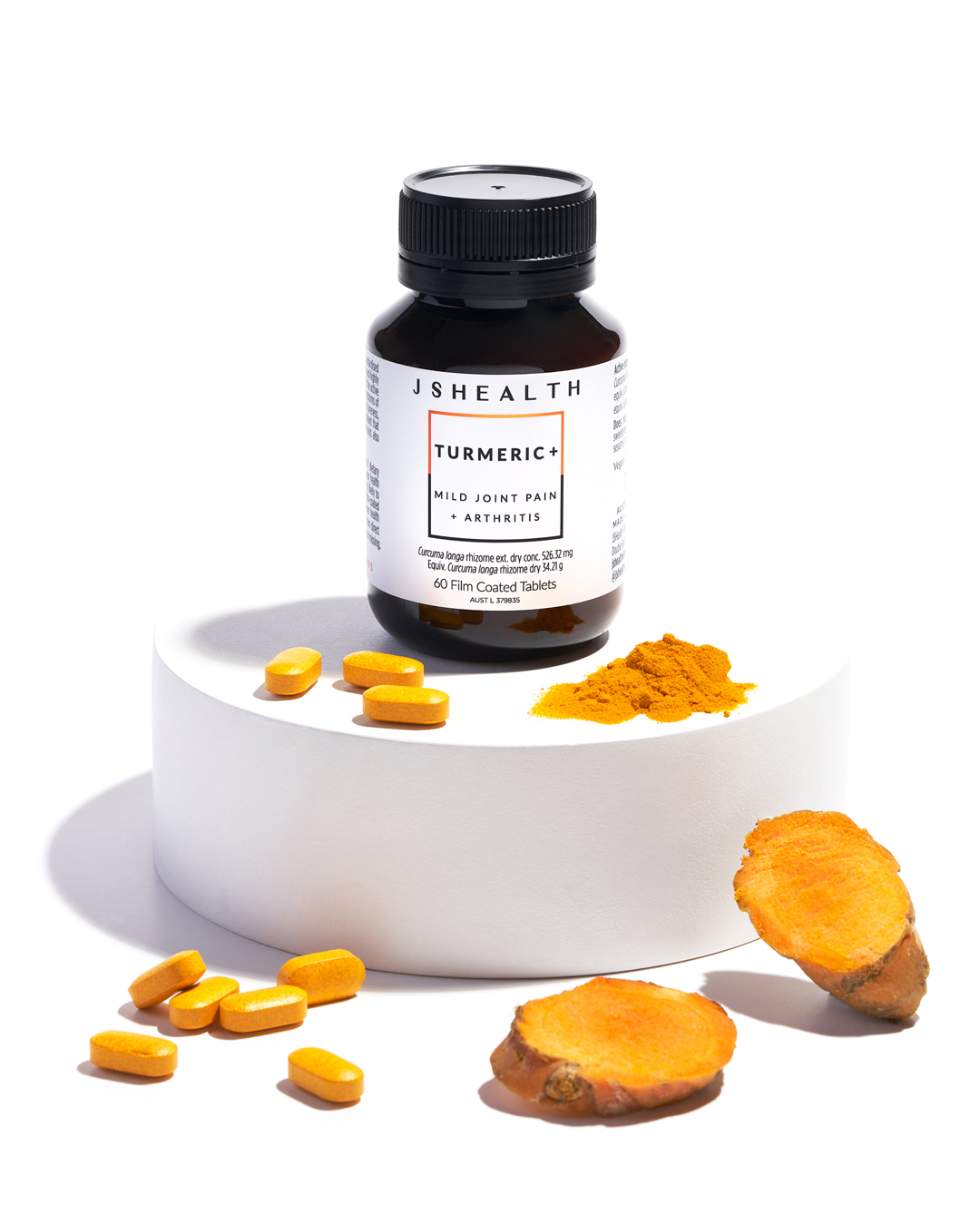 To help us better understand all things turmeric and curcumin—and to help you decide if this spice is your missing ingredient right now—here we've asked JSHealth Vitamins founder Jessica Sepel to break down the benefits of turmeric.
Turmeric Is Anti-Inflammatory
For Sepel, turmeric is her "go-to anti-inflammatory ingredient". If you've been considering an anti-inflammatory diet, to help with mild arthritis, joint pain, or even to manage auto-immune-based inflammation from conditions like coeliac disease or Hashimoto's—no doubt turmeric has popped up alongside other anti-inflammatory spices like ginger, cinnamon, garlic, cayenne, and black pepper. But while it can make food taste delicious, a supplement is the best way to reap those health benefits, unlocking the power of curcumin.
"Turmeric has been a star ingredient for me for as long as I can remember," Sepel explains. "I grew up with my mother using turmeric in cooking and learned of its health-promoting properties, and it quickly became a staple in my own kitchen. However, to use turmeric in more therapeutic ways, I recommend taking a specific dose in the form of a supplement."
Turmeric Can Protect You From Free Radicals—And Support Your Immune System
"Free Radicals" might sound like a beauty buzzword, but oxidative damage, from highly reactive molecules with unpaired electrons (science!), otherwise known as free radicals, can wreak havoc on your health. Your saviour? Antioxidants, of course. Curcumin is considered to be a potent antioxidant that can neutralize those free radicals, thanks to its chemical structure.
"Curcuminoids, the main active component of turmeric, are an antioxidant that reduces free radicals formed in the body," says Sepel. "Therefore [turmeric can help in] protecting our cells, which can also then support our immune system."
Beyond its antioxidant, anti-inflammatory, and immune system support powers—research has suggested turmeric and curcumin can lower your risk of heart disease, act as an antidepressant, and delay aging and fight age-based chronic diseases.
Check out JSHealth Vitamin's powerful new Turmeric+ supplement here.
Image credit: Urban List, JSHealth Vitamins
Editor's note: Urban List editors independently select and write about stuff we love and think you'll like too. Urban List has affiliate partnerships, so we get revenue from your purchase.