Enzo & Sons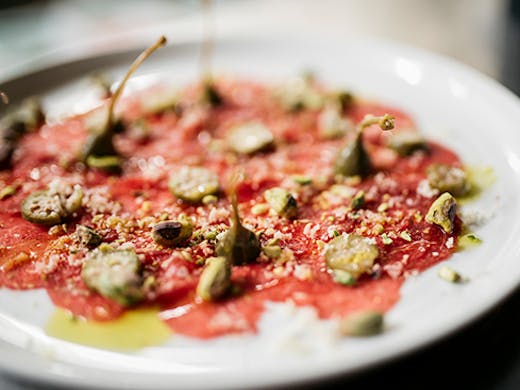 There's nothing like tucking in to a good Italian meal; it's noisy, chaotic, full of character and the food is to die for, so naturally we're pumped with the arrival of Enzo & Sons Italian restaurant in Petrie Terrace. Ciao e Benvenuto!
Taking up the gorgeous space that once belonged to Statler & Waldorf, Enzo & Sons is a very welcome addition to the Caxton Street dining scene, joining a slew of newbies that have revitalised a food focus along this famous strip.
Owner Siarah Webb (wife of Jamie Webb aka Lefty's Old Time Music Hall, Sonny's and Seymour's) has brought her love and passion for Italian cuisine to the space, creating an eatery chock-full of soulful vibes—and it screams late night Aperols (just saying…).
Focusing on rustic, authentic fare and featuring the best local ingredients, Enzo & Sons serves up wood-fired pizzas, handmade pastas and some incredible vegetarian dishes and antipasti perfect for sharing. Or, you know, not. Naturally you'll be craving some plonk from the motherland—of which they have a fantastic range—or a frosty beer to go with that Napoli-style pizza—both local and imported are on the drinks list.
Enzo & Sons, welcome to the Brisbane fold. But more importantly, welcome, guys, to your new carb-loading obsession.
Image credit: Tash Sorensen for The Urban List
---