Mr Treat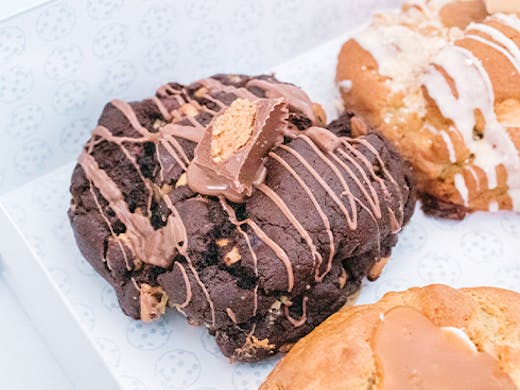 Mr Treat might just be your ticket to the best cookies in Brisbane. Tucked away in the heart of Fortitude Valley on Brunswick Street, this cute blue pastel hole-in-the-wall spot is baking up some of the craziest cookies we've ever seen.
You'll find far more creative combos (and names) than your nanna's run of the mill choc chip cookies here. If caramel is your thing, the 'My Caramel Romance' will not disappoint, but here's also an uber indulgent red velvet number, a cookies and cream creation and s'mores, Caramilk and Biscoff flavours, just to name a few. For the ultimate pick me up you can load up your cookie with soft-serve, and even inject your cookie with a syringe full of Nutella, Biscoff or salted caramel.
Mr Treat is also serving up a twist on soft-serve with some quirky swirl-ins and mix-ins—there's everything from cinnamon toast crunch cereal to Tim Tams and Milo. In cup or cone, you can unleash your creativity and find an iconic collab. Or, you can trust the process and order their specialty creations, like the Mint To Be—chocolate soft serve blended with peppermint and mint slice and topped with Aero and Ice Magic.
You can read more about Mr Treat here.
Image credit: Ranyhyn Laine
---
You May Also Like
Restaurants
Brisbane City , QLD
Taking over the space once occupied by OTTO before its migration across the river to…
Restaurants
Brisbane City, QLD
Secreted away inside Brisbane city's new Hotel Indigo is Izakaya Publico, a…