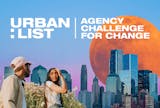 Live More Sustainably For Your Chance To Win
Is the idea of living more sustainably important to you, but you're stuck on where to start? Well, it turns out making an impact is easier than you think.
Join us through October for Urban List's inaugural Agency Challenge For Change initiative. We'll deliver you heaps of insights and actionable tips across food, fashion, travel, and the workplace, so you can pull yourself out of planetary despair and make a real difference, while still living your best life.
As well as taking steps to save the planet, you'll also go in the draw to win some sweet prizes and awards.
Here's How The Challenge Works
Take our kick-off quiz (below) to find out how sustainable you are.
Get one challenge email from us per week for four weeks.

Read our weekly sustainability tips and articles.
Take action to live more sustainably.

Take the wrap-up quiz at the end of the four weeks to see how far you've come (we'll email this to you early November).
Participate And Go In The Draw To Win:
Australia's Most Sustainable Agency Employee Award
Fold-up electric scooter valued at $495
$200 in eco goodies from Onya
Upcycled trophy
Something cool to add to your LinkedIn
Australia's Most Sustainable Agency Award
A sustainability workshop with Urban List and eco culture thought-leaders
Fold-up electric scooter valued at $495 for the most eco-improved employee in agency
Upcycled trophy
Real cred to help you sign those eco-focussed brands
Take The Quiz And Enter The Challenge
Urban List's Commitment To Sustainability
In June 2019, Urban List hosted the first Challenge For Change for our readers, taking 27,000 opt-in participants on a journey to improve their eco footprint. The responsiveness of our audience has inspired us to launch a new vertical of Urban Sustainability, launching 2020 - an always on commitment dedicated to sharing more stories of social good.