Booking yourself and your significant other a few nights' stay in a tiny home has without a doubt become the travel trend of 2020. There are several reasons why that's the case, and at least one we don't need to mention.
Regardless, Australia's best tiny home getaways are proof that size doesn't always matter. Check out seven of the most secluded that you can book right now—unless you live in Melbourne, of course.
Kimo Eco Huts
Nangus, New South Wales
Ever heard of Nangus? Neither had we. It's a solid 4.5 hour's drive south-west from Sydney, but heck is it worth the drive. The three Kimo Eco Huts are kilometres apart from each other and situated on the rolling hills of Kimo Estate, a 7000-acre working sheep farm.
Each hut is completely secluded with unobstructed views of the Murrumbidgee River flats and lush hillsides within the area. Breakfast is also included. Considering the drive, it's worth booking in several nights to make the most of pure serenity.
Kindled
Oberon, New South Wales
Tucked away off-grid deep in the Oberon Shire is the tiny home known as Kindled. This luxury—and tiny—gem encapsulates a little piece of Australiana in its truest form by backing on to 250 acres of gumtree conservation. It goes without saying you'll likely make some furry friends often associated with the humble gum—keep an eye out for kangaroos, wombats and more native birds than you could name.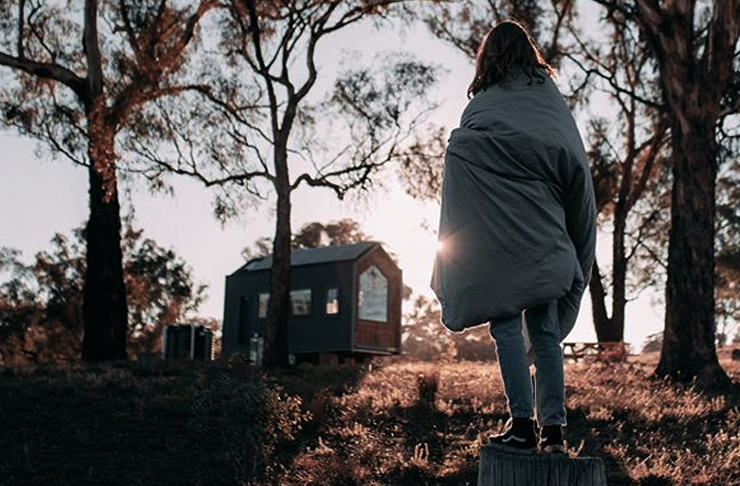 Joey The Tiny Cabin
Chittering, Western Australia
Perched within the bushy hillside of Chittering Shire, Joey the Tiny Cabin offers serene views, a very comfy bed, a hammock, kangaroos and several bushwalks just by the little home. And really, that's all you need for a secluded getaway. This charmer is about an hour north of Perth, with several wineries, orchids and quaint cafes around the way should you choose to explore the area.
Norah
Coalbank, Queensland
Head north past Toowomba from Brisbane and you'll eventually reach this little stunner. Norah is perched very much on its own in the rolling paddocks just outside of a tiny town called Coalbank. There are four beds if you want to take the whole gang, but the charming interior and campfire suggest this may be the ultimate, no-nonsense couples getaway.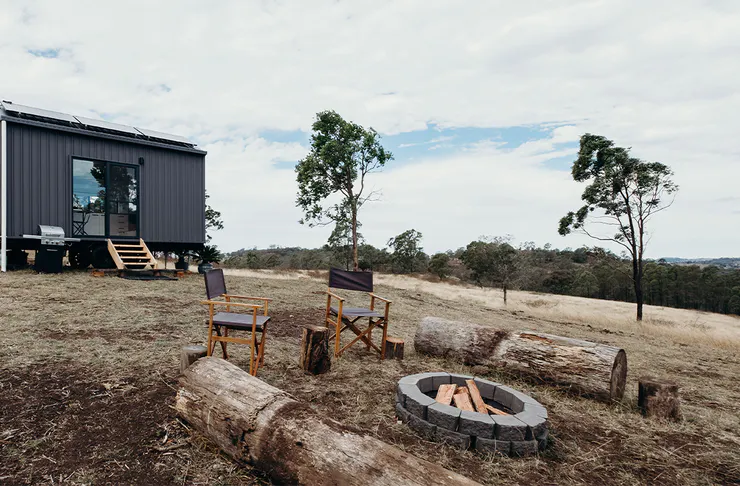 Unyoked
Near(ish) Brisbane, Queensland
Unyoked do things a little differently by only giving you the coordinates to their tiny homes a few days before your scheduled booking. They've had a considerable amount of hype in Victoria, and now they're setting up camp in Queensland.
Their first tiny home in the Sunshine State is slated to be drivable from Brissy while still feeling like you're in the middle of absolutely nowhere (pay attention to the map). This minuscule abode is decked out with all the comfy stuff like a super plush mattress and very soft linen, but there's no tele or wifi—the point is to disconnect from the outside world, which is pretty much guaranteed once you arrive.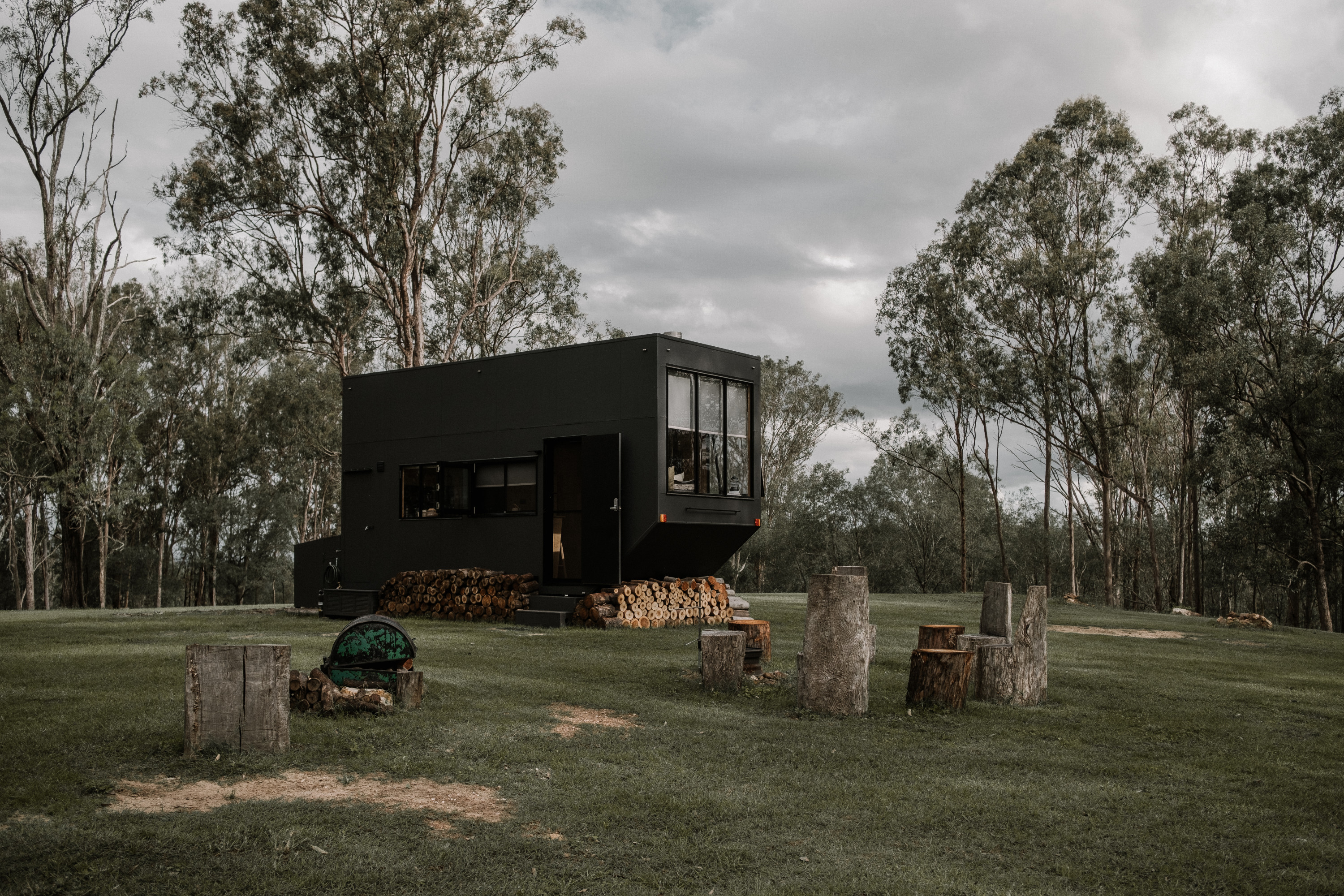 Louka
Central Gippsland, Victoria
It's a big ol' TBC on when Melbournites can book at night at Louka, or at any accommodation, really. When they can, though, they should book Unyoked's tiny house called Louka.
There's a certain feeling of isolation—the good kind—out in Gippsland. The rugged landscapes and quiet really do put on a show whether it be by the coast or further in the country. Louka is situated in a clearing within a forest. Add it to your growing list of getaways for post-lockdown.
Hideaway
Alonnah, Bruny Island, Tasmania
You know your getaway's going to be a winner when it's in Tassie. The southern state is a tranquil haven of nature, and that includes Bruny Island, which is a short drive and ferry ride from Hobart.
There is plenty of accommodation on the island, but you simply can't overlook Hideaway. This tiny home is just a few years old, and situated in bushland far away from civilisation. What you really need to know is that this place has an outdoor bath—perfect for use in the evenings while you gaze up at the Aurora.
Keep an eye out for the elusive white wallabies that are endemic to the island.
Check out other Aussie escapes via our Travel section.
Image credit: Kimo Estate, Kindled, Norah, Emma Nevison