Okay so you've decided on your trip to the Gold Coast and now comes the hard part. Where to stay? It's not like there is a shortage of options.
If you land at the happening precinct of Broadbeach, you'll find everything from luxe high end beachfront to cheap and cosy stays. So with that spread in mind, here are our best Broadbeach accommodation options for your next vacay (or staycay) in 2023.
Vue Broadbeach
Prices from $299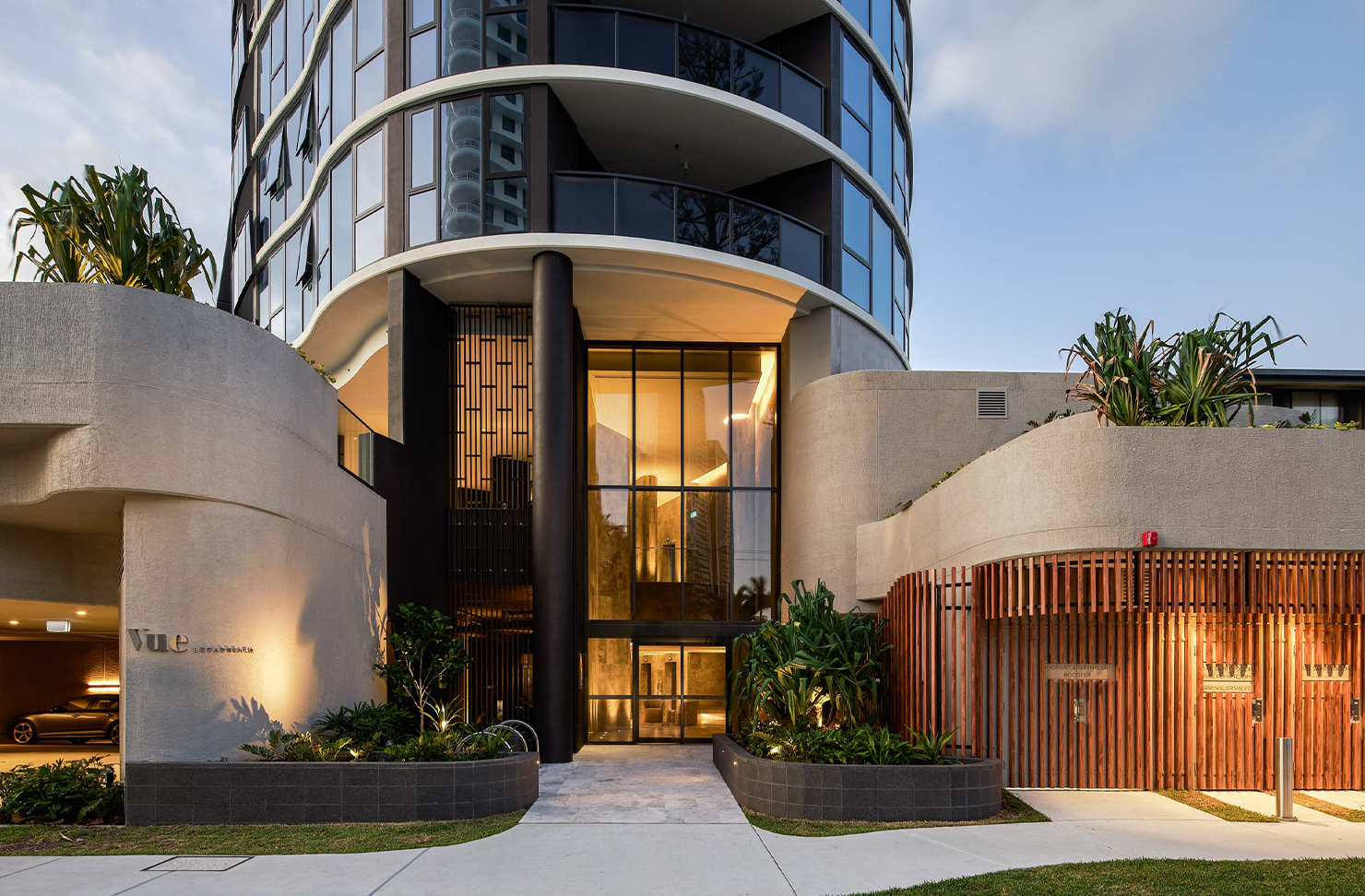 Refined coastal luxury is the name of the game at Vue Broadbeach. Expansive ocean and city skyline views await in your swanky apartment with a private balcony. Keep active with the pool, sauna, and even a dedicated yoga area for those morning salutes to the sun. Grab some fresh seafood from the trawlers and enjoy some al fresco dining in the outdoor area, or pack a picnic basket for a jaunty 120m stroll to the beach. It's everything you could need from luxury Broadbeach accommodation. Book here.
Avani Broadbeach Residences
Prices from $262
Take in the promise of sun, sand, shopping and surf at this Broadbeach apartment accommodation. Only a few years old, The Avani Broadbeach Residences still have that cool modern vibe, with bright, airy rooms and stunning ocean or hinterland views. It's right on the doorstep of all the shops, restaurants, clubs, glam and amenities of the area, with a chilled-out pool and BBQ space to come back to after a long day of burning up the credit card. And the building's five-star energy rating means you can run that air con, guilt-free. One for the active traveller, for sure. Book here.
Sofitel Gold Coast Broadbeach
Prices from $391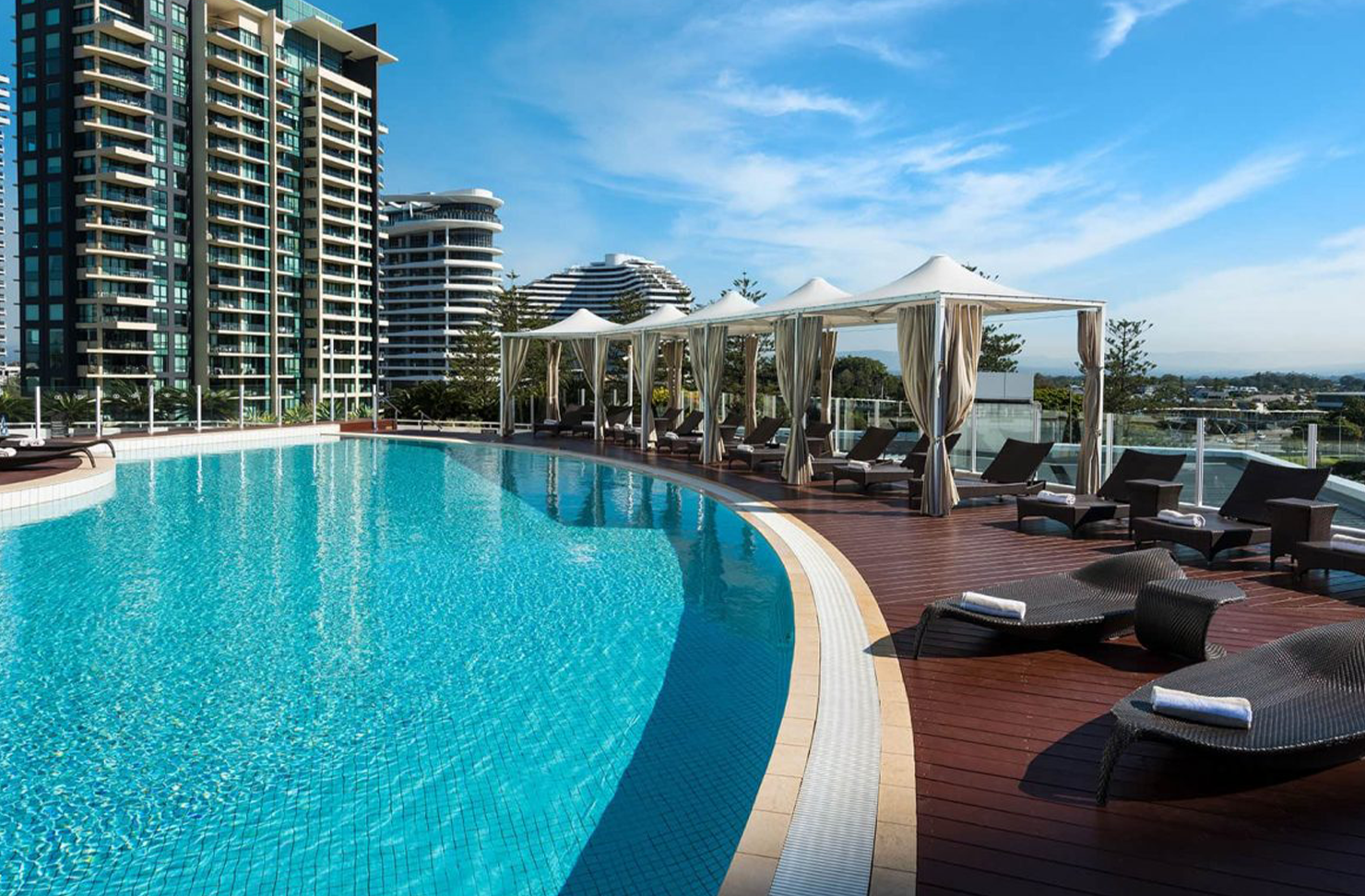 Live the French way at Sofitel Gold Coast Broadbeach, where Parisian sophistication meets the carefree Australian coastal spirit. This five-star luxury hotel draws inspiration from French culture and tradition while celebrating innovation and the French art de vivre to offer a truly one-of-a-kind Broadbeach accommodation experience. Your luxurious pied-à-terrein in Broadbeach awaits your arrival. Book here.
Meriton Suites Broadbeach
Prices from $170
Spacious suites and an oceanside location make Meriton Suites Broadbeach a crowd favourite for both couple and family accommodation in Broadbeach. Each suite is beautifully appointed and features designs inspired by the oceanic hues of the coast. Grab yourself a Studio Ocean suite with kitchenette and a small terrace, up to a three-bedder with an entertainment-sized balcony. Foodie guests in the larger suites will go gaga over the gourmet kitchen with a full-sized fridge and coffee machine. All suites feature plush bedding and a range of personal care products for you to pamper yourself with. Meriton Broadbeach is the perfect way to enjoy luxe lodgings without breaking the bank. Book here.
Peppers Broadbeach
Prices from $319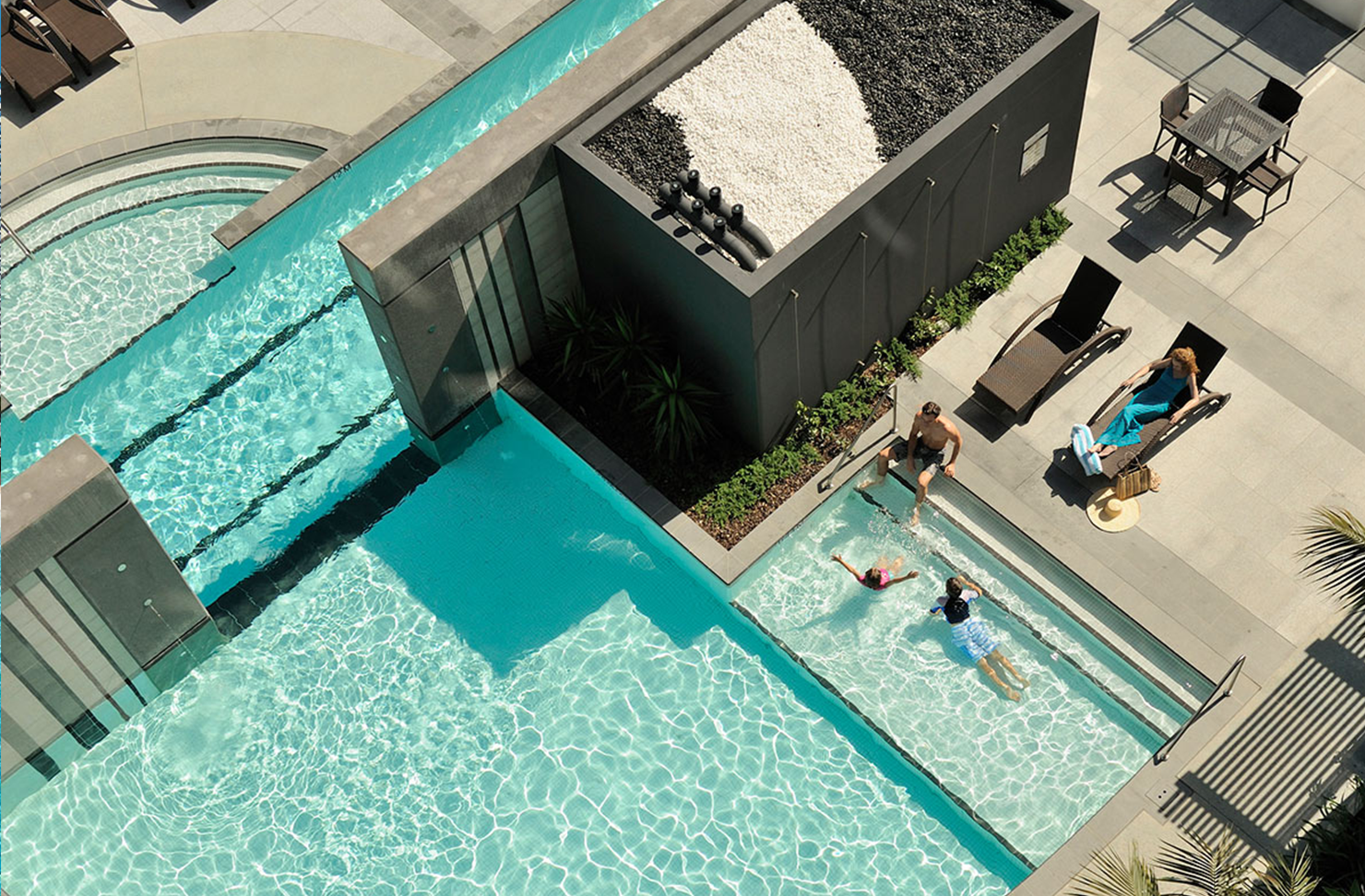 Polished, minimalist suites and tricked-out facilities are what it's all about at Peppers Broadbeach. Choose from one to three bedrooms, all with kitchens and balconies. Gaze out at the blue waters of the Pacific or the rolling green hills of the hinterland from the sculpted towers, and relax in the serene Zen Garden or exclusive private cinema. Put your food chucking skills to the test on the teppanyaki barbecue or just simply take a dip in the pool or spa, followed by a relaxing steam. It's Broadbeach accommodation with a twist. Oh and if you're travelling with kids, the iPads could end up being a sanity saver. Book here.
Dorsett Gold Coast
Prices from $230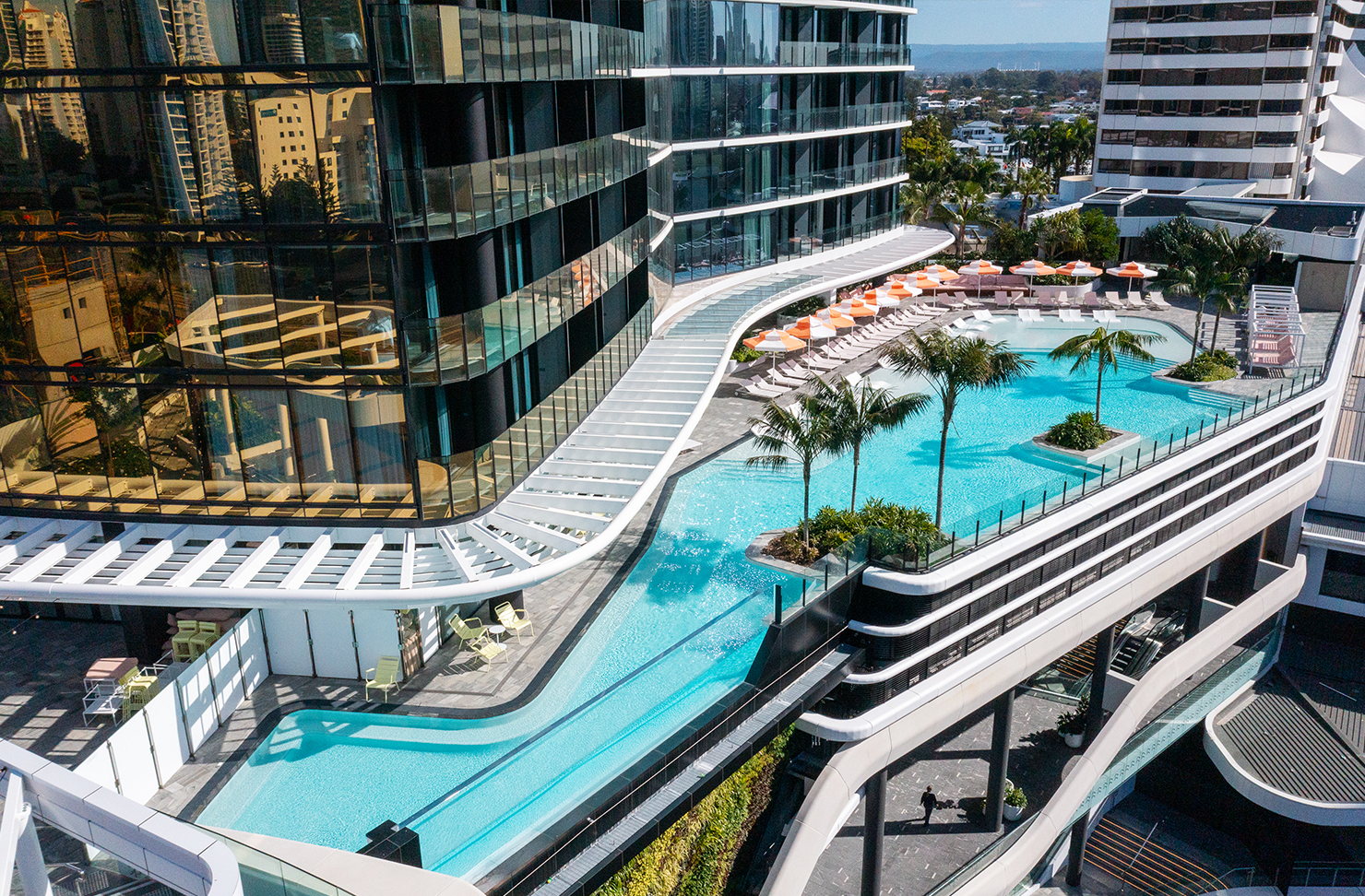 Dorsett Gold Coast is Australia's first Dorsett hotel, so when it opened its doors in December 2021, it's safe to say it made a splash. Located within The Star, the stylish Dorsett boasts 313 chic hotel rooms all decked out with top-of-the-range appliances, sweeping coastline, ocean and Hinterland views and king beds in every room. If you don't get excited about a king bed, you need to rethink your priorities. While the rooms are certainly impressive, it's Dorsett's hotel features and location that secures it as one of the Gold Coast's best hotels. You'll have exclusive access to Isoletto Pool Club, a heated 12-metre rooftop infinity pool, direct connection to The Star and all its venues and the hotel's Level 19 Executive VIP Lounge. We love that all of the hotel's impressive artworks are designed by Gold Coast locals. Book in at one of the Gold Coast's newest hotels and we promise you'll be back again…and again. Book here.
The Star Gold Coast
Prices from $170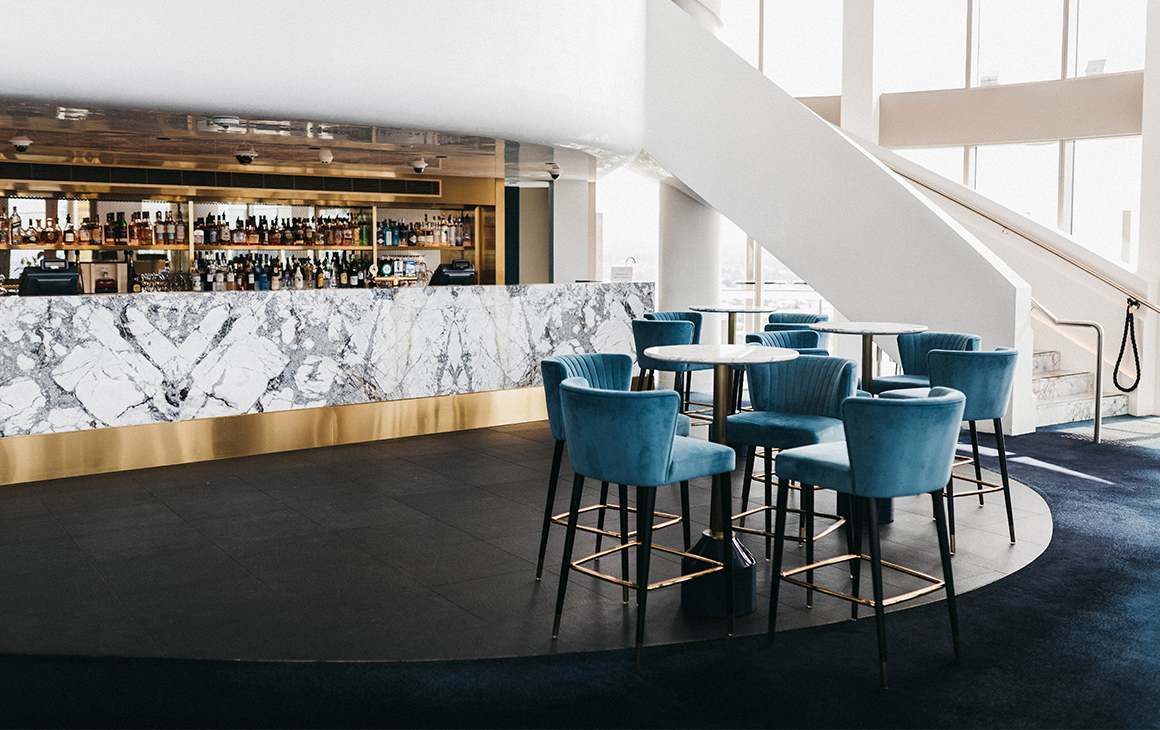 The Star Gold Coast precinct features a huge range of accommodation options, alongside iconic bars, restaurants, endless entertainment options and of course, a world class casino. Fancy a flutter? Done. Up for a show? You got it. Lazing on the pool club deck? Why not? How about a haircut? No problem. This five-star entertainment precinct is the centrepiece for the precinct's best Broadbeach accommodation options, listed below:
The Star Residences
A collection of modern one- and two-bedroom apartments, The Star Residences are light-filled, spacious self-contained apartments. Guests at The Star Residences also have access to exclusive amenities like a swimming pool and spa, cooking facilities, casual and private dining areas, a gymnasium and a yoga and Pilates deck. Plus the famous Isoletto Pool Club.
The Star Grand
Take your pick from 592 luxurious rooms, enjoy sweeping coastal and hinterland views and kick back poolside. The rooms at The Star Grand all feature Jetson-age tech, with guests able to adjust the room settings to their liking with the push of a button. Get up to the highest levels for the full luxe club experience.
The Darling
Offering the perfect combination of boutique design and luxury, The Darling features 56 lavishly-appointed suites with bespoke fittings and the finest finishes. Frequently referred to as one of the best Broadbeach accommodation options, you'll feel like royalty as you laze about nibbling on the finest room service in these plush suites. With full access to all of the exclusive amenities, including a dedicated spa with six treatment rooms, The Darling is the only way to indulge in opulence at its finest, darling.
For all The Star Gold Coast precinct accommodation options, book here.
The Wave Resort
Prices from $310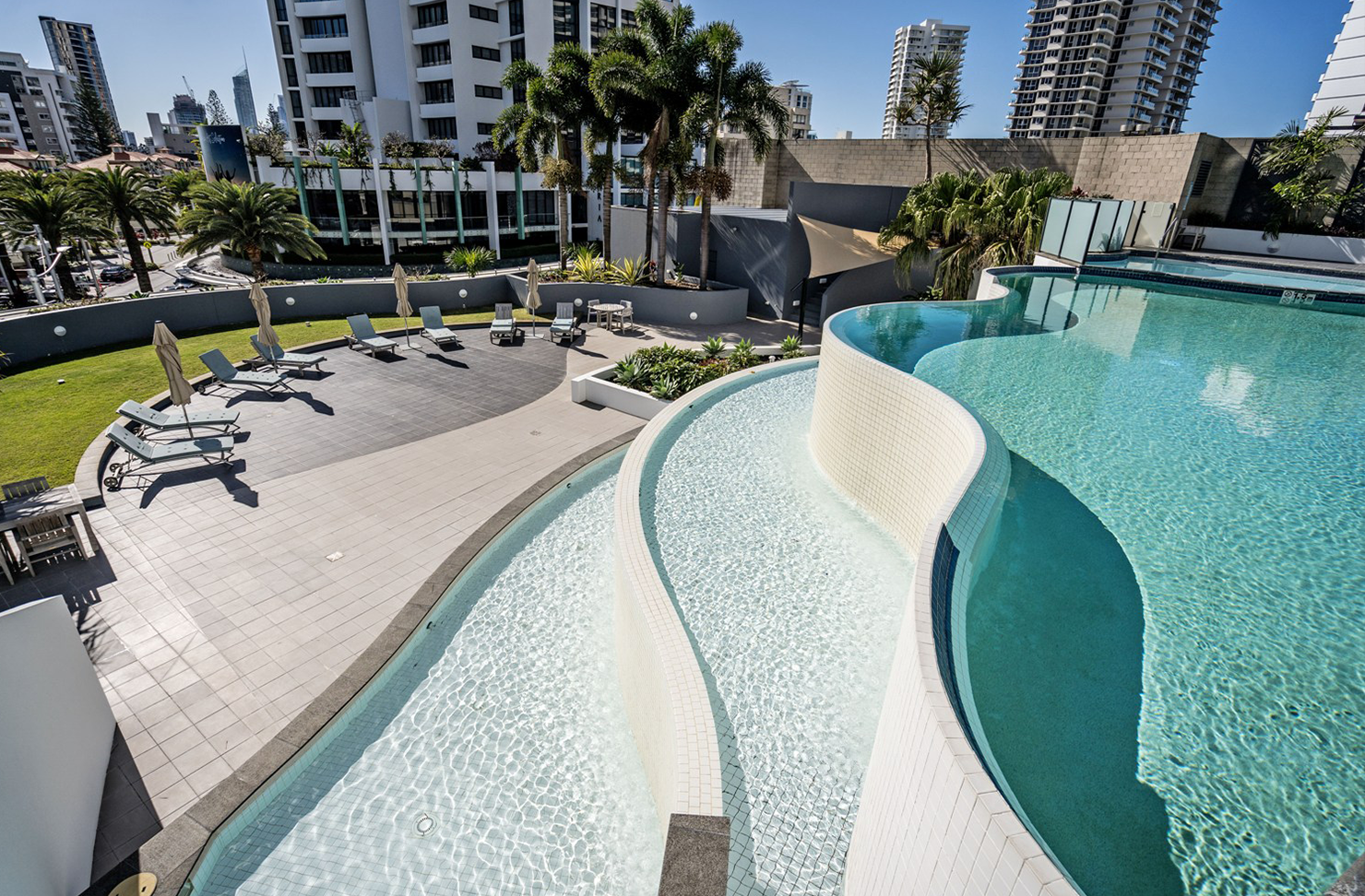 ​
Just a five-minute walk from the beach, The Wave Resort features a range of one- to three-bedroom serviced apartments with all the modern gadgets and sparkling sea views. You won't want to leave the heated infinity pool on the fourth floor, unless it's to jump in the hot tub, sauna and steam room, then rinse and repeat. Free parking makes for a hassle-free day trip experience. If you feel like getting a bit fancy with your Broadbeach accommodation, spoil yourself with a three-bed penthouse with stunning water views, and then pop up to level 34 for the exclusive sky pool and spa. Book here.
The Breakers Absolute Beachfront Apartments
Prices from $495
If direct beach access is your jam, look no further than Breakers Beachfront Apartments. This stylish complex features bright, modern, one- or two- bedroom apartments with balconies and golden sands just a few steps away. Check out the uber-cool cabanas with loft bedrooms for the ultimate beachfront experience. Situated neatly between Broadbeach and Surfers, it's a beautiful stroll along the beach to either happening precinct, in case you're having trouble deciding where to play. Get amongst it. Book here.
Aruba Sands Resort
Prices from $279
Featuring casual apartments just five minutes' walk from Broadbeach beach, Aruba Sands Resort is a practical choice for singles, couples or families, whether working or playing. Studio apartments feature a kitchenette while the one- or two- bedroom apartments boast kitchens and laundries for ease and convenience. Relax in the tropical gardens after a long day of wining and dining, or kick back in the air-con and scroll through pay TV. Free parking for the win, too. Book here.
ULTIQA Beach Haven on Broadbeach
Prices from $283
The sleek two- and three- bed apartments at ULTIQA Broadbeach feature floor-to-ceiling windows for those spectacular Broadbeach views. They are also the ultimate in easy family getaways, equipped as they are with full kitchens, washer and dryers, free parking, a separate kids' pool and even a game room. Shuffle the older kids off to play while mum and dad kick back at the indoor or outdoor heated pools, or even pop over to one of the two tennis courts for a quick game or two. Cheeky post-dinner spa? Go for it. Book here.
Sierra Grand Airbnb
Prices from $2,696 (two nights)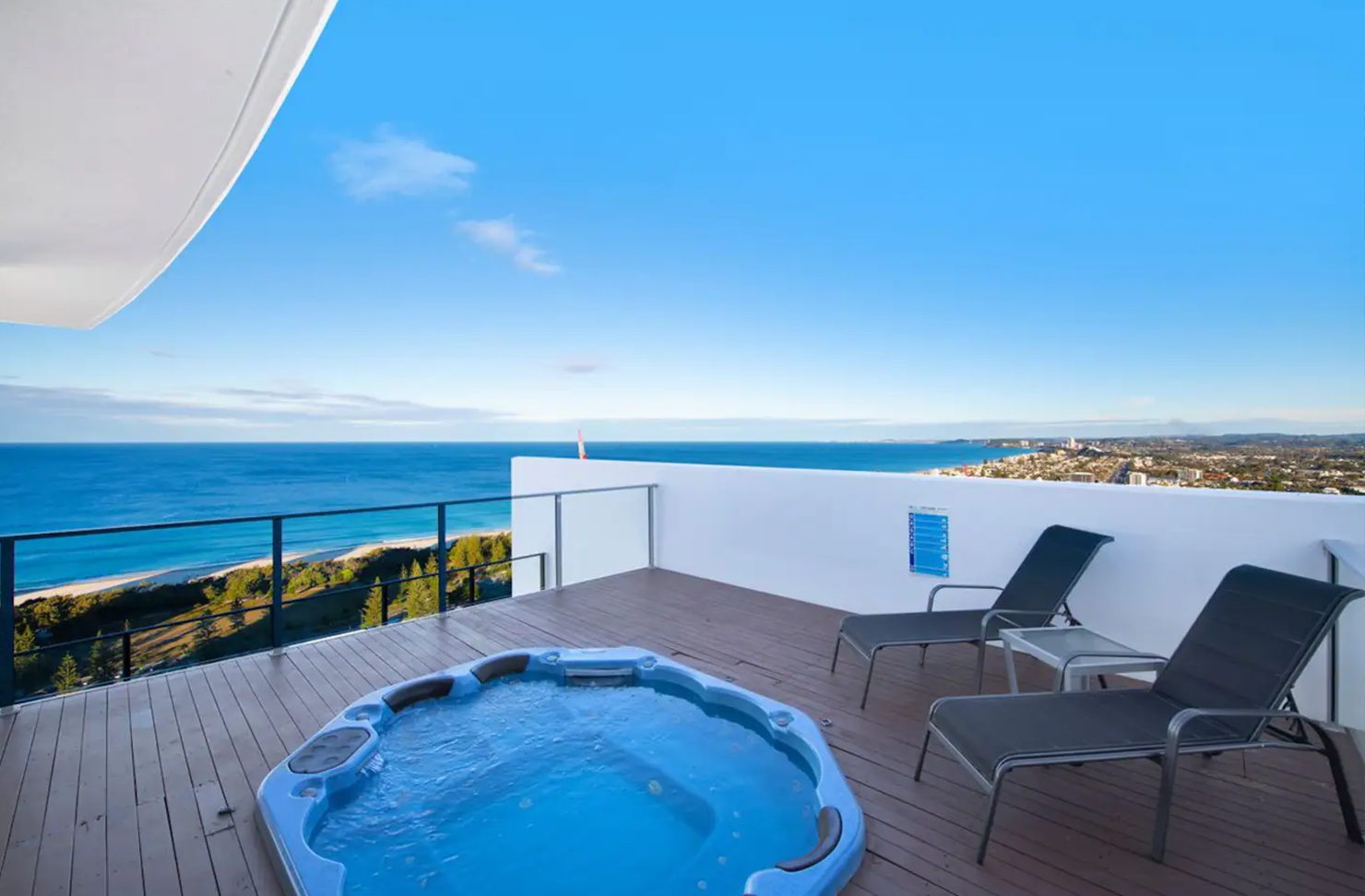 Feel like getting a little grand? Grab some mates and treat yourself to a luxury getaway with a stay at your own private Broadbeach penthouse. Enjoy panoramic views of the ocean, city and hinterland from this modern and well-appointed apartment including your own private rooftop entertaining area, where sipping fancy bubbles is the name of the game. Located on the 30th floor of the luxurious Sierra Grand building, every room features unbelievable views. Ideal for that special occasion or just a once-in-a-blue moon holiday treat, this picture-perfect penthouse will leave you feeling like a rockstar. Book here.
Hi Ho Beach Apartments
Prices from $249
Nestled at the front of Kurrawa Beach, this affordable Broadbeach holiday accommodation features bright rooms with balconies and beach views. The heated pool and spa means there's never a bad time of year to holiday at this small and friendly complex that prides itself on warm service and a positive experience for all guests. You'll be located right in the heart of bustling Broadbeach so you've got everything you need for a top Gold Coast holiday right at your doorstep. Book here.
Broadbeach Savannah Hotel and Resort
Prices from $199
A Broadbeach apartment spot just four minutes' walk from the tram station, Savannah is hard to go past when it comes to value. Pick a single studio, family studio or two bed apartment depending on your needs, then put on a playlist, pour yourself a cool beverage and sit back in the whirlpool tub. The cute kitchenette means you can make yourself some brekkie if you don't feel like heading down to the in-house café, and there's even a fitness room and sauna for you to work off said brekkie, so win-win. Climate controlled pool and outdoor spa mean swims all year round, too. Book here.
The Ritz Resort
Prices from $289
These high-end serviced Broadbeach apartments are the ultimate in contemporary design for those who love to relax in style. Self-contained, self-catering Broadbeach accommodation like this is perfect for a family holiday or trip with friends. Spend a few days alternating between the ground floor pool and BBQ area or the rooftop playspace with stunning ocean views, a heated spa and BBQ area. Throw in a gym with a sauna, free undercover parking and a 2 minute walk to the beach, and we'd say it's time to be puttin' on The Ritz. Book here.
Looking for dinner inspiration? Check out our pick of the best Broadbeach restaurants worth a dinner date.
Image Credit: The Star, Sofitel, Vue, Dorsett, Peppers, Airbnb, Hayley Williamson for Urban List, Booking.com & supplied imagery