Ah, fish and chips. You can't beat it…but you can certainly batter it! That stomach-rumblingly smell; that unmistakable crispiness (and occasional sogginess) of the deep fried chips; the oh-so-lovely golden coating that encases that succulent fish; the irresistibly creamy accompanying tartare sauce; the compulsive sprinkling of salt and pepper; the impatience at unraveling the seemingly endless wrapping paper.
As you can tell, here at Metropolist, we do have a little bit of a thing for that most British of staple diets…so much so that the mere suggestive hint of fish n' chips gets our taste buds going.
So without further ado, let's start fishing for where to find some of the best fish and chips on the Gold Coast.
FISH MONGER
Something certainly smells decidedly fishy here and most certainly in a good way. Located on dynamic James Street, the bustling Fish Monger grocer store and diner is quite simply the fish n' chips hub of Burleigh. With its massive portions, healthy salad options, and outside seating, it's fabulously fishtastic if we don't mind saying so ourselves. Park up for some James Street people watching, or grab a takeout feast and head straight for Burleigh Hill.
Where: 7/9 James Street, Burleigh
Contact: 07 5535 2927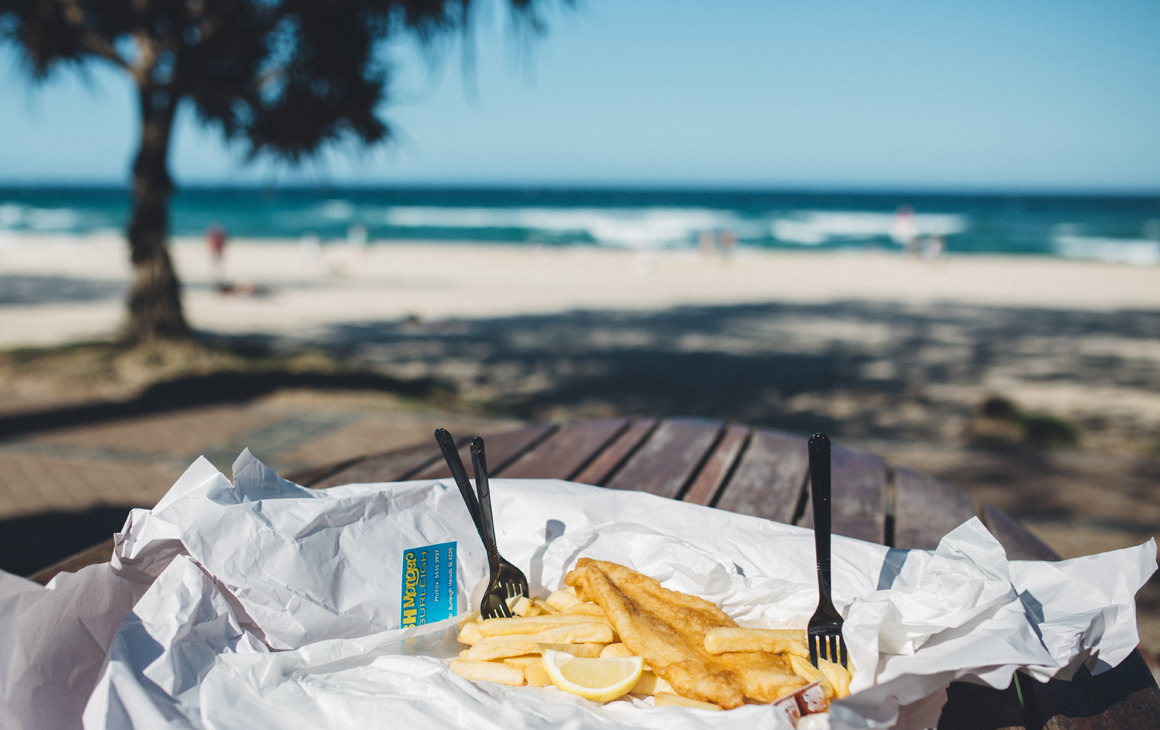 PETER'S FISH MARKET
Let me digress to tell you a little story first…A few years back this eagled-eyed journo caught the sight of a strangely subdued Iggy Pop at this popular Marina Mirage waterside haunt. The self-proclaimed Real Wild Child was surveying the sights of what this fish-monger-cum-fish-'n-chipper had to offer and he looked noticeably overwhelmed! It was a surreal sight for sure but signifies the all-encompassing allure of this conveniently located Gold Coast gem, which is a neighbour to the equally star-studded Versace hotel.
Peter's Fish Market serves up some of the best fish and chips on the Gold Coast. Not only must you decide whether to have your trawler-fresh fish cooked, battered, grilled or crumbled but whether to season it with either lemon pepper, Cajun, Thai or even Moroccan spices too. After all that trouble why would you take-it-away when you can dine alfresco by the marina's edge, underneath an umbrella whilst warding off those hungry seagulls!
Where: 120 Seaworld Drive, Main Beach
Contact: 07 5591 7747
THE HANGI PIT
This family-run Kiwi-style Oxenford takeout shop knows the business of serving up some seriously sized New Zealand hoki and chips, traditionally parcel-wrapped and at a practical prize. You gotta try their mouth-watering garlic chips (smothered in garlic herb butter), battered prawn twisters, and deep-fried oysters cause, well, they're yum! Certainly a superb place to 'hangi' out in northern Gold Coast.
Where: 7a/14 Studio Drive, Oxenford
Contact: 07 5502 7040
REEF SEAFOOD + SUSHI
If anything comes close to gourmet-style fish and chips it's going to be found at Ferry Road Market. Pop into Reef Seafood any day of the week and (never mind the sushi!) you'll see all manner of sophisticated types tucking into a feast of traditional fish (specifically barramundi) and chips. It's a class act for sure and with the market's stylish, clean-cut décor, and inviting atmosphere it somehow makes the matter of eating a battered meal feel a hell of a lot healthier too!
Where: 107 Ferry Road, Southport
Contact: 07 5528 4477
CHARIS SEAFOODS
Idyllically located on the pelican-populated Broadwater, this seafood retailer proudly calls themselves the "largest supplier of fresh seafood on the Gold Coast" and well, they ain't just whistlin' Dixie! Their mammoth, seemingly 360 degree counter is stocked to the rafters with practically every fish known to man. But it's the fish and chips that we're here for and Charis Seafoods steps up to the mark like, well like a fish to water. They even have some tantalising combo options for the family too, along with hefty seafood esky selections for the ultimate seafood party. So, fire up the barbie folks!
Where: 371 Marine Parade, Labrador
Contact: 07 5527 1100
CAFE CATALINA
After a few quick laps at the Gold Coast Aquatic Centre, treat yo'self at Café Catalina. The tempura battered fish and chips with lemon caper tartare may be the most humble item on the menu but don't let that deter you – it's simply delicious. Bypass the decking area and lounge in one of their comfy bean bag chairs on the lawn, sipping a chardonnay as you treat your tummy to some of the best fish and chips on the Gold Coast!
Where: 10/11 Broadwater Parklands, Southport
Contact: 07 5571 0390
SCALES SEAFOOD
How can you possibly argue with a plaice, (er, place) that serves seafood so fresh the fish practically fly out from the river and onto your plate! That's how it feels at Scales, which is a mere stone's throw from both the Tweed River and, more importantly, the Tweed Trawler Fleet. We felt obliged to order the Seafood Basket (for a little over $20) that includes a generous medley of prawns, calamari rings, seafood sticks, fish bites, potato scollops and, of course, chips, chips, chips.
Where: 47 Kennedy Drive, Tweed Heads
Contact: 07 5536 6937
So, where do you head for the best fish and chips on the Gold Coast? Tell us!
Photo Credit: Good Food and Hayley Williamson