We all know the way to a man's heart is through his stomach. Some of us are more easily pleased—flowers, for example. Hint, hint. You really don't need to make it complicated, 'cause in all sincerity it's the thought that goes the distance.
Whether you're looking to impress a special someone, you want to treat Mum or just send a friend a blooming bouquet of happiness, you can't go past our top picks (in no particular order) of the best florists on the Gold Coast in 2023.
Bee's Blossoms & Plants
Tweed Heads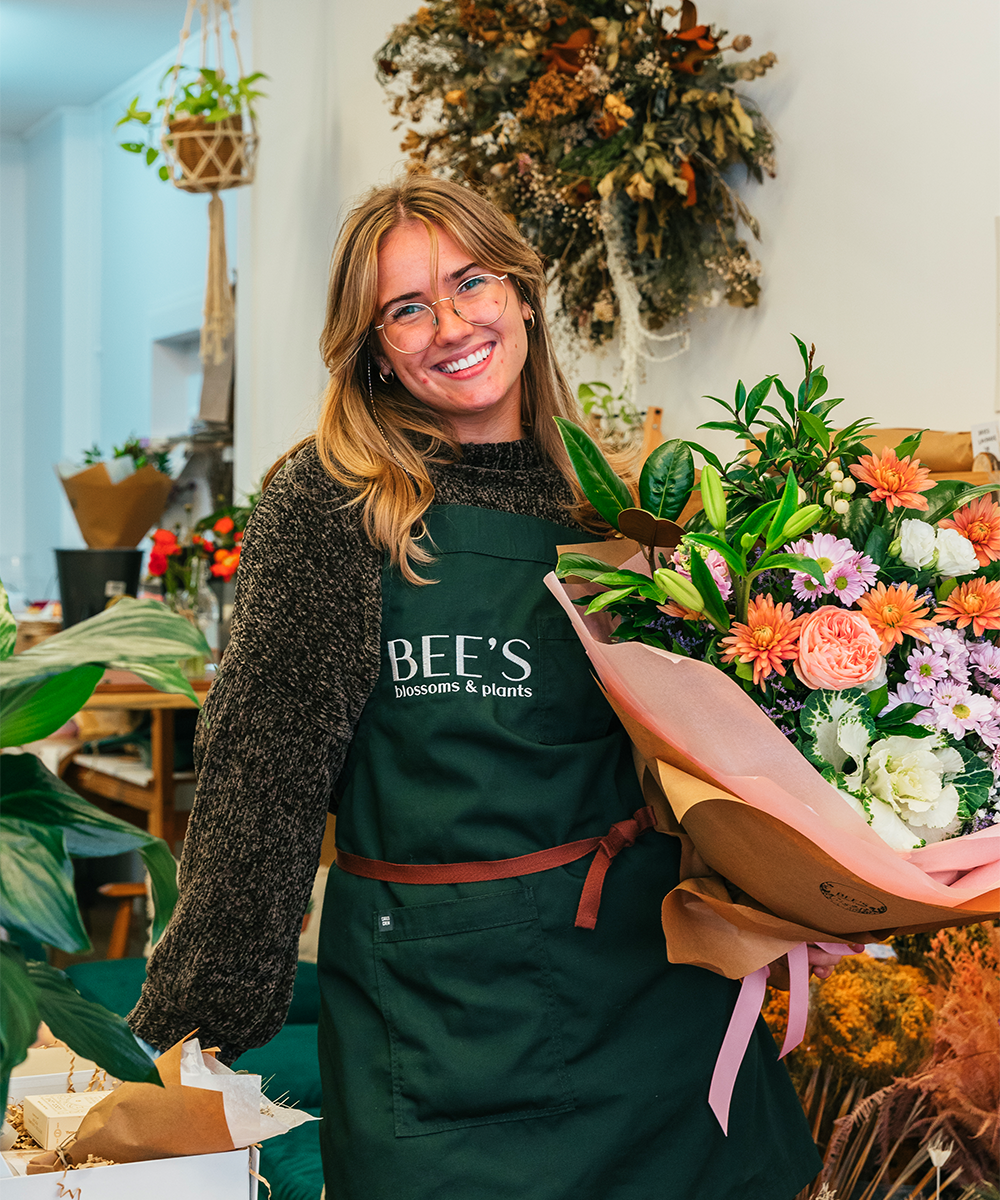 If you're looking for a bunch that'll make a dramatic entrance, allow the maestros at Bee's Blossoms & Plants to do the honours. The creative genius behind the flowers, Belle, creates some of the Gold Coast's most colourful and structurally creative floral displays, sending out high-end floral arrangements to homes, weddings, events and cafes. As well as being environmentally conscious, Belle has an affinity toward bright, bold and locally-sourced blooms and we love that you can add a seasonal plant, candle or cocktail mixer to your gorgeous order. While Bee's Blossoms originally started as an online store, they now have a storefront in Tweed Heads, conveniently located close to The Bread Social's mouthwatering pastry goodies and with a gorgeous dried flower wall to boot. If this hasn't convinced you, they also took out the top spot as the Gold Coast Bulletin's Best Florist for 2021.
Moss N Stone
Southport
It would be a crime not to include the institution that is Moss n Stone in our roundup of the best florists on the Gold Coast. This iconic florist has a fresh approach, designing unique arrangements from flowers and foliage, for weddings, special occasions, your average weekday and Valentine's Day. They are absolute pros at creating magic with flowers, boasting an extensive range of posies, market bunches and native blooms. They're not just your typical florist—they can add on indoor plants, artisan gifts, unique homewares and gorgeous skincare products to your bouquet. Ranging in price, you can decide how much you want to spend in the name of love. Hands down one of the best florists the Gold Coast has to offer.
Studio O'Hara
Burleigh Heads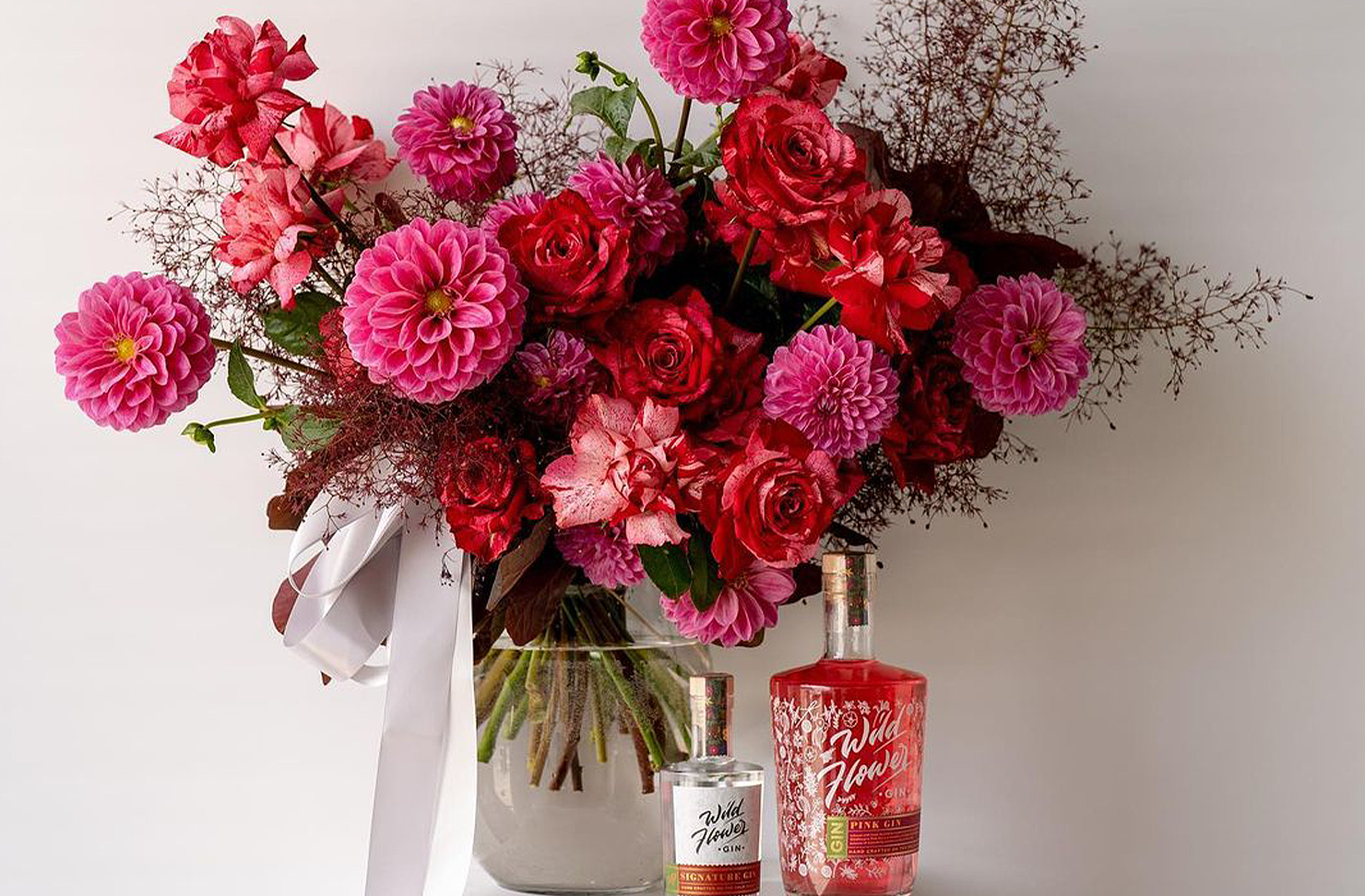 Studio O'Hara is one of the newest kids on the block and it's already making some serious waves in the Gold Coast florist scene. Made fresh to order, with their florist supplier just around the corner in Burleigh, each of Studio O'Hara's unforgettable bunches are thoughtfully made to compliment whatever your occasion is. They'll even send you a polaroid picture keepsake of the arrangement to savour the moment. They boast three key service options—same day delivery if you order before 11am that day, corporate gifting and most uniquely, a gorgeous online gifting calendar. You'll never miss another special occasion with their online gifting calendar for ongoing subscriptions or scheduled gift deliveries. We love that Studio O'Hara supports local and you can add a Little Cocoa chocolate and Wildflower Gin gift to your flower bouquet.
Skeleton Leaf
Elanora
Skeleton Leaf is a bespoke Gold Coast florist that is all about fresh flowers, unique gifts and homewares. Founder Charlotte studied floristry alongside some of the top florists in London before moving to Australia in 2014 where she has been sharing her skills with us lucky Gold Coasters. Skeleton Leaf sprinkles their blooms of love all the way from Northern New South Wales to Central Gold Coast and you can add a little something extra if you choose a flower delivery, like wine and chocolates. It's 2023, and the team at Skeleton Leaf are acutely aware of the discerning standards of gift-receivers these days—if you think your special someone likes flowers, then blow their mind and add the wine and chocolates. You'll be in the good books for a long time.
Fleur Noir Botanical
Hope Island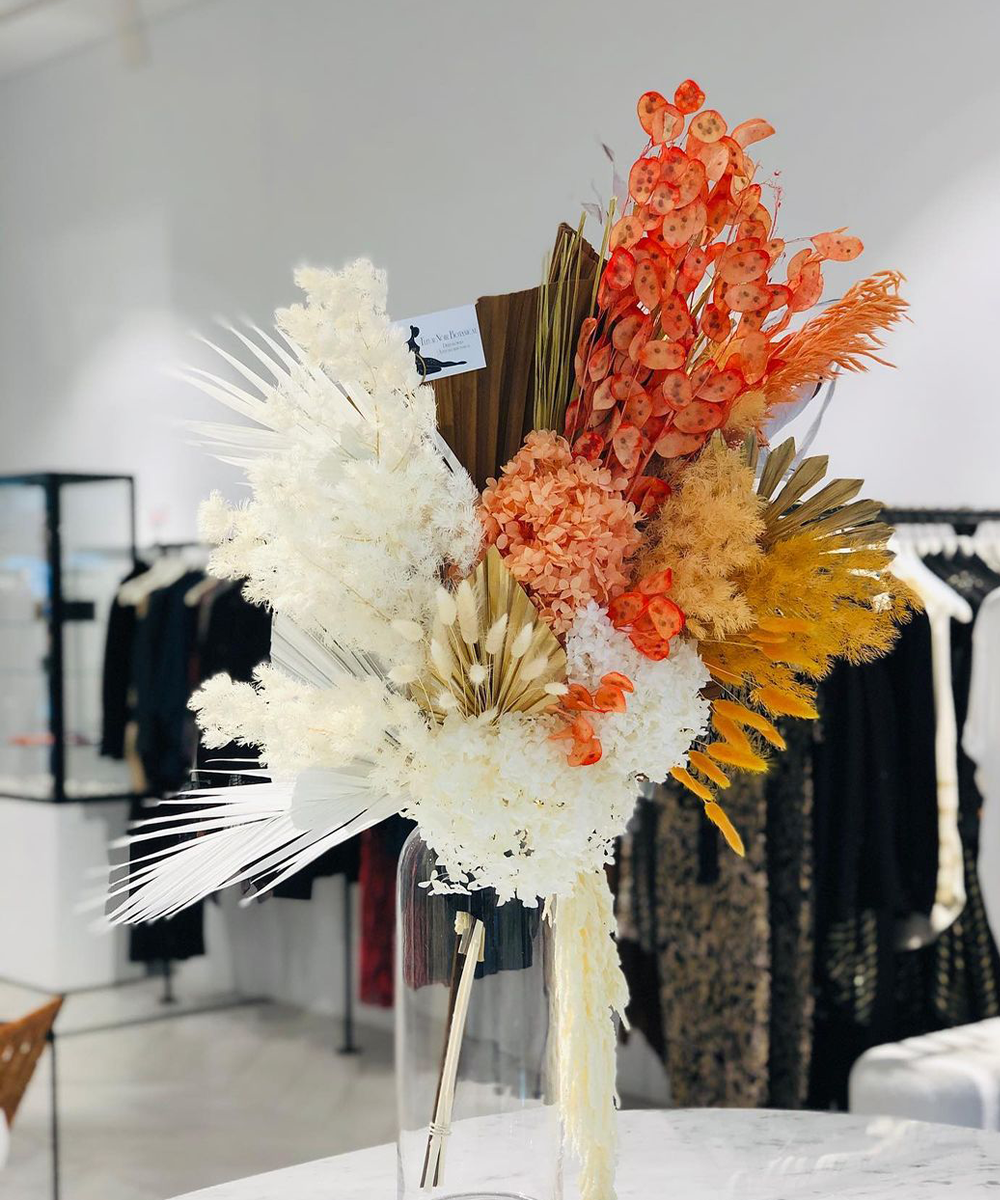 In case you missed the memo, dried florals are IN and it doesn't look like our love for them is going away anytime soon. Fleur Noir Botanical is our favourite dried floral specialist on the Coast and they are dedicated to sourcing unique florals to create show-stopping flower arrangements that you'll want to keep all to yourself. Thankfully, they offer a flower delivery service across the Gold Coast, so you won't actually have the chance to steal them away. At Fleur Noir Botanical you'll find a range of bespoke wall decorations, floral bouquets, dried wreaths and more, in a range of tones from soft pastels to dark, moody hues.
Flower Studio Gold Coast
Parkwood
We love beautiful blooms and we love coffee, so when Flower Studio Gold Coast combined our two passions, we were immediately sold. This one-of-a-kind florist cafe is filled with lush plants, florals and unique gifts and boasts an outdoor alfresco space for many a coffee. If that wasn't sweet enough already, you can even book in for a high tea experience in the lush alfresco area. The mother-daughter duo behind Flower Studio, Belinda and Bethany, have over 30 years experience in the floral industry and are passionate about creating stunning bouquets, personalised to whatever your occasion. Be sure to say hi to the two cute 'flower dogs', Blossom and Bobby, who will greet you when you enter this top Gold Coast florist.
Flowers Gold Coast
Ashmore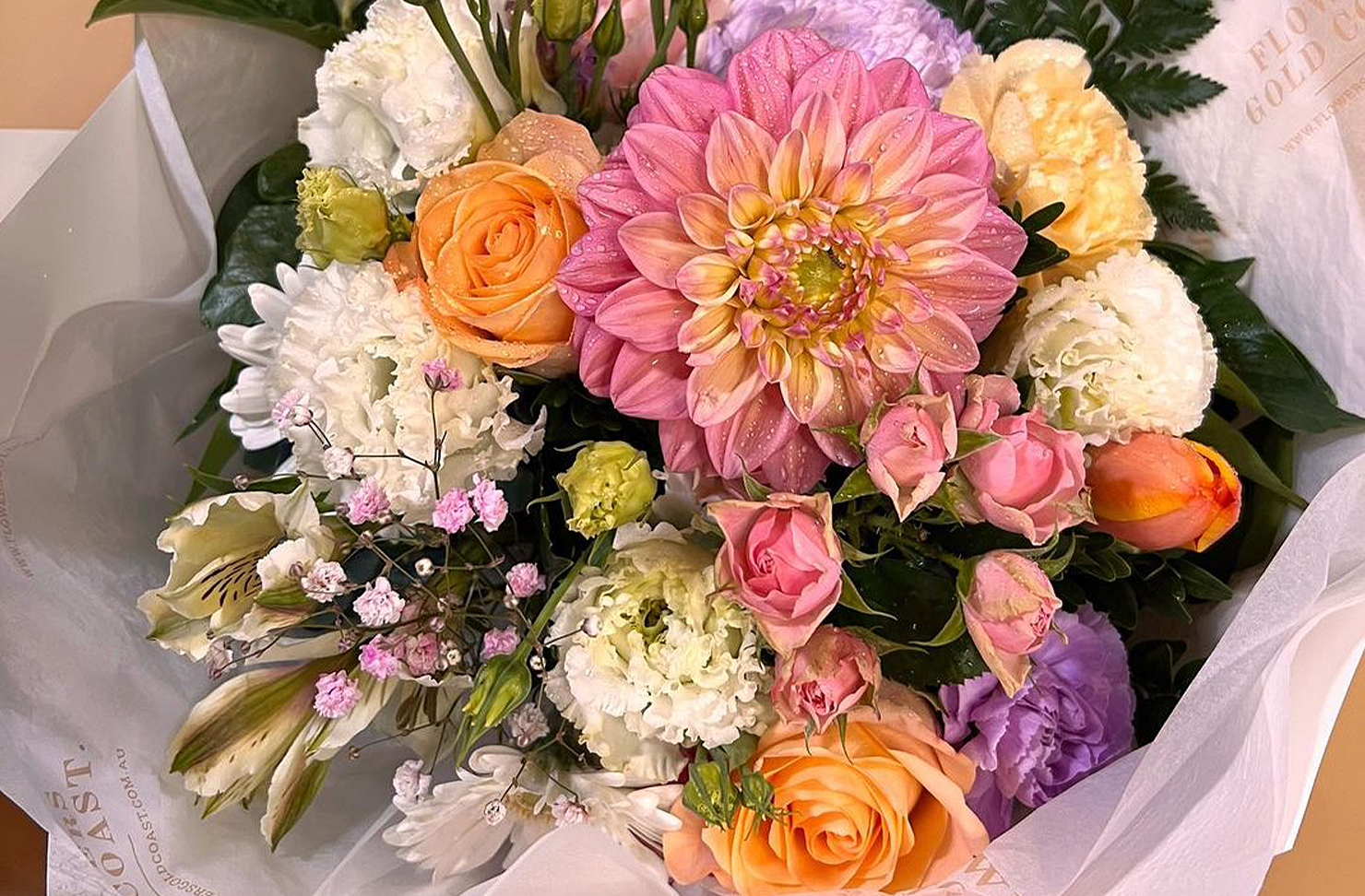 This boutique Gold Coast florist originally started in a garage during COVID and has since grown into a thriving florist studio in Ashmore. Run by the passionate Vaïana and Sam, Flowers Gold Coast has a strong ethos of sending flowers 'that mean something and are worth the message that comes with it'. Flowers Gold Coast offers same-day Gold Coast and Northern NSW flower delivery seven days a week (if you order before 3pm) and a seven-day studio pick up, for all your last-minute floral needs. We love that you can spruce up your bouquet with luxury body and face care, chocolate, tea, candles and more goodies.
Flowers of Southport
Southport
Flowers of Southport is a family-owned Gold Coast florist which ticks all the boxes with same-day delivery, affordable flowers and a central studio location. Flowers of Southport offers free delivery to Gold Coast University Hospital and same-day flower delivery across the Coast, if you order before 4pm. Talk about last-minute delivery saving the day. Choose from their selection of occassion flowers, select flowers based off your budget or get creative and design your own bouquet of blooming goodness.
The Borrowed Nursery
Mermaid Beach
If you want to give the gift that keeps on giving, give your special someone a potted plant that will bring the same energy and freshness into your loved one's home or place of work. You don't see indoor plants turning up in a lot of romcoms, but there are practical benefits: they last a lot longer, they oxygenate your room, and they look cooler (these days anyone without a small rainforest in their apartment is waaaaaay behind the times). Okay, technicallyyyy The Borrowed Nursery is not a florist but we love these ladies and take any opportunity to toot the horn for these crafty green thumbs! Choose from lush ferns, succulents, cool concrete pots, or investigate their cute gift box delivery service for a pressie that won't be dead in a week's time.
Lully & Rose Floral Studio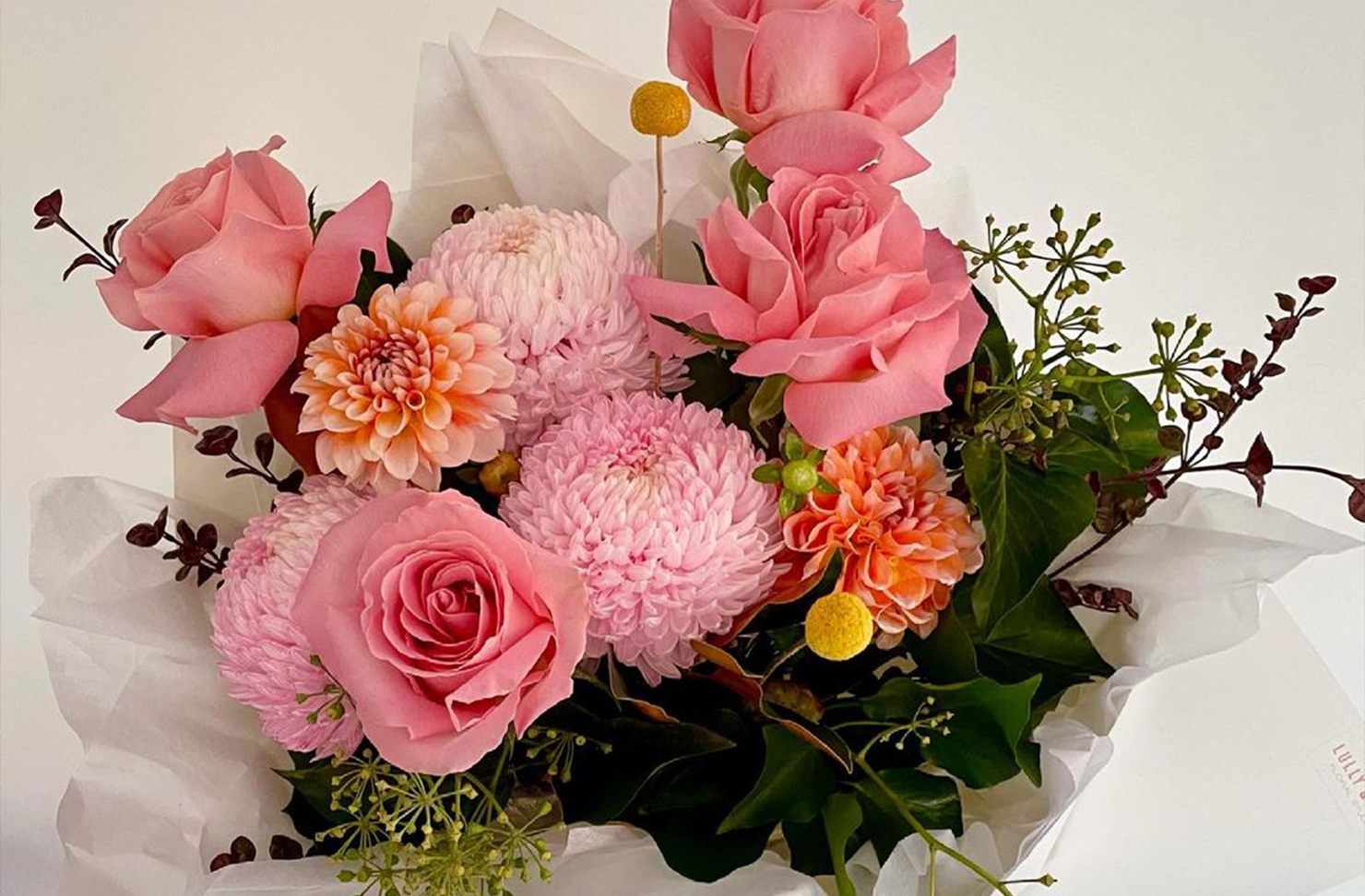 This luxury boutique Gold Coast florist was voted in the 'Top 10 Best Gold Coast Florists' for both 2020 and 2021, which is a testament to their simplistic and contemporary floral designs. Lully & Rose takes the choice out of buying flowers with their 'leave it to us' style, using the best seasonal florals and colour palette that they pick up daily from their local suppliers, which is a good thing if you don't know your geraniums from your agapanthus (it's cool, neither do we). The gorgeous floral design studio is a perfumed haven of premium fresh seasonal florals, unique gift hampers and a thoughtfully selected range of Australian gifts, where your orders are lovingly created by owner and lead floral designer, Rachael. Rachael offers same-day fresh flower delivery throughout the Gold Coast, Hinterland and Northern NSW, and with ten years of industry experience under her belt, you know Lully & Rose is one of the top contenders for the best florist on the Gold Coast.
Alba Roses
Nobby Beach
If the only way to say it is with roses (duh), then Alba Roses at Nobby Beach is the way to go. While they specialise in roses which are delivered from local growers daily, they often visit the morning flower markets to pick a range of gorgeous stems (think tulips, posies and lilies) to arrange in stunning mixed seasonal bouquets. They deliver across the Gold Coast and Brisbane six days a week and in case you weren't already sold, their Nobby Beach store is home to flower pup Frankie, so you can get puppy cuddles with your bouquet. Now that's what we call a win-win.
The Flower Bar Co.
Byron Bay
This luxury florist brand has its flagship studio based in Byron Bay but delivers bouquets of botanical art across the Byron Bay Hinterland and the Gold Coast. When we say botanical art, we mean it. Think: sophisticated, artistically curated bouquets that wouldn't look out of place on the cover of a magazine. Pair your floral goodness with luxe candles, chocolate, champers or loungewear for an elevated gift. The Flower Bar Co. offers same-day delivery six days a week from Monday to Saturday if placed by 12 noon (10am on a Saturday).
Posy Lane Co
Online
These freelance florists have hit the nail on the head with their delivery-only service. Each day they have a different and unique flower arrangement that sits pretty in a glass jar and is delivered locally for the sweet price of $39. You can pre-order in advance, so it doesn't have to be a last-minute thing either and it's very much like a box of chocolates because you never know what your lucky recipient is going to get. They deliver their beautiful blooms all the way from Northern NSW to the Northern Gold Coast, so you can bet your bottom dollar that Posy Lane Co will have your back. Speaking of your bottom dollar, they do free delivery to a range of suburbs in the Southern and Central Gold Coast.
Are flowers not your thing? Fair enough. They do die and stuff. Check out our roundup of the coolest gift delivery services on the Gold Coast.
Image Credit: Bee's Blossoms & Plants, Lully and Rose, Fleur Noir Botanical and Ellamay Photo