When it comes to Mexican fare, Gold Coast has an insatiable appetite. Bowls of guacamole, burrito bowls, loaded nachos, plenty of queso, beans for days and lashings of sour cream—we want it all, and we want it all now. And if there is a cheeky margarita or two thrown into the mix, we won't say no.
With summer about to hit, the perfect Sunday sesh of Mexican eats and ice-cold drnks is pretty high on our radar right now. Read on for, in no particular order, 18 of the Gold Coast's best Mexican restaurants right now.
Hail Mary
Burleigh Heads
You might have to hunt for Hail Mary, hidden as it is in a laneway arcade off James Street in Burleigh. But it's well worth the adventure. Hot tip: If you can force yourself to choose just a few from the impressive taco range, we definitely recommend including the squid in the mix. Oh, and the premium beef brisket taco. Maybe with a side of jalapeno poppers. And a mushroom quesadilla. The hot-pink venue's wide range of cervezas, mezcals, margaritas, cocktails and tequilas is nothing to sneeze at, either. Hands down, one of the Gold Coast's best Mexican restaurants.
Mexicali Bar Y Taqueria
Nobby Beach
MexiCali has a reputation to maintain for sure. This Nobby Beach gem is usually full to bursting with locals seeking their fix of some of the best tacos on the Goldy, including the luxurious Moreton Bay bug taco, the haloumi and bean, and crisp baja fish, just to name a few of the faves. If you can grab a spot on the balcony with oh-so-moreish housemade guac, be sure to do so before the sun sets. While there are margaritas, beers and cocktails a-plenty to choose from, it's always a good idea to start (and end) the night with a shot of Jose Cuervo traditional Blanco, served with a Verdita Chaser. Oh yeah, these folks know what they're about.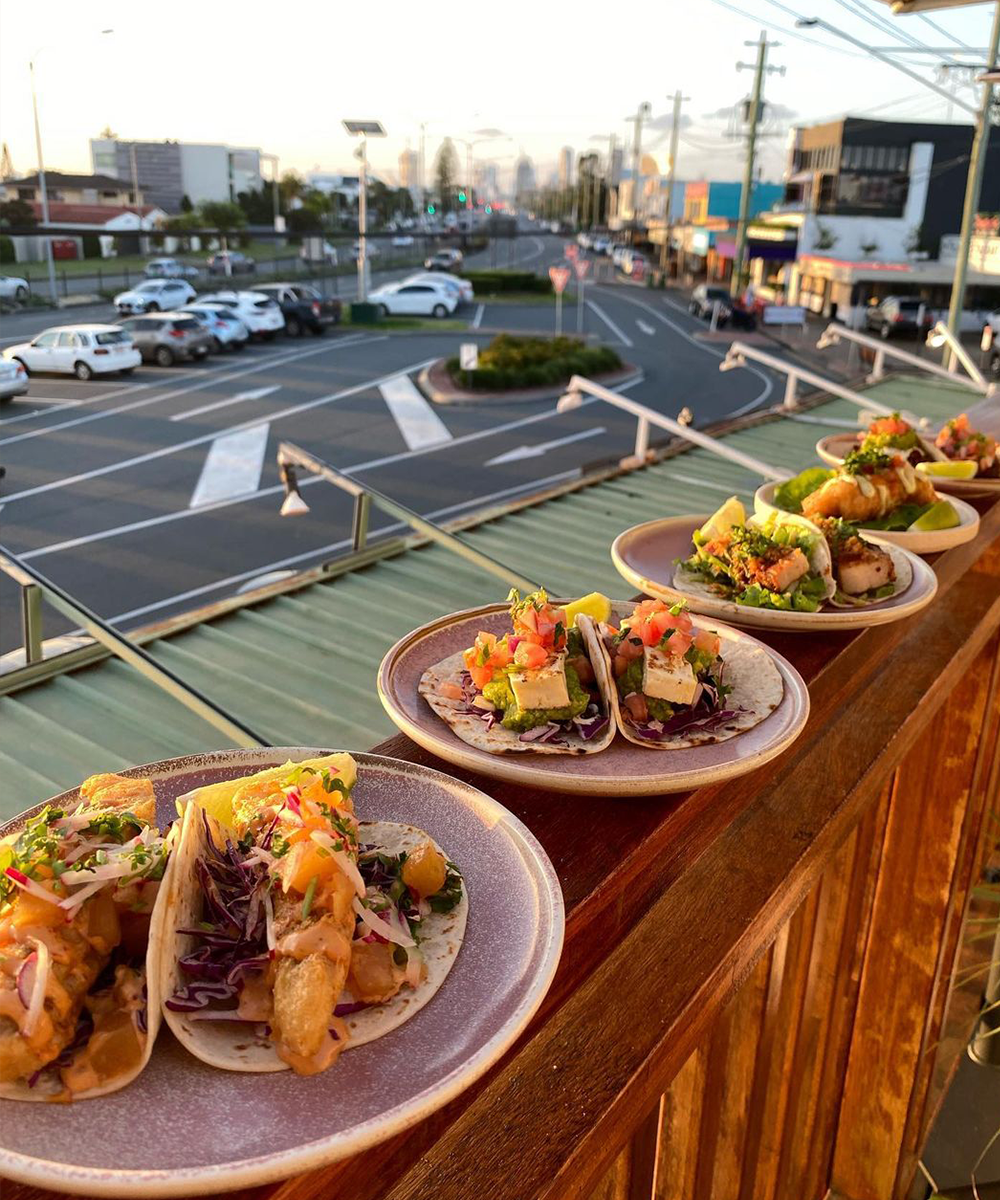 Bonita Bonita
Mermaid Beach
Fresh and funky, the Bonita Bonita offerings include such modern Central American cuisine as coconut marinated barramundi, chicken and chorizo quesadillas with smoked sour cream and jalapeno salsa, and the Chef's special mushroom empanadas with a white bean puree. Perfect for sharing, these beautifully curated and presented dishes take Mexican cuisine to a whole new level. Done with dinner? Pop to the Bon Bon bar and peruse the range of margaritas, tequilas and mezcals for a little nightcap.
Goodness Gracias
Palm Beach
Goodness Gracias there are a lot of tasty plant-based eats on the Gold Coast, and this Palmy gem is the vegan Mexican joint of your dreams. First up is the pink. We really really love the pink décor, and all restaurants need to be hot-pink from now on. The food is fast, fresh and absolutely drool-worthy, with 'duck', 'chicken' and smoky chipotle jackfruit layered into street-style tacos, burritos and tostadas. All of the nice without (much of) the naughty.
Caracara Cantina
Tugun
Caracara Cantina is your new go-to spot for boozy nights out with those friends who appreciate a diverse variety of tequilas, mezcals and margaritas that you just may not find anywhere else. First up, stroll into the cantina for some classic tasty tacos and Mexican eats from a menu that is mostly vegan (they had to throw in some sizzling steak fajitas for the carnivores among us) before heading down to the tequila den for many many tastings. Oh, and pickled watermelon rind with chilli salt. Trust us.
Costa Taco
Palm Beach
This Palmy hotspot features a fresh and authentic menu packed to the brim with locally-sourced, seasonal produce, and some of the best service around. The birria beef is melt-in-your-mouth divine while the chilaquiles (wet nachos) are arguably the best on the coast. We love a good local success story too, with this popular eatery kicking off as a market stall before demand drove them to get a shopfront. There's a lot to be said for simple, fresh and tasty Mexican food, done well.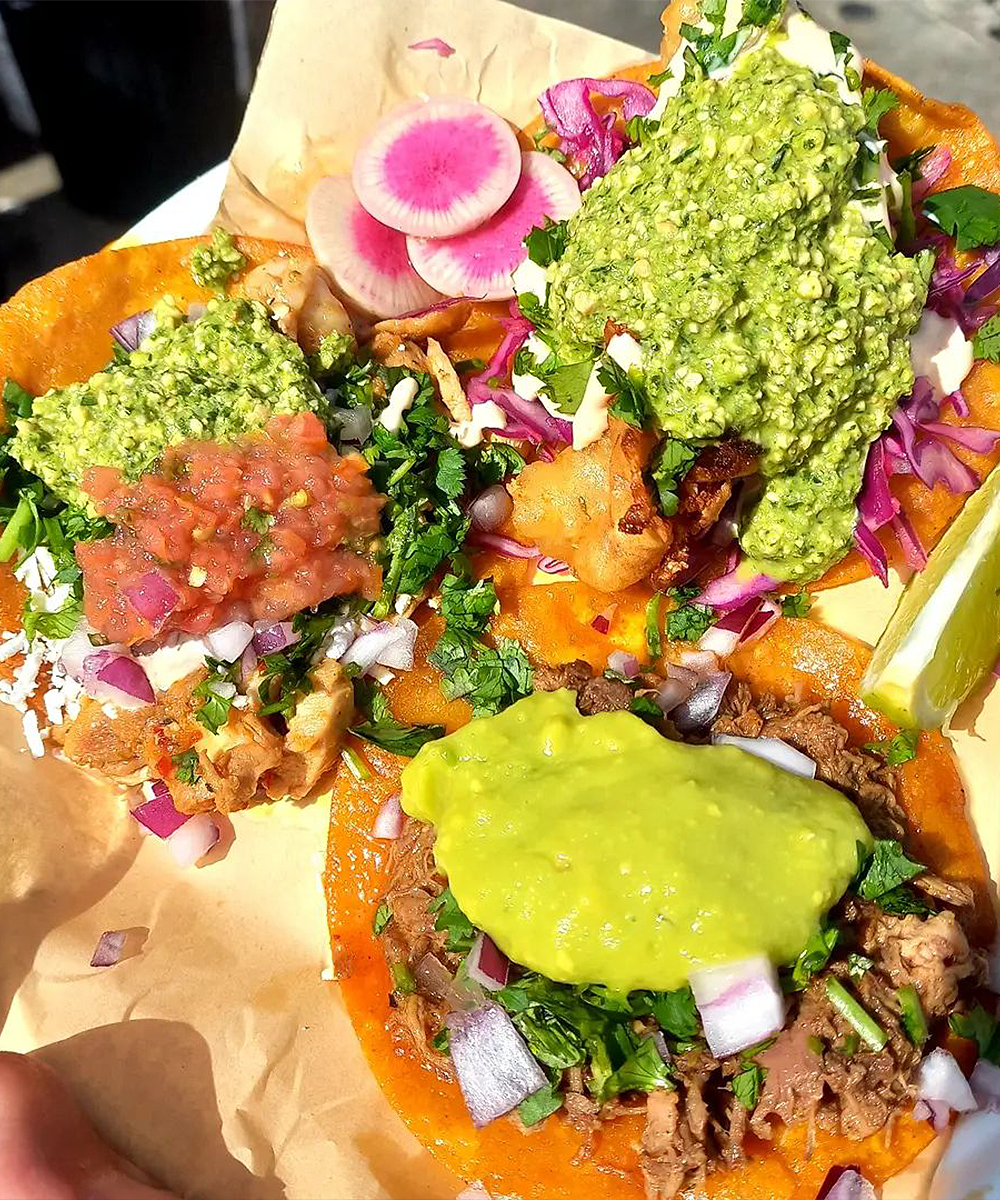 Agave Rosa
Kirra
This modern Mexican-fusion restaurant is a real palate dazzler. Of course, you will find a range of beautifully loaded tacos on the menu, but the Asian twist on Mexican classics means that nestled among the expected are tasty little treats like a tuna sashimi tostadas, scallop tempura, wagyu rump with miso butter and corn, and even cauli tacos with yuzu miso. Can't decide between Japanese or Mexican? Porque no los dos?
Tupe-Aloha Bar and Grill
Kirra
Southern Gold Coasters are really spoiled with Tupe-Aloha Bar & Grill right on their doorstep. $10 Monday Margies? No problem. Taco Tuesdays? $5 each, yes you heard right. $1 wing nights on Thursdays? They've got it covered. And of course, the ol' Friday happy hour from 3pm to 5pm. This adorable tropical tiki bar will take you straight to a colourful Hawaiian island with a Mexican twist. Happy vibes and tasty eats. All without breaking the bank.
Pablito's
Sanctuary Cove
From the team behind Tugun's iconic Caracara Cantina, Pablito's was born from a love of delicious food and quality tequila. Pablito's is not your average Mexican cantina, with this shiny new Sanctuary Cove dining spot showcasing Caribbean influences and a largely plant-based and gluten-free menu (don't worry carnivores, you are well catered for too). This colourful gem slings up over 50 tequilas, mezcals and flavoured margaritas across the bar on the reg. It sounds like it's time to vamos up north with the crew to start sampling at one of the best Mexican restaurants on the Gold Coast.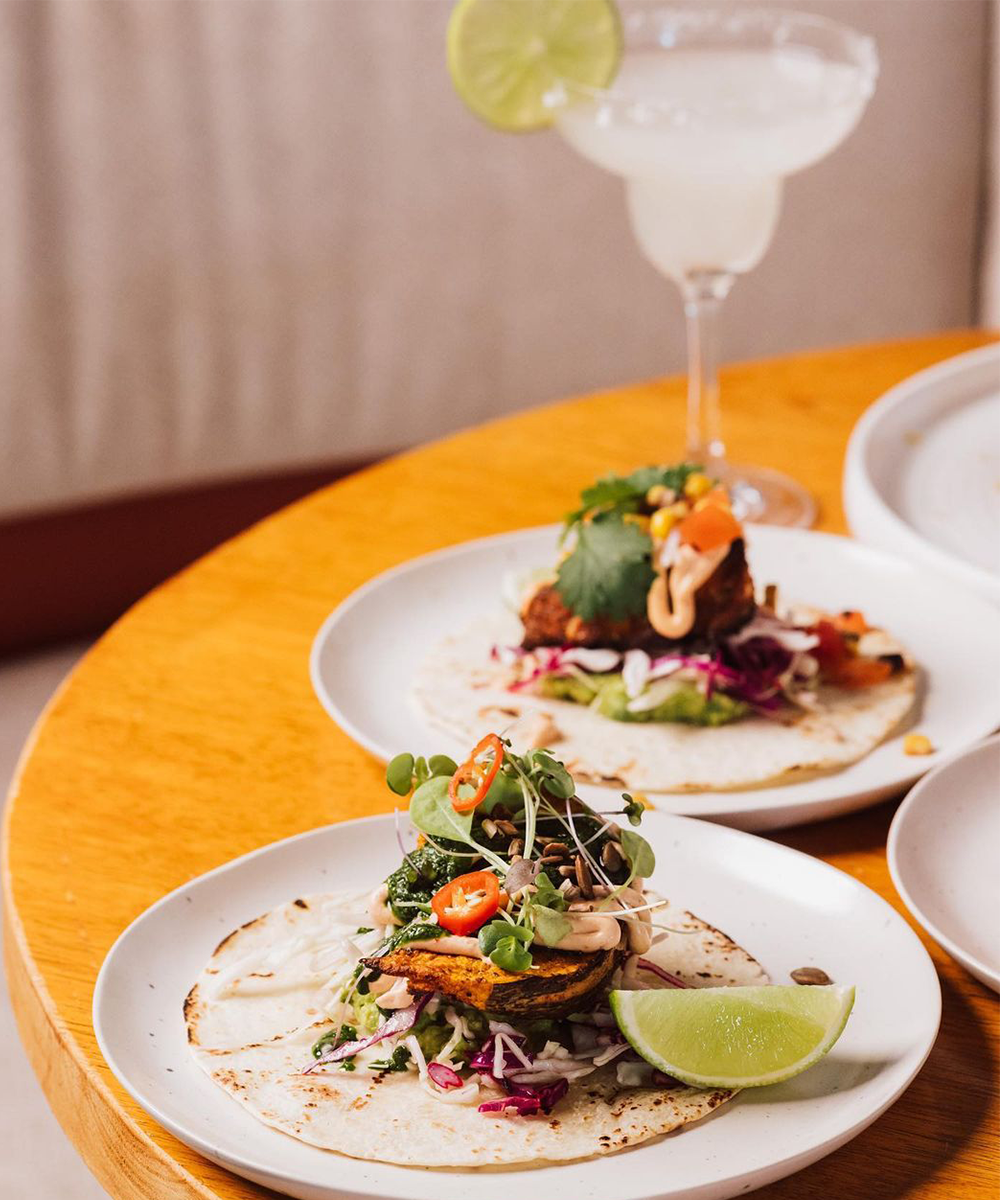 La Diosa Mexicana
Surfers Paradise
Not your average Mexican restaurant, this Circle on Cavill gem is known for its vertical spit-grilled meat tacos known as 'al pastor' tacos, aka Lebanese style. Grab yourself a spit roast taco and head straight to the streets of Mexico City with a side of traditional grilled corn with coriander crema, and maybe some cheeky chorizo and prawn taquitos. A little left of centre you'll find cheesy fries with chipotle mayo and slow cooked beef, and burrito super bowls with fried potatoes. La Diosa, you had us at cheesy fries.
Beach Burrito Company
Coolangatta
The team at Cali-Mex diner Beach Burrito Company have really got their winning formula down pat. Simple and no-fuss food served hot and fresh, with lots of options to suit every diner. Soak up the Californian vibes and enjoy the breeze while you wrap your lips around their famous OG chicken burrito with all the essentials jam packed inside, or even the 'Flying Pig' burrito which features chicken and pork. Vegans will love the pulled jackfruit burrito with smoky tomato salsa. And of course, there are a range of tacos, salads, snacks and slurp-worthy cocktails to choose from. But with a name like Beach Burrito, you've gotta go with a burrito, right?
California Tacos
Burleigh Heads
California Tacos has become Burleigh neighbourhood favourite over the years with its fresh and zingy taco menu including gems such as panko crumbed fish and the ever-popular sauteed cactus. But did you know they're also home to the largest plate of nachos in Australia? At $55 it's definitely one for sharing. You can also load up the same amount of California fries with all sorts of goodness for the same price. And why not wash it all down with a margarita? We personally recommend the Death Valley: Casamigos, triple sec, hibiscus, habanero and lime. Easily one of our favourite Mexican restaurants on the Gold Coast.
Frida Sol
Palm Beach
Frida Sol's entire modern Mexican menu is so tempting that you're probably better off saving yourself the heartache of choosing and just grab yourself a banquet. For $40 per person you'll feast on a selection of seven courses to share including peamole and corn chips, smoky paprika corn, chimichangas, quesadillas, tequila BBQ chicken wings, charred cauliflower salad and a taco. Insane. After something to share? The braised beef empanadas and garlic prawns with toasted tortillas are the bomb. Far too much going on at Frida Sol for just one visit.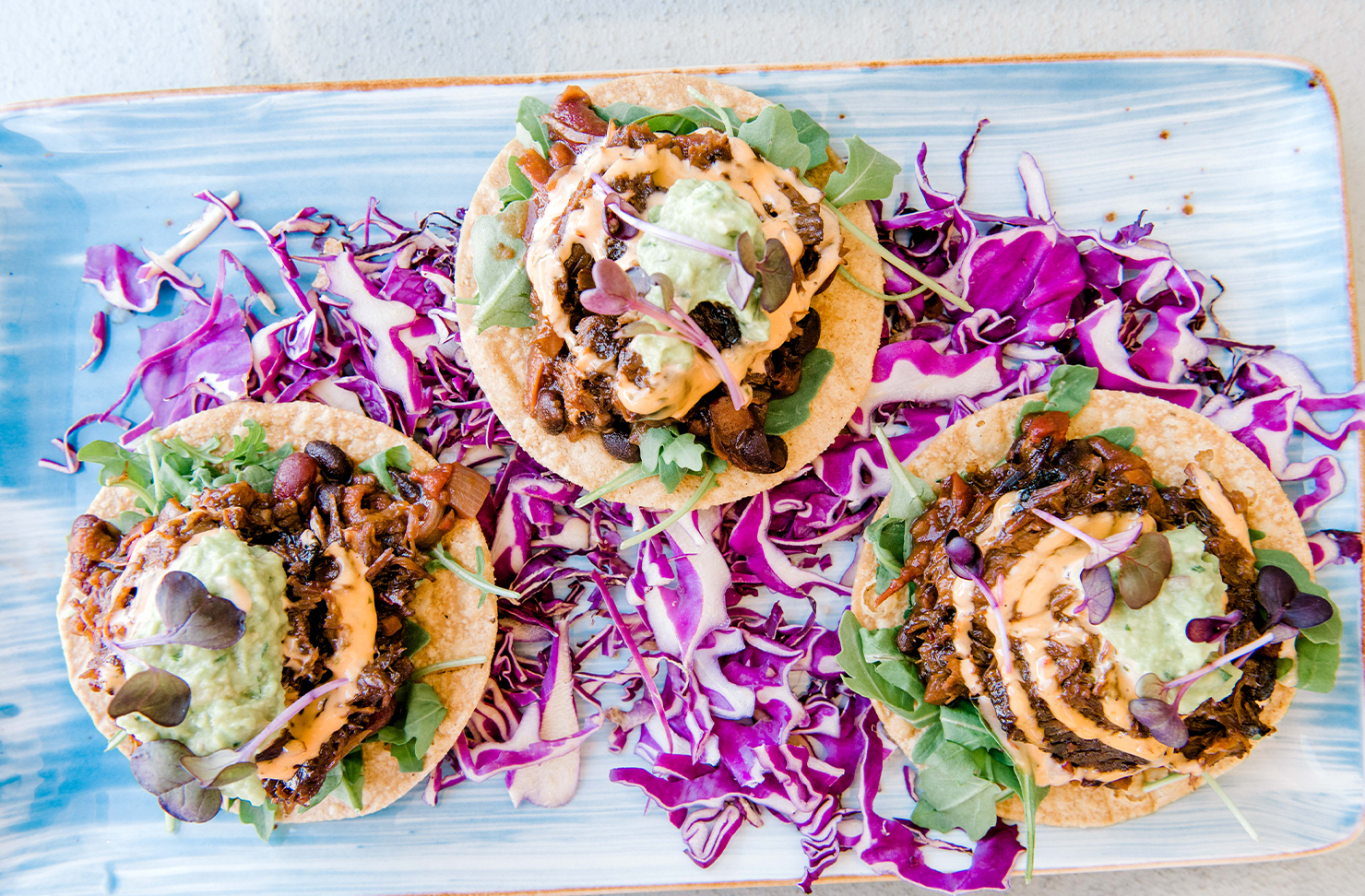 ​Greenhouse Canteen
Miami
Greenhouse Canteen may not be a dedicated Mexican restaurant, but it's a huge favourite with the plant-based foodies on the Gold Coast for its tasty and thoughtfully crafted menu that includes tacos made with a variety of fillings such as nut meat, Cajun jackfruit and cauliflower, as well as a filling jackfruit and 'sour cream' enchilada so full of flavour we promise you will not be missing the meat. Their menu is gluten free, too, so definitely one for our friends with dietary stuff who still enjoy a delicious Mexican dining experience.
El Camino Cantina
Robina & Surfers Paradise
Quick, tasty Tex-Mex that won't empty your wallet, bottomless tortilla chips and a range of fun frozen margaritas. Say hello to El Camino Cantina. For meals out with friends, you can grab an eclectic selection of tacos, from Tex-Mex classics like pulled pork and pineapple slaw to the El Mac, which tastes insanely like a Big Mac. If you're feeling brave, the super loaded nachos are where it's at, positively groaning under the weight of ground beef mince chilli, BBQ brisket, queso, black bean pico de gallo, sour cream, jalapeno and coriander. Just face plant them. You'll be fine.
Lime Mexican Tapas Restaurant & Bar
Surfers Paradise & Coolangatta
From a massive share menu to a dedicated tequila lounge available for private bookings, Lime Mexican Tapas Restaurant & Bar Gold Coast is the perfect place for your next fiesta. Keep the party rolling with platters and jugs of passion fruit margaritas, or even just pop in for a casual bite. The $17 weekday lunch menu includes gourmet beef nachos, generous haloumi tacos and lip-smackingly fresh Mexican table salad from 12pm to 3pm.
HolyJala
Coolangatta
All about chill vibes and tasty eats, HolyJala (pronounced holy-ha-la) in Cooly is the new face of the former southern Greenhouse Canteen and Bar. And hasn't it made its mark on the Gold Coast with a range of specials including two tacos and a beer or wine for $18 on Fridays, Spanish night on Mondays featuring sangria, fresh paella and live tunes, and make-your-own-taco Sundays, at just $20 for four. And we all know what that means—more cash for more margaritas.
Casa Mexicana
Labrador
Casa Mexicana, or Mexican House, in Labrador is all about that sense of authentic home-cooking. Appreciate the low-key atmosphere and welcoming service while you inhale the house dips as an aperitivo—we recommend getting the casa dips choice of three, because good luck picking one out of that lot). The rest of the menu is as comforting as it is delicious. Generous portions and tasty fillings that will fill even the hungriest tummies, just like a lovingly home cooked meal. Oh, and did we mention the loaded potato skins?
If this hasn't quite satisfied your cravings for Mexican, check out the best Taco Tuesday deals on the Gold Coast and devour your bodyweight in Mexican goodness.
Image Credit: Mexicali, Kaitlin Maree Photography for Urban List, Costa Taco & Pablito's