New Zealand—home to endlessly picturesque scenery, Taika Waititi and accents often confused for our own. Also, one of Australia's favourite holiday destinations, and with good reason. It's been a hot minute since Queenslanders hopped on a plane and went on what felt like a proper holiday. But now, with the recently introduced quarantine-free travel bubble between Australia and New Zealand, that dream of safely getting on a plane and escaping the country is once again a reality. From Brisbane Airport, you can now fly internationally with confidence, without the hassle of hotel quarantine and with the knowledge that additional safety measures are in place for you and yours.
Let's be honest, being allowed to exist within a quarantine free travel bubble with New Zealand, shut out from the rest of the world, is kind of like being paired up with your best mate in class back in school—we got pretty lucky.
With Qantas and Air New Zealand flights, Queenslanders can fly directly from Brisbane Airport into Auckland, Queenstown, Christchurch and Wellington. From there, you'll quickly discover travelling across the country is much less time consuming compared to Australia, so we've dropped some recommendations for nearby spots, if not to just stare at the magnificent views on the way.
Whether you're jetting across the ditch for the very first time or rushing home to visit your whanau, we've got your New Zealand trip sorted. From adrenaline-inducing activities and ski slopes to rejuvenating hot pools and day-long road trip ideas—you won't be short of things to do. Wanderlust no longer; it's time to safely hop on a plane and say Kia ora to our Kiwi cousins.
Get Your Adrenaline Fix
There's a very good chance your New Zealand trip is going to include some form of once-in-a-lifetime, adrenaline-inducing, extreme activity. Even if you hadn't intended to, a playful nudge and some high eyebrows from a friend a few days into your holiday is always a high possibility. When it comes to thrill-seeking, look no further than the adventure capital of the world, Queenstown. With direct flights from Brisbane Airport, there are plenty of reasons to visit Queenstown, but you'd be remiss to not indulge in something a little hair-raising while there.
If hurling yourself from unthinkable heights tied only by a rope sounds like your vibe *gulp*, then seek out some of the world's best bungy jumping spots just outside of Queenstown. Drive yourself out to the nearby Kawarau Bridge Bungy, considered the home of bungy, and jump from the OG spot for a frightening water touch of the river below. Or really test your limits by taking the 4WD bus on a scenic route to New Zealand's highest launching spot, Nevis Bungy, standing at a blood-curdling 134m tall with an 8.5-second freefall. The South Island destination is also home to the Shotover Canyon Swing, hurling you off a ledge (choose from 70 different ways to launch) over the iconic Shotover River. Or skydive from 15,000 feet overlooking world-renowned mountain ranges, The Remarkables.
Elsewhere around the country, jump from Auckland's Sky Tower, which at 328m high is the country's tallest building, or sign up for the more chill Sky Walk if you prefer not to willingly test the laws of gravity. Finally, hit Christchurch Adventure Park for ziplining, mountain biking and forest walking trails suitable for all ages.
Rest And Rejuvenate
In between jumping out of planes, overeating food and skiing across half the country, you'll also need some time to relax. At their core, whether at a beach or in the snow, we take holidays to switch off our brains, forget real life, and relax. While New Zealand has mastered the art of going 100 and pushing the limits of human adrenaline–there's also plenty of spots to truly unwind, to come home fresh as a daisy.
If you're not in a hot pool during the New Zealand winter, are you even really relaxing? First on your list should be Queenstown's iconic Onsen Hot Pools. The cliffside, mineral-infused hot baths overlook the magnificent alpine views of the Shotover River and are guaranteed to detox all of life's stresses. Otherwise, check out the restful oasis of The Lost Spring in Whitianga near Auckland to sip on cocktails and swim in 16,000-year-old geothermal mineral water. Or drive 90-minutes north of Christchurch to Hanmer Springs Thermal Pools for New Zealand's largest thermal pools, with spas and waterslides.
Who says rejuvenating can only involve sitting down and closing your eyes? Sometimes recalibrating and finding true peace can come by getting back to nature, and New Zealand's breathtaking, natural scenery is the ideal place to do that. Our pick has to be the South Island's hidden treasure, Milford Sound. Past the gateway town of Te Anau and nestled amongst Fiordland National Park is Milford Sound, filled with overwhelming waterfalls, remote rainforest, deep rivers and sky-high mountains. The area, considered by some as the eighth wonder of the natural world, is a proper step back to an untouched time and a genuine bucket list tick-off. You can witness this beauty by way of a relaxing cruise or a scenic flight, or if you're up for it, via kayaking or hiking.
Finally, because there's nothing quite like sitting down with a view of the sun going down to top off a day of rest, we've rounded up the best spots to watch the sunset in Auckland. That way, you don't waste any time as the end of the day approaches and can calmly stroll to your favourite position.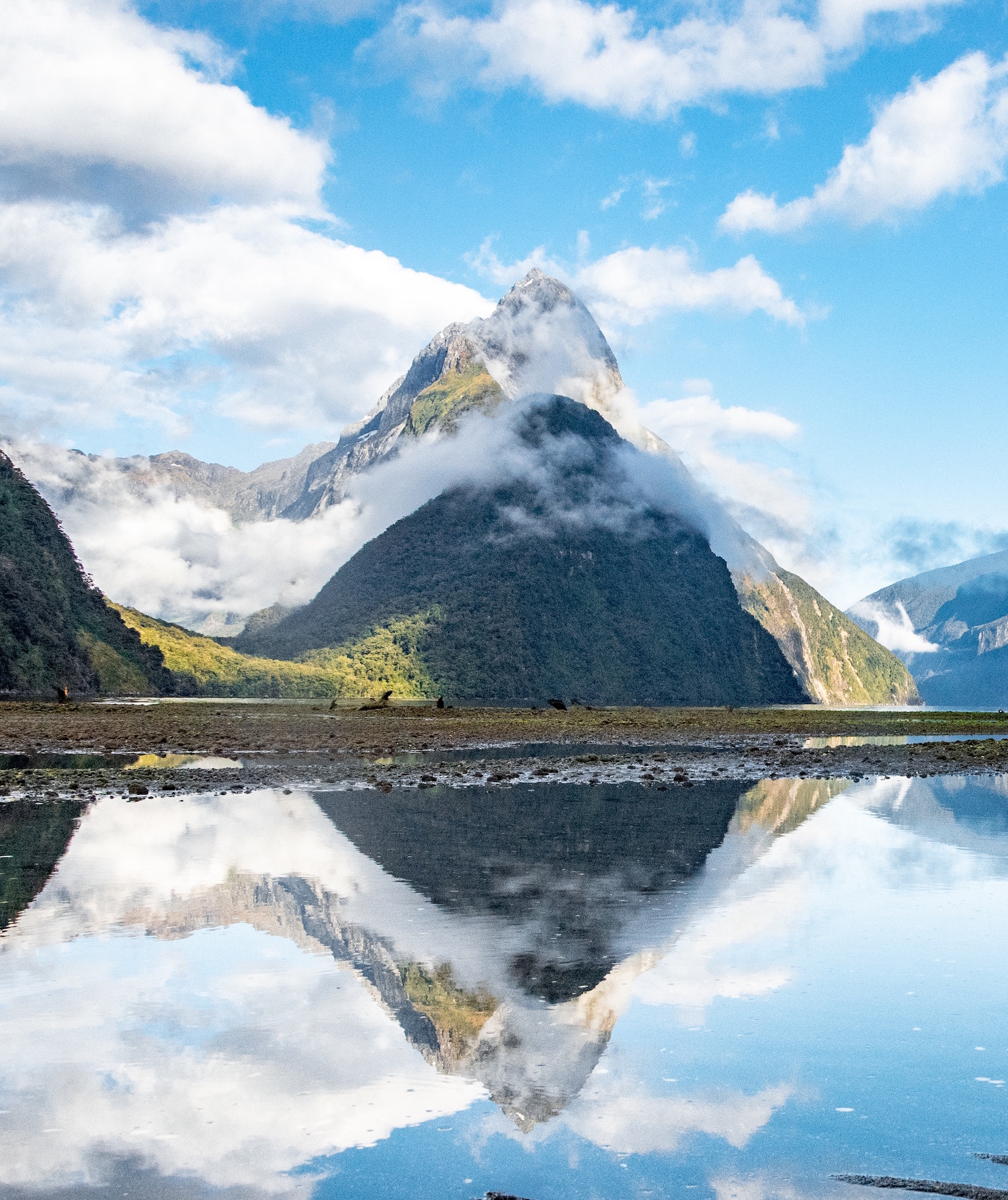 Milford Sound
Eat And Drink To Your Heart's Content
It's commonly accepted that the way we eat and drink on holidays is as different from our regular day-to-day diet as bungy jumping is from going for a morning run. The healthy eating pyramid isn't adhered to as strictly, and a hangover is always taken as a welcome body suggestion but more often ignored. On holidays, things are just different. And with that in mind, there are a few things you should eat and drink while making your way across New Zealand. We'll do our best to run through and cover the whole spectrum of what your holiday stomach might desire.
Let's kick things off in Christchurch. If you love bacon, friendly banter, plenty of fillings, head straight to Bacon Bros for an extensive menu sure to please any hungry traveller. If it's a sweet tooth that needs pleasing, look no further than "New Zealand's favourite cookies" on the way out of town from Cookie Time's original factory shop. Grab a few (hundred) cookies to go if you're road tripping down to Queenstown, where the specialty Cookie Time Bar is offering some highly 'grammable shakes and ice cream combos–for the ultimate showdown between phone and mouth. Well known for its abundant nightlife, there are simply too many places to recommend for a Queenstown night out. From a cocktail with stunning mountain views at Nest Bar & Kitchen to the old town, gastropub vibes of The Ballarat—check out our list of Queenstown's best bar.
Heading further North to Wellington, your first stop should always pay respects to one of the world's best breweries, Garage Project. Creating some of the tastiest, whackiest and most-loved beers globally, Garage Project sits on Wellington's Aro Street and is a must-visit for all. From their Aro Cellar Door, pouring fresh tasters and growlers from the source to their 18-tap-strong taproom across the road giving you a place to sit down for the whole range—expect to spend an entire day. Elsewhere for top hospitality, head to Cuba Street, billed as the 'funkiest street in the funkiest town in New Zealand'. The weird and wonderful street offers some of the city's best cafés, bars, vintage stores, street art, restaurants, live music and people-watching opportunities.
Finally, Auckland has plenty to say in the food and drink game too. Take a ferry and make your way across to Waiheke Island for vineyards, markets, beaches and general holiday-like boujee activities. In town, you simply can't go past Doe Donut's new hot pink storefront in Grey Lynn, pushing out some of the most beautiful and delicious sweet treats in the land. And if colours and flavours impress you, Dr Rudi's lineup of bottomless frozen rose served with a lolly-shop-like garnish wall, aka 'Frosé Your Way', is a must.
Shred The Slopes
From the Sunshine Coast to Bondi Beach, Australia owns all bragging rights for beaches and surfing. But when the earth inevitably orbits and the ski season rolls around, there's nowhere else we'd rather be than across the ditch. We might have missed the European and North American winter seasons, but just a direct flight away are slopes rivalling any across the world in Banff or the French Alpes. Once again, when choosing where to hit the powder slopes, you are the proverbial kid in the candy store. Whether you're a seasoned veteran with all the gear or a keen first-timer bringing nothing but a good attitude, you can find the thrill of skiing at a ton of impressive spots.
If you're willing to make your way to the Central Plateau of the North Island, Mt Ruapehu is a handsome reward. About a four-hour drive north of Wellington and a four-and-half-hour drive south of Auckland sit two of the country's biggest ski resorts–each operating on an active (and skiable) volcano. Amongst the UNESCO dual-World-Heritage Tongariro National Park, Tūroa and Whakapapa both offer more trails of every skill level than you could possibly shred in one holiday. For first-timers wanting to learn the ropes, we recommend Whakapapa's premier beginner facility and slopes at Happy Valley—what could possibly go wrong with a name like that?
On the South Island, Queenstown is once again a hot spot (or cold spot in this case). In between enjoying the city's electric nightlife, head out to Coronet Peak, only 20 minutes from the town centre. The nearby shredder's paradise boasts incredible views and even the chance to ski at night. Slightly further out are The Remarkables slopes, where the name says it all and with trails and courses for all levels. Otherwise, roughly 90-minutes west of Christchurch sits Mount Hutt. With 365 hectares of prime powder ready each year, a ski school, rentals and whatever else you might need in the nearby town of Methven, this is the ultimate winter getaway destination.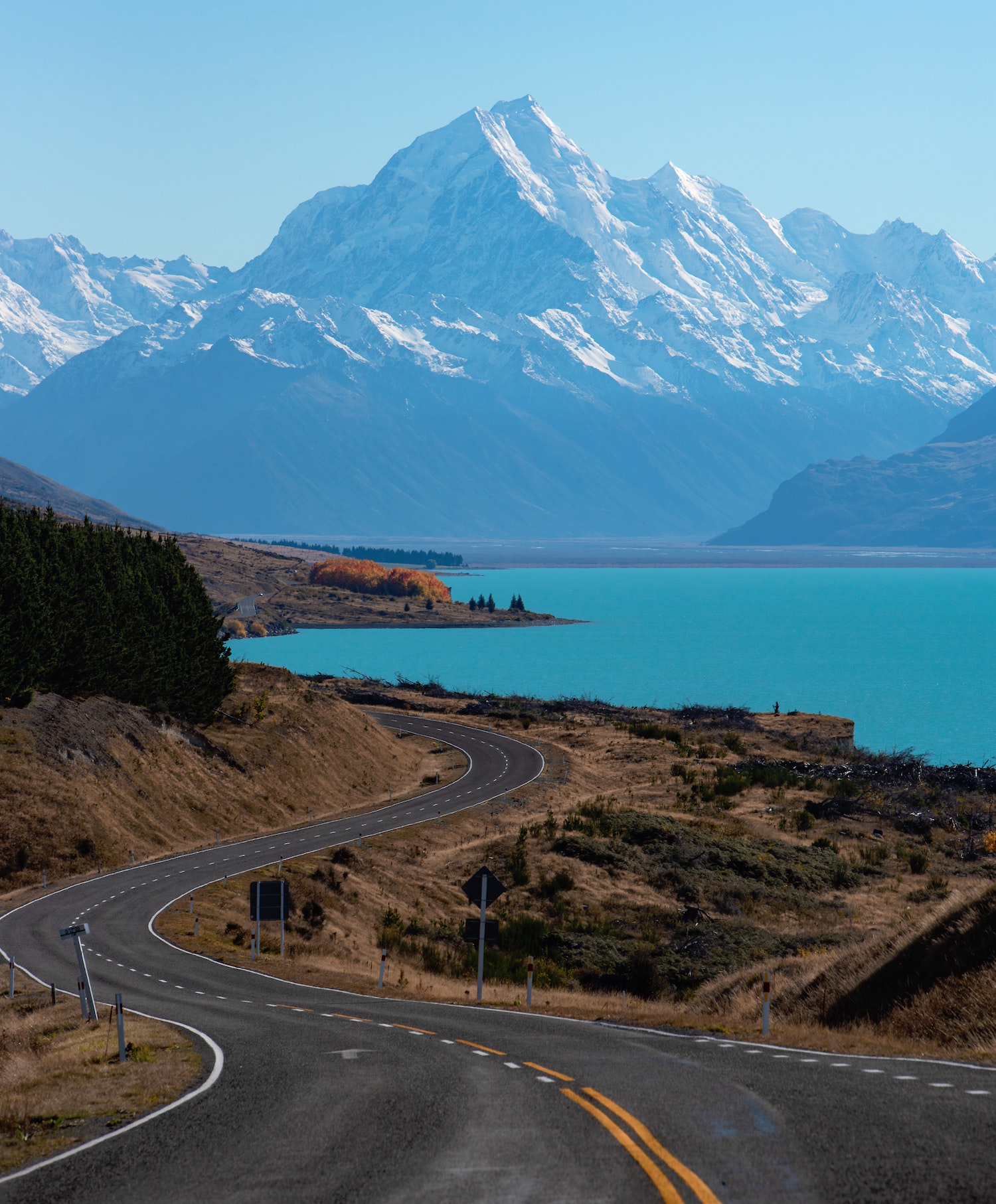 Lake Pukaki
Road Trip
There may be no better way to take in this great country than by hitting the open road. Whether by bike, car, van, truck, caravan or like Hamish & Andy, motorhome—New Zealand is one of the world's best road trip countries to travel. Not only is it reasonably manageable to do thanks to its size, but your time spent in-between places, taking in the sights or finding understated small towns may be more beautiful and exciting than you could have ever imagined. It's about the journey, not the destination–or something prophetic along those lines. Let's be clear, you can hire a car and start driving anywhere for an epic road trip, but if you're looking for some guidance or recommendations, here's a couple of ideas.
A casual north-end trip from Auckland to the Coromandel Peninsula lets you explore plenty of sights along the way. Lock in some beaches, lookouts and native bush as you take all the time you need. Make sure to stop in at the previously mentioned thermal wonder of The Lost Spring, New Chum Beach, hike to the natural wonder of Cathedral Cove or cycle the leisurely and beautiful Hauraki Rail Trail.
For one of the South Island's best and most scenic drives, you can't go past the Southern Scenic Route. Land in Queenstown and hire a vehicle to head south via Invercargill and through to the natural paradise known as the Catlins. There, you'll stop and find spots like Nugget Point, Purakaunui Falls, Cathedral Caves, McLean Falls, Curio Bay and plenty more. Expect numerous secluded beaches, cliff-face lookouts, scenic roads, historic sites, hikes and wildlife.
Finally, if you've got three weeks on your hands and a lifetime of Lord of the Rings fandom under your belt, the Middle-Earth itinerary is your best option. Kicking off in Auckland, you'll drive across both islands and experience the Hobbiton movie set, several specific filming locations and some gorgeous national parks along the way, ending up in Fiordland National Park.
There's a good chance you didn't make it to the end of this article before turning to your partner or texting your mates about booking flights to New Zealand—and we don't blame you. Forget all the cancelled overseas holidays of the past year and give yourself the getaway you wholeheartedly deserve. Queenslanders, Brisbane Airport has got you covered with safe travel, so don't waste any more time and book now!
Image credit: Nest Restaurant (hero), Sebastien Goldberg (Milford Sound), Casey Horner (Lake Pukaki)
Editor's note: This article is sponsored by Brisbane Airport and proudly endorsed by Urban List. Thank you for supporting the sponsors who make Urban List possible. Click here for more information on our editorial policy.