Let's be honest, Mother Nature is one amazing lady. She's the mastermind behind some of life's finest things: beaches, waterfalls, mountains, forests…the list goes on. And, every night, she puts on a stunning display as the sun sinks behind the horizon. It's a spectacular moment that deserves to be savoured.
This is by no means an exhaustive list but to give you some sun-spiration, here are six sunset-friendly places we've found around Auckland.
Piha
First things first, no list of Auckland sunsets would be complete without talking about the much-loved Piha. This is the West Coast at its finest—black sand, rugged coastlines and enormous surf. Pop a picnic rug on the sand or climb the iconic Lion Rock if you dare for a good vantage point of the sun's rays. Pro tip: Be sure to pack a jacket because Piha gets chilly once the sun goes down.
Maungawhau / Mount Eden
There are not many places in the world where you can sit on the banks of a volcano to watch the sun set—but in Auckland, you can. Though there are more than 50 volcanoes to choose from, one of our sunset faves is Maungawhau / Mount Eden. The suburban volcano boasts 360-degree views of the city and beyond. Lay in the arms of your significant other as you watch the sun set over the Waitakere Ranges—romantic much?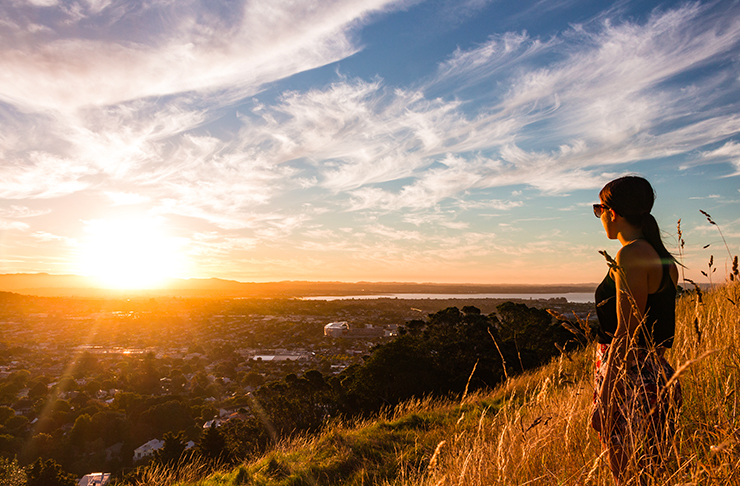 Bastion Point
Overlooking the glistening Waitemata Harbour, you'll find sunset hotspot Bastion Point. From here, you can watch the city's skyline turn into a silhouette as the sun says goodbye for the day. What's more, Bastion Point is just around the corner from Mission Bay so it's the perfect spot for a pre or post-sunset dinner or ice cream.
Maukatia/Maori Bay And/Or Muriwai Beach
Load up the car and set your sights for Muriwai Beach and nearby Maukatia Bay. The gannet colony is the perfect subject matter for budding photographers. Wildlife, surf and dramatic cliffs… talk about being picture perfect. Alternatively, opt to get fish and chips from the local takeaway shop and find a spot on the black sand beach of Muriwai or Maukatia Bay as you watch the sun go down.
Takarunga / Mount Victoria
Another fab volcano to witness a sunset from is Takarunga / Mount Victoria on the North Shore. The grassy banks provide the perfect pozzy to set up a picnic and there's even a few conveniently placed benches looking towards the city skyline. From Mount Vic, you also get a bird's-eye view of the super cute Devonport villas below—total house goals.
Waiheke Island
You haven't seen a sunset until you've witnessed a Waiheke sunset. This oh-so-Instagramable spot is praised for putting on quite the show. Think incredible cloud formations and breathtaking colours of red, violet and everything in between. Find a perch overlooking the island's vineyards and sit back and enjoy—preferably with a glass of vino in hand!
Fancy an early start? Scope out the best places in Auckland to catch the sunrise.
Image credit: Rowan Nicholson and Kellie Blizard