If you're counting calories, we advise looking away now because Doe Donuts have just opened their first ever retail store in Grey Lynn and it's a straight-up sugar fest.
True donut fans will already be well-acquainted with the Doe name. Run by long-time mates, Grace Tauber and Shenine Dube, they've been making a substantial dent in the donut market over the last couple of years thanks to what, until now, has been a solely online operation.
However it was only a matter of time before these drool-worthy creations—which take inspiration from the pair's Pacific Island/Fijian-Indian heritage and come in a range of life-changing flavours—found a home of the more permanent, bricks-and-mortar kind (they have over 17,000 followers on Insta alone!).
Look for the hot pink storefront at 356 Great North Road (not to mention the constant stream of fellow donut fans), and you'll know you've arrived. The fit-out—designed by Gerrick Numan and the crew at hospo interior firm, Millé—is just as sweet, featuring a covetable coffee machine the same shade as the exterior and an insanely cool mural by the girls' good friend, graffiti artist Haser.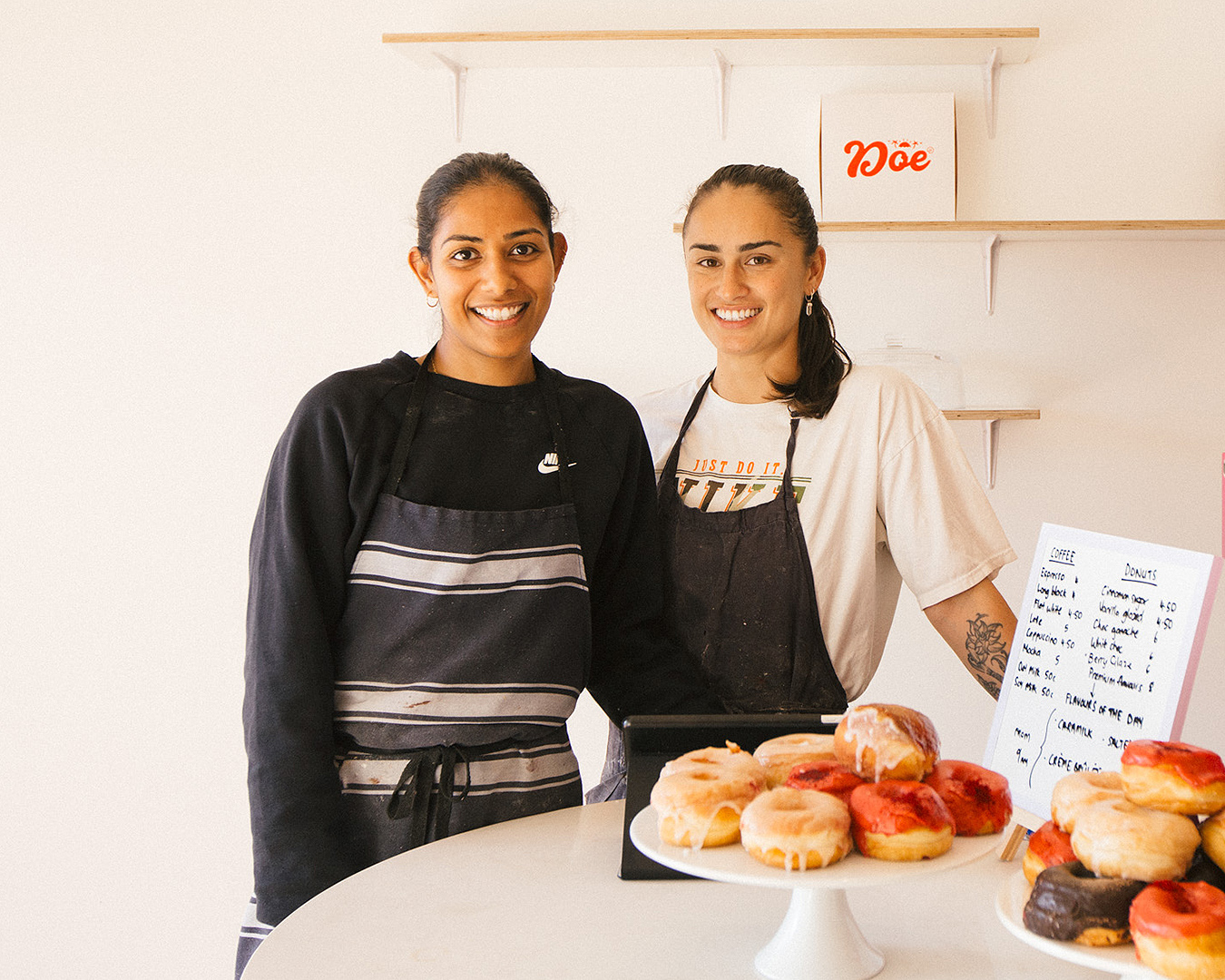 The donuts themselves need no introduction, unless of course you've yet to try one (and in which case, we're trying our very best not to judge). These fluffy, perfectly fried treats are some of Auckland's absolute best and come in a slew of filled and holey variations that will keep the sweet tooths amongst you well and truly satisfied. Slathered in glaze, pumped full of lush fillings and topped with all manner of edible goodies, you'll need to exercise every ounce of self control you have not to reach across the counter and grab one straight off the baking tray.
You'll find six different options up for grabs each day, with flavours rotating weekly (there's around 40 of them on the menu in total). Rest assured there's not a bad choice amongst them, and it's probably just as well we don't have access to the full spread every day because then we'd probably need a second job (and a second personal trainer).
We're never ones to shy away from the sweet stuff, so Doe's candy bar creations are some of our faves—because surely the only thing better than a Pinky Bar or a block of Caramilk is a donut that tastes like one.
On that note, we're also rather partial to their wonderfully sugary coconut ice, fairy bread and lolly cake inventions, which are just like the sweet treats of your childhood, only bigger, better, and a whole lot bloody tastier (sorry Mum).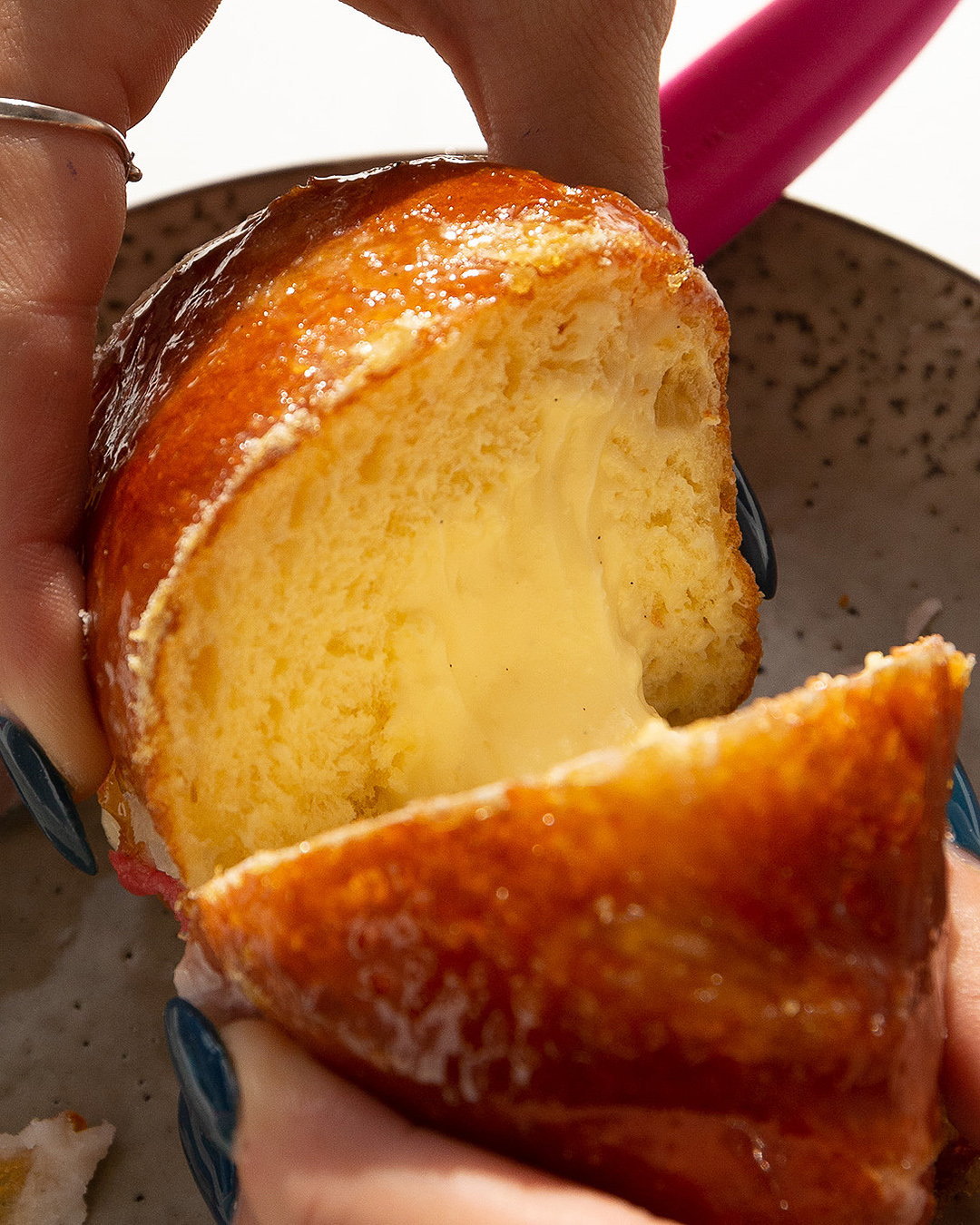 However if you're looking for something a lil' less kiddo's birthday party, you can't go wrong with their crème brûlée number. Just like the famous French dessert, this one has an irresistible burnt-sugar shell just begging to be cracked, and a delicate vanilla crème patisserie filling (oh la la).
Or if fruity flavours are more your jam, don't miss their popular berry glazed offering. As the name suggests, this one packs a serious berry hit thanks to its gorgeous three-berry glaze topped with a smattering of freeze-dried raspberries.
Finally, don't forget to keep an eye out for Doe's epic seasonal donuts, which most recently included an Anzac Day creation topped with a whole homemade Anzac biccie. We can only imagine how insane their Halloween and Christmas-time treats are.
So do your donut duty, and make a trip to the sweetest new spot in town. It's called Doe Donuts, and it's seriously good news for your stomach (just maybe not your diet).
For more images and information, including opening times, click here.
Image credit: Wono Kim