Nothing makes us happier than a bundle of freshly cooked fish and chips—best consumed overlooking the beach or, let's be honest, anywhere on our beautiful Gold Coast.
We've rounded up 13 of the best fish and chip shops on the Gold Coast in 2023, because life is too short to eat bad takeout.
Nobby's Fisho
Nobby Beach
If the brightly coloured blue and white striped umbrellas don't draw you in, the smell of the freshly cooked fish and chips certainly will. Welcome to Nobby's Fisho, located in the bustling heart of Nobby's Beach, which slings up some of the best fish and chips we've had the pleasure of devouring. Nobby's Fisho is all about putting a healthy (and delicious) twist on the classics and also slings up an array of burgers and hot chooks, so everyone is catered for.
The Jolly Roger
Miami
Stop the search for one of the Gold Coast's best and fish joints—The Jolly Roger is ticking all the boxes as one of our favourite spots around. This iconic Miami spot really ups the game with their addictive combo and value packs, Thai fish cakes and wide array of drool-worthy burgers. For all our keto friends out there, they offer keto prawns, fish and zucchini chips, as well as vegan 'tofish' for plant-based peeps.
Hunky Dory Fish & Chips
Palm Beach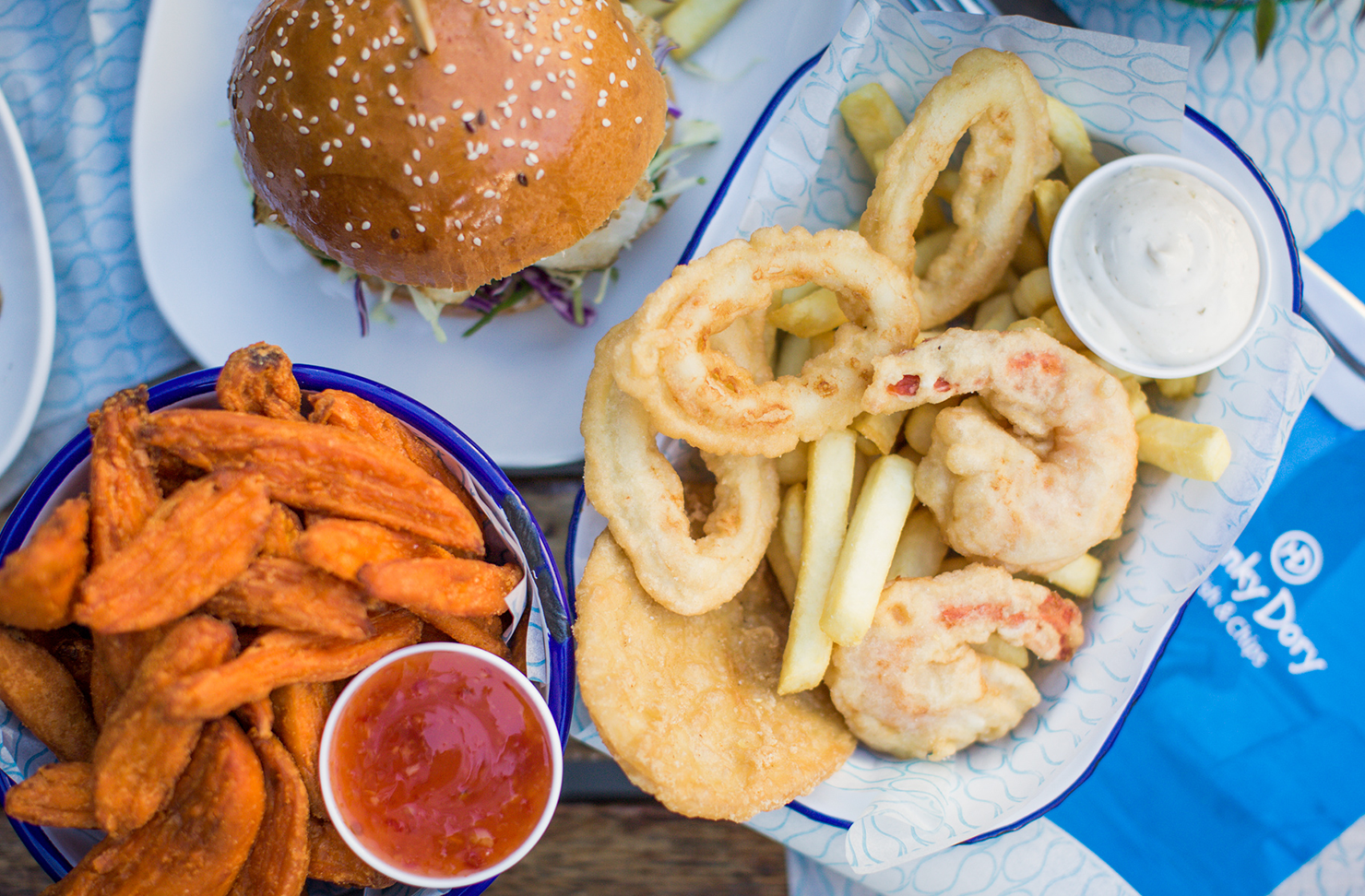 You didn't really think we could write an article about the Gold Coast's best fish and chips without including Hunky Dory, did you? Inspired by almost 90 years of fishing on the Greek Islands, Hunky Dory was first established in 2004 as a family business and has garnered a loyal following since then. With a key focus on fresh, quality ingredients, Hunky Dory has firmly established itself as an institution in the heart of Palm Beach, and for many delicious reasons. If you're looking for the Gold Coast's best fish and chips packs (and crispiest potato scallops!) you need to pay a visit to Hunky Dory ASAP.
Fishmongers
Burleigh Heads
Old school and adorned with retro surfboards and sea creatures, Fishmongers is a well-loved GC staple that has been keeping the Burleigh beach goers happy since 1948. They have everything you could possibly want on a fish and chips menu and you can have it your way whether you want your fish battered, crumbed or grilled, a fresh salad on the side, to take away or dine in with a bottle of wine. For a place to be around for 70 years, it's a good sign they know what they're doing. The perfect Sunday arvo is taking your paper bag to Burleigh Hill and soaking in a place reminiscent of paradise.
Two Wise Fish
Mermaid Waters
Three generations of fish and chip connoisseurs run the helm at Two Wise Fish. It's traditional meets modern with a tasty menu of seafood and a few burgers in the mix for good measure. If you can't decide, opt for one of their packs; with different combinations of all the favourites including calamari, panko crumbed prawn cutlets, fish and scallops with a scoop of chips. Gone are the days of the greasy floored, non air-conditioned fish and chip joints, this place is perfect to pull up a pew and, holy mackerel, they even offer BYO so you can take your bevvie and drink it too.
Sorrento Seafoods
Bundall
With over 30 years' experience tucked under their belts, the team at Sorrento Seafoods certainly know what they're doing. Operating since 1981, everything is cooked fresh from scratch on premises and they place an emphasis on creating healthier, flavoursome alternatives to fast food. Sorrento Seafoods is open seven days a week and slings up banger fish and chips and burgers.
The Fish Shak
Broadwater Parklands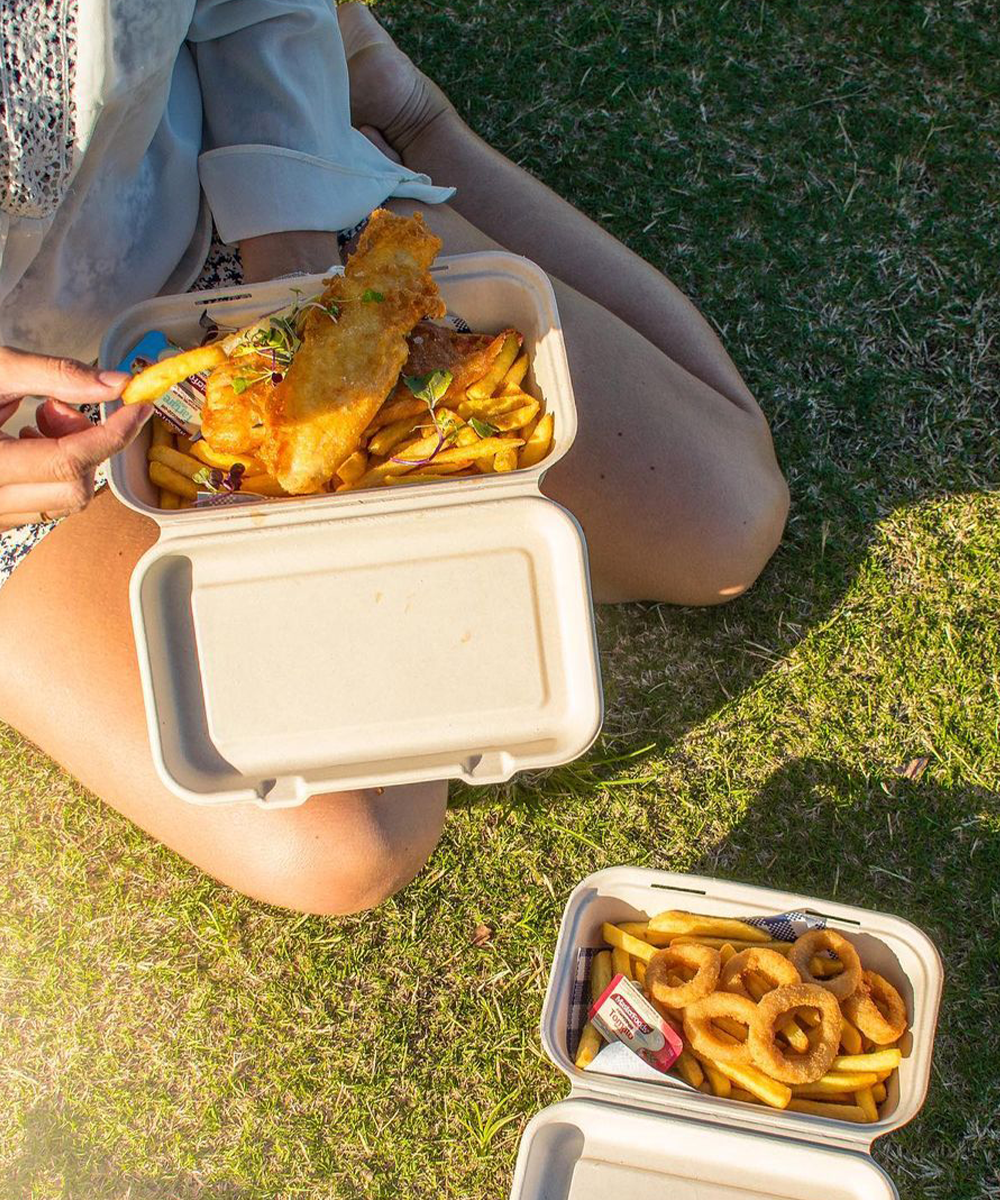 The Fish Shak has a simple motto of 'fresh seafood, done right' because they know not to change a good thing. We dig it. This Broadwater Parklands based fish and chip joint overlooks the stunning Broadwater and is in a prime position to grab your feed and settle down on the sprawling lawn. They serve up an array of fish and chip combo packs, burgers, tacos and even oysters for just $1.50 each during their daily Happy Hour from 3pm to 5pm.
Red Hot Cod
Burleigh Heads
If you're keen to find the best fish and chips on the Gold Coast, then jump in the car and head to Red Hot Cod in Burleigh Heads. Here, you'll find pretty much every type of fish and they do a cheeky $5 lunch special seven days a week. If you're not a superfan of seafood, there are loads on their menu for you too, with superfood bowls, poke bowls, burgers and their original red hot wok menu among our favourites. Located along Burleigh's popular Gold Coast Highway foodie strip, grab your order and then scout out a prime position on Burleigh Hill, just a short walk away.
Millie Weirs Fish & Chippery
Paradise Point
A godsend for our Northern friends, Millie Weirs Fish & Chippery has been ranked in the top three best fish and chip shops on the Gold Coast in 2020 and 2021, and for good reason. This gourmet fish and chippery has a focus on healthy options, and all their fish and calamari is crumbed and battered to order, so you know you're getting only the crispiest and freshest goods. Plus, most of the menu can be made gluten- and dairy-free. We recommend ordering their famous 'Fisherman's Catch' basket, wandering across to the Paradise Point Esplanade and watching the sunset over the water. Bliss.
Charis Seafoods
Labrador
Undoubtedly one of the first names that come to mind when you think of Gold Coast fish and chips, Charis Seafoods is one of the busiest fish and chip shops around. They have one of the largest selections of cooked and fresh seafood on the Gold Coast and lush Broadwater views. It can can very rushed during the weekend and the evenings, so we recommend avoiding peak times.
Peter's Fish Market
Main Beach
One of the Gold Coast fish'n'chippie classics, Peter's Fish Market has a loyal fish-loving following for good reason. You can choose from 14 species of fish and other seafood straight from the ice, plus their fish and chips taste even better with stunning views of the Broadwater.
The Inky Squid
Terranora
Located near the entrance of the stunning Tweed Valley is your one-stop gourmet fish and chip shop where you can enjoy a meal, grab some takeaway or simply purchase some fresh seafood for your next soiree. The dedicated team puts their own creative spin on old classics using bold flavours, fresh ingredients and of course, local produce. Grab some BYO to enjoy alongside the fried Byron Bay haloumi and homemade potato scallops, while dessert is easily the pineapple fritter. We won't judge if you get both. Hands down, one of the best fish and chip shops around.
Selfish
Tweed Heads
Selfish certainly isn't selfish, sharing their beautifully cooked, fresh fish and chips to the masses from their Wharf Street location in Tweed Heads. Voted the best fish and chips on the Tweed, Selfish has a lovely, salty breeze with plenty of opportunity to see the sea and plonk down by the trees. The focus is on food cooked to order—nothing pre-battered or pre-crumbed and they even have gluten-free options. If you don't feel like fish, fear not as there are nine different burger options on the menu.
Looking for the perfect spot to devour your freshly cooked fish and chips? Lay down a picnic blanket at the Gold Coast's prettiest beaches and soak up the views.
Image credit: Nobby's Fisho, Hunky Dory Fish & Chips & The Fish Shak