The working week is nearly over and Friday night drinks have never looked so good. But before you take your first sip we want to let you know what's happening this weekend in Melbourne. There'll be pina colada dedicated parties; markets to die for and winter festivals that'll perhaps make you forget the freezing temps.
We are here to restore your faith in having fun this winter, so as always check out our perfect list of things to do this weekend in Melbourne.
Friday 7 July
Pork and Pinot at Circa, The Prince
This exclusive dining event is going to be delish. Circa, The Prince are taking it back to basics and producing a quality dining experience of Pork and Pinot. Circa's head chef Shaun Haggarty is putting on a four course pork extravaganza that will be complimented by some of Victoria's finest winemakers. This one will be the perfect belly warmer for those winter chills.
Where: Circa, The Prince
When: 7pm July 7
For more information, click here.
Saturday 8 July
Phillip Island Design Market
Yet another market for us to indulge in and we certainly aren't complaining. The Phillip Island Design Market is making your Saturday morning a little brighter with an amazing selection of homewares, health foods, art, fashion, jewellery and lifestyle products. You also won't need to worry about fighting the morning market frost as this little beauty is all indoors.
Where: YMCA Leisure Centre, 10-14 Church St, Cowes
When: 9an-2pm July 8
For more information, click here.
Manchester Unity Building Tours
The weekend should be for indulging and that is why you need check out this amazing dining and tour experience in one of Melbourne's most prestigious art deco buildings. The Manchester Unity Building is open for exploring and your experience will include dinner in the 1932 café alongside a formal 1-hour tour of the iconic building. A little bit of history paired with great food, you really can't go wrong.
Where: Manchester Unity Building, corner of Collins and Swanston St
When: 12.15pm-2.30pm or 2.00-4.15pm, July 9
For more information, click here.
Queen Vic Ultimate Food Tour
Do you have a keen eye for great quality food? If so, you need to grab a ticket to the Queen Vic Ultimate Foodie Tour. The 90-minute experience will feature a guided tour through heritage listed market food halls whilst meeting some of the best market traders in the business. The menu will include speciality cheeses, handmade pasta and hot jam doughnuts, just to name a few. So go on and learn the stories of our great Vic market and indulge in some great tasting food. Tickets are selling fast, so get in ASAP.
Where: Queen Vic Market
When: 9am or 11am, July 8
For more information, click here.
Simon Schulz from Schulz Diary
Dairy products have made some of the most delicious things in the world. So take a little time this weekend to learn about Schulz Dairy and why high-quality milk is important. You will get the chance to meet and talk with a local dairy farmer alongside a 4-hour cooking workshop using local ingredients. There will also be take-home recipes and ethical eating tips for everyone.
Where: CERES Community Kitchen, Brunswick East
When: 11am-3pm July 8
For more information, click here.
Sunday 9 July
Boho Luxe Market
Federation Square is going to be filled with bohemian goodness this weekend. The vibes of the bay are heading to Melbourne and The Boho Luxe Market is bringing you some of the best Australian bohemian products. There carefully curated line-up of quality products will feature everything from jewellery, fashion, kids products and homewares. This unique shopping experience is sure to impress so get along for a dream catcher or 5.
Where: Federation Square, 2 Swanston Street
When: 10am-5pm July 9
For more information, click here.
National Pina Colada Day At Hana
If you like Pina Coladas and getting caught in the rain.. dah dah. No but seriously if you do like Pina Coladas then this one is for you. Melbourne's Hawaiian wonderland Hana is putting on a fiesta of Pina Coladas to celebrate National Pina Colada Day. They'll be serving up there signature supersized Hana Colada (Jamaican rum, aged rum, fresh coconut, fresh pineapple juice and lime) on arrival and you'll even get your very own lei also. Go emerge yourself in the ultimate Pina Colada festival and pretend you're on vacay as you sip from pineapple.
Where: 212 Little Collins Street
When: 1pm-5pm, Sunday July 9
For more information, click here.
Truffle and Charcuterie Celebration
The local truffle season is here and it's time to celebrate at Prahran market. This truffle celebration is a little different and will be paired with the market's range of charcuterie and small goods. This one-day celebration will feature truffly goodness and local cured and imported charcuterie. It's seriously all going on at Prahran Market this weekend so don't miss out.
Where: Prahran Market
When: 10am-4pm, Sunday July 9
For more information, click here.
All Weekend
Port Fairy Winter Weekend
Port Fairy has been going off every weekend since the start of June and this weekend is no exception. If you haven't got down to Port Fairy for one of their exceptional winter weekends then now is your chance. This weekend is looking like there'll be some hot pizza and groovy jazz, sunrise photography workshops and a mini aussie film festival. All of those sound pretty sweet to us, so get your thickest thermals and signature Kathmandu and head on down.
Where: Several Venues, Port Fairy
When: Varying Times, July7-9
For more information, click here.
Ballarat Winter Festival
Ballarat doing more good things this weekend as they head into their second weekend of wintery fun. The Ballarat Winter Festival has an impressive lineup of things to do this weekend and it might even make you forget about the cold. There'll be ice-skating, penguin exhibitions, knights of fire performances and a giant slide. Alongside many other activities, we are certain you'll find your match with fun this weekend in Ballarat.
Where: Various Venues around Ballarat
When: Varying Times, July 7-9
For more information, click here.
The Melbourne Magic Festival
The Melbourne Magic Festival is back for its tenth year running with bigger and better tricks. You can watch the pro's at their amazing art or be the real life Harry Potter at magic school lessons. This weekend of magic is filled with Australian and International magicians so prepare to be blown away.
Where: Northcote Town Hall- main venue, other varying venues
When: Varying Times, July 7-9
For more information, click here.
Fashion Warehouse Sale
Melbourne warehouses are constantly home to amazing things and this weekend is no exception. SASS, Betty Basics and Fate+Becker are coming together this weekend to bring you an epic warehouse sale. It's going to be packed full of summer and winter styles, basics and samples. Fresh stock will be arriving daily so you mise well make a whole weekend out of it.
Where: 100 Rupert Street, Collingwood
When: 11am-7pm July 6, 11am-6pm, July 7, 10am-4pm July 8, 10am-2pm, July 9
For more information, click here.
Lego City At Docklands
Lego City has arrived at Docklands and it's time to transport back to feeling 10 again. There will be height building Lego challenges, free build zones, photo opportunities and spectacular lego statues. Stop pretending your inner child isn't dying to see this place and go check out what lego dreams are made of (I am assuming Lego).
Where: Harbour Town, Melbourne
When: 12pm-4pm, July 7-9
For more information, click here.
Every Brilliant Eye Exhibition at NGV
If you want to experience serious 90's vibes, then you need to check out the Every Brilliant Eye Exhibition at NGV. There is going to be over 100 works of art from the NGV collection that will represent all things 90's. Every Brilliant Eye is going to explore Australian art from the 90's and features an insane room dedicated to the 90's club culture. Forget the clubs of 2017 this weekend and go reminisce the good old days.
Where: Ian Potter Centre, NGV
When: July 7-9
For more information, click here.

Don't Miss
American Honey Pop-Up At Campari House
If you're all about the American honey, then you'll be all over the pop-up that's happening at Campari House this month. As expected, they'll be serving up some of their best mixed drinks, like the American Honey dry and lime and this Friday, they've gone all out with live blues bands and DJs spinning vinyl all night. This is the ideal Friday situation, so definitely head down.
When: Friday 7 – Friday 28 July, 6pm – 10pm
Where: Campari House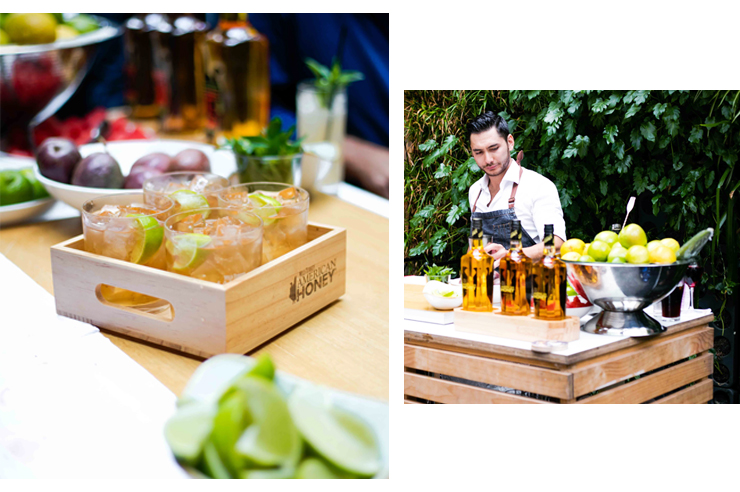 Editor's note: American Honey's event is proudly sponsored by Campari and endorsed by The Urban List. Thank you for supporting the sponsors who make The Urban List possible. Click here for more information on our editorial policy.
Image credit: