In a time where remote working is all the rage, it can be easy to get swept up into the lofty wanderlust of working from far away tropical islands, introducing yourself to locals as a digital nomad and posting heavily on the gram. As tempting as that can be, it's a lot. If there's a silver lining to the pandemic it's that we now can choose where we work, the environments we live in, and how we knock out the 8-9 hours on the clock each day.
That's where Airbnb's new feature, short term stays come in; if you're sick of your same four walls (aren't we all) you can opt for an escape to the seaside, tree side, and even mountainside and still be within a short drive back to HQ. If you feel like shifting things up for a week, a month or more check out some of the best short-term stays in Victoria:
Oliver's House Daylesford
DAYLESFORD
Let's begin with a quaint farm-style tree change. If you're stuck in the concrete and brick heavy surroundings of inner-city Melbourne perhaps parking up in the leafy bush-dense region of Daylesford is just what you need. Oliver's House is a lovingly restored cottage and is the perfect escape option, with vistas of the hanging tree-lined property while you knock out a couple emails, coffee in hand. The house is stacked with everything you need including WiFi, a fireplace, outdoor pool table, pizza oven, bathtub and more.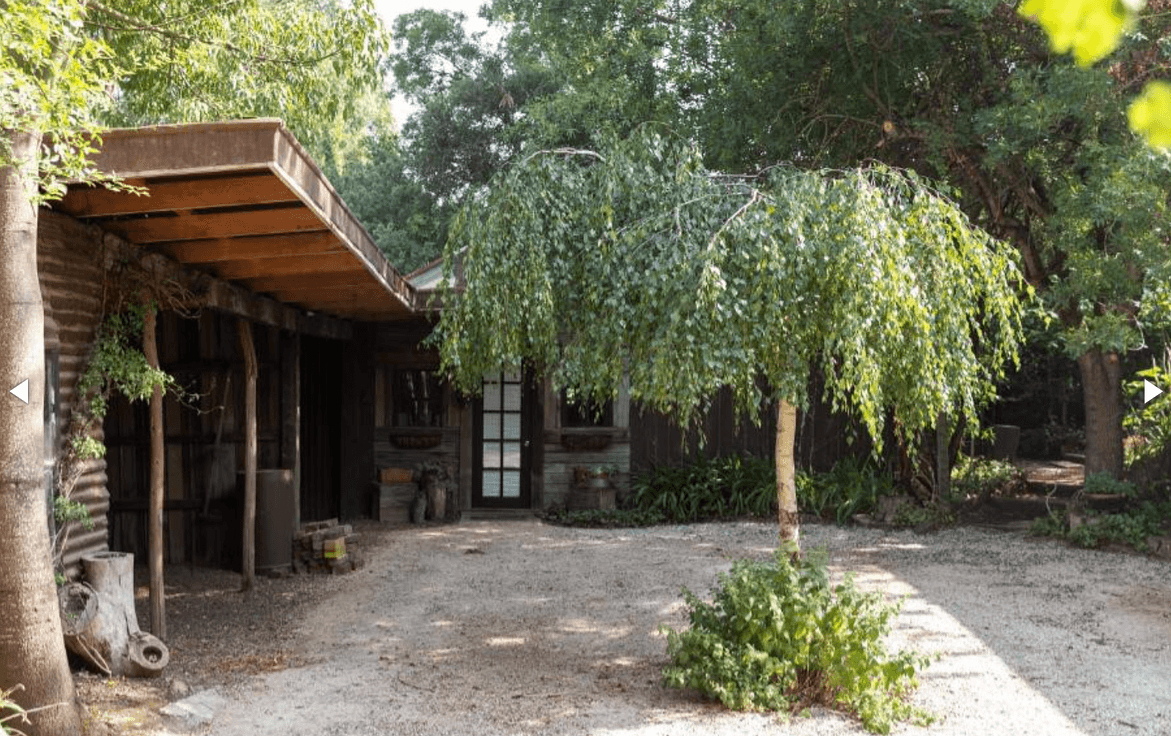 Penthouse Palazzo
FITZROY
Okay maybe you still need to remain in town, why not level up your lodgings to this impeccably laid out Fitzroy Penthouse. The apartment features long white-walled open spaces with an island kitchen, a breezy outdoor dining area with trees dangling above and a lounge room straight out of a design book. One of the best short-term stays on Airbnb the minimalist-style fit-out of the Penthouse Palazzo features a hanging fireplace, floating shelves lined with books, and a collection of modern-design furniture—perfect for sinking into after a hard day's work.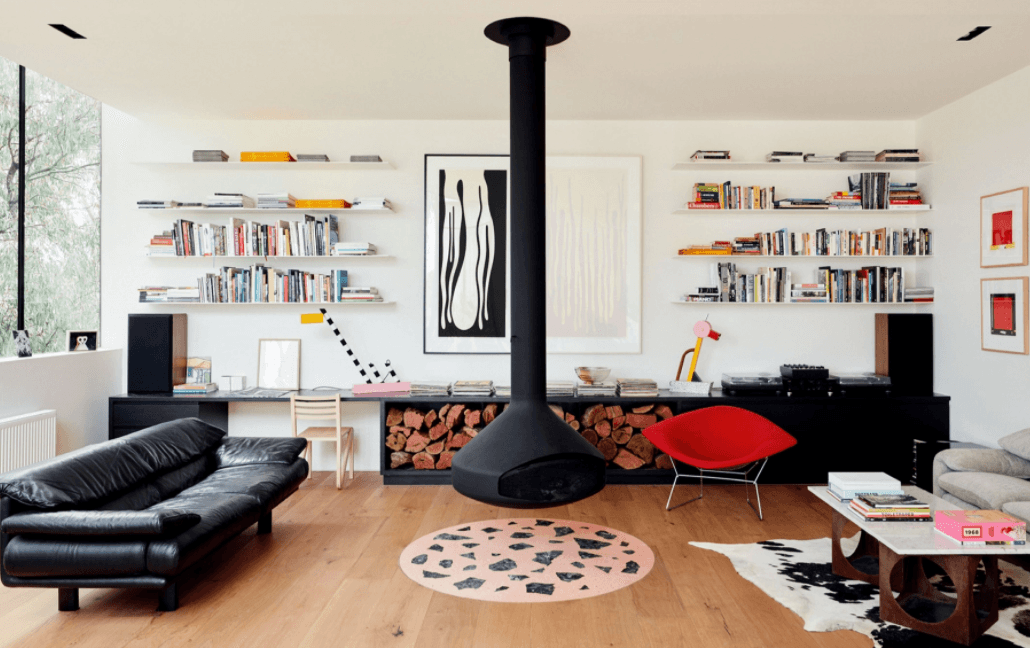 Orto Two
BLAMPIED
One for truly getting off the grid, this rustic-style eco-cottage is located in Blampied just over 10 minutes from Hepburn Springs and around 1.5 hours from the CBD. Set on Village Dreaming, a regenerative permaculture farm and cooking school, you can try your hand at sourdough baking, fermenting, preserving even soap making and charcuterie. The worn weatherboard farm-stay features sprawling morning views of the property and Mount Franklin, in the distance inside it's adorned with mid-century furniture and a colour coordinated combination of decorative ceramics, rugs, and glassware.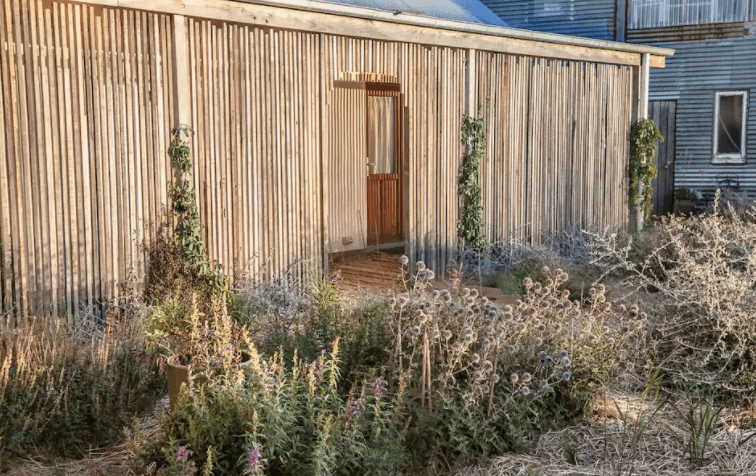 Treehouse Retreat
ANGLESEA
An absolute stunner on the Bellarine Peninsula, this treehouse retreat offers up all the joy of coastal living with some of Victoria's most famous beaches and the Great Ocean Road at your doorstep. The house's wide windows look out onto the elder trees that surround the property which is typically brimming with local wildlife. The house has an extremely tranquil feel yet is only five minutes from the town, giving you options to live the best of both lives.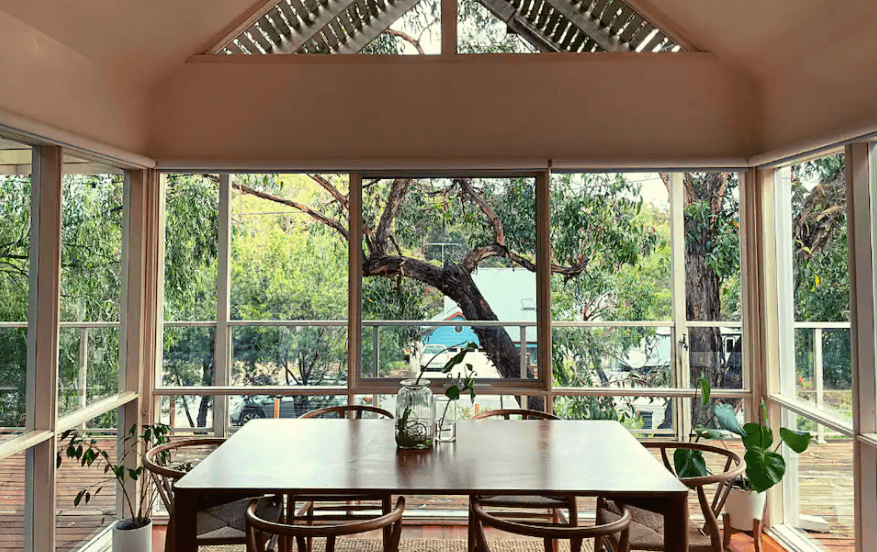 Dromana Beach Apartment
DROMANA
To live by the seaside and just under an hour drive to the city—living the dream. If you're big on being coastal but still have to the occasional trip into the office then this beachside stay is for you. Giving off cracking vistas of the bay and with a rooftop pool on top there's plenty to like; you'll also be a smack bang in the centre of the Mornington Peninsula with beaches, wineries, and more all at your fingertips.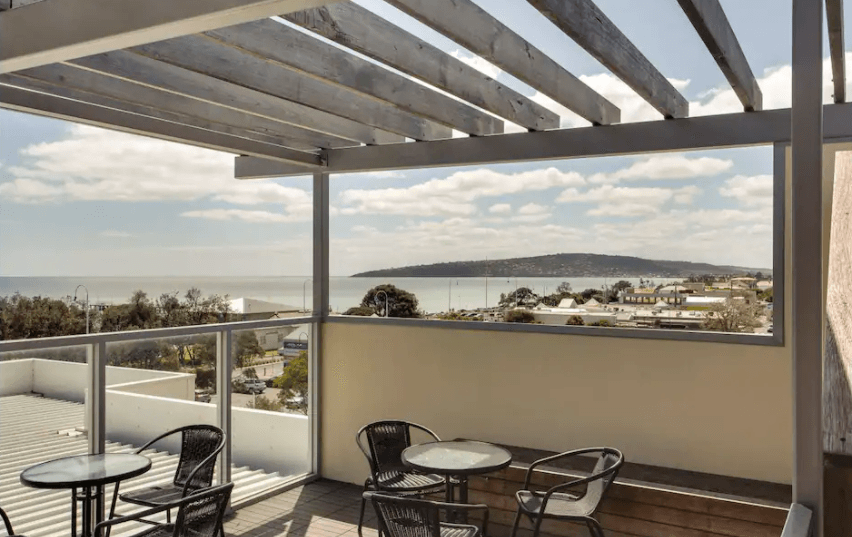 Looking to lock in a romantic getaway for Valentine's Day? Check out some of Victoria's dreamiest stays here.
Image credit: supplied (Airbnb)
Editor's note: Urban List editors independently select and write about stuff we love and think you'll like too. Urban List has affiliate partnerships, so we get revenue from your purchase.