Welcome to The Run Up, a celebration of all the reasons we run. We've linked up with Brooks to create this destination where we unearth the journey of some of the country's most passionate runners, and to inspire you to get off the starting line—everyone's running journey begins somewhere.
It's mind-boggling to learn that George Wintle only picked up running in mid-2021 when he went for a casual trot with his housemate at the time. It's even more mind-boggling to learn that he's trained for and run four marathons in the year and a bit since—all while fulfilling his duties as Sous Chef at famed Melbourne restaurant, Attica.
At first glance, it's hard to see how one person has space for two such intense passions. Then you look closer and the parallels start to reveal themselves. Since appearing on Junior Masterchef at age 13, Wintle has spent eleven years finessing his culinary skills—but not for himself. He cooks to bring people together, to make people happy.
This sense of community and joy shines through when he talks about his running journey. The parallels between his personal and professional life aligned perfectly with the founding of Ate Miles, a run club bringing fellow hospitality workers (and runners) together.
From community and structure, to how life has changed in the whirlwind eighteen months since that first run, we chat with Wintle about his run up into a new passion.
Tell us about your running journey to date. Were you swift off the starting line or did it take a bit of a run-up to get to where you are?
I've only been running since last August, I think. There was another chef friend who was running and I was like 'you're so much older than me, you should not be running that quick!' so it was just my competitive nature to try and beat him. I did the Melbourne Half Marathon last year and that whole thing was so much fun. The atmosphere on the day was really cool.

After the first Melbourne half marathon I set myself a goal of doing a marathon in Canberra and after that just thought why don't I do three marathons this year? So I did the Gold Coast marathon, as well, and then the Melbourne marathon again this year too. Now I'm actually just having a bit of a break which is nice.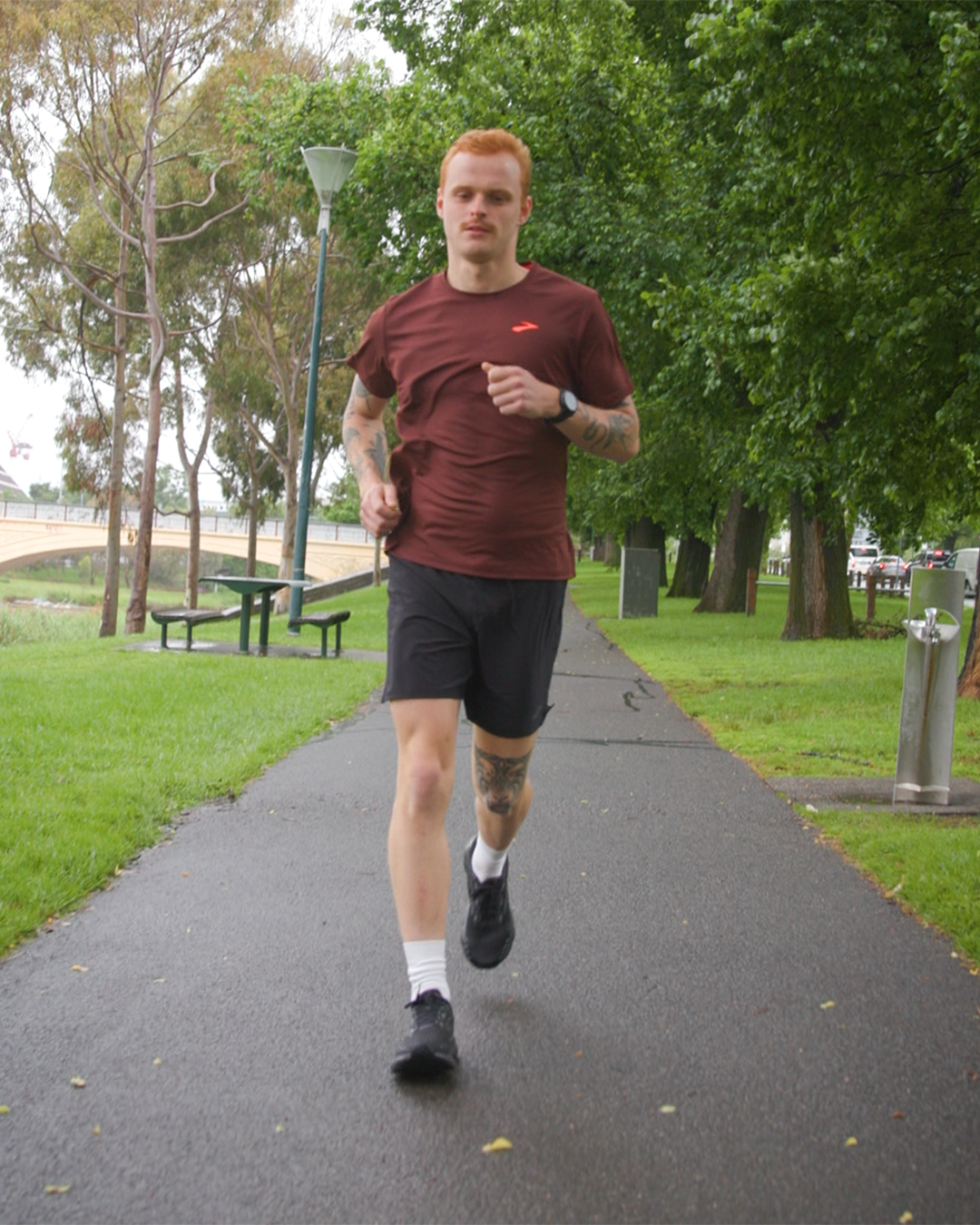 Are there any clear differences between Pre-Running George vs. Running George?
Pre-running...you really get locked into a hospo world where most of your friends are in hospo. You might pick up friends here and there but everyone's on different schedules and you don't really have like a good solid friendship group. I've really found one through running.
It's been so beneficial—making time to spend with people despite if your schedules are opposite—you make the time to be with people and you actually start to get invited to things again because people don't just expect you to be working. Since I started running, these are the happiest years I've had. Not that any other year has been bad, but they've just been so positive in a lot of different aspects. And that's been a big change for me having that whole community side and friendship group. There's been a lot of good things to come out of it for me.
Speaking of other areas in your life, tell us about Ate Miles. What made you decide to start this fortnightly running club for fellow hospitality workers?
Since I was nineteen or twenty, I worked on the Eat The Issue initiative which was raising the conversation about mental health and over the last year or two trying to think how we can do something with it that's not boring and evolve it. Once running came about and reflecting back on how much of a routine it's given me and how much structure it's given me in a day—how much better I feel going into work—I thought why don't I try to push this for other people?
Then they [his hospo friends] come down once with the classic 'yeah we thought we'd come down to support you for a run', and then they're down there the next run, and then the next run. It gives you something to look forward to once a fortnight. Trying to give people that structure, and just give people that push. I'll buy the coffee for everyone if that's all it takes to get you down. It's fifty bucks for me a fortnight—it's the most worthwhile money I've spent over the past decade. To get people down there, encouraged, and happy. It's such a good way to start your morning.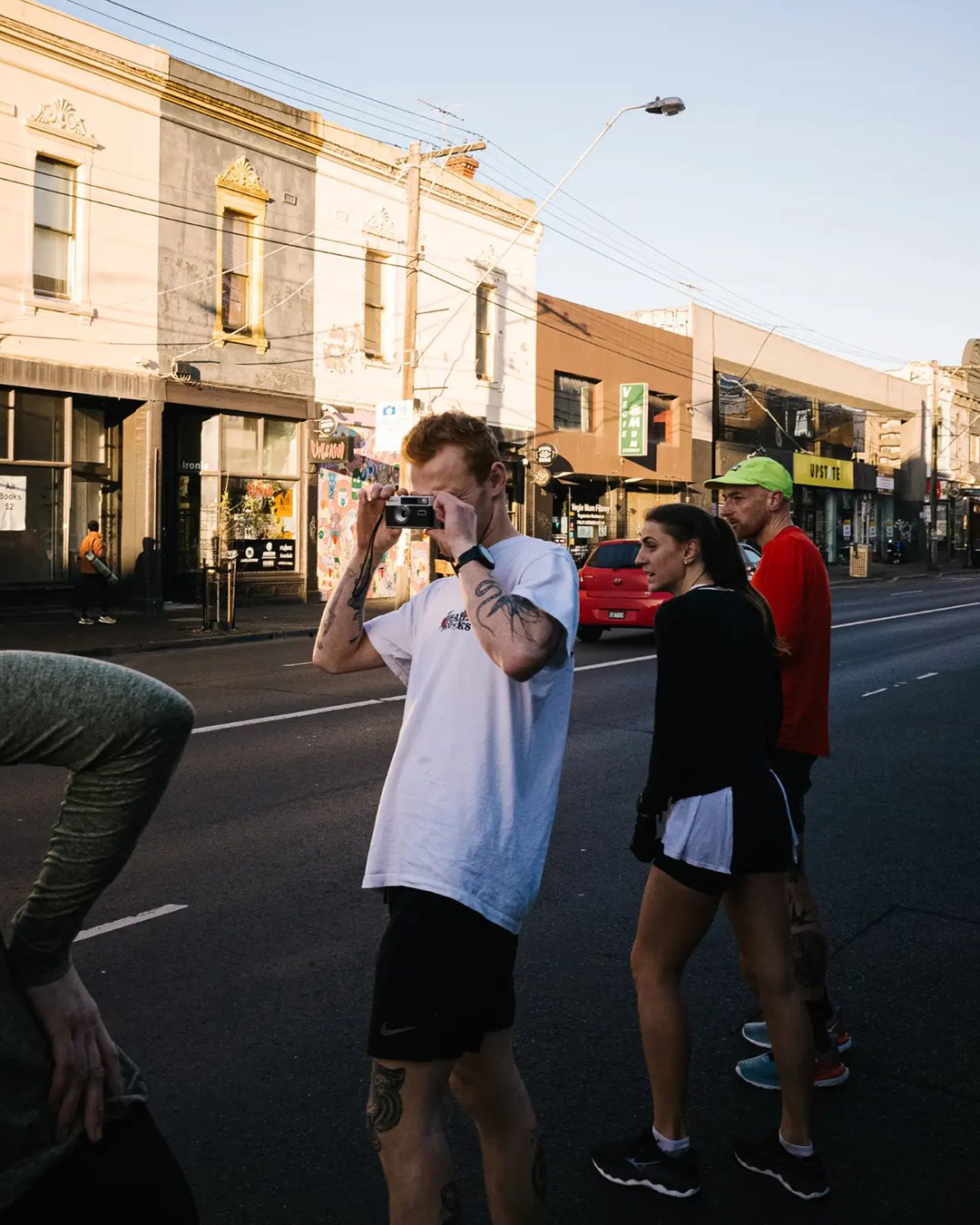 Running is something that resonates differently with everyone, what would you say is your purpose for running happy?
I've always been a community-based person. And to be able to give back to people and give a bit of me to people and invest in other people is something I love so much.
Before the Gold Coast Marathon sometimes like thirty of us would meet up on a Saturday morning and just chuck in 30kms together. It would go so quickly. When you're all doing your training together and that builds doing a marathon together, it does feel like a team sport, not an individual sport which is really, really cool.
How does running complement the picture of intensity and focus in your professional life?
I really enjoy the intensity of training for the marathon—it gives me more structure. In hospitality, it's so hard to have a structure in your week. A lot of people will, you know, get up, quickly get ready, go to work, work the whole day, come home, maybe eat something, go to bed. Whereas now having running, having training, having something to look forward to, you get up, have a coffee have something to eat, go for a run, come home, have a shower, you can sit on the couch for a bit—you're awake. You're actually awake and then you go to work and you're the most alert person there.
How did you tackle walls when you hit them?
Eating is something I've become really conscious of since running because without eating appropriately, you just run out of petrol. I remember when I first started running and first started training for the first marathon, I was just doing my normal eating habits of not having breakfast, going to work, might have a piece of toast for breakfast, maybe. Then going to work and eating at 4 o'clock, coming home and not eating. You maybe eat one and a half meals a day, like that. There's a realisation that this is unsustainable and then I made a conscious effort to eat almost four meals a day, having breakfast, taking lunch to work, having staff meal, and coming home to have dinner. Snacking in between. Who knew you feel so much better? You have so much more output.
As someone who's worked long, high-energy, late nights in restaurants myself, I'm retrospectively groaning at the thought of getting up with the sun to go for a run. When do you factor them into your days?
Now I'll try to fit in three to four runs a week. I'm off every Monday and after a Sunday shift more often than not I'll be out socialising and might be a little bit hungover on a Monday. To make myself feel a little bit better I'll try to get out for at least half an hour. At the moment it's all just easy running. I'll slowly increase over the week, so start with half an hour, go up to 45 minutes, 60 minutes and then maybe like 2 hours on a Saturday or a Sunday with the groups. But marathon training weeks were a lot more intense.
Sounds like you're pretty onto your routine, whether it's a more intense phase or quieter. Would you say that community and structure are the added motivation to get out?
Definitely. I think it's quite nice that a lot of the people that I run with, now I've become friends with them. A lot of people now understand what my work life is. If I'm not there it's not like "oh where's George?" Like, yesterday I committed to going for a run this morning at 6am. When I got home last night at 1am, I was like you know what, I'm not going to make it and no one even messaged me, they were like "yeah we know where he is."
They were like, he's in bed, he's asleep.
Yeah exactly, there's no one looking down on you for not running which is good. It's funny though when the routine is broken. I found after having a week off after the Melbourne marathon I just didn't run at all except the one Ate Miles run which was like 4km which was fine, but not having that routine I actually felt much worse at work. I felt much more lethargic. Just not alert, not active, I couldn't get the best out of myself in so many aspects. The next week I started slow with three runs and then moved up to four runs and just slowly built it up. Already I just feel so much better.
What would you say to anyone who's thinking about giving running a go but is yet to start?
That's so hard. 'Give it a crack.' Is that too generic? But if you're running because you want to just feel good, be happy and give yourself a bit of structure, be healthier, whatever it is—do whatever is within your means.
I definitely think having a community around it or grabbing a friend, going for a social run, change it into a social thing. It's all about perspective. And that's something I've learned so much with running, it doesn't matter what you're trying to achieve, it's all about perspective.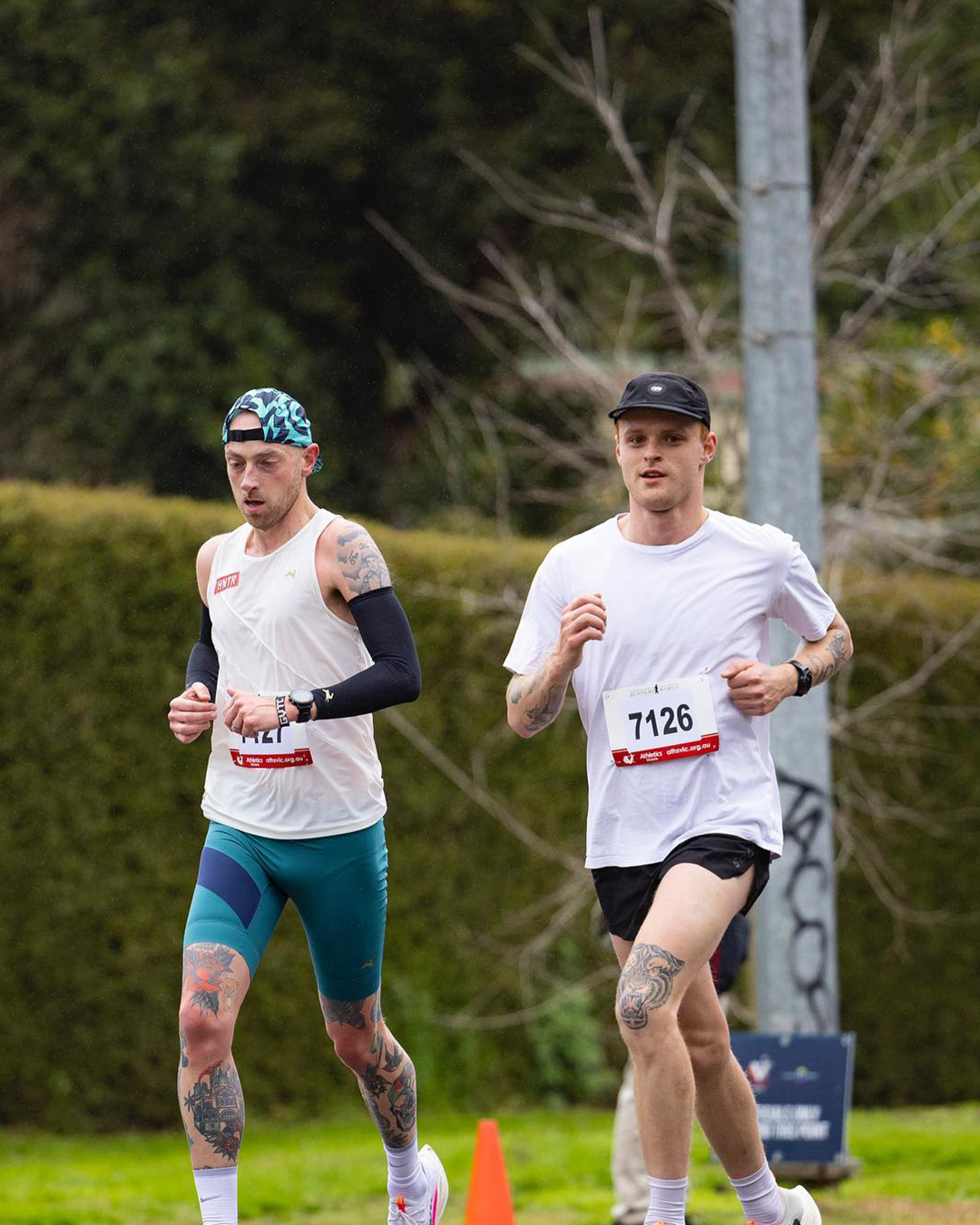 What's your favourite thing about running—do you legit get a running high?
Yes, unfortunately. At Melbourne, because I had so many friends running and all my family were out on the course—I had friends out on the course and everyone's just cheering you on—I knew throughout the whole race that they were all going to be at the 35km mark. It's a 42km run but the race for me started at 35kms because I knew that everyone was going to be there and that's where I just want to really put in and have the most fun. It's so cool and then as soon as it's done, you're so cooked after it, you're so tired, your body's finally given in, and it's only hours afterwards I text my coach and I'm like 'alright I'm ready for another one, I want to do it again. This is so cool.'
Maybe that's what runners should do, just go and do a race, go and sign up for your local 5km park run or something. Jump in. It doesn't matter how quickly you do it, it's just getting it done in a mob of people and everyone's just trying their guts out and some people are struggling, some people are flying at different points. It's kind of cool to see what your body can take at different points.
Editor's note: this article was produced in partnership with Brooks. Thank you for supporting the partners who make Urban List possible. To read our editorial policy, click here.
Images: Sourced from Instagram.