It's no secret a good night's sleep can do a world of good. Tackle climate change? Sadly not. But prevent a crabby mood and make you an overall better person to be around? Absolutely.
Waking up fresh in the morning after a restful slumber can be life-changing—and no, that's not an exaggeration. Good sleep habits are integral to getting solid shut-eye each night—like limiting your screen time before bed or making your bedroom a media-free zone— however, no matter how great your habits are, a comfortable mattress and pillow fit for Goldilocks is key.
If you're thinking of updating your bedding to transform your bedroom from blah to bliss, we've teamed up with the sleep experts and sustainable bedding leader Peacelily to bring you six things to consider when levelling up your slumber.
Invest In The Right Pillow
Are you a side sleeper? Maybe you sleep flat on your front? Whichever position helps you drift off to dream town, there's a pillow that's perfect for you. Supporting your head and neck properly is so important and the best pillow will depend on your go-to position. If you're prone to a little tossing and turning, a latex pillow made from natural materials is an awesome all-rounder. Moulding to fit your body shape, the latex cradles your neck—perfect for those prone to fitful movement at night. If you prefer the soft touch of silk, check out the kapok pillow. With plant-based fibres you can fluff up or take out, its even vegan and cruelty-free. Dreamy.
The Bigger The Better
There's a reason people have a better night's sleep in a hotel room and it's because, well… the beds are bigger. If your space allows for it, invest in a bigger bed—it's a no-brainer, really. Whether you're sleeping alone or sharing a bed with someone, snuggle time is cute until you actually need to sleep. A king bed is the ultimate size when it comes to updating your bedding but upsizing can generally set you back a bit of coin. If you're looking to upsize, there are achievable payment plans available, plus sleep experts, like Peacelily, who allow you to trial the mattress for 100 days so you can be 100% certain it's a life-changing bed before you kiss your cash goodbye.
Weigh Yourself Down
If you want to throw a therapy session into your sleeping mix, weighted blankets are where it's at. Traditionally used in therapeutic settings to assist with sensory processing disorders, a weighted blanket is like one, long hug, and research suggests they can tackle a bucket load of issues including easing anxiety, reducing restlessness and promoting a feeling of calm and relaxation. Weighted blankets are kind of a big deal now, so there are always new ones emerging—to help you sort through the latest and greatest, check out our top eight here.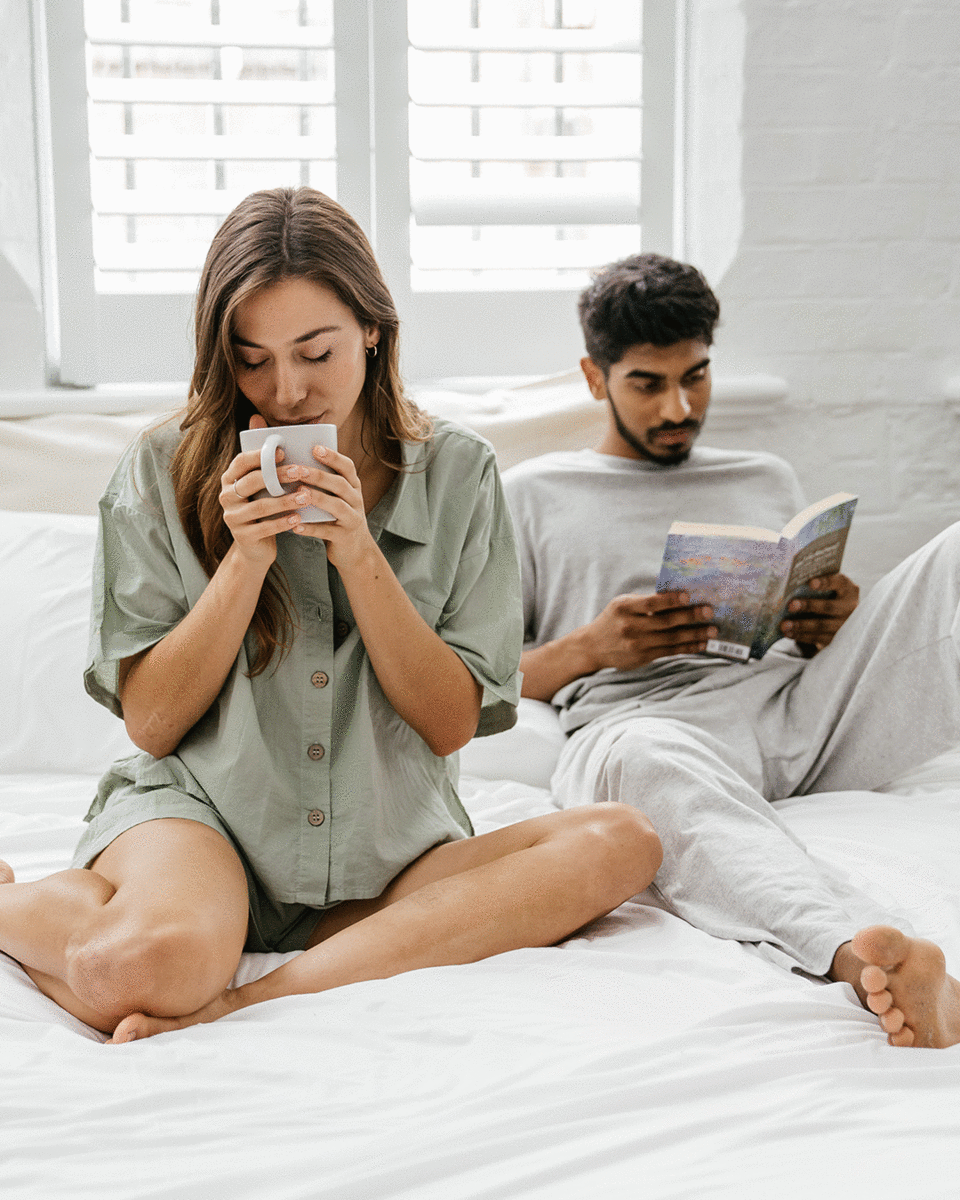 Add A Cloud Between The Sheets
Look, we need to be real for a moment. A mattress topper is one of the most underrated pieces of bedding. There, we said it. Gone are the dorky days where a mattress topper was considered lame and reserved for retirement. Nowadays, because the right mattress topper can make you feel like you're sleeping on a cloud or, if you're hardcore, add extra firmness. Waking up in the middle of the night to find yourself unwillingly squished up against your partner in the centre of the bed is never a vibe. If this sounds familiar, then you, my friend, have a saggy mattress in need of some TLC. Without replacing it altogether, upgrade yours and flick on a latex plush for comfort or the firm topper additional support and improve your beauty sleep immediately.
Cool It
Research shows that our bodies are programmed to experience a slight drop in temperature when we're dozing. So no matter how toasty-warm you want your boudoir, the cooler the temperature, the better chance you'll drift off to snoozeville. Australia's Sleep Health Foundation claims that your bedroom should sit between 17-19 degrees and if that sounds crazy chilly, don't knock it 'til you've tried it. A cooler bedroom aids your body's natural circadian rhythm—aka your body clock—and can help regulate your sleep pattern.
Also, did you know your mattress material can retain heat? Some mattresses use the same materials for insulation foam while some fabrics can worsen the heat too. Make sure you know what your mattress is made out of—choose cooler options like latex made from natural, non-toxic materials, like this one.
Create The ZZZ Zone You Want
Your bedroom is your very own slice of the world. The more you shape it into what you want, the more relaxed and content you'll feel when you open your eyes to it. If you wake up to that artwork on the wall that reminds you of an ex, get rid of it. If you hate the scratchy feeling of your old sheets, replace them. If turning over to the sight of your 'floordrobe' gives you anxiety, get tidying. We all spend about a third of our lives sleeping, so we need to ensure our sleep zone is the dreamiest it can be. If you're lacking a little inspiration, we recommend scoping out interior design sites like Yellow Trace or Design Hotels to help you recreate that luxe hotel vibe within your four walls.
Are you ready to revitalise your sleep? Sleep like a baby by investing in a quality mattress and sleep set from Peacelily. Made from sustainable, organic and non-toxic materials, Australian-owned Peacelily are on a mission to provide you with the most blissful sleep experience. Check out the full range here.
Editor's note: this article was produced in partnership with Peacelily. Thank you for supporting the partners who make Urban List possible. To read our editorial policy, click here.
Image credit: supplied