Like Ernest Hemingway himself, sometimes you just have to make a few bold moves, and East Melbourne wine bar and fine-diner, Hemingway's Wine Room, has done exactly that by opening its doors between lockdowns. The (loosely) Euro menu shares similarities in that it's distinct and adventurous—though far more charming than the late pioneering writer.
Like all Melbourne hospitality businesses right now, Hemingway's is operating on a takeaway only model under the name Maisonette by Hemingway's until restrictions ease. There are four menus to select from, and each reference writer's work: The Old Man and the Sea which is undoubtedly seafood-forward, a vegetarian affair titled The Garden of Eden, a chicken and truffle feast called The Sun Also Rises, and lastly, A Moveable Feast, which explores every facet of the three aforementioned offerings.
For first-timers, A Moveable Feast is a great place to start. The balanced selection serves up a rich mix of all-stars, each prepared with as much care as the following dish. It begins with a selection of cheese, six Appellation Sydney Rock oysters with house-made apple vinaigrette and gin-cured ocean trout with grapefruit.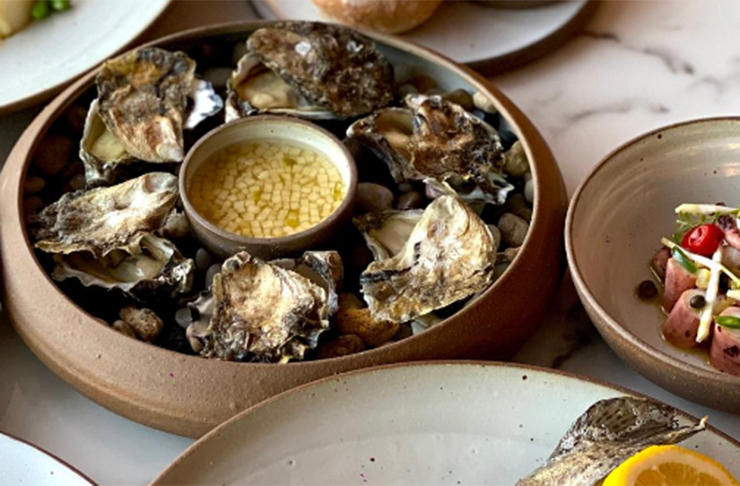 Just like a Hemingway novel, the intro hooks quickly, and it gets more indulgent from there. The segue into the main act comes in the form of an aubergine ratatouille (eggplant stuffed with ratatouille, in case you were wondering). It's salty and savoury in all the ways and balanced by the hefty slice of fresh eggplant.
Trumping the appetisers are the two mains, which is truly where that outspokenness shared between the writer and the restaurant comes into play. There's a half roast chicken which is studded with truffle, and milk-fed veal accompanied by porcini cream sauce and potato gratin—both bold takes on classic dishes, and both executed with class.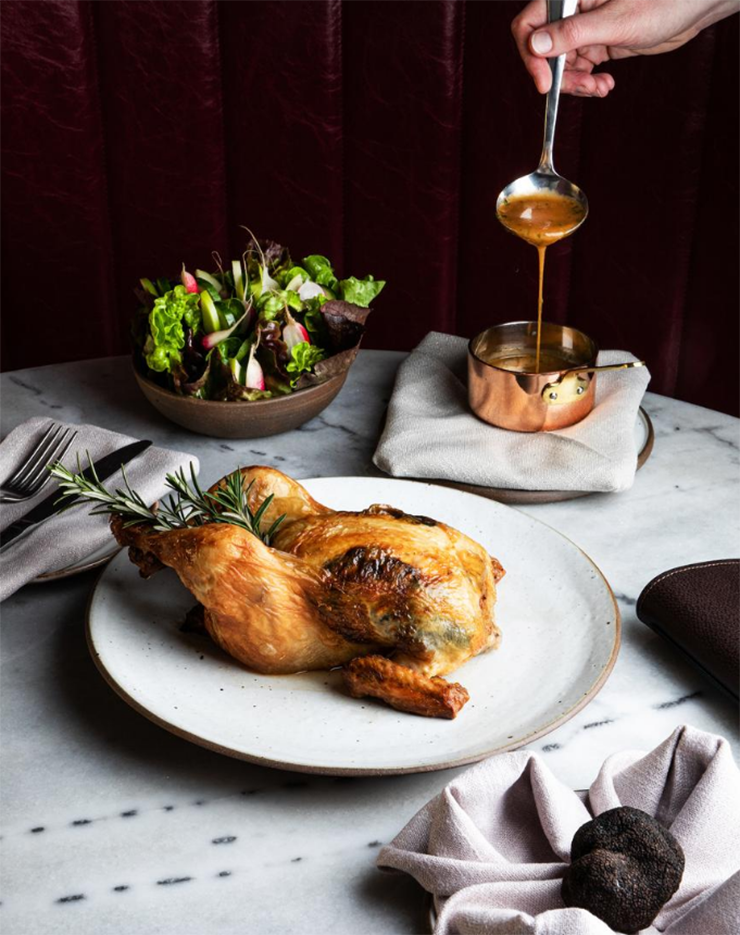 Desserts rotate on the regular, but at time of writing, a white chocolate creme caramel with poached fruits was on the menu. Regardless of what you finish with, expect something delicate and mature that'll satiate even the most discerning palates.
The team behind Hemingway's Wine Room has put in work on the wine list. Dipping into the reserve will no doubt be worth each drop should you be in the position to do so (2008 Dom Pérignon Vintage, anyone?) though a more modest selection, like the versatile Delas grenache, will complement your meal, too.
Unlike a lot of fine-dining takeaway at the moment, there's no preparation involved with a meal from Hemingway's. The kitchen makes a point of getting it out to you fast, so all you need to do is plate up your just-cooked meal.
While it's true that we'd prefer to be seated within the confines of a restaurant, Maisonette Hemingway's gives that sit-in, fine dining experience we miss a run for its money.
Pre-order your dinner from Maisonette by Hemingway's here.
Image credit: supplied