In the past year, Melbourne's sandwich scene has been hurdling toward critical mass with a new deli—or hole-in-the-wall sanga shop—opening in almost every inner-city suburb. I've been fortunate to sample most, which has set some ludicrously high standards for what makes a quality sambo. Not all, however, are created equal, and after chomping down on several numbers from the just-opened Hifi in Collingwood, it's clear this Smith Street window is gunning for sandwich supremacy. Here's why:
First thing's first, it's important to note that Hifi is the sibling venue to brunch and lunch mainstay, Terror Twilight, a cafe that's renowned for several things, with one of them being their inventive dishes that have won over the hearts of many a Melburnian. Both come from one of Melbourne's hospo constants, Kieran Spiteri, whose dishes would be considered a labour of love by anyone who's visited one of his venues over the years.
"So we've spent maybe the last six months just creating what we think is a good, balanced menu. We really wanted to focus on a good quality, chef-designed sandwich with ingredients that have integrity," said Spiteri.
Getting into the nitty-gritty of the sandwiches—and after stuffing my gob almost uncontrollably with several—Spiteri's statement undoubtedly holds true. It's evident first in the chicken schnitzel number that takes a different turn to its counterparts around the grounds.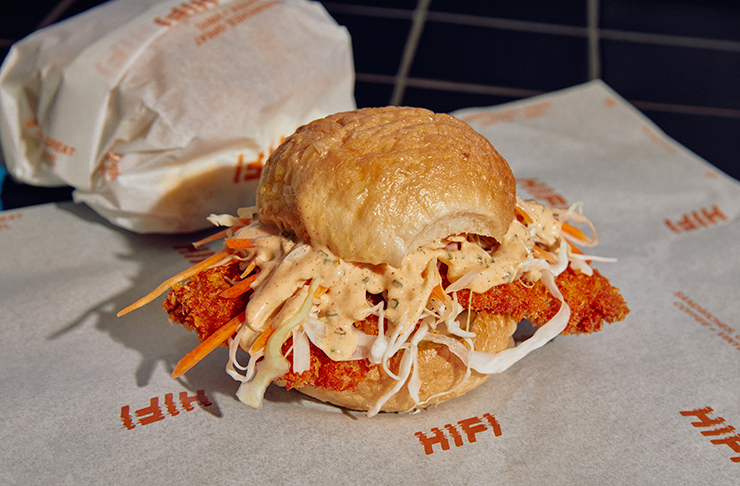 You see, Kieran and his chefs have given this one the right amount of kick that's balanced out with a zingy special sauce, and I've no doubt this'll be selling out on the daily.
"There's obviously some other big players in town that do a very good chicken sandwich, so we wanted to take it on with a bit of a difference. It's on a steamed bun, that chicken with the Szechuan salt over the top, and adding in that really fresh element of the slaw and then as you taste it that gnarly special sauce that we do kicks in."
What's exactly in that gnarly special sauce remains a mystery, and with kick like that, I'm okay with not asking questions.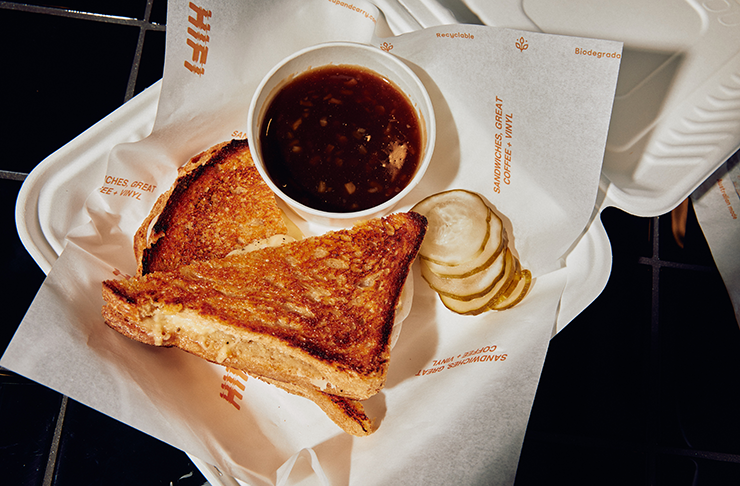 Spiteri and co. are of course catering to the crowds with several staples like the chicken schnitty, but you'll also find several lesser-expected sandwiches like a flipped French onion soup with cheese croutons, where the cheese croutons become a mega cheese toastie, and instead, the soup is served as a dip. There's also a mushroom ragu toastie, which pays homage to Terror Twilight's OG mushroom ragu from a while back, except it's slammed in a toastie with a hefty serving of taleggio cheese.
"We always thought our mushroom ragu would go beautifully in a sandwich. So we wanted to do a mushroom melt but a bit more tricked out. I wouldn't use the word 'fancy' but you know, it's been notched up a touch," Spiteri said.
Spiteri was right. This one slaps.
The sandwiches speak for themselves, and there's an air of confidence between the team (the customers and myself) that Hifi will long outlive the hype.
"We weren't just thinking 'let's do a sandwich shop because everyone's doing a sandwich shop'. In any of our businesses, any dish is really thought through, any dish that you see over at our other cafe at Terror Twilight, it's always been a special first. We trial it, we make sure it works on a weekend. And we question it. Does the crowd like it?"
And while Hifi is a takeaway window for all intents and purposes, there's a certain inimitable atmosphere present, kind of like the one you'd find at Terror Twilight. Like Terror, several crates worth Spiteri's record collection line the back wall, while the sandwich servers and baristas double as selectors from time to time.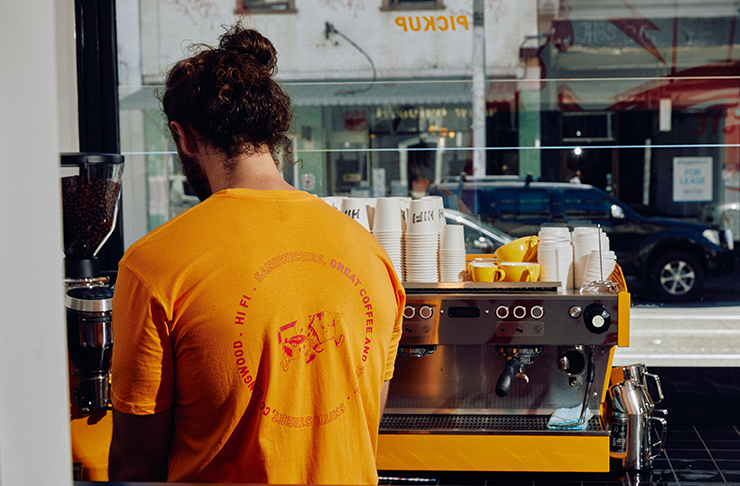 It's a no-stone-unturned situation over at Hifi, where the sandwiches are as dialled as the playlist.
Hifi officially opens Friday 28 February, but if you get down now, like right now, you might get lucky on a few soft-launch sangas.
Head over here for more movements around Melbourne's hospo grounds.
Image credit: Annika Kafcaloudis