We all spent a lot of time at home over the past year and even us extreme homebodies are itching for adventure. We want sun, fresh air, and breathtaking natural beauty that makes us forget our global worries.
With travel opening back up and the whole of Australia at our feet, it's time to explore the gorgeous landscapes and challenging adventures our country has to throw at us—and we know just the shoe to carry us there. Hush Puppies have officially launched The Adventure Shoe, a unisex, powerhouse hiking boot that will take you anywhere. Super lightweight and breathable, these puppies pack some serious comfort that will see you through any epic outdoor adventure our rugged Aussie landscape throws at you. They're even water-resistant, giving you the ultimate protection on your next expedition.
Ready to hit the trails and become reacquainted with mother nature? Take a hike with Hush Puppies at these iconic Australian landmarks.
Pitch A Tent Beneath The Stars
Who said getting in touch with nature had to be an epic physical feat? All you truly need to enjoy the great outdoors is a tent and some sturdy shoes. Let's slow things down and pitch a tent in some of Australia's most magnificent camping spots.
Milky way views, anyone? That's what you'll find when you camp out at any of the camping sites in Warrumbungle National Park. This iconic spot is widely known for its galaxy views, definitely worth the six-hour drive from Sydney.
For nothing but serenity as far as the eye can see, set up camp in South Australia's Younghusband. With no caravan access or amenities, this camping ground is blissfully calm and undisturbed, surrounded by gum trees and bushland running along the Murray River. Spend your days kayaking, fishing, lounging by the fire, and napping in the serene light of breathtaking sunsets.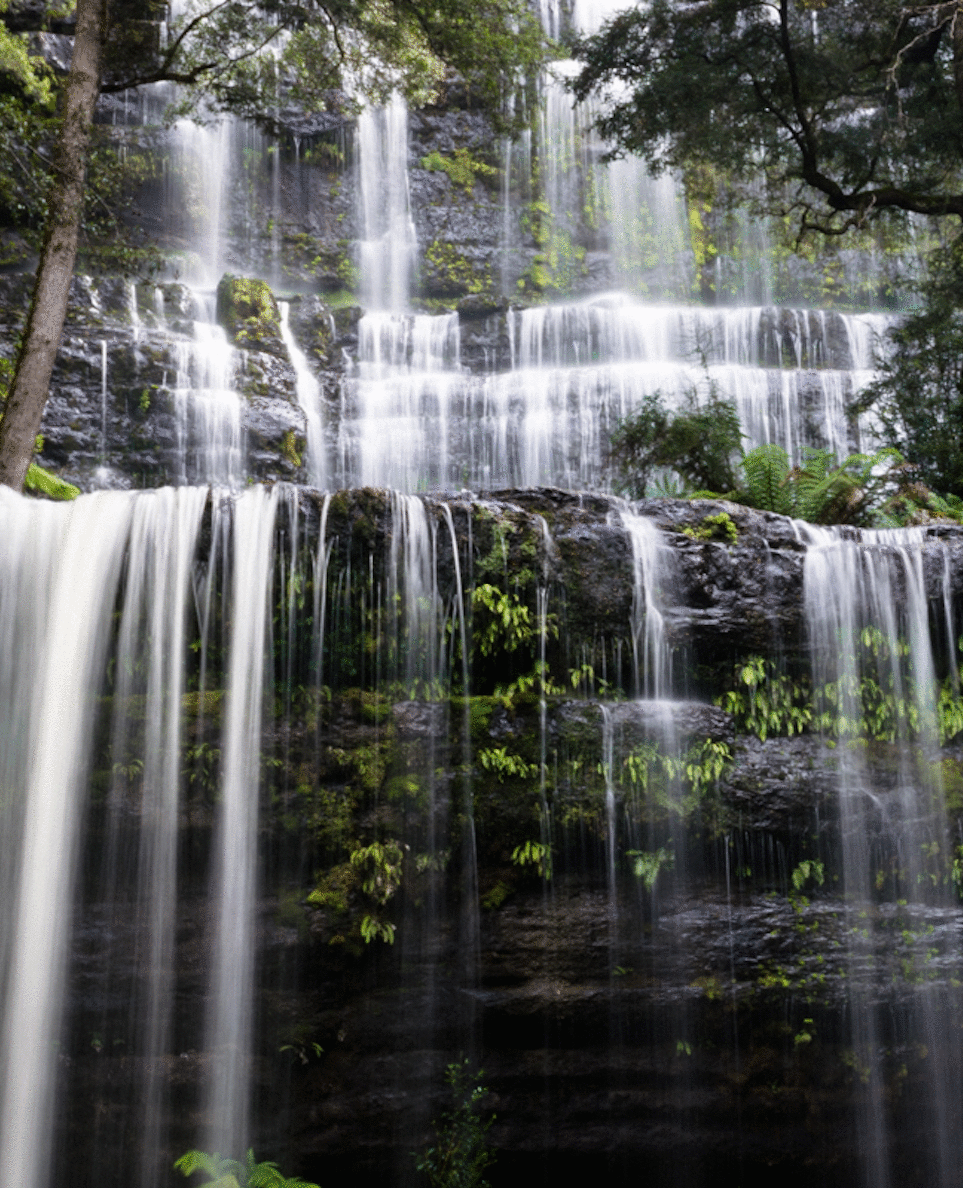 Location: Russell Falls
Chase Waterfalls
When it comes to humbling mother-nature experiences, you can't beat a majestic waterfall. Australia is home to some of the world's most stunning falls, so why not take a hike and embrace their jaw-dropping beauty? Pack your water-resistant adventure shoes—these treks might get misty.
Up in Far North Queensland, surrounded by picturesque rainforest, you'll find the ever-iconic Wallaman Falls. Being the highest, permanent, single-drop waterfall in the country, this one is a must-see for any fall enthusiast. The trail lets you experience the falls from any angle while you wander through some of the world's oldest rainforest right to the misty base.
For tiered, cascading sheets of water surrounded by lush greenery that gives off serious Fern Gully vibes, lace-up and walk out to Tasmania's Russell Falls. This baby is beautiful by day and even more stunning by night when glow worms light up like magical fairy lights.
If you're less into rainforest falls and are looking for a rocky oasis, Mitchell Falls in Western Australia is your best bet. You'll need to either catch an early flight or spend two days four-wheel-driving to get to the camping grounds and hike out from there, but the journey is oh-so-worth-it. Once you're there you'll find tiered falls that have carved their way through layers of sandstone, resulting in an array of scenic pools on each cliff.
Hit These Trails
We get it, you're busy. While we'd all love to spend weeks traipsing around Australia in search of epic outdoor adventures, sometimes all we have time for is a speedy hike to reconnect with mother nature. Lucky for us bustling city dwellers, we're never too far from a nearby breathtaking trail.
If you live in Melbourne, we seriously suggest setting off early for a three-hour road trip to the Tongue Point Walk. While three hours may seem like a long drive to go for a hike, the stunning coastal views make it worthwhile.
Just south of Sydney you'll find the Figure Eight Pools. It's a slippery walk that will take you all day for the round trip, but the unique, crystal clear pools of water and coastal scenery are worth the trek. Make sure you go with a guide or carefully track the tide as these pools can be dangerous and entirely submerged at different times.
Why just hike, when you can drink wine? Only one-and-a-half hours from Adelaide is the Riesling Trail, and it's exactly what it sounds like. Explore the beguiling countryside that overlooks vineyards and offers up some pretty outstanding views, not to mention access to a few choice cellar doors along the way.
Conquer These Multi-Day Hikes
Been rolling your eyes so far in wait for a truly adventurous challenge? We hear you, and offer in response the Nadgee Wilderness Walk in New South Wales. For experienced hikers only, this three to four-day, 55km hike takes you along the coast to reveal unbelievable views and hidden spots, from untouched beaches to scenic lagoons and momentous sand dunes. From the challenging hike, you'll spot plenty of wildlife, from whales and dolphins to seabirds. Once again, only hit this hike if you know what you're doing—don't worry, your Hush Puppies can handle it.
For a multi-day hike that we moderately-fit people can handle, pack your bags and make your way to Queensland's K'gari (Fraser Island) Great Walk. This six-to-eight-day island trek weaves through impressive sand dunes, picturesque lakes, and majestic rainforests, spanning 90km from start to finish. Another trek open to less experienced hikers is the 48km Three Capes Track in Tasmania. Over four days and three nights, you'll explore the southeast coast of Tasmania, from its eucalypt forests to epic coastal cliffs.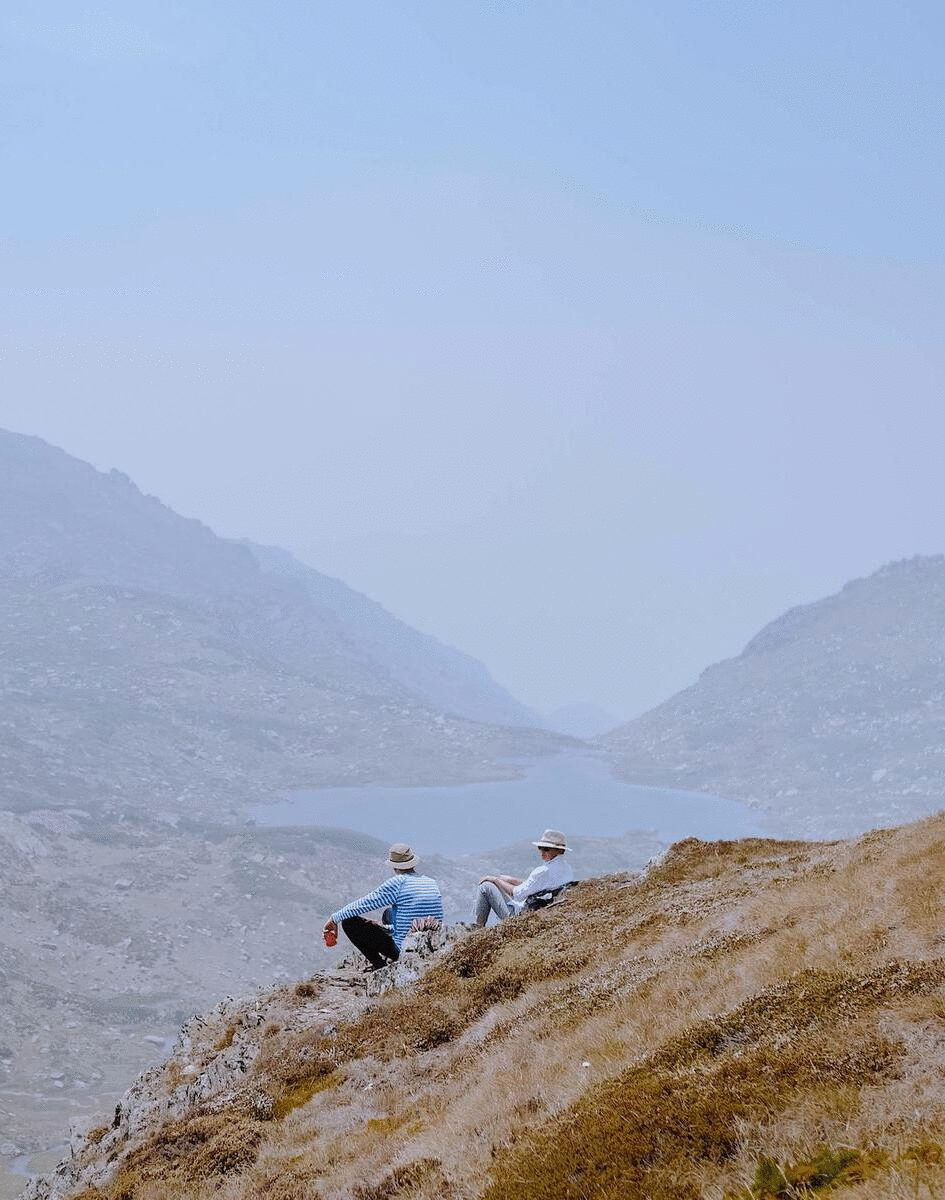 Location: Mount Kosciuszko
Hike To These Mountain Peaks
We all deserve to feel like queens and kings of the mountain at some point in our lives. There's no better feeling than topping out on the peak of a glorious summit, knowing you've put in the work to get there and enjoying the reward of breathtaking views. For epic hikes with ultimate rewards, it's time to start collecting peaks.
Start big with the mountain that towers over all other Aussie heights, Mount Kosciuszko. Don't let the fact that this guy is Australia's highest point scare you, the hike itself can be done in one day and doesn't require any training. Just catch the Thredbo chairlift up to the route, pass fields of alpine wildflowers and Australia's highest lake, and in a few short hours, you'll be standing on the literal top of the country, looking out over the Snowy Mountains and feeling pretty darn accomplished.
If you're down Tasmania way, Cradle Mountain has it all. You can make it from base to peak in one day, packing a good level of challenge for all you avid hikers and topping out with epic views of the mountainous skyline. For a half-day scramble to reach awe-inspiring views, head to Victoria to top out Mount Stapylton. After the intense and speedy ascent, you'll be greeted with an epic outlook of sheer cliff faces that make up some of Australia's best rock climbing terrain.
Cross These Adventures Off Your Bucket List
We all have those outdoor Aussie adventures we want to cross off our list. Whether it's conquering new heights or beholding an ancient landmark, we suggest you lace up your adventure shoes and finally hit up your bucket list locations.
In the very heart of Australia, you'll find a striking landscape known as The Red Centre that has had cultural significance for hundreds of thousands of years. Home to Uluru, the gorges of Watarrka National Park, watering holes, canyons, and more of Australia's most iconic imagery, it's a pretty magical place that every Australian should see.
Other must-do Australian experiences would be trekking to the top of the Sydney Harbour Bridge, visiting the iconic Kakadu National Park, and sightseeing the twelve apostles.
Wherever you're headed in Australia, come prepared. Whether you're trekking through deserts, up mountains, or across coastlines, Hush Puppies new Adventure Shoes will be your trusted companion. Shop the new line here and start your adventure.
Image credit: Destination NSW, Kate Trifo, Tourism Tasmania
Editor's note: This article is sponsored by Hush Puppies and proudly endorsed by Urban List. Thank you for supporting the sponsors who make Urban List possible. Click here for more information on our editorial policy.