If you've been walking through Collins Quarter in the CBD recently, you might have noticed the 60s and 70s music spilling onto the street and the tantalising aromas wafting through the air. If so, you were walking past the entrance to INDU Melbourne, the new Sri Lankan and South Indian restaurant that's calling the precinct home. Launched by restaurateur Dr Sam Prince and Melbourne businessman Ian Hicks from the Sam Prince Hospitality Group (Mejico and Kid Kyoto), INDU Melbourne is inspired by Prince's Sri Lankan heritage and follows on from the success of the Sydney venue.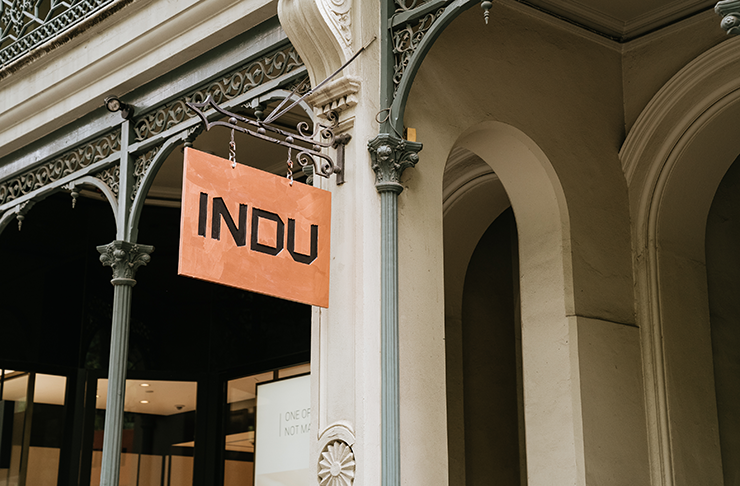 In a nutshell, INDU brings the traditional flavours of Sri Lanka and Southern India to Melbourne diners and celebrates traditional hospitality which is reminiscent of village life. Beyond their restaurant capabilities though, INDU has also partnered with the accredited grassroots organisation Palmera to establish their Village to Village Program—a program that supports Sri Lankan villages through building infrastructure and helping local economies thrive. How's that for wholesome? So we'd suggest ordering up for a good cause and taking a nostalgic ride into the flavours of Prince's childhood.
The menu is full of modern and traditional flavours inspired by the coast and villages of the region. You can expect plenty of fresh and seasonal produce, fresh seafood and lots of vegetarian options. The selection of dosas and hoppers are the ideal entree before moving onto the curries and meats from the grill. Amma's daal and the potato curry are both family recipes, so you won't find anything like them anywhere else. Adding a local touch, the Yarra Valley smoked goat's leg and the Mount Mercer pork belly curry are both Melbourne specials on the menu—just in case you weren't drooling enough already.
The drinks list is dominated by gin and that is totally fine by us. They've got a range of signature G&Ts to complement the food, as well as G&T flights which feature a gin of the month. Every Wednesday is $10 G&T night too, so make sure you add that to your weekly calendar. The wine list is on the smaller side, but there's no shortage of variety on there—from Fiano and Pinot Noir to spicy Grenache blends.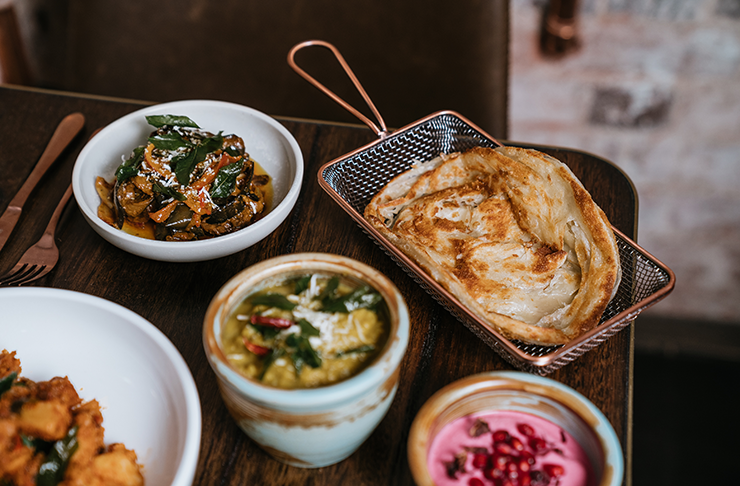 Without even seeing the menu, though, you'll immediately feel at home in this warm, atmospheric venue. A custom window has been installed so you can look into the kitchen while you enjoy a G&T in the entry lounge before heading around to the main dining room. Soft linen curtains separating the five private booths set the scene for an intimate and inviting space. The room is dotted with large terracotta pots filled with spices, dried chillies and a custom painting from Ash Keating. Upstairs there's a private dining room with gorgeous original features including an exposed brick wall and stained-glass windows. Continuing the theme of supporting local producers, the space is home to an oversized timber dining table by Melbourne-based furniture maker Leslie Jones.
Located at the Paris end of Collins Street, INDU Melbourne is open Monday to Friday from midday until late, and Saturday evenings from 5pm until late.
Want some more Indian flavours on your weekly menu? Check out the best Indian restaurants in Melbourne.
Image credit: supplied