Going to the hairdresser can be an intimidating experience for some. From choosing a killer cut to selecting the right colour and maintaining a conversation with the person on the tools, there's a lot to consider before and during your appointment.
We teamed up with Square to talk to the rule-breaking and boundary-pushing owner of Little Rebel Barbershop, Rhia Rebel. Read on to find out about how they've managed to blaze their own trail in the barbering biz, where they see their business going and what advice they have for budding entrepreneurs and sole traders.
Q. Tell us who you are and what your business is.
My name is Rhia Rebel, I am the founder, owner and operator of Little Rebel.
Q. How long have you been operating your business?
I started my business in 2014 and it grew into Little Rebel by 2017.
Q. Where did the inspiration for your business come from and why did you want to open it?
The inspiration for my business is centred around my inner child. The hair and beauty industry is traditionally structured around the gender binary. Binary gender norms are still taught as part of the apprentice curriculum and are still practised today in many workplaces.
As a non-binary queer person navigating through life in a gender-binary world, it has always been challenging to feel accepted and have a place to fit in. The LGBTQIA+ community have never had an easy ride and is still striving for equality today. I opened my business in support of equality and a demand for change. To make a positive impact on other people's lives and for future generations to come.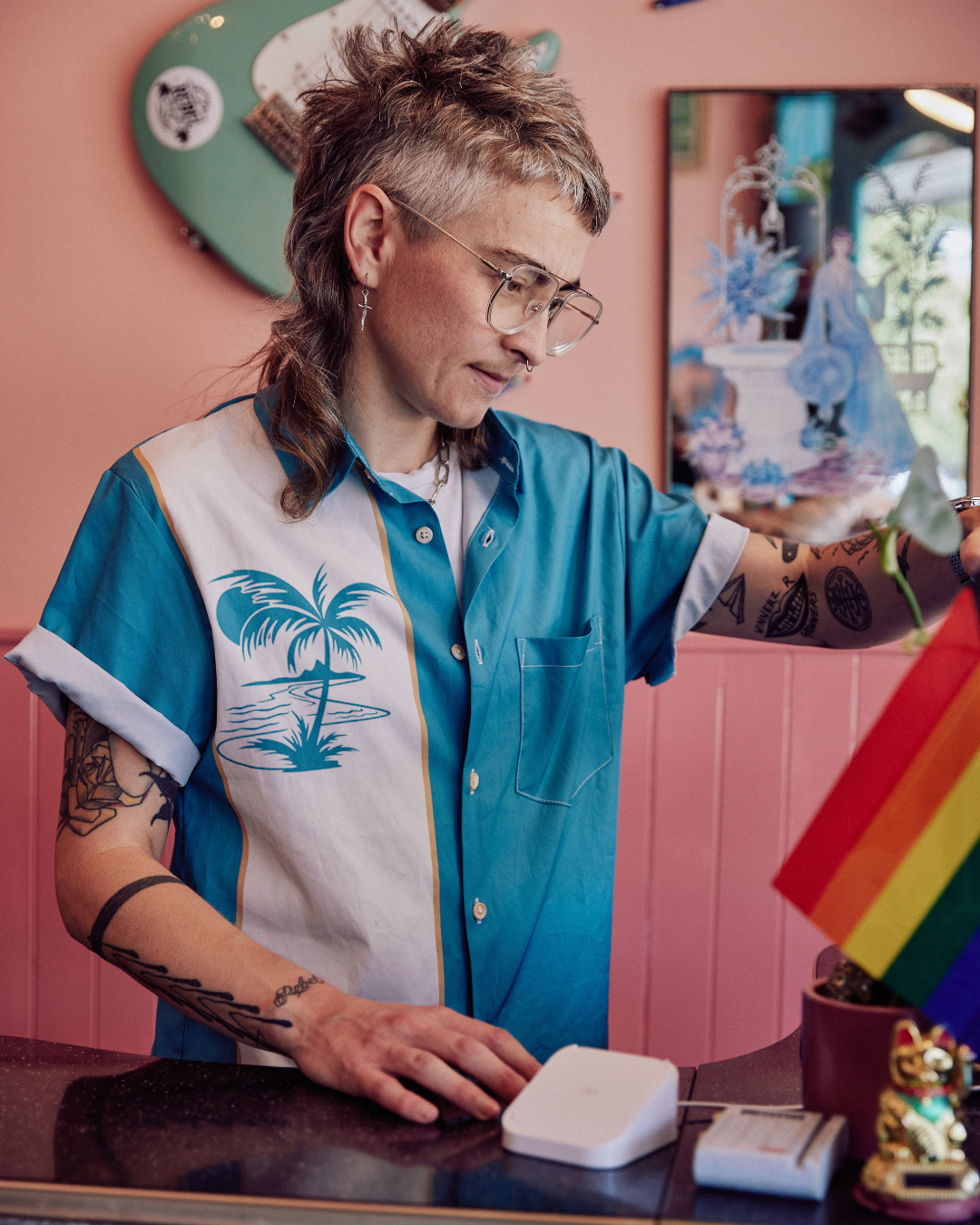 Q. Running a business can be demanding. Were there any moments when you almost gave up? And if so, what kept you going?
The forced Covid-19 lockdowns in Melbourne were the longest in the world. The uncertainty of reopening dates plus business and home rates/bills to be paid definitely pushed me to the extremes. Two months after Melbourne salons could re-open I had a major health scare, I was hospitalised, a quarter of my upper body was completely paralysed and I was later diagnosed with Multiple Sclerosis (MS). This came unexpectedly and has been the most challenging time of my life.
What pushes me every day to keep Little Rebel alive is our community. It's as simple as that. Within the LGBTQIA+ community little 'inner child' Rhia found a home. My business and the Little Rebel team and our clientele are my family and my home. They are what inspires me and what keeps me going. From an early age people in the minorities face discrimination and exclusion daily, we either conform to the expectations put on us by society or be proud of who we are as individuals. Giving up is not an option and it never will be for people minority groups.
Q. Have you always wanted to work in this field or have your career aspirations evolved over time?
I have always been a creative individual. Studying and being actively involved in fine art, sculpture, fashion history and music performance. I "fell into" the hairdressing industry by working a Saturday job at Toni & Guy in Nottingham, UK whilst studying at college. I also did not plan on building a business. It evolved over time through hard work, dedication and committing to the promise I made to myself a long time ago: make a change in the world. Everyone deserves a space to feel safe, seen and heard.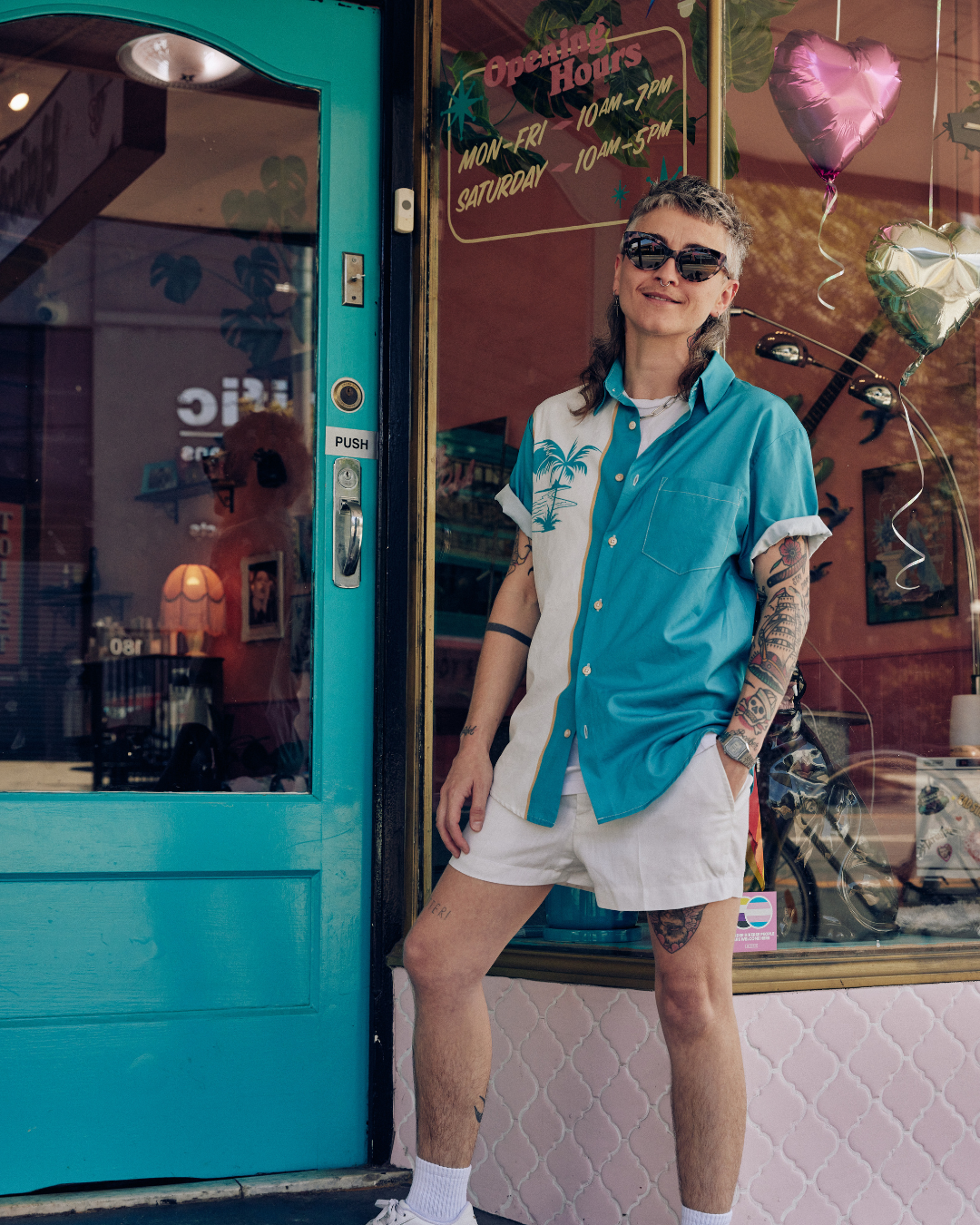 Q. What are your favourite things about your job and running a business?
My favourite thing about running Little Rebel is creative freedom, being able to be my true self and seeing the joy that it brings others.
Q. What kind of advice would you give to someone who is thinking about starting their own business?
Think with your heart, listen to your inner guidance and hold on tight. Enjoy the rollercoaster ride!
Q. Are there any tools or apps that you have found to make running a business easier?
I use many different apps to assist in the daily running of my business. From rosters to daily sales reports and invoices. Square helps me run my business by allowing me to log in from multiple devices to access previous sales transactions.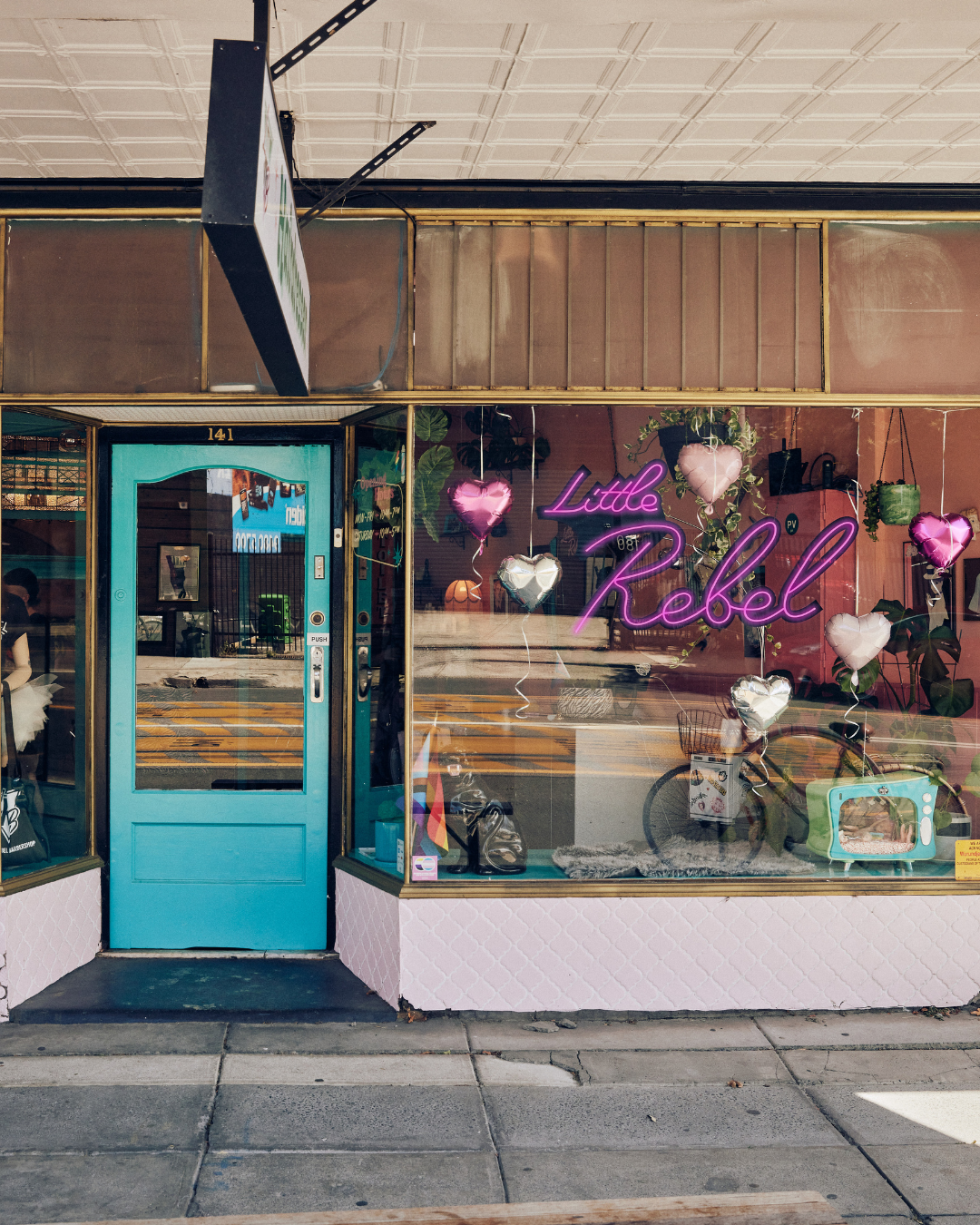 Q. What other small businesses do you get inspired by?
Too many to list and don't want to miss anyone out. I find inspiration from small businesses that support and work with minority groups. I have a lot of respect for my fellow sole business traders.
Q. What mistakes did you make that taught you a lesson in business?
Perhaps trying to do everything myself… It eventually takes its toll on your health.
Q. Where do you hope the business will be in the next few years?
Over the next few years, my hopes for Little Rebel would be to continue inspiring others, collaborating with like-minded people and continuing to take risks through our fashion statements. Breaking down the gender binaries makes way for a more equal and balanced world/workplace, opening doors of possibility for the LQBTQIA+ community.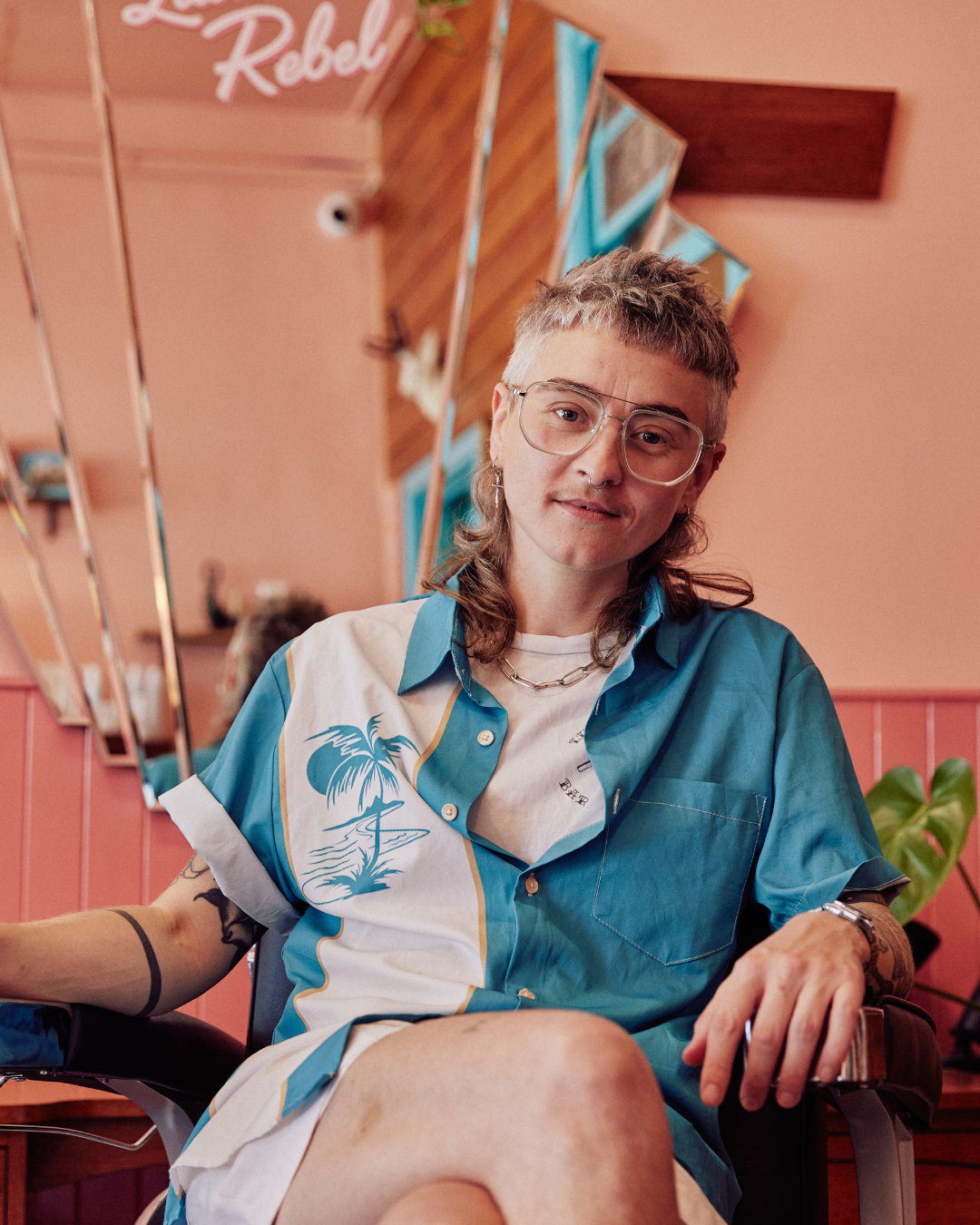 Q. You've clearly nailed creating a cool and inclusive business. What are your tips for being a cool and inclusive boss?
I don't know if my staff would label me as 'cool' but definitely inclusive. My advice for being a cool and inclusive boss would be to keep up the 'Dad jokes', they are funny because they are not. Self-awareness helps, recognising that you have been trying hard to be cool since before your staff were born. Open communication as part of a team, learning is a two-way street. I think that mutual respect and personal boundaries are essential for any kind of relationship professional and personal life.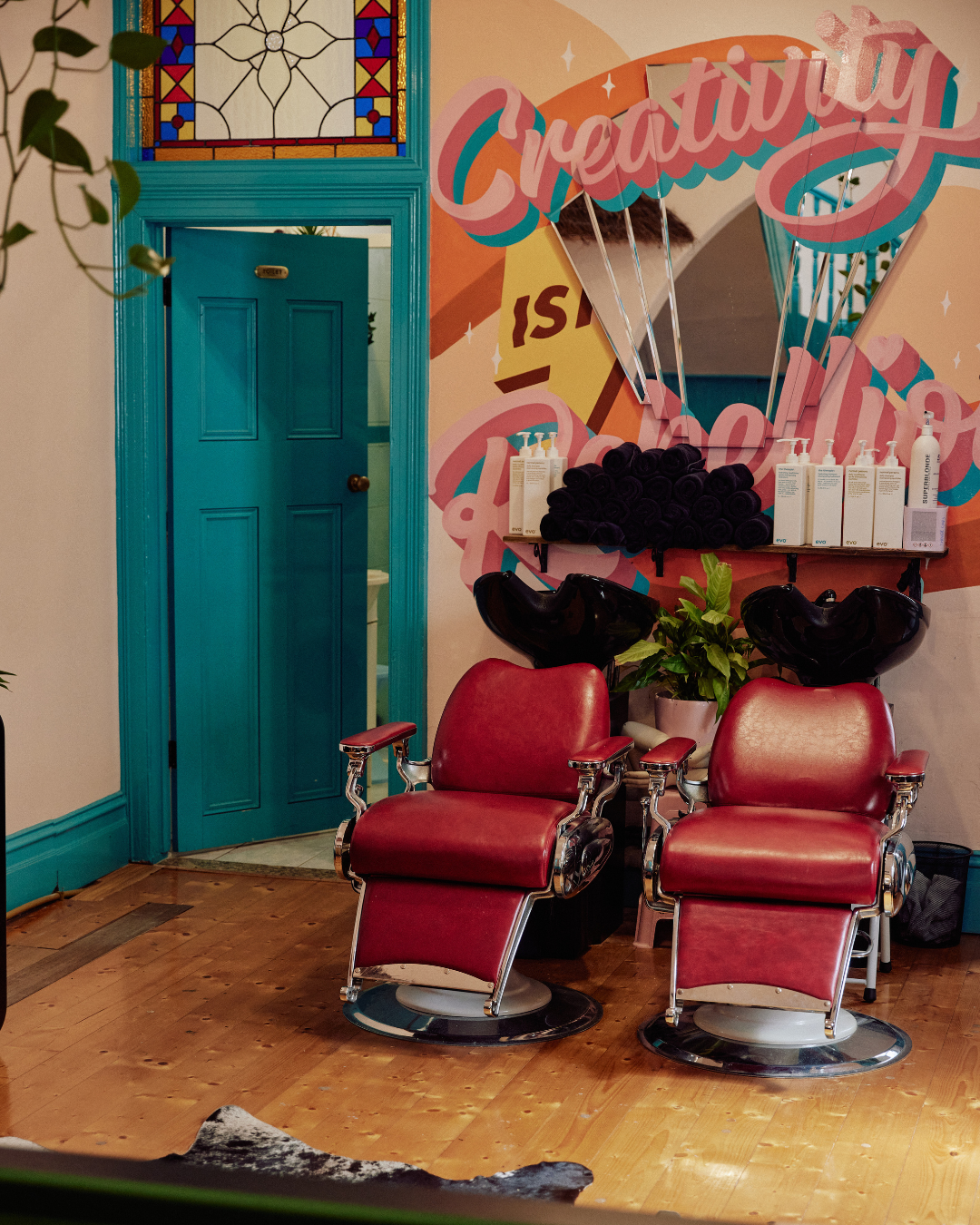 Q. Any tips for being a great customer at a hair salon? Do barbers/hairdressers actually love a chat or not?
If customers can be themselves and they are naturally great then that's a perk for us! If clients communicate with their hairstylist about anything that may make their trip to the salon more comfortable please inform us—we are here to help. Hairdressers love to gossip rather than chat….nah, hairdressers are people, we present in many forms and each have our own life experiences, individual personalities and even different tastes in food varieties. The Little Rebel team are a rare and unique kind of breed, we don't shy away from a juicy conversation but are also respectful of our client's wishes. Some prefer to start a shop banter and some like to close their eyes and zone out. All good either way!
Q. And finally, what are your top three tips for finding a great haircut and style?
Google, Instagram...try not to get lost down the capitalist rabbit hole of no return. Cutouts from waiting room magazines.
Editor's note: this article was produced in partnership with Square. Thank you for supporting the partners who make Urban List possible. To read our editorial policy, click here.
Images: Annika Kafcaloudis.