Around this time each summer, MONA's Mona Foma descends upon Hobart and Launceston. If you're not familiar, it's best described as a (slightly) less hedonistic version of DARK MOFO packed into one weekend. Like many festivals in a post-pandemic world, 2022's jaunt looked slightly different to years gone by, but if one was to assume a few extra restrictions would stop the gang down at MONA from throwing one heck of a party, one would be very, very wrong.
While each year, Mona Foma is unique to itself, there are several themes that keep the droves (ourselves included) returning, and if you didn't make it to either Hobart or Launceston this time around, there are at least several reasons Mona Foma should be on the top of your 2022 festival hit list. Here's why:
Faux Mo
The annual, debauchery-drenched afterparty has over the years become almost a sole reason for many to make the pilgrimage down south. It's a real Kinder Surprise (but for adults) in that you never quite know what you're going to get. Previous years have seen Faux Mo held in a decommissioned government building/neon labyrinth, the top of Mount Wellington and plenty of warehouses. This time around, the late-night session found itself in the Hobart Town Hall. All featured plenty of lasers and a soundsystem that'll suck the soul right out of you until the wee hours.
While the venue choice this year was modest, the content was anything but. A warning was the first thing seen entering the town hall, which read "Strobe lighting, nudity, strong language, sexual content, intense fog and very loud music" and that's exactly what you got. Punters were teased with a throbbing DJ set peppered between performances you wouldn't want to tell your mum about. The painted-blue naked man was trumped only by the woman seductively eating a cabbage to the left of stage. All very Faux Mo, but that's what you're for, right?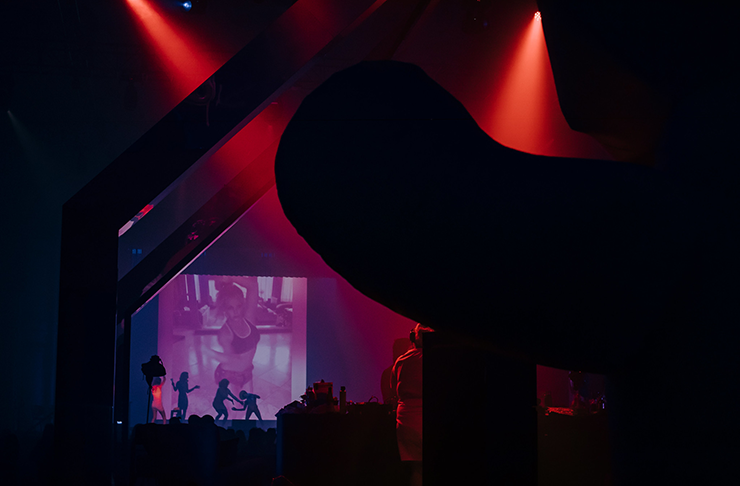 Mona Sessions
Since the introduction of capacity limits a year or two back, Mona Foma switched up its format of having the brunt of the festival on the Mona Grounds, and instead now has events, gigs and performances splattered throughout MONA, Hobart and further afield. One that can be found on the MONA lawns is Mona Sessions, which feels like a more approachable Mona Foma circa 2020 and previous.
What's adored by Mona Sessions is its diversity. Often you'll get a hit of nostalgia: this year supplied by naughties punk posse Frenzal Rhomb and Midnight Oil, who're at the top end of their final tour. The crowd often spans generations, which this year left the younger wondering what Peter Garrett was doing with his limbs up on stage, though it only took the rendition of Beds Are Burning to remind (almost) everyone in the crowd what was going on.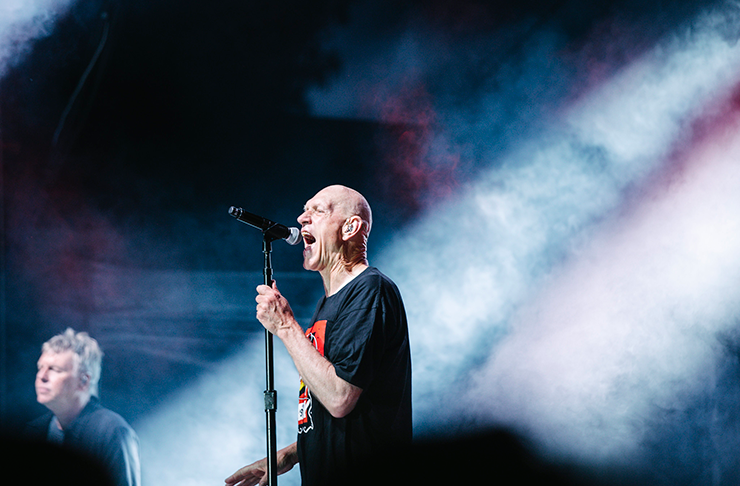 These nostalgic hits are usually juxtaposed by one, two or several new-age performances, screenings or general exhibits of debauchery. One such spectacle that landed somewhere in the middle was a stunning surf film (aptly titled Surfilm) which was accompanied by a live score led by Brian Ritchie, the festival's curator and member of The Violent Femmes. The trick is to accept you'll only be aware of a small percentage of who or what the line-up is, and once you do, you'll come home with a new-found love for an artist, performance, film or whatever it is Mona Foma throws at you.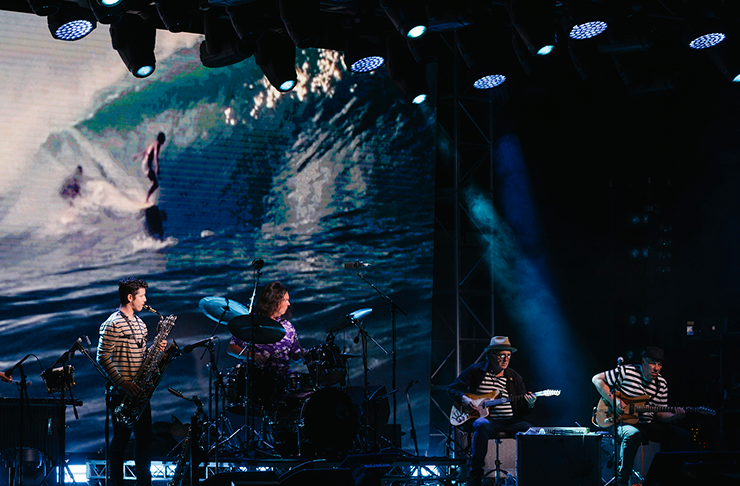 Lasers
Mona Foma or Dark Mofo, you can almost guarantee there'll be plenty of these. This year saw acclaimed artist Robin Fox fire off her BEACON exhibit from Kunanyi/Mt Wellington, which skimmed the entirety of Hobart's sky. Perfect fodder for your feeds, sure, though dig a little deeper and an accompanying app would tell first nations stories linking back to the city's looming mountain.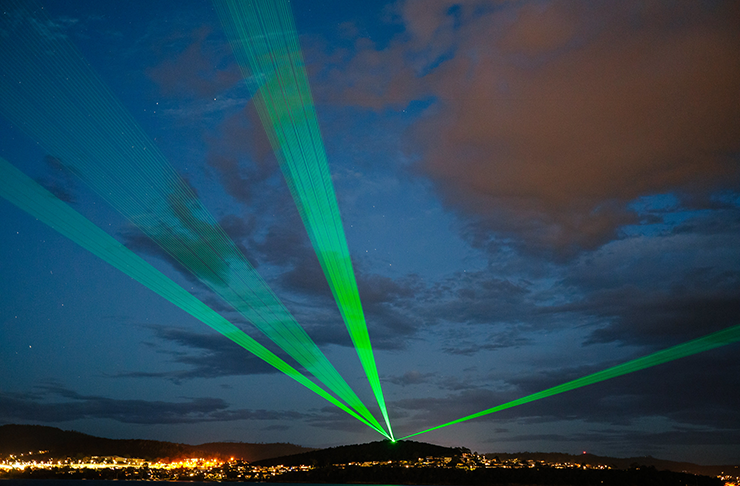 Exhibits, Performances And Everything In Between
Mona Foma really is a choose your own adventure, with experiences being described as relatively safe to truly bloody bizarre (in all the right ways). Some performances were open to interpretation, like the eight-hour aerial show atop a hanging 2.7 tonne iceberg in Launceston, or the two steel poles attempting to cook a breakfast (yep, this happened). While others, like Terrapin's Monster Trucks, provided a more palatable exhibit that saw local street artists and comics transform trucks into canvases.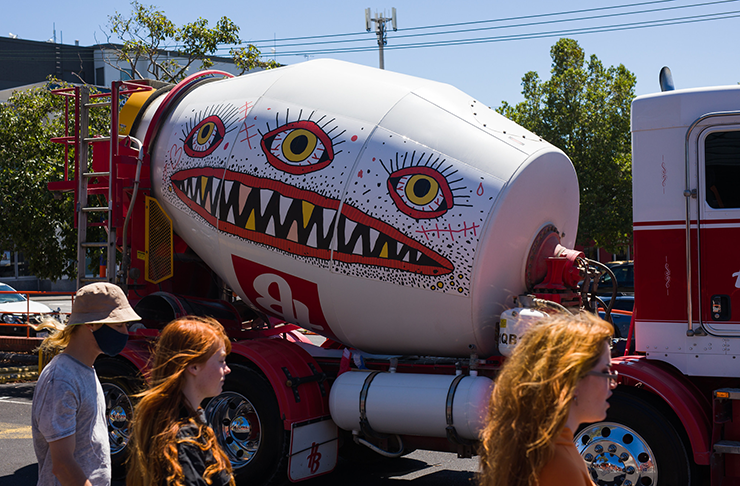 Like previous iterations of Mona Foma, the festival also acknowledges the traditional landowners in many ways, and as you're likely aware, some of these are more subtle than others. For 2022, Trawlwoolway artist Julie Gough's work, Still Missing, was considered a subtle showstopper for many. It comprised of several silhouettes depicting accounts of the island's difficult history of invasion, but also the thousands of years of First Nations culture that preceded it. These were found along the Midlands Highway, a work to be enjoyed by those travelling between Launceston and Hobart, and accompanied via audio context provided by Gough herself within the Mona Foma Website.
Mona Foma returns January 17 through 19 in Launceston, and January 24 through 26 in Hobart, 2023.
Can't wait? Stay up to date on Mona Foma's winter counterpart, DARK MOFO, here.
Image credit: supplied