Whether you've got a soft spot for sweet potato or you simply subscribe to ethical eating, plant-based eats are quickly taking over the Brisbane burger scene. And sure, to start with, things were a little dicey on the flavour front, but thanks to v2food and their plant-based burger patties, you can enjoy food that's good for you, good for the planet, and even better for your tastebuds.
Loaded with all the nutritional goodies burgers are usually lacking, go grab a big juicy burg to try it for yourself with the added bonus of getting your daily hit of protein, iron, and vitamins while supporting your local. Sounds like a win-win? We thought so, too.
So go on, really lean into that 'Taste-a-tarian' lifestyle and make your way through the best places for a tasty plant-based burg. The planet will thank you for it—and so will your stomach.
B.East Burgers
Brunswick East
Burgers, booze and bands—need we say more? B.East Burgers has it all, plus an entire plant-based menu designed with ethical eating in mind. Check out their gig guide so you can schedule your meal around your fave performers, and maybe even score a $10 marg in the process. Oh, and don't forget to snap a selfie for a feature on their Insta page.
Heal.Thy Self Co
Yarraville
If it wasn't obvious from the name, let us spell it out for you—Heal.Thy Self Co is dedicated to serving sustainable, drool-worthy eats that are good for your body, and great for the planet. Their creative use of natural, seasonal ingredients has earned the venue a cult following amongst the plant-based community. Pick up a v2 burger alongside a crisp organic lemonade, and be sure to thank us later.
Burger Inc.
Newtown
Their site may be minimalistic, but Burger Inc.'s hundreds of five-star reviews speak for themselves. Diners rave about the restaurant's impressive selection of chicken, beef, and plant-based patties, which come heaped with salad towers so tall that eating them is like a game of Jenga. Thankfully, the burger buns are nice and sturdy, meaning they are well equipped to handle the weight of every ingredient you choose. Looking for recommendations? Check out the restaurant's Number 19 burger—a meat-free alternative packed with plenty of goodies to keep you feeling fuller, for longer.
Smith & Daughters
Fitzroy
Brought to us by Australia's plant-based poster child, Shannon Martinez, Smith & Daughters is our go-to for a modern take on meat-free meals. Featuring four equally amazing dining options—aperitivo, a la carte, set menu, and chef's table—there's really no way to go wrong when ordering at this venue. Treat yourself to a plant-based burg before moving on to some delicious dessert as a reward for your efforts.
Lona Misa
Ovolo South Yarra Hotel
Another brainchild of Shannon Martinez, Lona Misa is an absolute must if you're just breaking into the plant-based space. Tucked away inside the Ovolo South Yarra Hotel, the 90-seater venue is a cafe by day and bar by night, giving guests the best of both worlds when they dine inside. With a focus on farm-fresh produce, be sure to pair your burg with a cocktail to really make the most of Lona Misa's flavoursome feeds.
Boss Burger Co.
Ballarat, Geelong West and Waurn Ponds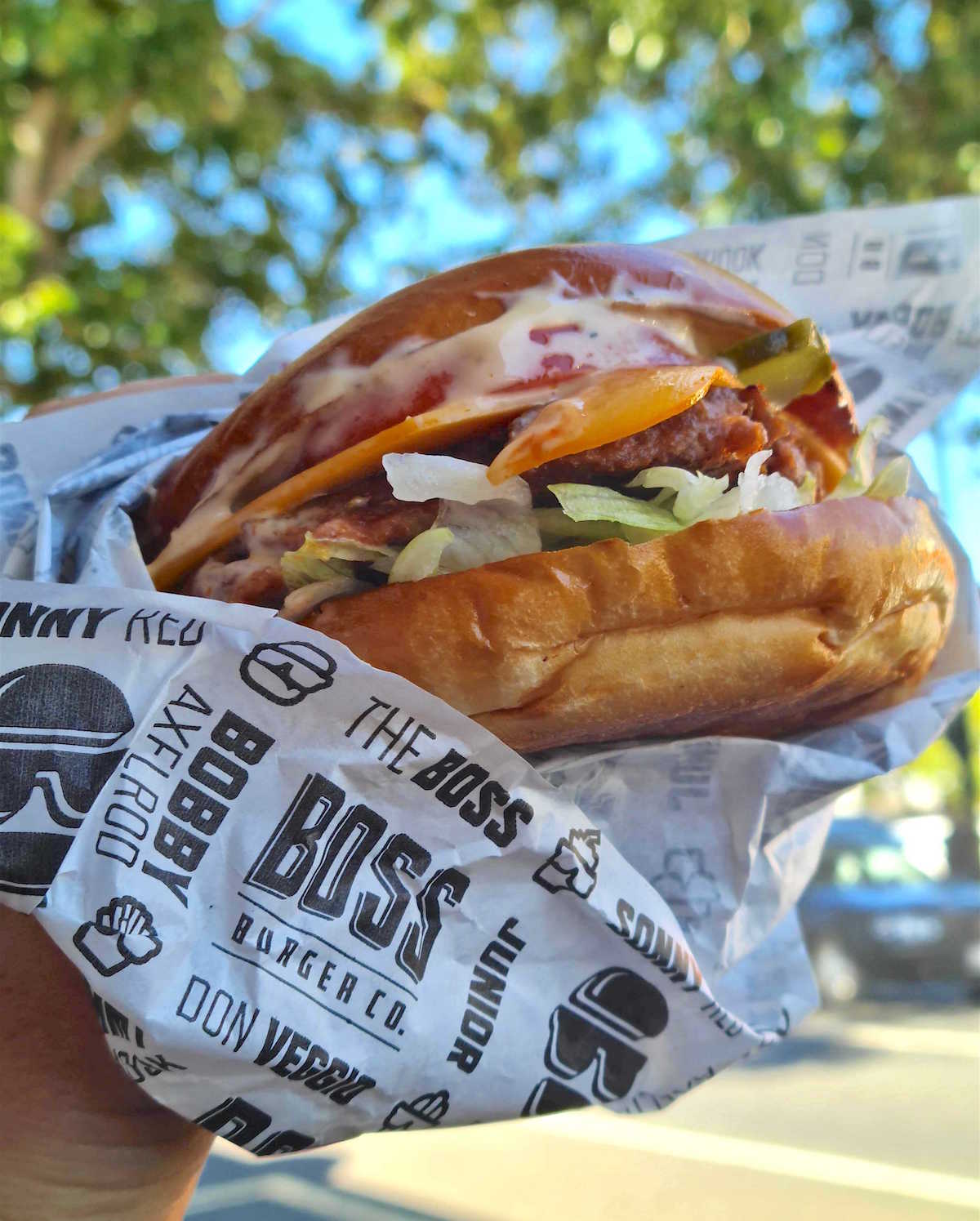 Wrap your mouth around some of the best burgs in Melbourne with a meal at Boss Burger Co. The bright neon lights and retro movie decor make it the perfect place for catching up with mates while getting your foodie fix. We recommend pairing your plate with some house-made gravy fries for a truly delicious addition to an already awesome meal.
Mr Burger
Multiple Locations
After getting us all hooked on their food truck concoctions, Mr Burger has graced its loyal followers with a few more permanent locations across Victoria. Thankfully, the introduction of v2 patties has reduced the toll on our stomachs, making their burgers a far healthier lunch alternative. Douse your patty of choice in some of Mr Burger's delicious dipping sauces, and you'll never turn back. Trust us.
Hotel Collingwood
Collingwood
Craving a cheeseburger, but wanting a meat-free alternative? Hotel Collingwood has got you covered. The stunning, minimalist venue has set foodies abuzz by serving plant-based patties alongside dairy-free cheese. Wash it down with a pint of Peroni and you've got one heck of a midweek lunch. Jealous much.
Now that you've noted down our top Victorian picks, it's time to set our sights a little further west—that's right SA, we're looking at you! We've got four awesome venues just waiting to show off their plant-based patties to our loyal foodies.
The Highway Hotel
Plympton
Featuring the delicious concoctions of Executive Chef Chris Esson, it's no surprise The Highway Hotel has topped our SA roundup. The venue has creatively featured plant-based v2 dishes across its menu, so you can treat yourselves to burgers, dumplings, and more, guilt-free. They've even got a few specials listed on their site, so be sure to check them out when planning a trip to Plympton.
Nom Nom Burger
Multiple Locations
They don't call it Nom Nom for nothing—one bite is all you need to start your very own Nom Nom addiction. Pick up a v2 plant-based patty topped with dairy-free cheese, lettuce, and a hash brown, and see for yourself why this old school burger joint is such a standout. Oh, and don't forget a side of plant-based nuggs for a drool-worthy addition to your plate.
Whoopi Goldburgers
Adelaide CBD
Okay, okay, we'll admit it—we're a sucker for puns. But wordplay or no wordplay, Whoopi Goldburgers has well and truly earned their place on this list. We're talking epic, ethical eats that will send your tastebuds swooning. Head out the back to their beer garden, and let the burgs keep coming—alongside a few rounds of beer, of course.
Oceans
Marino
Having scored a killer location on the Marino beachfront, it's no surprise Oceans has made waves with the Adelaide beach bum community. Pick up a plant-based burg from this local food truck as a pick-me-up after hitting the surf, and feel the energy flood back into your body. It's amazing what a little vitamin B will do.
Not only can you devour v2's damn delish and ethical plant-based goodies at these venues, but you can also shop v2 at your local Woolies and Coles and get creative with your cooking at home.
Can't get enough of v2's plant-based eats? See here for even more inspo on your ethical eating journey.
Image credit: Boss Burger, B.East Burgers
Editor's note: This article is sponsored by v2 and proudly endorsed by Urban List. Thank you for supporting the sponsors who make Urban List possible. Click here for more information on our editorial policy.