So, you've finally accepted that the endless-summer escape to Europe you've been saving your pennies for is definitely off the cards for 2020 and now you have a big, gaping hole in your heart where wanderlust used to reside.
Well, chin up because there's an idyllic slice of paradise that ticks all the boxes of your stylish sun-soaked, cocktail-fuelled jaunt overseas, but is much closer to home. As in, right here in WA.
We're talking azure blue waters, private chopper flights, free-flowing Champagne, barefoot strolls on deserted strips of sand and some pretty impressive snorkelling. That's right, we're talking about Sal Salis, which you can book direct through our sister site, Heydays.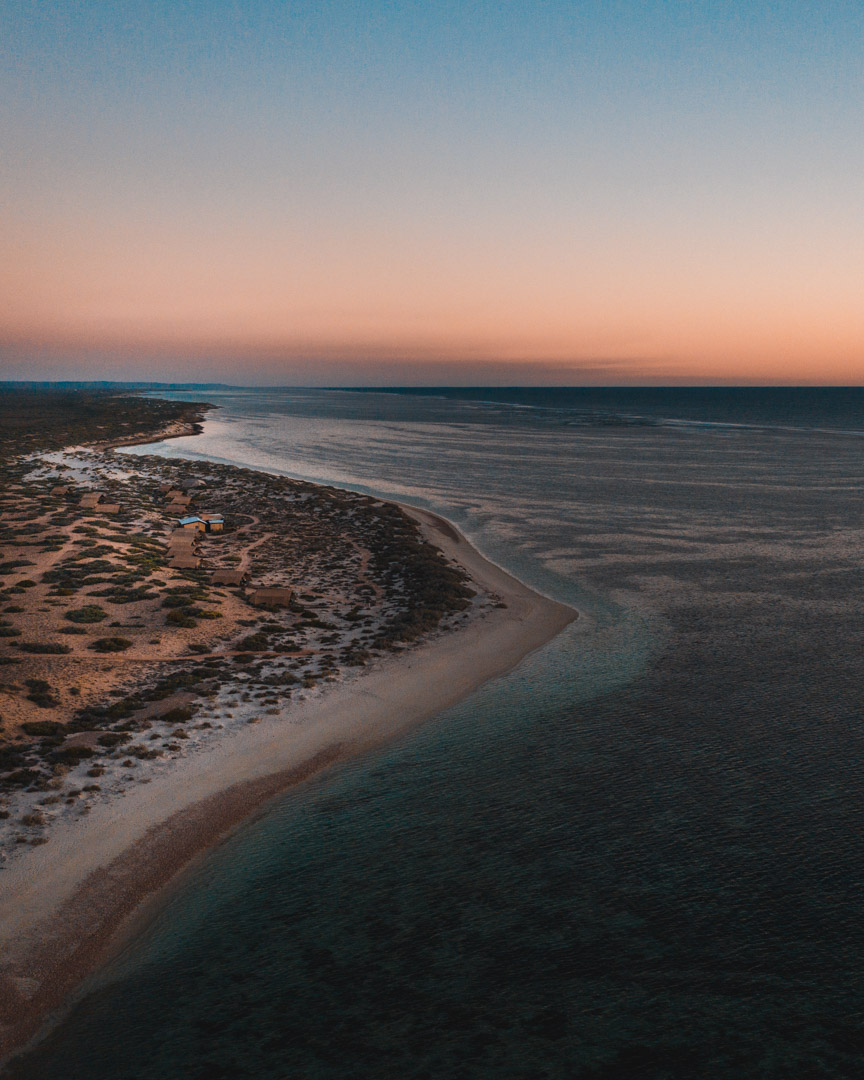 You may have heard of Sal Salis, the exclusive seaside safari camp tucked away up north, wedged in between the Cape Range National Park and Ningaloo Marine Park—a World Heritage Listed site (not unlike the Amalfi Coast).
If you're thinking you're not the camping type, just trust us, this type of camping is your type of camping. Tents at this eco-luxury retreat are fit for royalty—literally. Will and Kate escaped to this place on their honeymoon. And they did so completely under the radar, because there's no mobile phone reception or internet available for the word to get out. Or in, so get ready for a good old fashioned digital detox.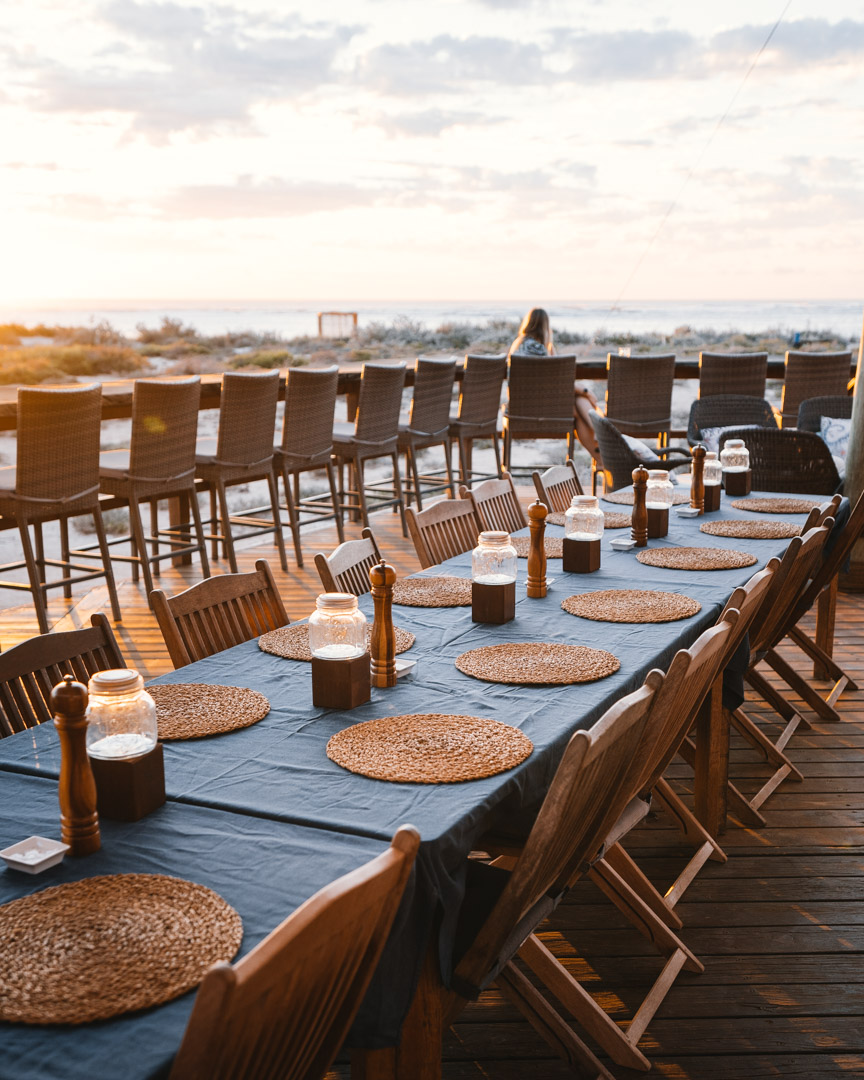 It's all about off-the-grid luxury at Sal Salis. During the day, the Sal Salis crew take you on guided private expeditions around the area, depending on your interests.
Mornings are perfect for a kayak through Mandu Mandu Gorge where the endangered and cute-as-a-button black-spotted rock wallaby can be found.
In the afternoon, nothing beats a snorkel in the adequately named Blue Lagoon on a quest to find Nemo. The Ningaloo Marine Park is home to the world's largest fringe reef, stretching some 260km along the most beautiful white sand beaches you will ever see. The water is crystal clear and teeming with colourful fish. Just past the reef, humpback whales splash around as they relax in the warmer waters up north at this time of the year.
And it's not just the whales who love the weather. Air temperatures along the coast sit around 25-30 degrees Celsius during the day and 15 at night. Nice.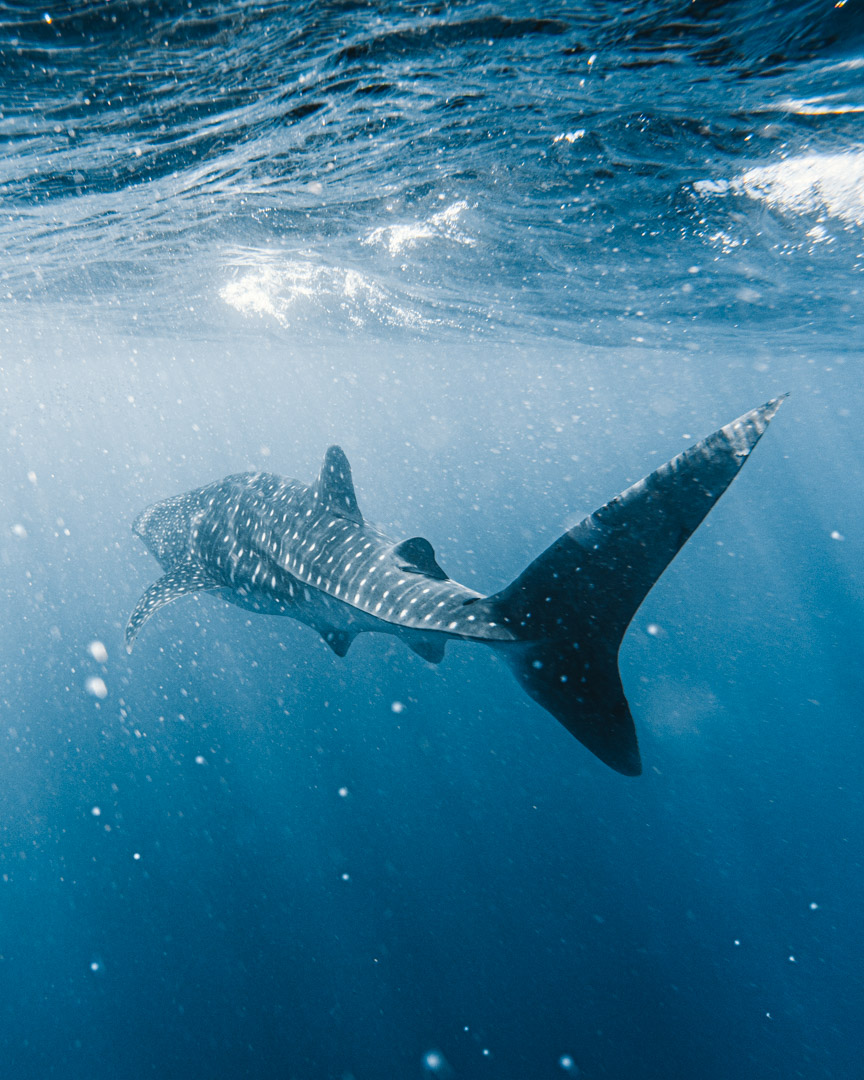 When you're done snorkelling the coral reefs and meandering the spectacular rises of the gorges, how about a swim with the biggest fish on the planet?
Whale sharks are one of the biggest drawcards in the area. These majestic, slow-moving creatures grow up to 18-metres long. Yup, that's a freakin' big fish, alright.
Even outside peak season, the chances of spotting a whale shark are still pretty good, with a bunch of tour operators working with spotter planes to track these large creatures before your boat captain zooms in and positions you safely in the perfect spot for an up-close, once-in-a-lifetime encounter.
After a day of exploring the natural beauty of the Ningaloo Reef, it's time to head back to camp for a little something from the open bar—perhaps a Negroni or two—while kicking back on the retreat's main deck, watching a disgustingly beautiful sunset, as the chef is whipping up some culinary delights somewhere in the background.
After a nightcap to reward your hard day of glamping, your tent awaits.
Not just any tent though. These are extra luxe. You can expect a king bed with a luxurious mattress, wardrobe with comfy bathrobes perfect for lounging around on your private deck overlooking the water, and an ensuite with solar-powered shower and toilet (a rarity in this part of the country). All within metres of one of the world's most beautiful, pristine beaches.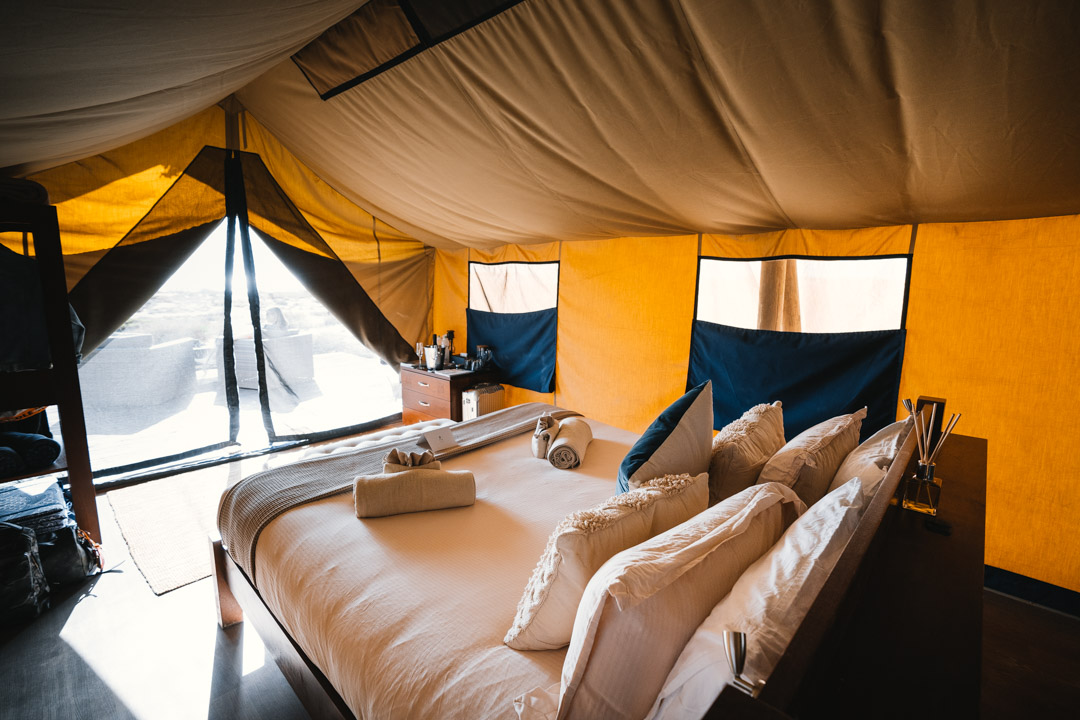 With only 15 luxury tents in the camp, it feels like you have this incredible part of the world all to yourself. And as other guests seem to be made up of celebrities and the jet setting elite, you kinda don't mind if you bump into them occasionally.
Ok, so a stay at Sal Salis comes with a price tag, but it's totally justifiable when you consider that it's all-inclusive (food, drinks, daily guided activities), uniquely remote, naturally beautiful and incredibly exclusive. And yet, not as pricey as that European trip you had planned anyway, right?
Even getting there is an experience in itself. The Sal Salis camp is about 1.5 hours away from Learmonth (Exmouth) Airport, but why drive there when you can fly? For only $300, you can lock in a scenic flight over the reef and the stunning red rocks of the ranges below.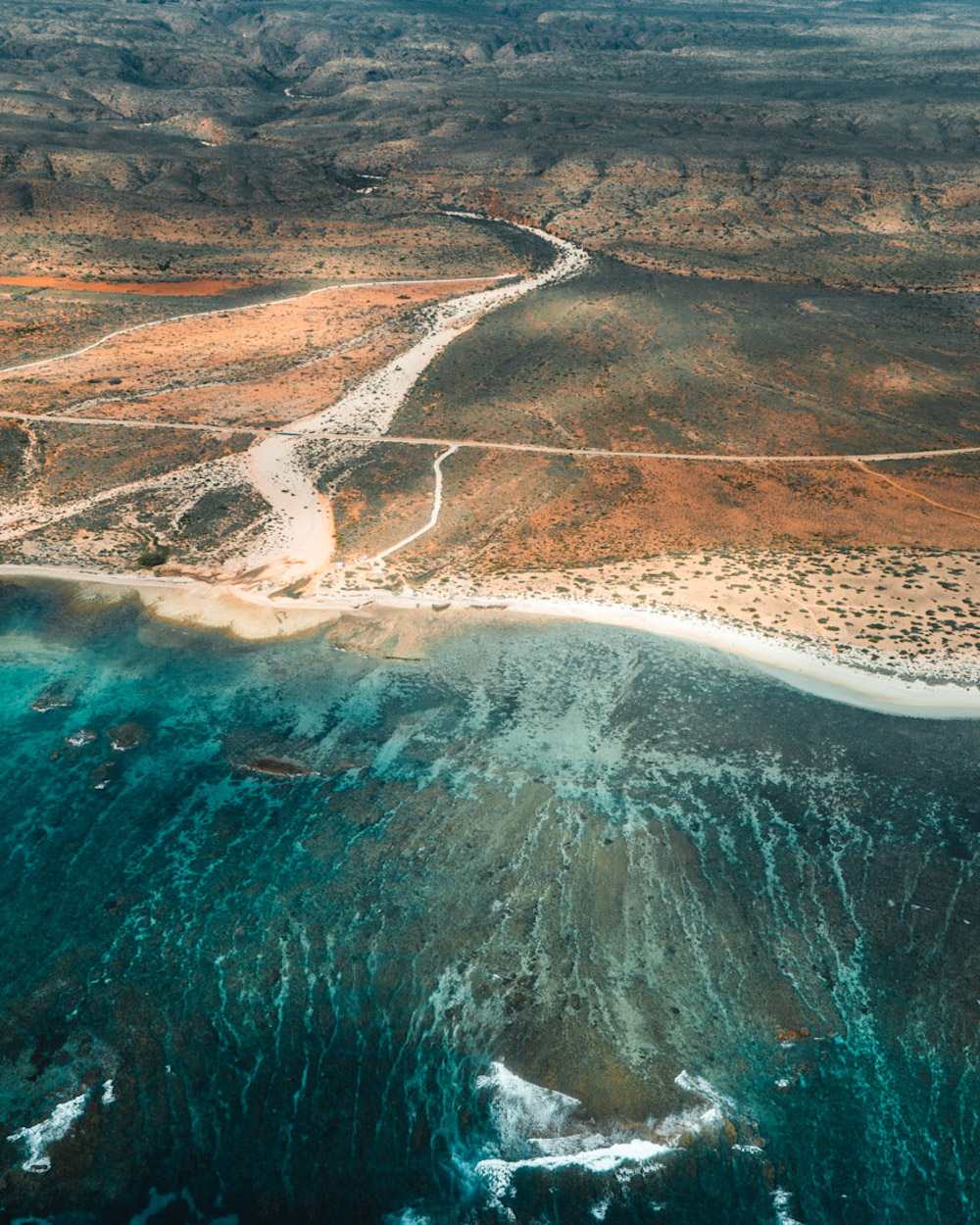 And when you're regrettably heading home, it's a quick take-off on a dirt strip at the camp, and 30 mins later you're back at the airport, just in time for your flight back to Perth.
A suitable alternative to Greek Island hopping? You be the judge. Check out the retreat's special offers on our sister site Heydays here.
Not ready to go home? Check out more breathtaking Coral Coast retreats and stretch your holiday out a little longer.
Immanuel is editor of Flight Hacks, which helps Australians to travel in style without breaking the bank. One of the most active Frequent Flyers in Australia, Immanuel earned and spent more than 3 million points in the 12 months pre-Covid-19, travelling 332,533km (equivalent to circumnavigating the globe 8.5 times) and taking more than 100 business and first-class flights to 28 different countries.
Image credit: Immanual Debeer