Saul's has been thriving in Melbourne's booming deli sandwich scene since early 2020.
Born out of the lockdown period when takeaway food rose to new heights, the Carnegie-based sandwich outlet became an overnight sensation for their insanely stacked and flavour-filled sangas and now they're setting up shop just off Glenferrie Road in Hawthorn.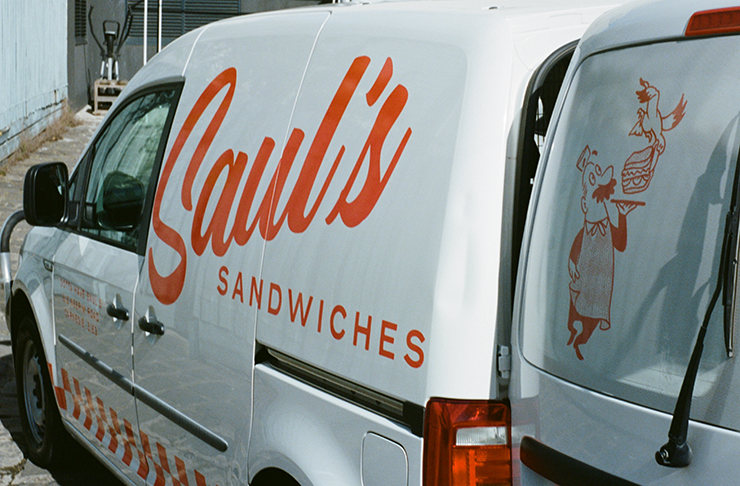 Founder and head sandwich enthusiast of Saul's, Leor Haimes, is a journeyman of Melbourne's cafe industry, having originally started District Brewer and then Time & Place in the Bentleigh region and runs Saul's alongside co-founder Elliot Koren. This second Saul's iteration in Hawthorn is designed to be more of an on-site sandwich production with a high calibre kitchen crew including ex-restaurant chefs crafting up tasty combinations. "We've got a few chefs onboard who really want to work in the sandwich kitchen area, they want to step away from the cliche restaurant chef, and jump into something a little more fun," said Leor.
The attention to detail and commitment to quality sangas at Saul's is second to none, with a local bakery commissioned to churn out custom American style subs and rolls daily. The new store will be different to the OG but will hold onto crowd favourites like the smoked pastrami, which's stacked with manchego, cavolo nero slaw, horseradish mayo, and kosher pickle.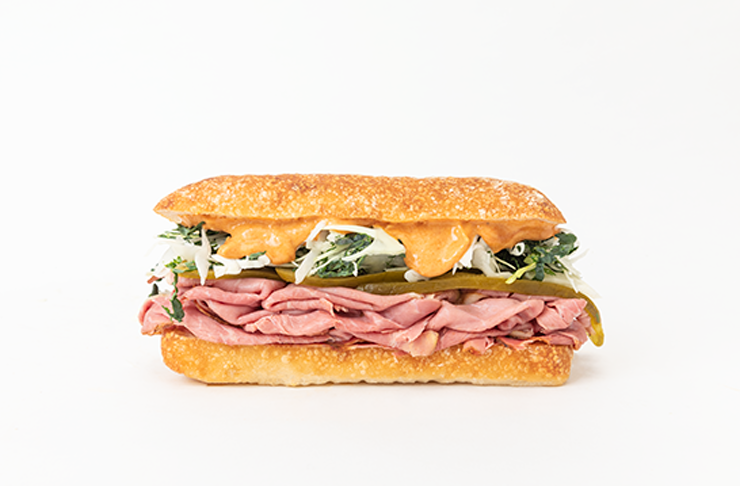 In terms of new additions, we've got a Hoagie, a New York-style sub sandwich— a roast chicken roll which was a rotating special at Carnegie but due to its popularity has now earned a permanent fixture, and a vegan meatball sub sitting in a rich Napoli sauce. As well as sangas they'll also be pouring quality espresso from Clark St Coffee.
The new store retains Saul's very signature New York diner aesthetic with clean red and white tiling and cursive branding throughout. It sits in a laneway just of Glenferrie Road among some heavy local royalty with Lido Cinemas just a few doors down and clothing boutique 1st Product right next door, the pair have worked a Saul's clothing collaboration to drop along with the opening of the store.
Owner of 1st Product, Nicholas Angelopoulos, has been a big fan of Saul's for some time and has coincidentally known Leor for over a decade, so the collab is a natural result for the neighbours. Nick was completely unaware of Leor's involvement in Saul's until he was out front scoping the shop. 'They told me they were setting up a Saul's and I said you've got to be f#####g kidding, I've been going to the one In Carnegie for months' said Nick.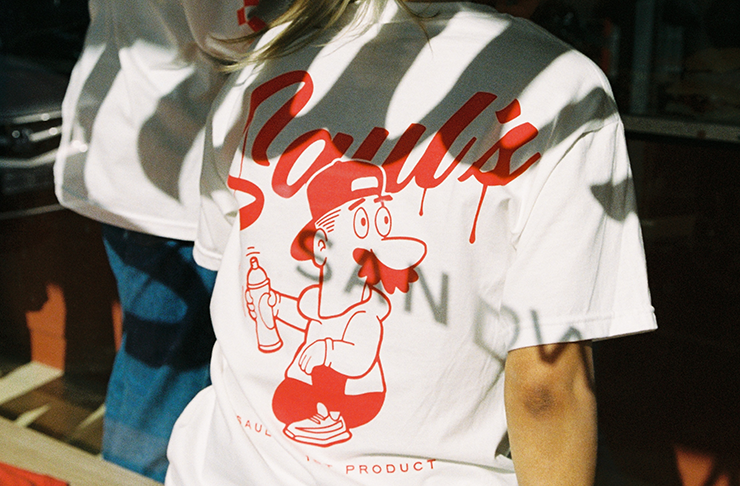 The collaboration features three different t-shirts, as well as a reverse tote bag. The entire capsule mirrors Saul's retro New York aesthetic and was designed locally by Melbourne designer Seb Godfrey. The release will be available to purchase online at 1st product coinciding with the opening of Saul's Hawthorn on Friday 28 May.
Make your way down to Saul's now to get some of the best of the handheld eating that Melbourne has on offer.
Hungry? Here's the food news you need to know.
Image credit: Ryan Snacky & Supplied