I've seen them do this in movies. First, get a napkin and dab away the excess oil. Then add your condiments. I shake a little dried parmesan over my pepperoni slice. It's the cheap, sawdust-y kind, which I like. Has that funky, old-sock kind of smell. Finally, grab the crust between thumb and middle finger and fold symmetrically along the hefty 9" radius. I take a bite from the cheesy end. A couple of Westside hipsters are staring at me through the window.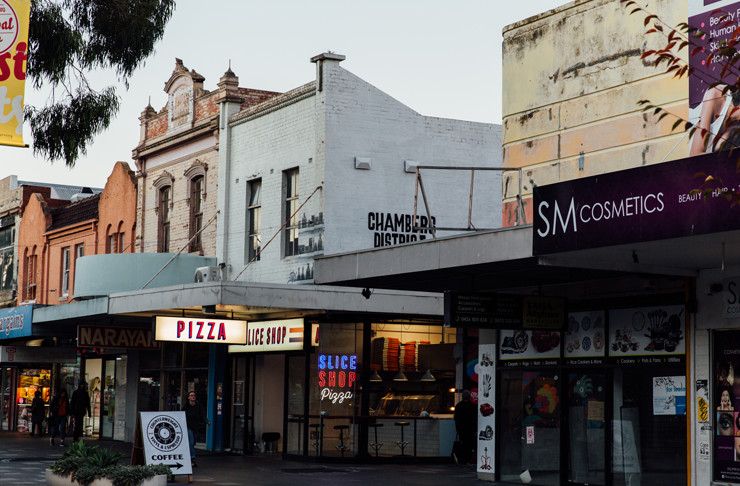 This is Slice Shop, a new by-the-slice pizzeria on Nicholson St in Footscray, just across the road from Mr West. It's owned by the same guys that run Burn City Smokers at The Hyatt: Steve Kimonides and Raphael Guthrie. This time they've swapped the cast-iron smoker for two industrial-size pizza ovens. And not a wood-fired pie in sight. This is genuine, New York-style, whadda-you-lookin'-at, fermented thin crust pizza.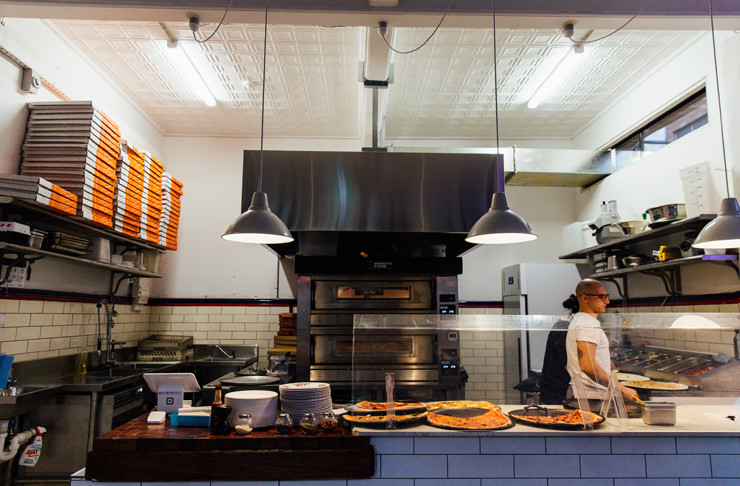 New York pizza evolved from Neapolitan-style bases in the early 1900s, brought over by huddled masses yearning to breathe free. (General urban consensus is that Lombardi's was the first Manhattan pizzeria—it opened in 1905 and is still going strong.) And you'll notice a few similarities to Melbourne's now ubiquitous Neapolitan pizzas: these pizzas are thin, bubbly and slightly charred. But Slice Shop's bases are way crispier than anything else coming out of Melbourne.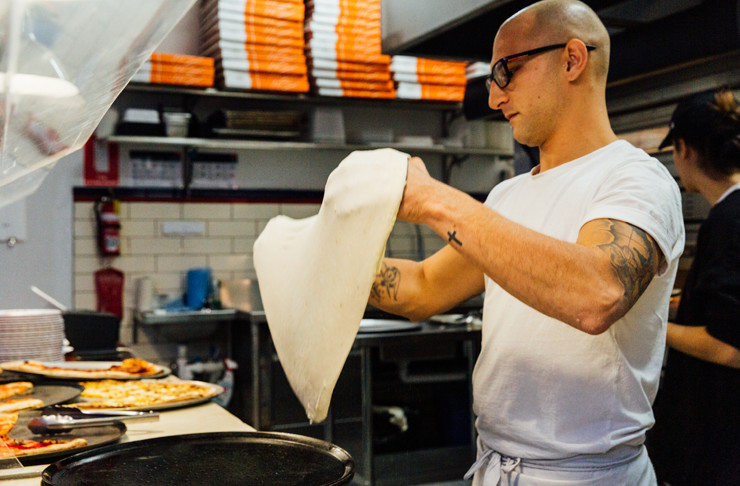 Thanks to the double-decker Moretti Forni pizza oven, there's no sogginess in the middle. The toppings don't just slop off onto the plate. The crust isn't obnoxious either: rather than a puffy 3-inch Neapolitan crust (which, let's be honest, is a total waste of gastric space) this one is denser, chewier, with a nice sour tang. You can call me a pizza luddite, I don't care. Neapolitan is for pizza snobs. Someone had to say it.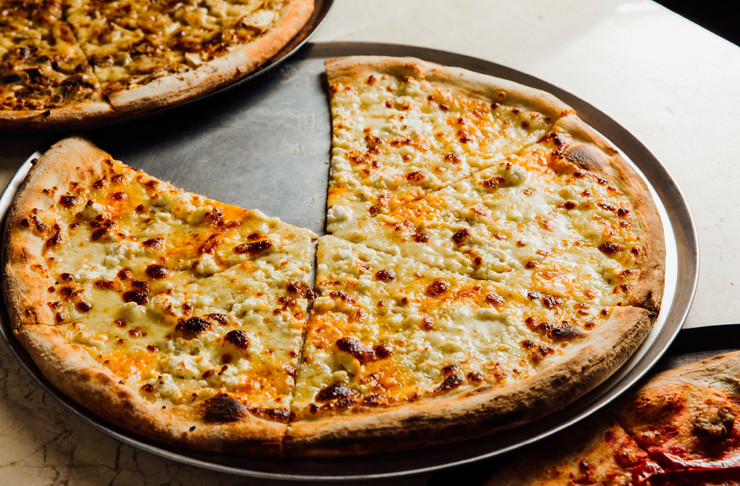 Let's talk toppings. Slice Shop usually has seven pizzas on rotation, and about half of them are vegetarian. I tried the New York Cheese (a four-pronged artery attack, feat. Mozzarella, neon cheddar, parmesan and fruity taleggio), the Pepperoni (pretty self-explanatory), and the Italian Sausage (spiced up with fennel seeds and roasted peppers). They were all delicious.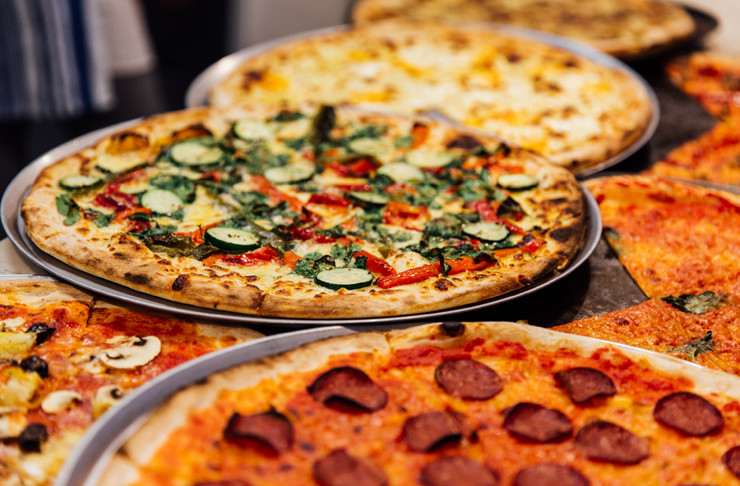 Slice Shop lets you order by the slice ($5 a pop) or by the pie. A wagon-wheel 18" pizza will set you back anywhere between $28 and $32, depending on the toppings, and the guys are happy to make half-and-half combos.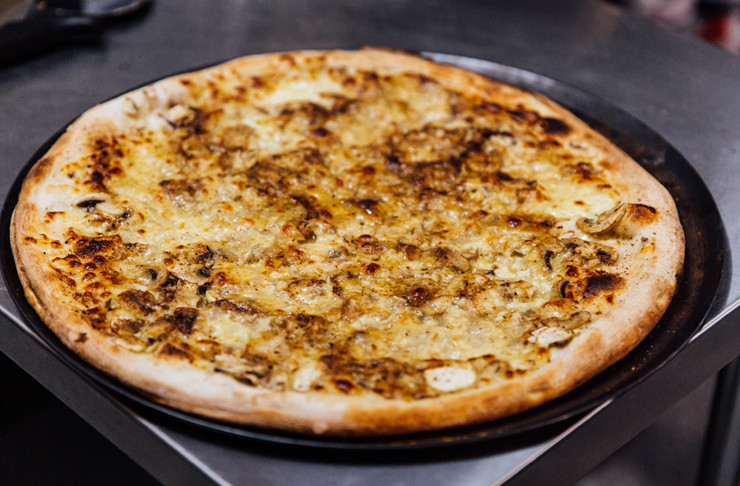 On the plus side, these slices really are big. Three definitely felt like a meal, rather than a snack. The guys even warm your slices to order, which is nice, serving them on dainty, grandma-style china. You eat them on leather bar stools up at a window, watching the Nicholson Street foot traffic slide by.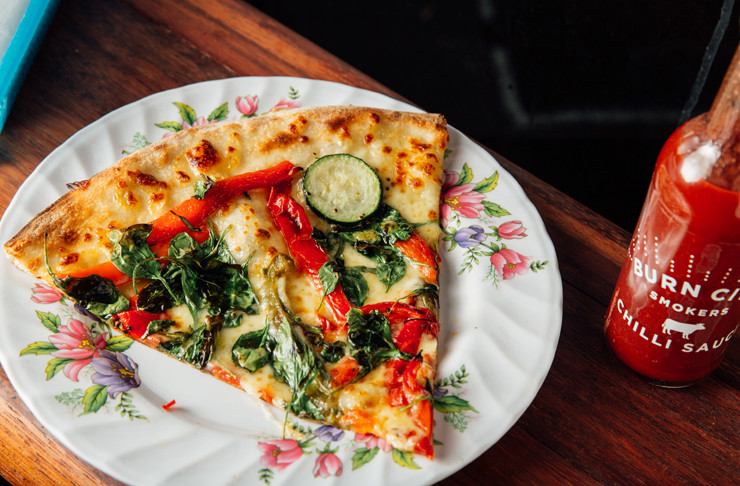 The fit-out is pretty basic, which is another little nod to Manhattan. Just a big counter with the day's pizzas on display, a few bar stools hugging the window, and a big neon sign out the front. The red, white and blue colour scheme isn't an accident either, given the location—I spot a vintage Footscray plaque, hiding on the wall.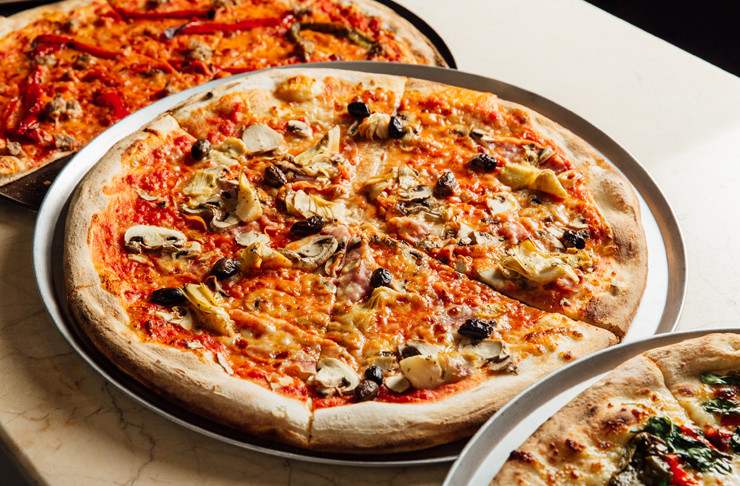 The whole thing is a bit of a departure for the Burn City crew, but I like it. Steve and Raph are both locals (one in Footscray, the other in Kensington) so they know the market. Footscray, particularly this Nicholson Street drag, is getting pretty trendy. Mr West is one of the best brew bars in the city, and there are new venues like Counterweight sprouting up everywhere. Slice Girls West has been doing well on Yewers Street for a while. Nightlife here is booming, but apart from the usual HSP stalwarts, there aren't many grab-and-go food venues keeping pace. Slice Shop is trying to plug an 18" hole in the market. Judging by the queues they've been getting on Friday nights (around the corner, according to eye-witness reports), it's working.
The Details
What: Slice Shop Pizza
Where: 101 Nicholson Street Mall, Footscray
To keep up to date with the latest openings around Melbourne, head to our Food & Drink section.
Image credit: Annika Kafcaloudis