While we can't venture past our 5km radius' right now, there will come a time when local travel is a viable option. And once it is, you can bet your bottom dollar each and every Airbnb is going to be booked out for months. The first to be booked are likely the escapes that truly disconnect one from the world that is, like this stunningly bucolic yurt stay in the High Country region known as The Yurt Alpine Retreat.
The imagery truly does the talking on this one, but those who need more convincing should take note of the 360° vistas of King Valley and surrounds, a glass-domed ceiling primed for late-night stargazing and an outdoor barby for anyone wanting to while away the afternoon.
The yurt itself is situated atop a mountain on a working farm, void of any neighbours aside from the kangas and wombats who'll pass by on occasion. Book in on the right day, and you might even see the area's resident eagle flying overhead. Should you require just a little human interaction, however, you're around 20 minutes drive from several wineries and the Milawa Cheese Company.
This isn't The Ritz, but anyone booking in for this yurt stay would likely be aware of that. It's about connecting with the elements, and disconnecting with everything else; all the necessary creature comforts are however included: warm bedding, a gas-heated shower, a lambswool underlay to insulate a pad and a cast iron indoor stove which can also double as heating should you be staying in the dead of winter.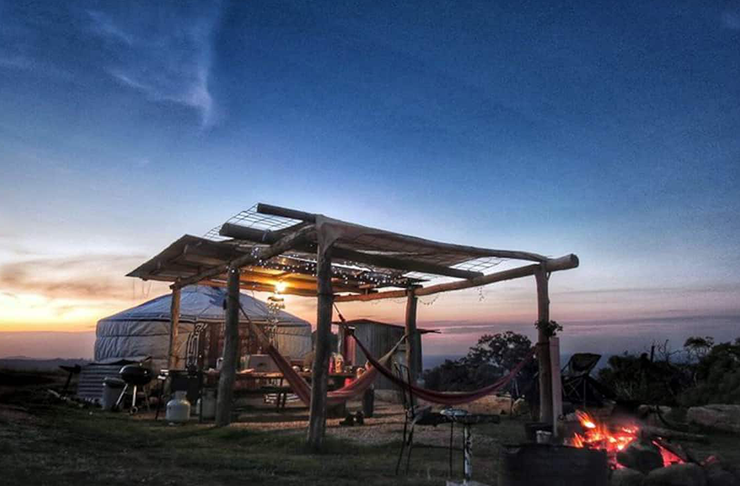 The Yurt Alpine Retreat is a true retreat far, far away from wherever you've been locked down over the past several months. It'll set you back around $170.00 a night and is suited to couples.
Looking for a place for you and your mates? Check out the best Airbnbs for large groups.
Image credit: supplied