Adelphi Hotel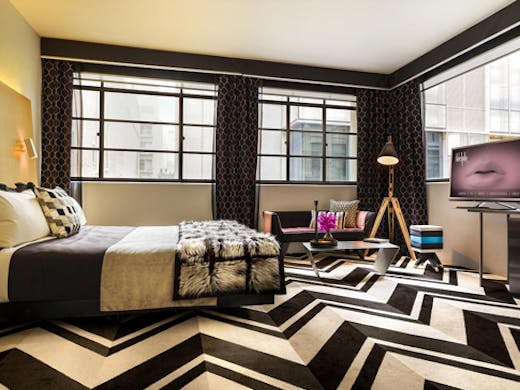 The Verdict
Central location, sweet designer homewares, and the city's fanciest cocktail bar downstairs—we believe they call that 'the whole package'.
The Adelphi's 34 rooms are decked out in rich, chocolaty tones, geometric prints and quirky, handpicked artwork. If you missed out on the swinging 60s, this is the next best thing. You even get your own espresso machine and T-Bar tea, unlimited movies and free Wifi (it's the little things, right?)
In terms of amenities, you can't beat Om Nom Kitchen and Ezard under the one roof. One's the city's finest modern Australian restaurant, the other a whimsical cutting-edge dessert and cocktail bar. If you haven't checked out Om Nom's bubble bath cocktails and drinkable perfume, hop on their Insta feed and get browsing. You'll get the idea pretty quick.
Want to see something really cool? Head up to the gravity-defying, glass-bottomed, cantilevered swimming pool and take a dip nine stories above Flinders Ln. You can thank Adelphi's visionary designer: Corker Marshall.
Image credit: The Adelphi Hotel
---